To all you plant-based babes out there, this is the directory for you. Find every cuisine under the sun now made with a plant-based twist
Real talk: going vegan in Malaysia is no easy feat. Local cuisine tends to be meat-heavy with a hefty side of butter, and there's only so much meat-free banana leaf one body can take at once.
That said, with the growing community of vegans in KL, the dining scene has begun to catch up with the demand for plant-based goodness. Ahead, find our go-to picks for the best vegan (and vegan-friendly) restaurants across KL!
Sala
A particular favourite of Natalie Prabha's, Sala is a vegan-only Mexican restaurant with some truly killer dishes. Try their Bagel Burger with Mushroom Asada, or indulge in their plant-based chimichanga—each bite is sure to be a hit! In fact, you can even find vegan twists on local staples here such as Nasi Lemak and more.
Locations:
• Sala @ The Row, 34 Jalan Doraisamy, Chow Kit, KL
• Sala @ Hartamas A-G-03A Galeria Hartamas, 21, Jalan 26a/70a, Desa Sri Hartamas, KL
Opening Hours: Monday to Sunday, 11am – 10pm
Website | Instagram | Facebook
The Hungry Tapir
You'd be hard-pressed to find this spot any less than packed on an average day. Situated in the heart of Chinatown, just a two-minute walk from Petaling Street, is The Hungry Tapir. Patronised by vegans and non-vegans alike, there is a reason this place is so popular—and it's not just the Instagrammable decor.
Easy all-day staples like their Yellow Masak Lemak and their Rainbow Ulam Fried Rice are as delicious as they sound.
Location: 135, Jalan Petaling, City Centre, KL
Opening Hours: Tuesday to Thursday & Sunday, 11am – 10pm; Friday and Saturday, 11am – 12am; closed on Mondays
SUPE Vegan Japanese restaurant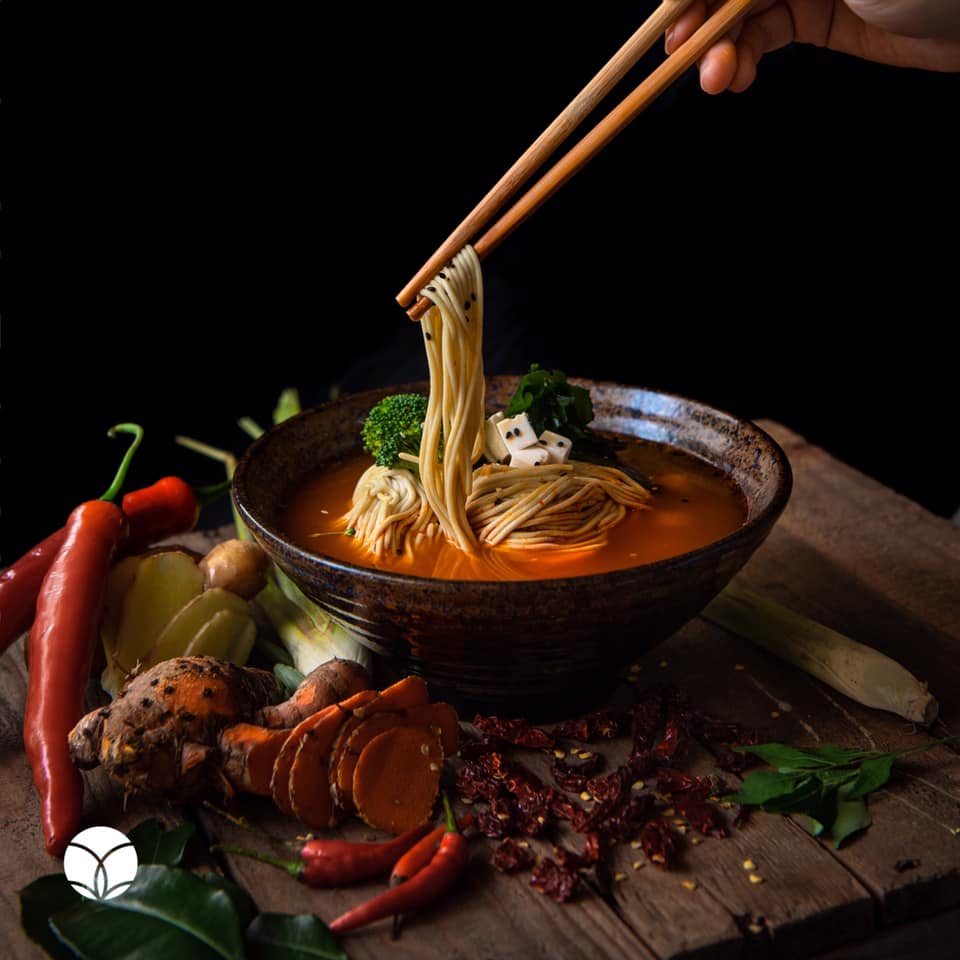 Japanese food is one of the most difficult cuisines to vegan-ise, so Supe Vegan is a godsend. Whether you're in the mood for super-spicy vegan ramen (uh, duh!) or delicious vegan maki rolls, this joint is ready to deliver.
Location: Unit G2, Wisma Nobleland, 2, Jalan Changkat Ceylon 50200
Opening Hours: Wednesday to Monday 11am – 3pm; 5pm – 10pm; closed on Tuesdays
Kanteen
While Kanteen isn't a vegan restaurant, they do have some pretty fleshed-out veggie and vegan options for you to peruse on their online menu. A mix of Asian and Western cuisine, you can find anything from Vegan Mac and Cheese to Vegan Char Kuey Teow.
Locations:
• Kanteen @ Tropicana Avenue, 12, Persiaran Tropicana, Tropicana, 47410 Petaling Jaya
• Kanteen @ Banyan Mont Kiara, Lot GF2, 28 Jalan Kiara, Mont Kiara, KL
Opening Hours: Daily, 8am – 8pm
Website | Instagram | Facebook
Fin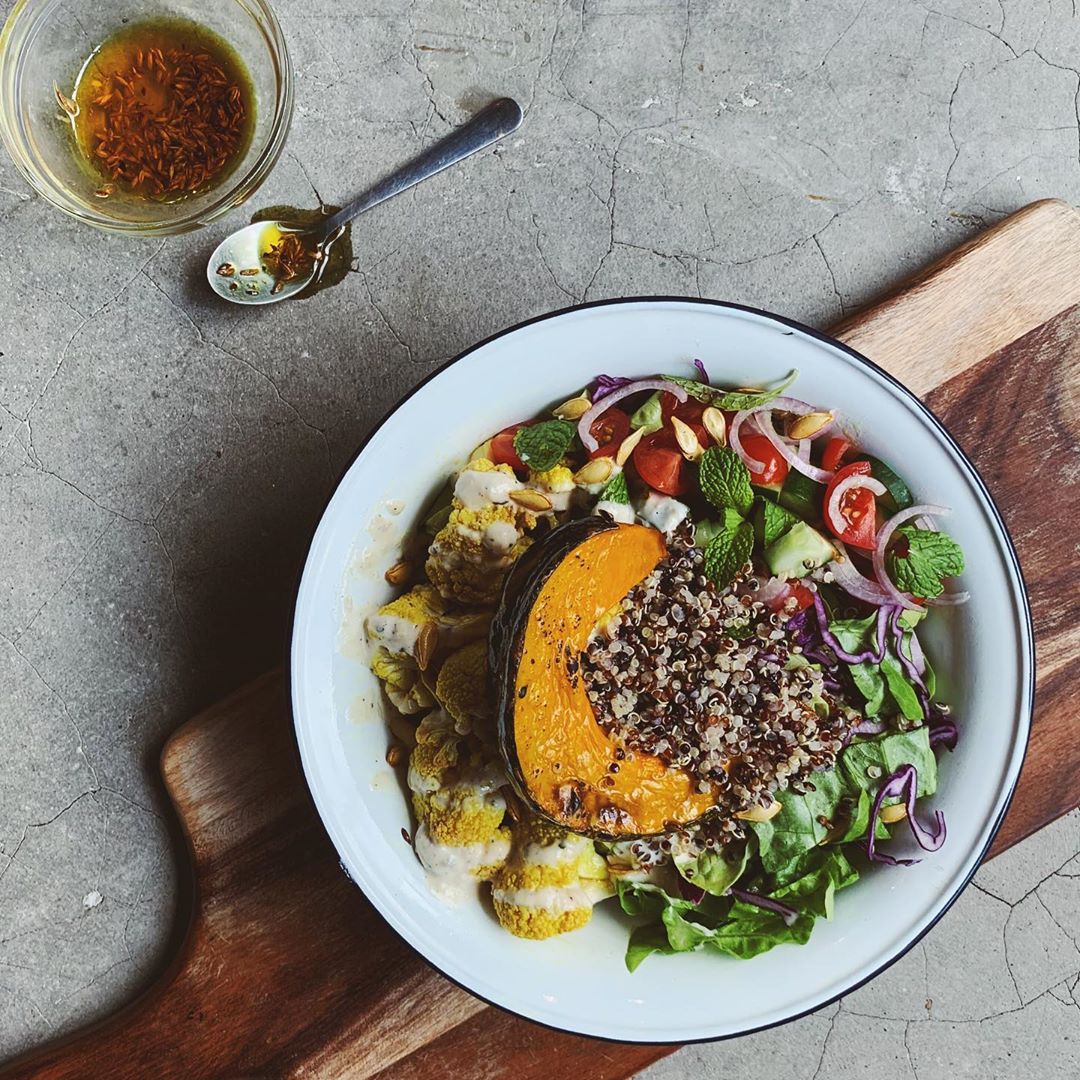 Fin isn't a vegan-only restaurant, but there are plenty of vegetarian options that can easily be made vegan with some clever substitutes. For instance, their delicious Kokomo Falafel Salad contains garlic aioli which can be easily replaced with some basil oil instead—yum! Alternatively, you can just make your own bowl to skip the faff.
Location: D3-G3-06, Block D3, Level G3, Publika, Jalan Dutamas 1, Solaris Dutamas, KL
Opening Hours: Monday to Friday, 8am – 6pm; Saturday and Sunday, 9am – 6pm
Website | Instagram | Facebook
RGB & The Bean Hive
On the contrary to most suggestions on this list, this is a vegan and vegetarian restaurant that offers non-vegan options, making it the perfect spot to take your vegan gang and your one carnivorous pal. With breakfast, lunch and dinner options, you can't go wrong with RGB Cafe. Try their many vegan burgers, or opt for their yummy Vegan Russet Potato Rosti for a satisfying meal.
Location: 35, Jalan Damai, Kampung Datuk Keramat, KL
Opening Hours: Monday to Thursday, 8am – 5:30pm; Friday to Saturday, 8am – 11pm; Sunday, 8:30am – 9pm
Website | Instagram | Facebook
Superfine
Superfine is renowned for their coffee and bacon-packed dishes, but they also boast an impressive set of vegan and vegetarian meals too. Try their Roasted Cauliflower and Za'atar Spice dish, or give their Vegan Kobeyaki Fillet a go while you surround yourself with some great interiors.
Location: Seventeen Mall & Residences, 5a, Jalan 17/1, Seksyen 17, PJ
Opening Hours: Daily, 8:30am – 5pm and 6pm – 10pm
Parklife

Mediterranean cuisine is difficult to come by in Malaysia, so if you're looking for some great, hummus-rich vegan and veggie dishes, you've found it. Try their Signature Hummus or their lovely quinoa-based yummies for a wholesome meal.
Locations:
• Parklife @ The Sphere, 8, Unit 5, Level Upper Ground, The Sphere No. 1, Avenue 1, Bangsar South City, Jalan Kerinchi, Bangsar South, KL
• Parklife @ REXKL, 80 Jalan Sultan, City Centre, KL
Opening hours: Bangsar South City, daily 10am – 9pm; REXKL, Tuesday to Sunday, 10am – 10pm
Website | Instagram | Facebook
Crust

Italian food is almost completely defined by cheese, which makes Italian staples such as pizza and pasta very inaccessible to vegans (or lactose intolerant folks!). Luckily, Crust has us covered with their customisable vegan options. Try one of their delightful vegan pizzas or spoil yourself with one of their veggie-based falafel burgers.
Location: 1F-17, 163 Retail Park, Jalan Kiara, Mont Kiara KL
Opening Hours: Daily, 11am – 3pm and 6pm – 10pm
For more food stories, click here.