Food + Drink
Food review: Burnt & Co brings diners on a flaming gastronomic journey
Turn up the heat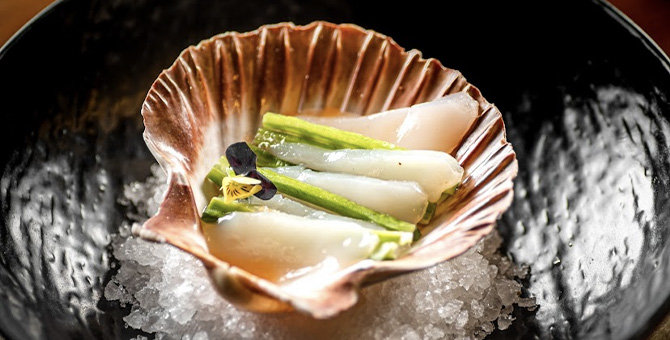 If there's one thing the KARLS Group of restaurants know, it's taking familiar flavours to the next level. The well-deserved popularity of Beta and Skillet shows us that they can successfully take on any challenge to turn both Malaysian and European dishes into culinary works of art with a unique spin that will surprise you with every bite. With the launch of Burnt & Co at Artisan's Playground, a new challenge arises in the kitchen—cooking with charcoal and wood-fire.
Unlike its sister restaurants, Burnt & Co introduces an open-flame kitchen concept that offers diners a chance to engage with the chefs and catch them in action. Their Chef's Table menu showcases a variety of smoking hot dishes brought to you by an honourable machinic head chef: the Josper charcoal oven.
I recently had the opportunity to experience the new concept in person and let me just say, it was an *experience* indeed. Read my full review below!
Hokkaido Scallop Tartare, Winged Beans, and peanut butter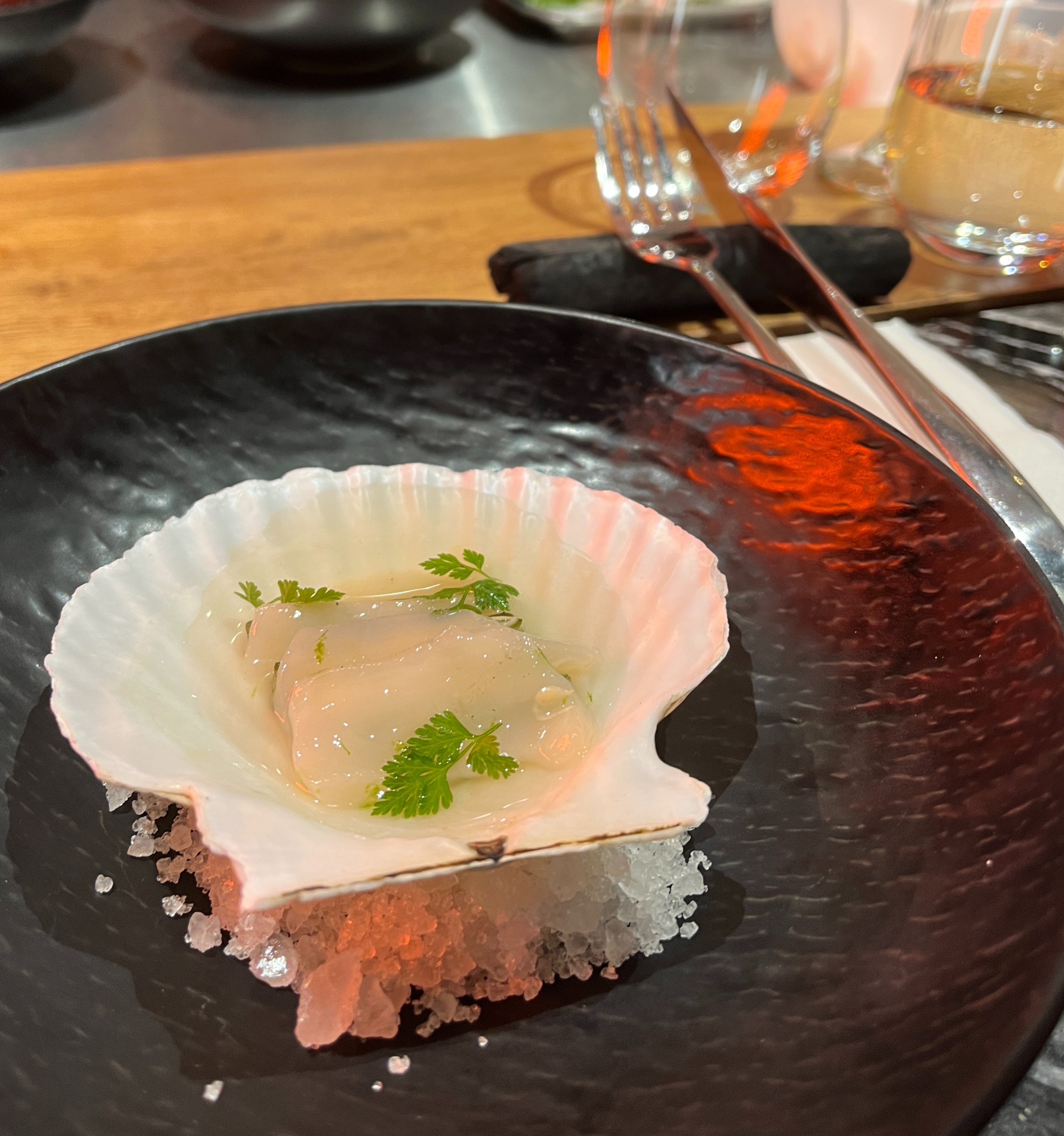 To kick off the meal, I was served a bite-sized serving of scallop—placed delicately in a pool of fermented tomato consomme and garnished with coriander—presented on a fan shell. The fresh scallop tasted as if it was served right from the ocean minutes before, complemented by the sweet notes of the tomato consomme. At first glance, I would've never guessed there was peanut butter. However, as I continue to take in the flavours, I was surprised by a hint of saltiness from the peanut butter which was a brilliant addition to the refreshing scallop.
Clams with broth and cheese toast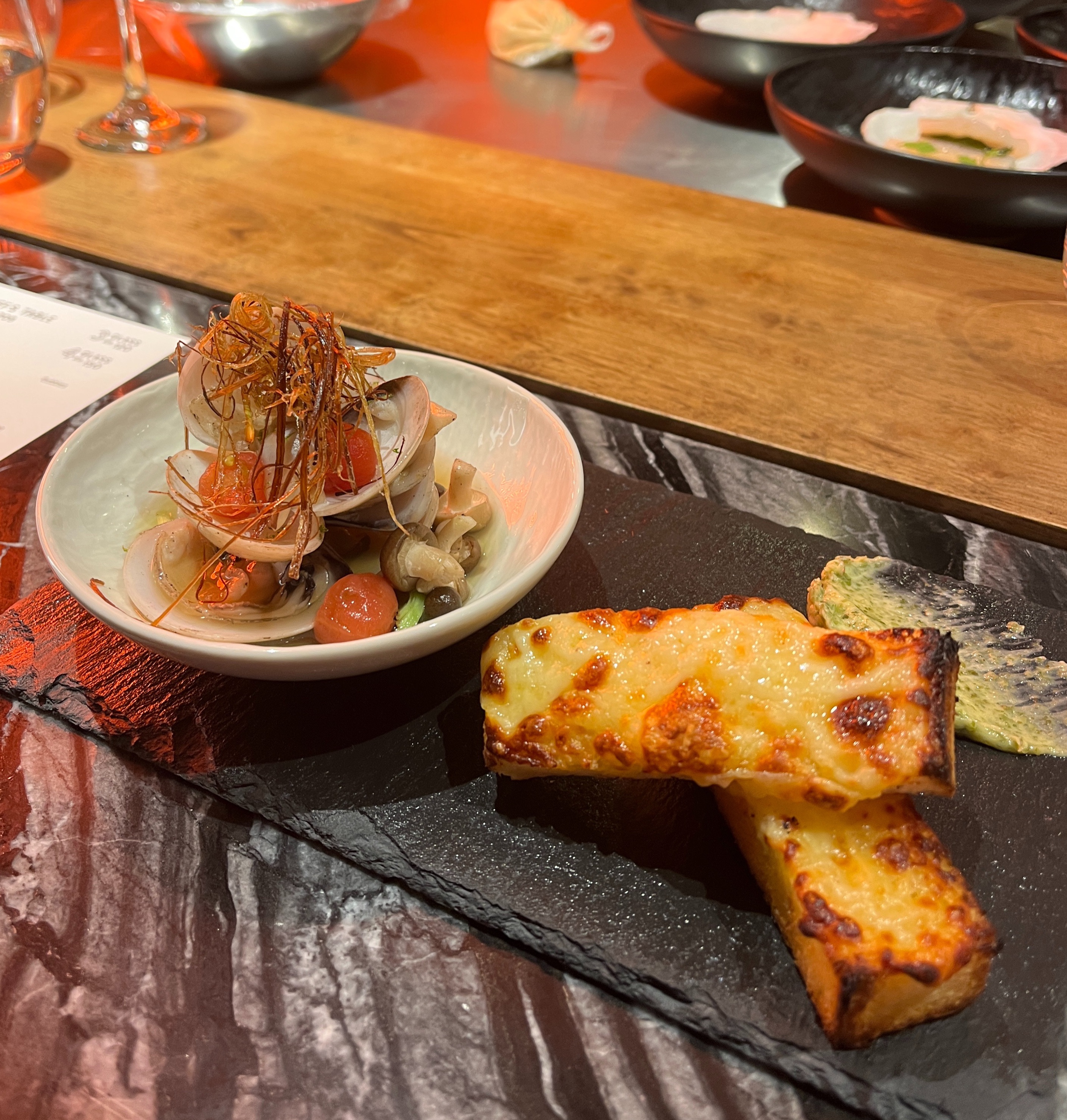 The second dish introduced more savoury flavours with clams and broth topped with crispy fried onions and sweet cherries with a side of cheese toast and seaweed butter. It was quite an interesting pairing, but I knew I was in for a treat. The clams offered light, salty flavours along with the miso-like broth, followed by explosions of blissful sweetness from the cherries. The crispy onions were a good choice of garnish, adding texture to the dish. Meanwhile, the slightly burnt edges of the cheese toast added a pleasant charred flavour to the buttery toast, giving a familiar scent of a local bakery with pastries fresh out of the oven. When accompanied by seaweed butter, each bite made me crave for more.
Tiger prawn with smoked paprika and garlic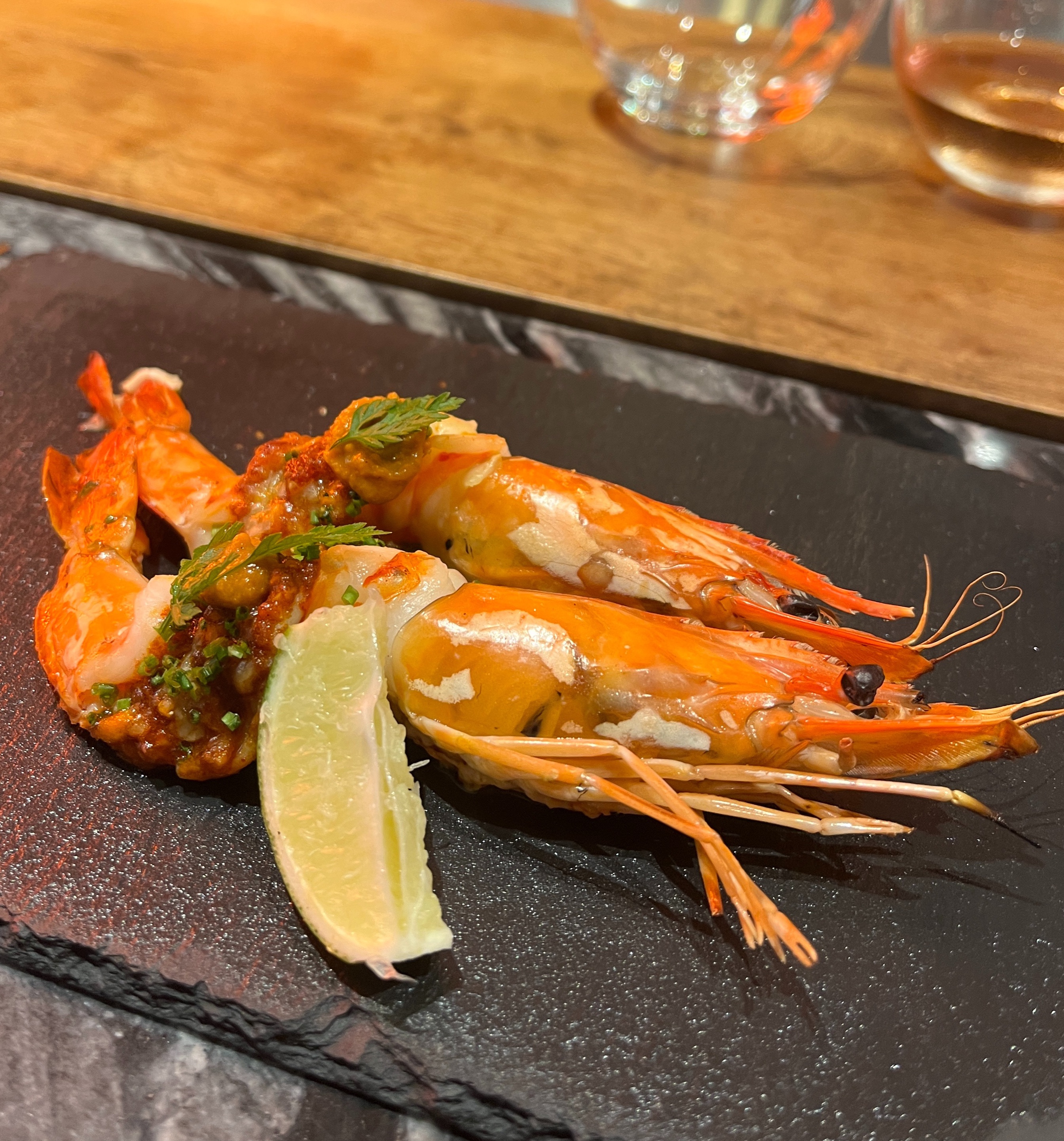 As someone who loves prawns, I was ecstatic when this dish was served. Especially after tasting how fresh the scallop was, I couldn't wait to dig in! Without wasting any time, I squeezed a few drops of lime and went to work. As expected, the prawns were tender with hardly any hassle when separating the shells. The citrusy tang of lime combined beautifully with the smoky flavours of paprika butter, like a match made in heaven. Perhaps I sound a little dramatic, but personally, this dish was godsent.
Kailan with wild garlic oil and 'Special Sauce'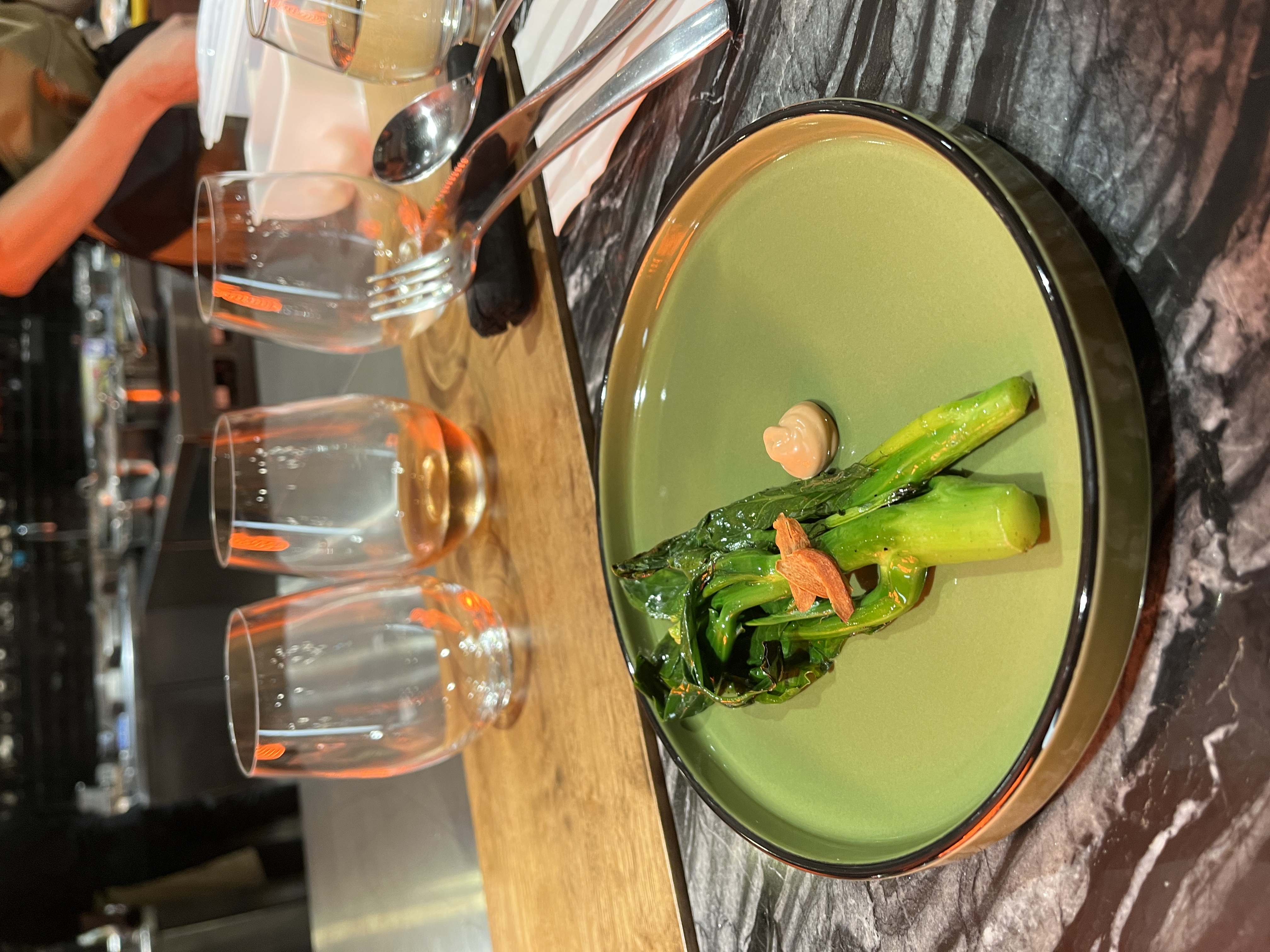 To round off the appetizers before heading into mains, I was served a simple dish of char grilled kailan seasoned in wild garlic oil and garnished with garlic chips along with a squeeze of budu aioli. Incidentally, kailan has been my favourite vegetable since childhood and it is an essential dish to order when I dine at tai chow (read: Chinese stir-fry) restaurants. To some, this dish might seem plain; but to me, it brought back many comforting memories. As I proceeded to take a bite, I was reminded once again of all the reasons why I love this particular vegetable—its crunchy stalk and charred leaves had a slight hint of bitterness, which was a splendid pair with the salty aioli. Although it was a modest dish, it served as a great example of perfectly cooked kailan.
Smoked duck with salad, Szechuan pepper, and bao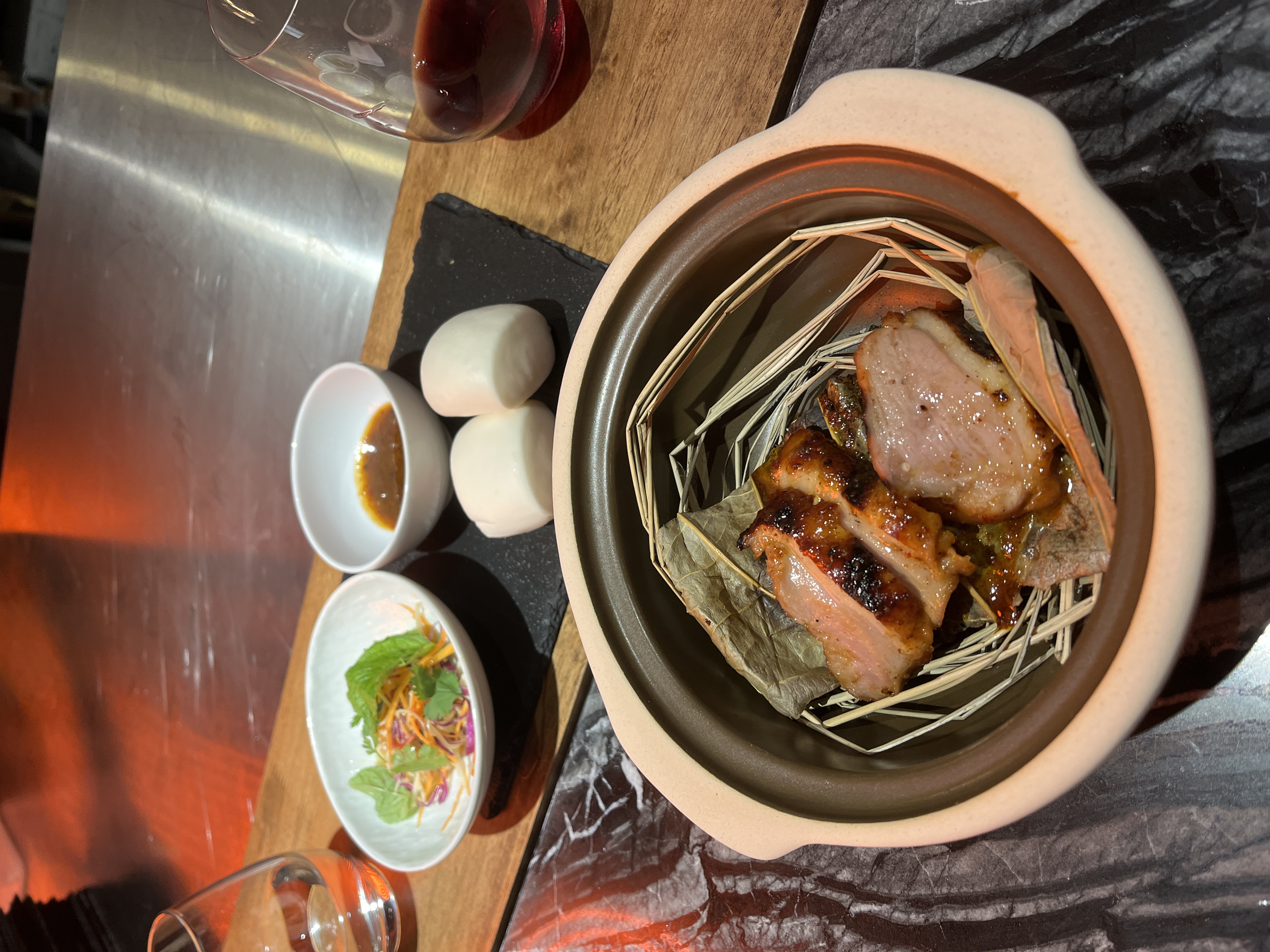 Next up, mains! A smoking claypot arrived along with a platter of salad, Szechuan pepper dipping sauce, and two adorable baos. Inside the claypot were slices of smoked duck, and hidden beneath was hot charcoal that intensified the smokiness. Each bite of the juicy smoked duck burst with savoury smacks and had faint hints of charcoal. When combined with bao and salad dipped in Szechuan pepper sauce, it resulted in a firework of sweet, salty, bitter, and spicy flavours that felt like a party in my mouth. Alternatively, diners can also opt for the Australian Wagyu Striploin M7 as an upgrade for an additional RM90.
Smoked chocolate with coffee foam and soil
And finally, we arrived at dessert. This dish, in particular, was definitely one I looked forward to as the idea of smoked chocolate and soil sparked my curiosity. When the dish was served, it presented a scoop of chocolate mousse placed on top of chocolate crumbs (AKA 'soil') and coffee foam. The chocolate mousse had a rich and creamy consistency with a good balance of sweet and bitter flavours accentuated by the coffee foam, while the chocolate crumbs added just the right crunchy texture to complete the dish—making it a delectable end to the meal.
If this new concept is something you'd like to experience, drop by Artisan's Playground and let Burnt & Co take you on a fiery gastronomic journey. Not a curated course meal? Fret not! You can also choose from their regular menu that features dishes similar to Chef's Table such as Wagyu Beef Burger.
---
Burnt & Co
Address: Artisan's Playground by Cookhouse Level 1, Block H, Plaza Riverwalk. 1, Jalan Selvadurai, Off, Jln Sultan Azlan Shah, 51200 Kuala Lumpur, Wilayah Persekutuan Kuala Lumpur
Opening hours: 12pm to 3pm, 6pm to 10pm
Phone number: 010-212 1280
Find more food reviews here.
| | |
| --- | --- |
| SHARE THE STORY | |
| Explore More | |