I was just scrolling through my phone one night when I stumbled upon a post on Instagram. It struck a chord with me because of two things. One, Beni is the name of a very special friend of mine. Secondly, the post says that Béni Singapore will open a Malaysian outpost really soon. Thoroughly excited, I sure was. However, I was taken aback when I realised that the restaurant will be situated all the way up in Genting Highland (Sky Avenue, to be specific). Ambitious, enthusiastic, determined, and maybe, risky.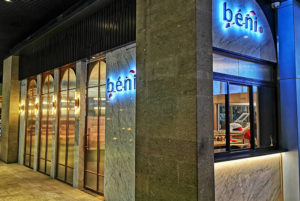 Beni Malaysia at Genting
A little lowdown on Béni: Helmed by Chef de Cuisine Kenji Yamanaka in Singapore, the restaurant specialises in Japanese reinterpretation of authentic French cuisine. From 2016 to 2019, Béni Singapore was awarded the prestigious one-Michelin star at the Michelin Star Awards. Béni Malaysia's kitchen is spearheaded by none other than Head Chef Shiro Onishi. The design of the contemporary French-Japanese restaurant is also something to marvel at—from elegant marble tables to classy ceiling decorations.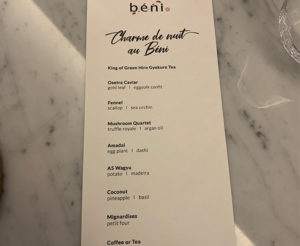 Beni Malaysia menu
I had the opportunity to dine at Béni Malaysia and you better believe I took it. On the very night that I was there, many major stars were present too; from Ning Baizura to Sazzy Falak to Dr Soo Wincci. Let's just say I was massively starstruck and that feeling continued with the food. Before I proceed with the food review, let me just say that I was thoroughly impressed (I was even raving about how this was one of my best meals of the year). Well, without further ado, these are my favourite dishes from Béni Malaysia.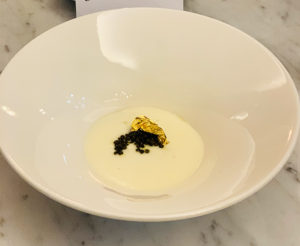 Osetra Caviar at Beni Malaysia
The first dish I tried was Osetra Caviar with Gold Leaf and egg yolk confit. There is no better way to kick off an opulent meal in the skies than the amalgamation of caviar and gold leaf. These ingredients connote luxury and they definitely did set the mood. The dish consisted of Norwegian Osetra caviar, female sturgeon, and egg yolk at the bottom. I was told that the best way to absorb the full glory of the dish was to scoop everything at once. And I did.
On first bite (or swallow rather), I get a combination a burst of saccharine. The well-known mild bitterness of egg yolk did break the ice, however—in a good way. It's a mixture of briny and acerbic. The richness of the dish in general was quite ambrosial. What I really enjoyed was the nutty and buttery (on top of saline) flavours of the caviar. It was a brilliant move using Osetra caviar to elevate the dish. Alright, I am excited and ready to feast on the next dish!
Mushroom Quartet at Beni Malaysia
Next came the Mushroom Quartet. No, it's not just another mushroom soup although it does seem like one. With quartet in its name, it is only obvious that it contains four types of mushroom—maitake, enoki, button mushroom, and shimeji. Four different profiles to form an intricately powerful group of musicians. To give the dish a touch of luxury, black truffle was added into the mix. When the dish was first placed on the table, it did seem like I was about to indulge in thick, creamy mushroom soup. Boy was I utterly wrong. It wasn't soup, it resembled chawan mushi instead. Yes, it was a surprise!
What can you expect from the dish that is said to have won Béni its Michelin star? True bliss, I'd say. True bliss, indeed. The way the different species of toadstools harmonised was akin to Celine Dion's live vocals; on point. It's lush, slightly piquant, and stimulating. It is also rather filling because of the luscious consistency. Calling the Mushroom Quartet dish gustatory would be an understatement.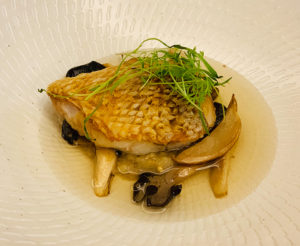 Amadai fish at Beni Malaysia
One of Béni's most popular dishes is Amadai. It is also known as Chef Kenji's signature dish. Prepared in the Matsukasayaki style, scales which are left on the fish are then fried to a crisp. You will notice that they resemble pine cones. Seasonal touches are given to the Japanese branquillo; hence, the concoction I tried came with eggplants and dashi (fish stock). The soup consisted of shimeji mushrooms, king oyster mushrooms, lemon, cardamom, basil, pork leg, and white pepper. These ingredients were given the important mission to beat Thanos intensify the overall flavour profile of the dish. With a fork on my left hand and a spoon on the other, I dug into the creation with high expectations. The soup was toothsome and full of character. I really liked that it was so light yet has so much life.
As for the fish, here's what I enjoyed and what I didn't. The flesh was soft, tender, and really delicious. The addition of the dashi really did create a multi-dimensional meal. However, it would have been a major force to reckon with if the scales were crispier. Don't get me wrong—the dish was still good and the Chefs need to be given credit for their undeniable skills. I'm looking forward to trying different ways of preparing the amadai fish.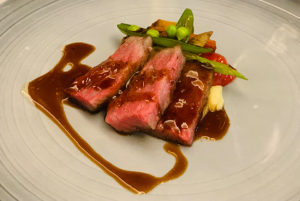 A5 Wagyu at Beni Malaysia
Growing up, my parents would always repeat: "never refuse a good offer". Now, the phrase is joyfully embedded into my state of mind. Who am I kidding—I was not about to turn down a plate of A5 Wagyu. I would have been an embarrassment to my family, friends, and society. Alright, that's an exaggeration but you get what I mean. The last main course was the glorious A5 Wagyu that was imported from Shiga Prefecture in Japan. The dish came with potato purée as the base, madeira wine sauce, and some vegetables. I love all things beef (including sashimi and tartare). It is easy to picture my excitement when I first saw this on the menu.
What is it about the steak that stuck with me? It wasn't just the succulent and rich body of meat that melted in my mouth. Yes, the Wagyu was everything I could have wished for—tender, cooked to perfection, and utterly delightful. The madeira wine sauce stole the show, in my opinion. Its thick and dulcified consistency (plus the really robust smell of wine) had a plethora of fascinating flavours that complemented the beef so well.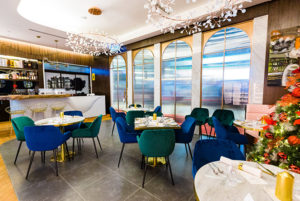 Beni Malaysia interior
These are my favourite dishes from my time at Béni Malaysia. As usual, there were hits and misses (more of the former than the latter). What I'm thoroughly concerned about is its location. Does Béni's food warrant a drive all the way to Genting Highland? It's a yes for me but it certainly isn't the case for many Malaysians. Béni Malaysia looks at this predicament as a challenge and it will be interesting to see how things fare in the future. What's certain is that their food is top notch and definitely worth checking out. For now, bon appétit and itadakimasu.
---
Address: Lot T2-19, Level T2, SkyAvenue, Genting Highlands
Opening Hours:
Lunch Section—12pm and 1.30pm
Dinner Section—6pm and 8pm
Contact: 03 6101 3001
Website | Facebook | Instagram
---
For more food reviews, click here.
| | |
| --- | --- |
| SHARE THE STORY | |
| Explore More | |