With the Recovery Movement Control Order (RMCO), hotels in Kuala Lumpur have begun operating again. Although The RuMa Hotel and Residences has not reopened for stays, you can now pamper yourself at the hotel's UR Spa (with its signature Touch Therapies) as well as dine at the hotel's F&B establishments, including Seven Lobby Bar and Santai Pool Bar as well as Atas Modern Malaysian Eatery.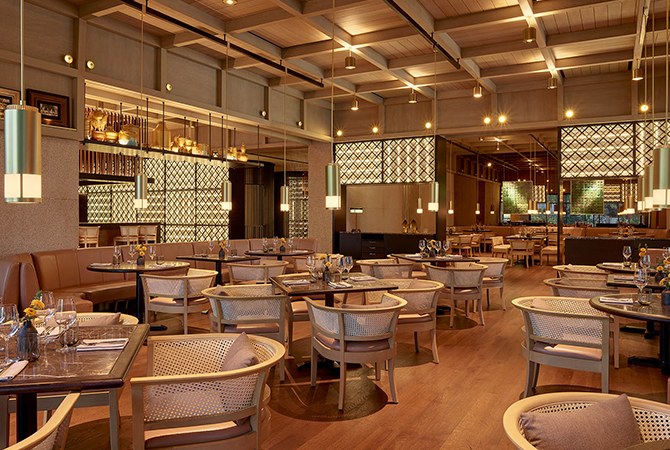 Last year, Editor Rachel Au reviewed the culinary fare at the contemporary Malaysian restaurant when they first opened and happily recommended a plethora of dishes to check out—from the 7+ Wagyu Sirloin to the Pandan creme caramel. Fast forward to 2020, Executive Chef Tyson Gee's latest menu is a brilliant combination of signature creations and fresh concoctions.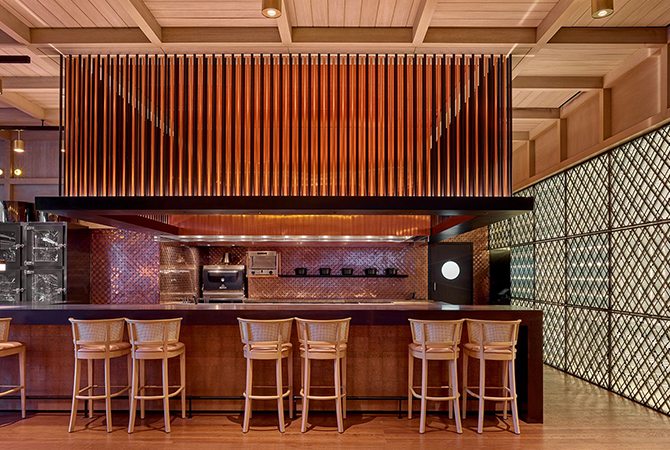 Ingredients and spices take centre stage here at Atas Modern Malaysian Eatery; many of them sourced locally. Flavours lead the way—instead of experimental and fancy versions of well-known Malaysian delicacies.
Blue Tiger Prawn (RM45)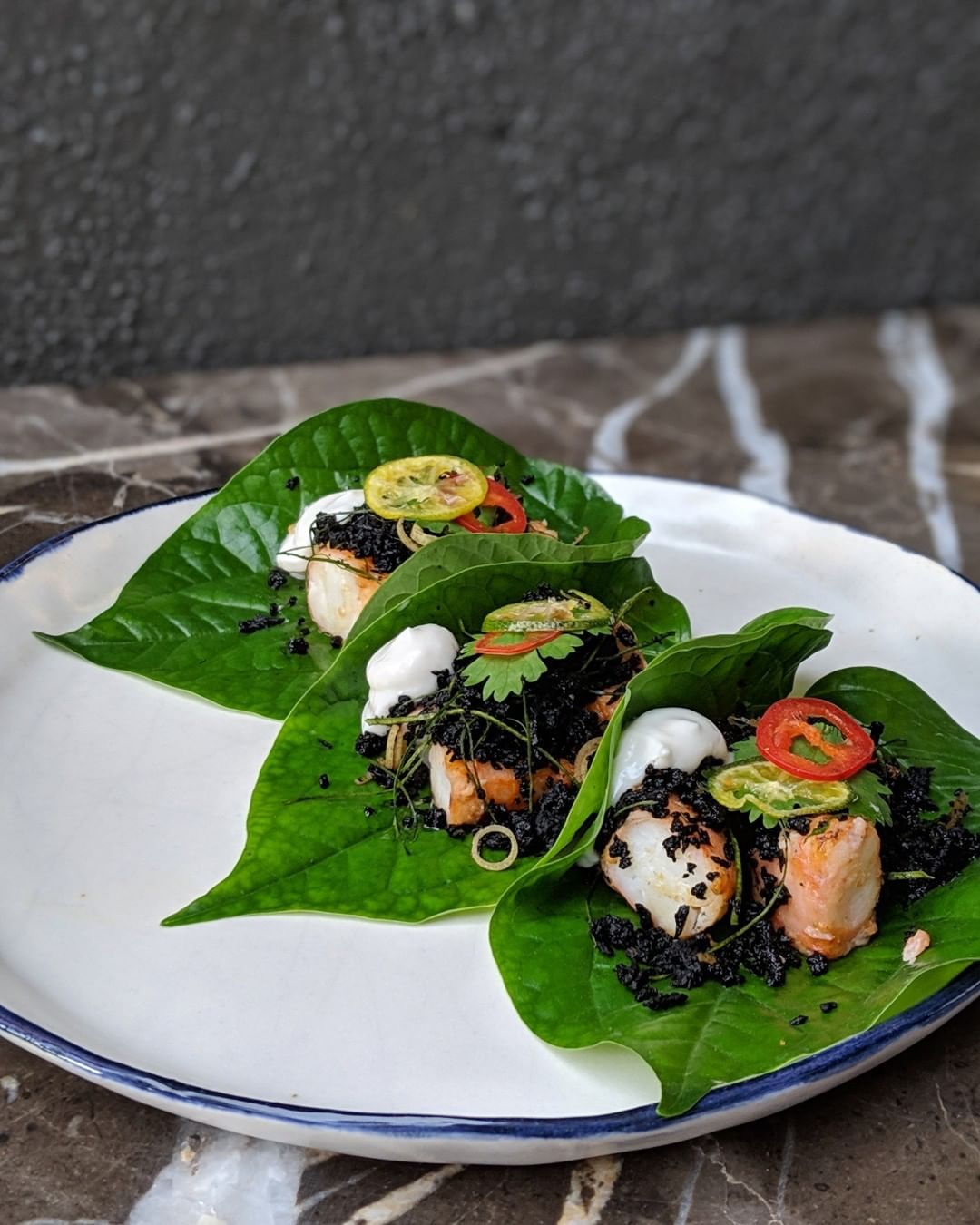 It's easy to see (and taste) why this starter with betel leaves and charred coconut sambal is so well-adored. Described as Malaysia's version of the popular Thai dish, Miang kham, you get an avalanche of flavours when you consume in one mouthful. Think an explosion of gustatory bliss.
The prawn (with plumpness to boot) provides the delicate sweetness while the betel leaf brings on some mild bitterness—thus, resulting in a well-balanced creation full of palatable personality. You'd want to go for more (just like girl group Twice envisioned), especially for the unforgettable burst of flavours. I sure do!
Torched Hand Dived Scallops (RM46)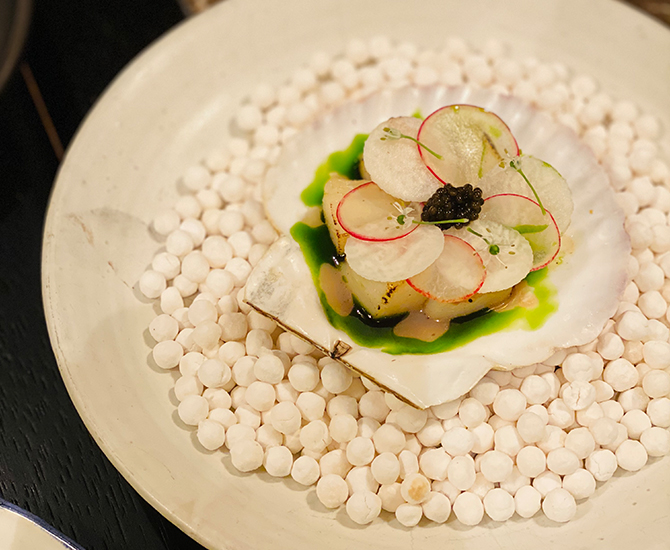 Leave it to Chef Tyson and Atas to bring the funk (and soul). This time in the form of scallops and Gula Melaka soy dressing. The hand dived scallops—served with kaffir lime, jicama, and local caviar—are almost too pretty to be devoured. Scallops are candies of the sea and should be treated as such.
Delicate, fresh, and pudgy, the naturally lush scallops are pampered with a citric treatment in the form of kaffir lime. You get a hint of equitable sweetness from the soy dressing; one that does not, in any way, overpower the innate being of scallops.
Cured Ocean Trout (RM52)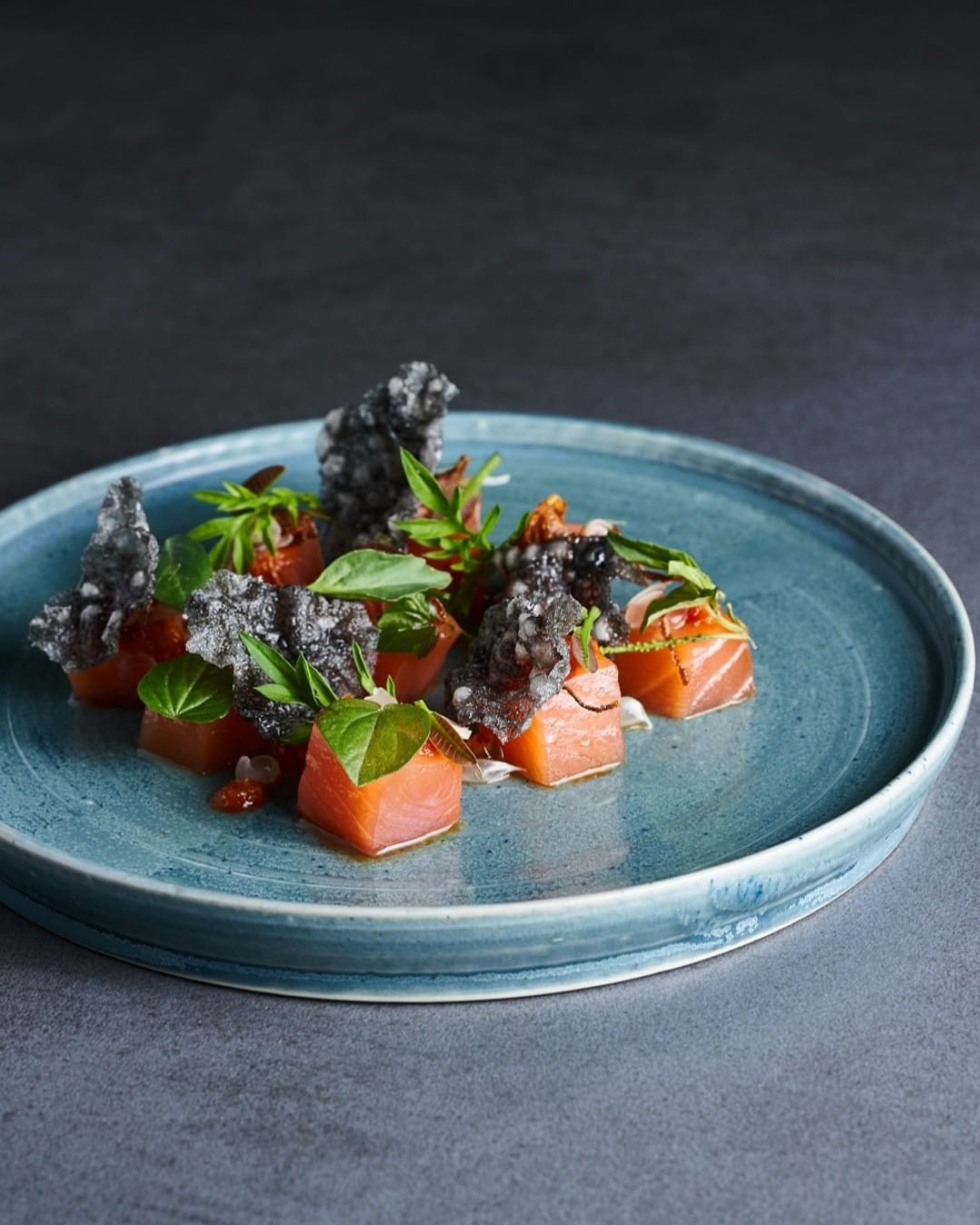 Another dish on the menu with one of Chef Tyson Gee's many unique versions of sambal is Cured Ocean Trout. Served with puffed tapioca and local herbs, expect a multi-dimensional experience with every bite. You get the crunch with the keropok-like puffed tapioca and the delicate richness of the ocean trout (which is seasoned adequately—making it extremely flavourful on its own).
While the dish is easy (obviously) on the eyes, it is also easy in the mouth. How satisfying. The sambal wasn't overtly spicy (perfect for a non-chilli queen like me). With just the right amount of added sweetness, the entire dish was thoroughly elevated. It's a must-have at Atas, after all.
Ike Jime Malabar Snapper (RM80)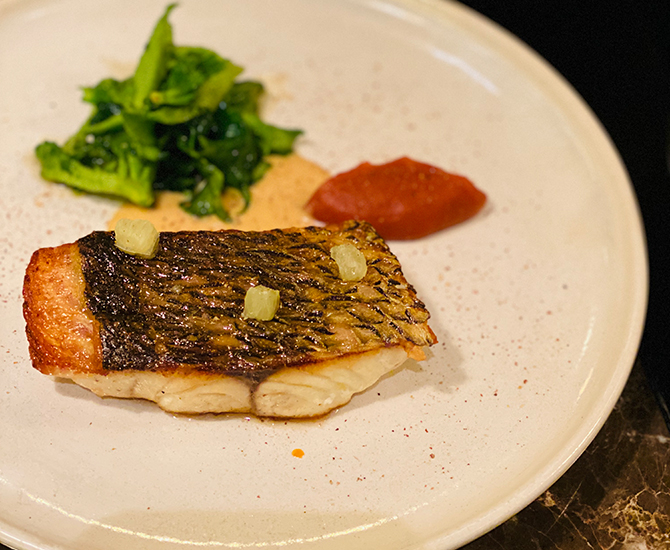 While the dish isn't exactly the prettiest or the most Instagrammable, all you have to do is take a bite for that notion to disappear once and for all. The iconic Dory said it best: "just keep… eating." The malabar snapper dish—with Sichuan pepper, tamarillo, ice plant, and local tauchu—is prepared utilising the Japanese technique of Ikejime. Meant to maintain the quality of the meat by ceasing any muscle movement, it is said to be a more humane method when it comes to killing fishes.
Prepared perfectly, the skin (glistening just like a successful 10-step skincare routine) was treated with utmost care; a fine line between crispy and dewy. What I loved best about this dish is how the tauchu—almost similar to miso—complemented the meat without completely dominating the snapper's characteristic richness. Brackish but necessary. Heavenly yet down to earth.
Lawas Highlands Red Rice (RM66)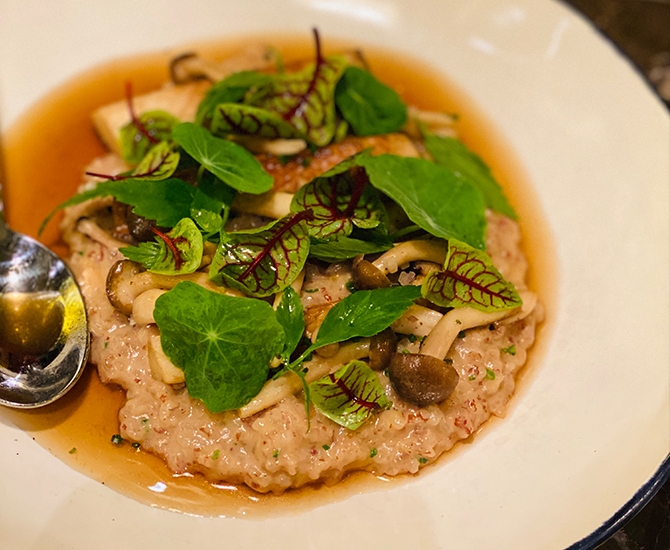 The first rice-based dish on the list has a consistency between risotto and porridge but it's more than that. Lawas Highlands Red Rice comprises of king oyster mushrooms, highland pepper, and pecorino. It's easy to over-season rice or even mess up the preparation of rice. Just ask Uncle Roger; he sure has opinions. This specific dish by Chef Tyson Gee uses red rice by Langit in Lawas, Sarawak (hence, the name). Slightly fluffy and nutty, the red rice by Langit are grown using heirloom seeds by the Lun Bawang farmers in Long Semadoh Valley.
Perfect for vegetarians, this is probably one of my favourites from Atas' menu. Seasoned sufficiently, this dish reminds me of all the iconic landmarks across Malaysia. Think the Petronas Twin Towers and Kek Lok Si Temple. Why, you asked? This is a dish that's symbolic of Atas' very philosophy—a place where guests can embark on a culinary journey through the Malay Peninsula. Combine pecorino's slight brininess with the woodsy and sweet texture of king oyster mushrooms, you get a wholesome masterpiece in the mouth.
Jasmine Rice Salad (RM23)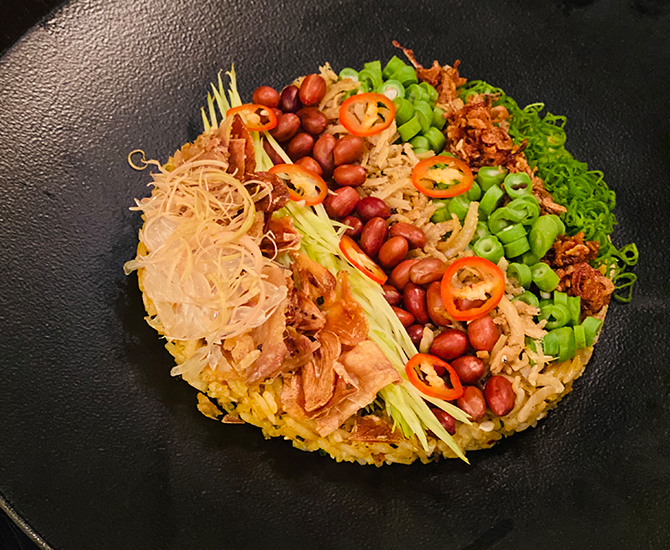 A dish like this could easily be eaten on its own! Plated beautifully (showcasing the different layers and ingredients with finesse), the Jasmine Rice Salad came with chicken skin, spring onions, sesame, and XO Sauce. Whether you immediately thought of nasi lemak or nasi kerabu, best believe that it's beyond just another version of a classic Malaysian dish. It's in a class of its own.
This combination by Chef Tyson Gee should be an exception for anyone who isn't a massive fan of carbs—especially for the crispy chicken skin and anchovies. Fragrant and full of ambrosial crunch, there's really no reason not to indulge.
Cornfed Chicken (RM78)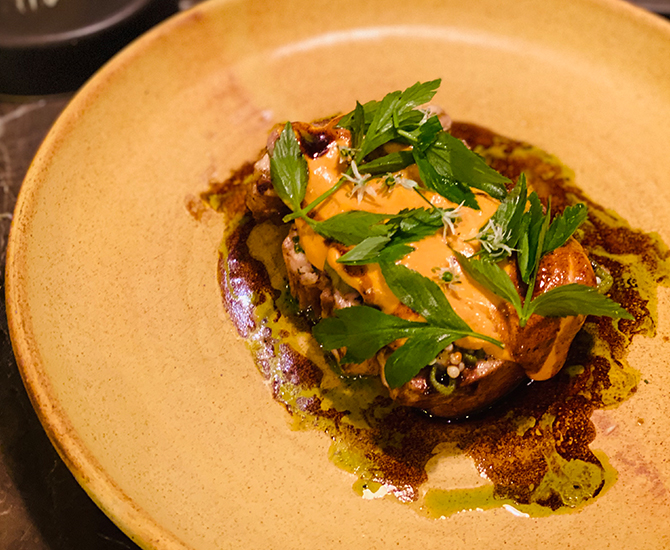 How do you even go about elevating a chicken-based dish? For Chef Tyson, it's this particular cornfed chicken dish with buah keluak, okra, and fermented chilli sauce. If you're wondering, buah keluak is the seed of the kepayang tree. The specific ingredient has to undergo proper curing methods before it is ready to be consumed.
While the meat is tender and chewy—as expected, it is the aromatic bitterness from the buah keluak that really took me by surprise. You get a fascinating and unique flavour profile; one you won't be able to find anywhere else. In addition, the mild spice level might not work for you if you're a lover of major spiciness but in my opinion, it is exactly because of the mildness that I enjoyed the dish. You still get a hint of piquant sassiness with the meat taking centre stage.
Pahang Single Origin 70 Per Cent Dark Chocolate (RM36)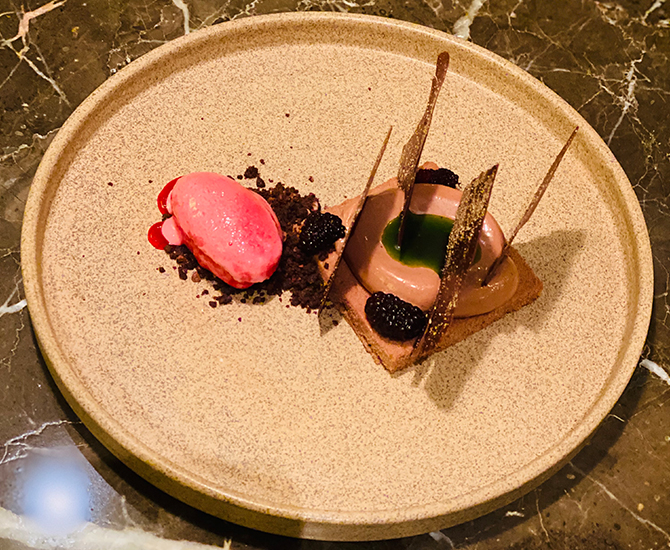 You know what we all deserve? Dessert. The menu at Atas features three dessert options: Strawberry and Goats Cheese, Durian Ice Cream Sundae, and Pahang Single Origin 70 Per Cent Dark Chocolate. I was fortunate to be able to give all three a go and while I throughly enjoyed all of them, this would have to be my favourite.
The dessert consists of two things I never say no to—dark chocolate and more dark chocolate! Utilising cacao grown right here in Malaysia, the dessert has everything it takes to be the only dessert you ever need. In life and beyond. It has the right crunch and sweetness while developing its own gastronomic realm. It's smooth, smoky, and toothsome; the ideal way to immerse oneself into the terroir (soil and climate) of the single origin chocolate. Can I have more of this, please?
Atas Modern Malaysian Eatery
Address: The RuMa Hotel and Residences, 7 Jalan Kia Peng, Kuala Lumpur, Malaysia
Contact: 03 2788 0888
| | |
| --- | --- |
| SHARE THE STORY | |
| Explore More | |