Now that dining in is lawfully and socially acceptable again, you're probably wondering what's new and worth checking out in the local dining scene. While our monthly #BUROEats list has you covered on the latest F&B openings in town and our weekly BURO Weekend Guide keeps you up-to-date on any events (including pop-up dining and special collaborations), Eats-A-Review is where we bring you our first-hand reviews on the cafes and restaurants we've visited.
In this edition of Eats-A-Review, we checked out the new plant-based menu at The Brasserie (The St Regis KL), the six-course Atas Journey (The RuMa), and the recently opened Finch KL (located at The Westin KL).
---
1. Plant-based menu (vegan) at The Brasserie, The St. Regis Kuala Lumpur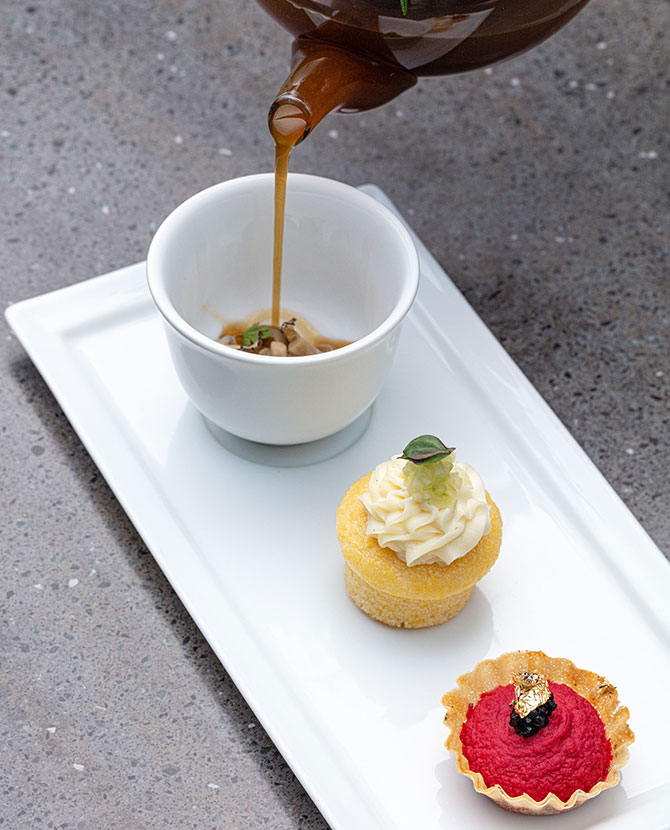 "The term 'plant-based' seems to be the latest buzzword, but few do it as elegantly as Keith Hooker, Executive Chef at The St. Regis Kuala Lumpur. Rather than relying on increasingly popular plant-based/fake meats, Hooker chose to concoct his plant-based menu from 90 per cent farm-fresh *Malaysian* produce. Hooker's reasoning is that some plant-based meats use ingredients that vegans can't take and that the bigger picture behind going plant-based is sustainability, after all. Think about how much carbon footprint you save by just supporting local and using fresh produce. So, all vegetables and some fruit? It's understandable if you think you need to reach for a snack an hour later. I had my doubts too, and they were instantly squashed by the fourth course.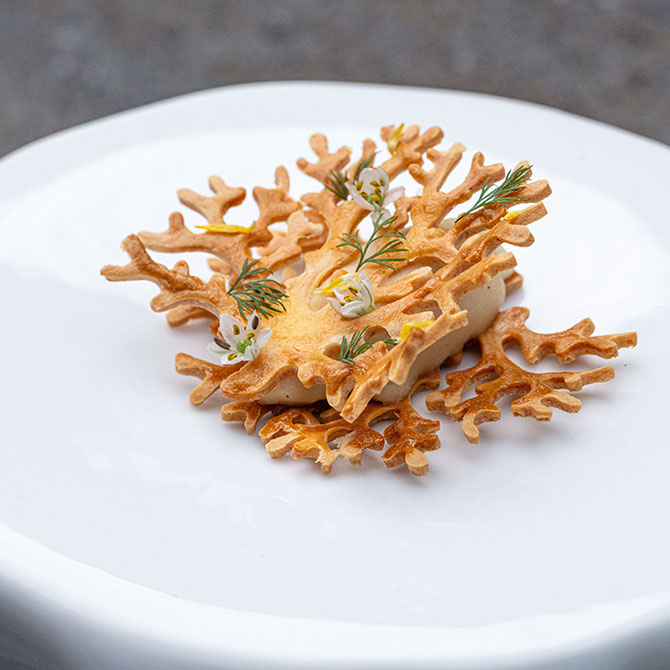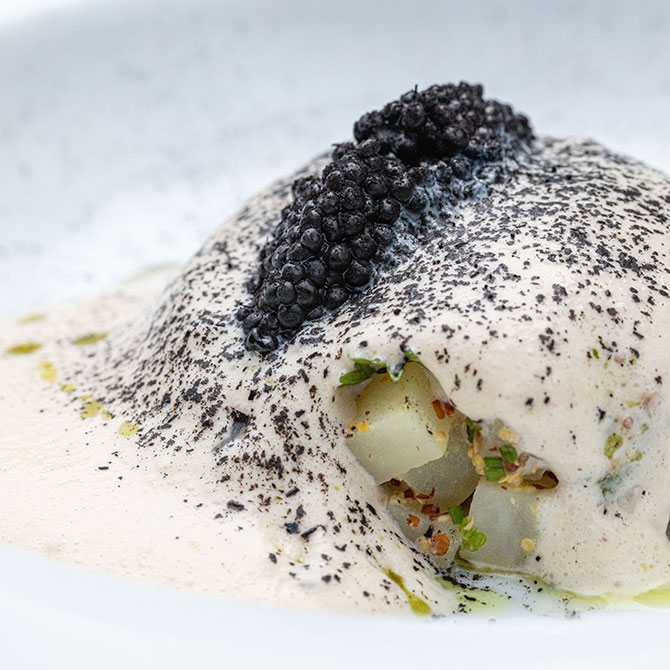 "The menu begins with 'Afternoon Tea'—a nod to Hooker's English roots in London—a trio of mushroom tea (which arrived with a glass teapot filled with mushroom stock and a handful of fragrant herbs peeking out at the top), sweet corn and cucumber fairy cakes, beetroot, and celeriac tarts. A savoury 'Afternoon Tea' that hinted that every course was not going to be what I imagined. What followed was Roasted Jerusalem Artichoke Skin, which resembled a dainty coral-shaped biscuit placed atop artichoke ice cream, accompanied by hazelnut and truffle. Hooker clearly has a way with artistic presentation because the Cameron Highlands Barbecued Carrots (featuring carrot and miso puree, charred baby leeks, and truffle jus) looked, in his words, like a garden. To which, I replied that it reminded me of a mini orange Stonehenge. I'm personally not a huge fan of leek—even when it's charred—but the puree was top-notch and balanced well with the miso. It's also quite filling by this point. Prior to this dish, it was Baked Potato (hot-baked potato foam and cold potato salad). Though it sounds simple, it was wholesome and reminiscent of comfort food—topped with caviar-like truffle pearls that were no easy task to achieve.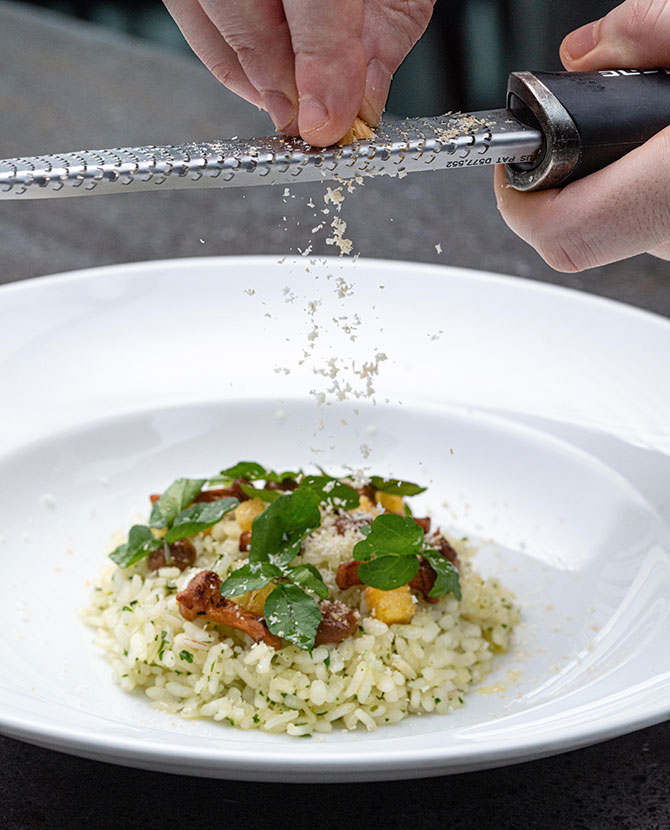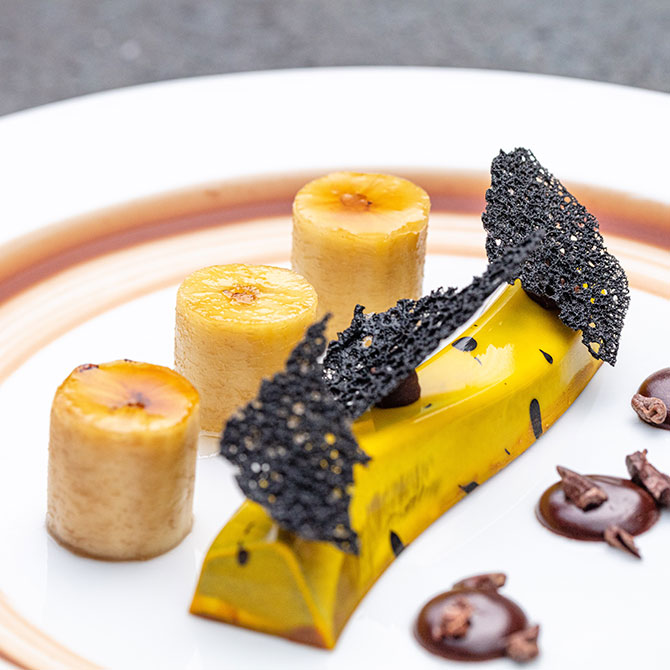 "What followed was Braised Purple Sprouting Broccoli and for the main, Vialone Nano Risotto, which was beautiful, creamy, smoky and savoury. It's essentially made with mushrooms (cep puree and roasted girolles) but the cashew nut butter made all the difference. By this point, I was too stuffed to finish it. What was I thinking about needing tea time again? For dessert, I had Mandarin and Bergamot Sorbet as a palate cleanser and ended with Valrhona Amatika 46 per cent Chocolate Bar. It's vegan chocolate with praliné feuilleté, banana Amatika and tonka bean—you wouldn't have guessed it was vegan had I not mentioned that. I'll admit that I had low expectations for it being a 'plant-based menu' but this has given me a new perspective of how fun and delicious it can be. I need another serving of that risotto." —Rachel Au, Editor
The plant-based menu at The Brasserie is priced at RM388+ per person, and is available for lunch or dinner, every Monday to Wednesday. To make a reservation, call +603 2727 6696 or email [email protected].
2. Six-course Atas Journey, The RuMa Hotel and Residences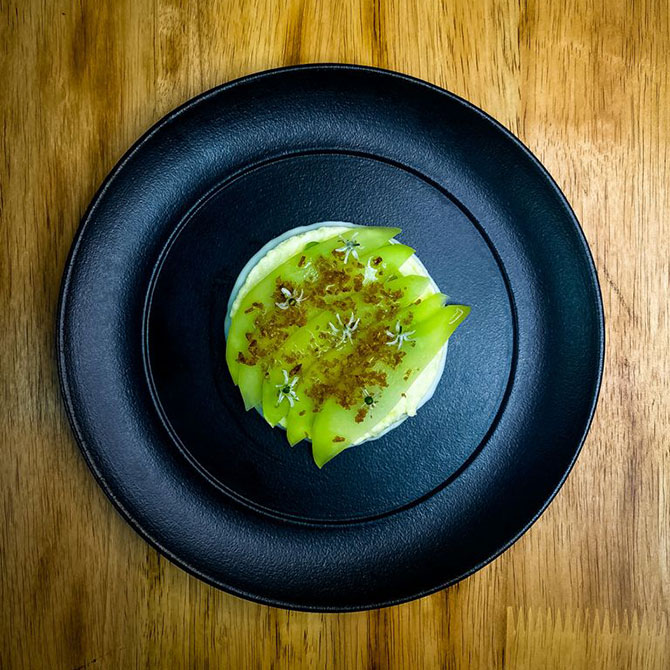 "Atas has carved a name for itself in the local modern Malaysian dining scene ever since The RuMa opened its doors in 2019. With its recent reopening after the lockdown, the contemporary restaurant introduced a new six-course Atas Journey showcasing new dishes with the same respect for ingredients and craftsmanship. Kicking off the six-course journey was Chicken and Waffles—a chicken liver parfait served with hazelnut, watercress, and a waffle. Smooth and creamy without being overpowering, the parfait proved a welcome start, especially paired with the sweet hazelnut sauce and buttery, crisp waffle. The next dish of Stracciatella Cheese was an intriguing one, with a unique combination of chayote, edamame, green chili, and rye crisp complementing the delicate cheese. It was on the milder side in terms of flavour, serving almost as a palate cleanser."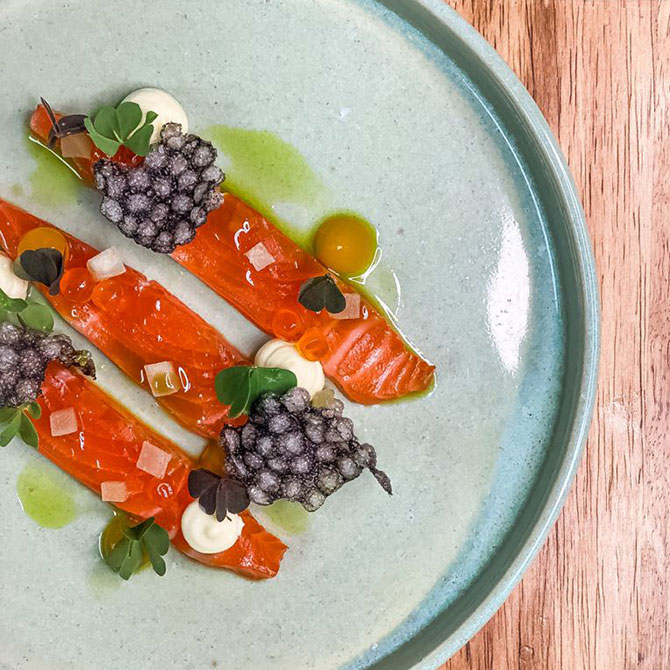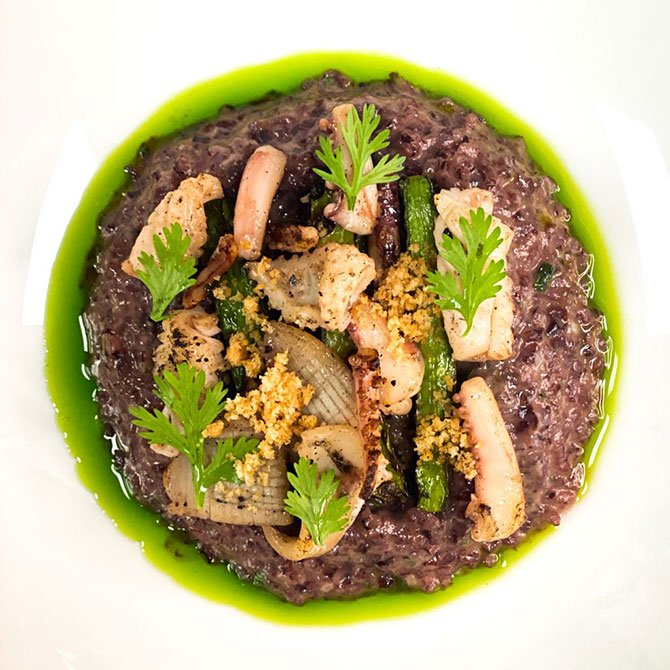 "I noticed how a textural play continued to highlight the third and fourth dishes of the evening—much to my delight. For instance, the crackers, granny smith and passion fruit bits offered a nice bite to go with the fresh, robust flavours of the Smoked Ocean Trout, with dollops of sour cream lending it hints of tang and creaminess. Then there was the Charred Calamari, where locally sourced keladi rice—served in the form of risotto—presented a rich, soothing consistency and equally comforting flavours.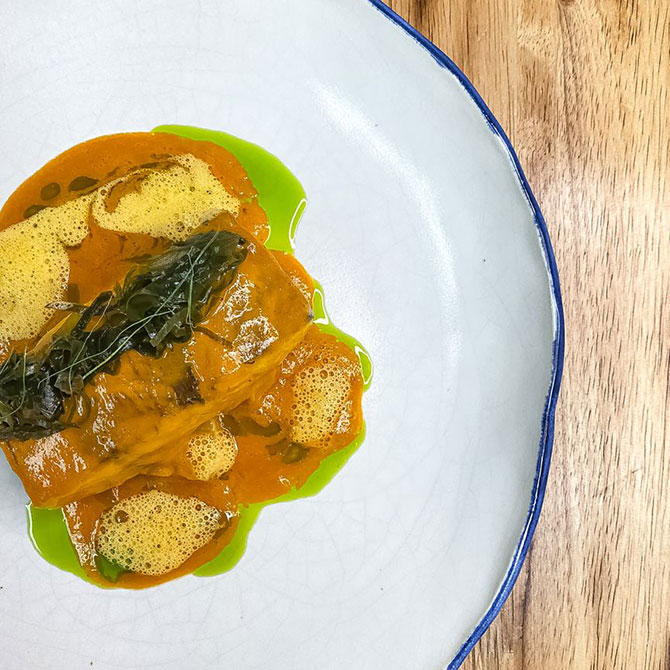 "For the main course, I chose the Ikejime Seabass, while my companion of the evening (see Beauty Writer Redzhanna's mini review below) opted for the Dry Aged Duck Breast. Both arrived with generous portions, but I ended up preferring the latter as the raspberry, plum, and beetroot balanced out the gamey flavours of the duck better than the sauce Americaine fared with the fish. To round off the meal, I had the Peaches and Cream dessert, featuring a light crème fraiche ice cream that wasn't too sweet on the palate. One word: delightful. I had hoped to see more Malaysian elements on the menu since Atas is, after all, a modern Malaysian eatery; but the innovative use of fresh local produce definitely shined through for a gastronomic journey that was no less 'Atas' in finesse." —Natalie Khoo, Senior Lifestyle Writer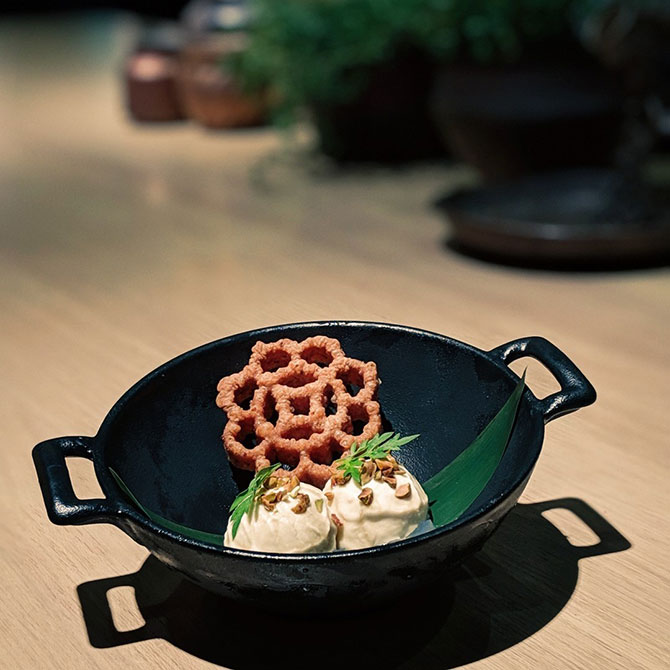 "Of all the dishes in the six-course Atas Journey, the duck breast was my favourite. I loved the pairing of flavourful dry aged duck breast with sweet raspberry sauce and local fresh figs. Overall, I found that the blend of savoury and sweet flavours made for a very satisfying dish that really just ticked all of my boxes. Not to mention, while the dry ageing process made the meat exceptionally tender, it was also cooked to perfection; a spot-on medium rare. What more could you ask for?
"That said, while that was my favourite dish of the six courses, my favourite item on the menu is actually the restaurant's Durian Ice Cream Sundae. If you're a durian connoisseur, you'll probably have heard of this eatery's take on the dessert. Well, I can confidently say that it exceeds its reputation as the best durian ice cream in town. Made almost entirely from frozen durian, it is rich, creamy and packed with intense flavour. Plus, it's paired with strips of crunchy biscuit and cubes of jelly to add some texture that rounds off the dish well." —Redzhanna Jazmin, Beauty Writer
The 6-course Atas Journey is priced at RM248 per person and is available for dinner daily. An optional wine pairing is also available at an additional RM130 per person. To make a reservation, call +603 2778 0735 or email [email protected].
3. Finch KL, The Westin Kuala Lumpur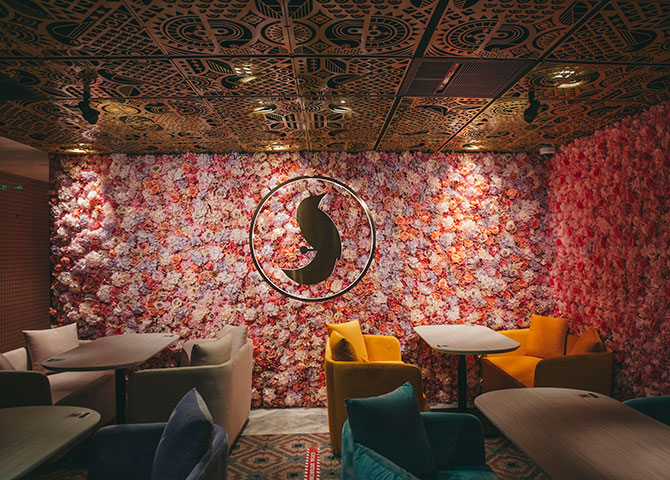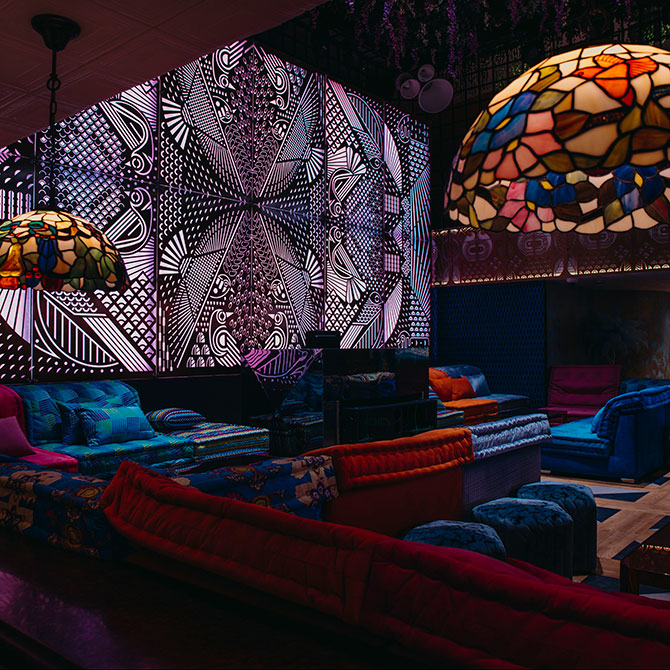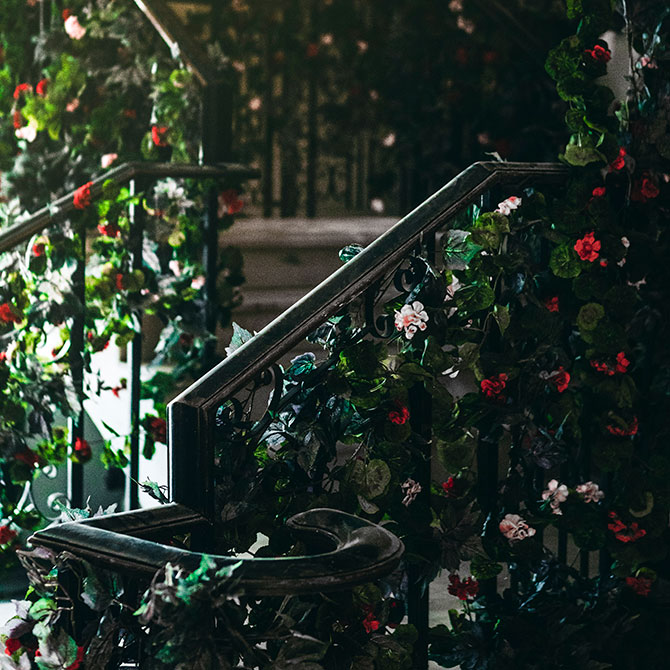 "The Great Gatsby meets Alice in Wonderland, Finch Kuala Lumpur has turned a corner of The Westin KL into a playground for the whimsical epicurean. Whether you're stepping in from the street or directly from the car park, the immersive decor that bedecks every inch of this two-floor restaurant offers a respite from reality.
"Encouraging diners to 'seek magic every day', entering Finch feels akin to stumbling upon the entrance to a secret garden. Gilded birdcages, jewel tones, geometric shapes, cascading roses, palm leaves, and flamingo prints adorn one of KL's most Instagrammable dining venues. There's a surprise to discover at every turn—washrooms included—so you'll want to keep coming back for more. If you prefer to dine outdoors, the alfresco wooden deck is just as magical, with a striking scarlet tree in the centre giving this space a fairyland vibe.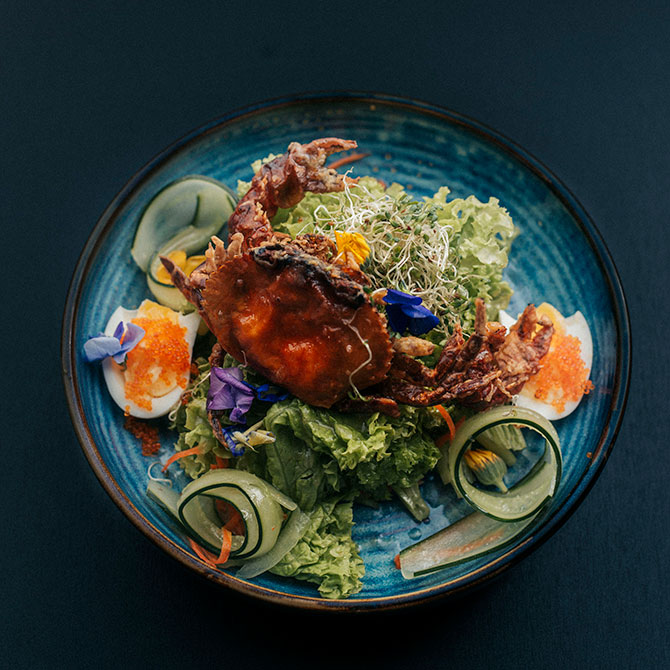 "It's fortunate that the food doesn't break this spell in both variety and taste. The extensive menu covers both land and sea, as well as Asian and Western flavours: From pizza to Japanese don to nasi lemak. Start your adventure with the intriguingly-named Jungle Crab Salad. This combination of deep-fried soft shell crab, crunchy greens, hard-boiled egg, and fish roe that pop in the mouth is savoury yet refreshing. It's large enough to split among two or more dining companions if you're moving on to mains.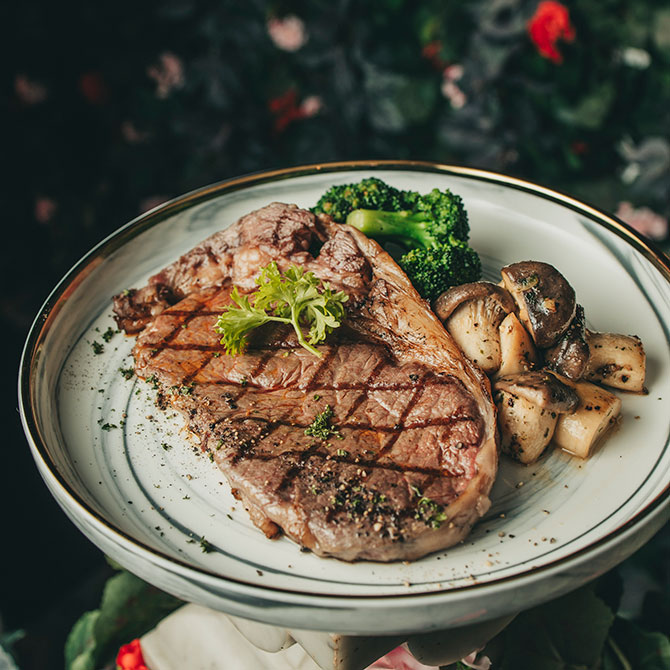 "In case you're wondering, the soft shell crab is available to order on its own, without the rest of the salad. I recommend the Truffle Fries too for its generous sprinkling of truffle pate and parmesan. Aromatic, crispy, and oh so addictive, you'll keep reaching for more. When you're craving a juicy slab of meat or looking to cut down on carbs, splurge on the Charbroiled Australian Wagyu M4/5. At medium-rare doneness, the generous rib-eye steak was juicy and tender, with the chimichurri giving it a palette-awakening zing that cuts through the fats.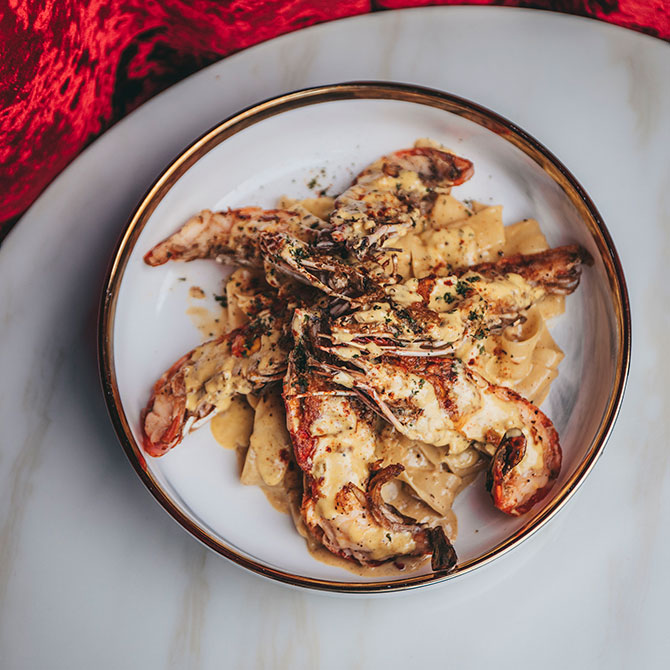 "For those with a taste for crustaceans, you'll be familiar with sang har AKA freshwater prawns with large heads. Prized for its tomalley, the buttery red-orange paste found within the head, Finch's take on this delicacy is the Freshwater Prawn Saffron Pappardelle. Generous with the prawns and intensely rich, it's an indulgence perfect for fans of creamy pasta, or ordered to share so you can try a variety of dishes without getting into a food comma too quickly.
"For dessert, order what catches your fancy at the cakes display—or be a little cheeky and partake of Finch's boozy selection including wines, champagne and cocktails." —Adelina Tan, Deputy Editor
For reservations and enquiries, contact +6010 308 0888.
Read more food reviews here.
| | |
| --- | --- |
| SHARE THE STORY | |
| Explore More | |