Carbs and cheese, with optional veggies and meats—does that sound like what you're craving? Probably. It's a winning combo in any dish (as long as you're not gluten-free or lactose intolerant, at least)—decadent enough to fill your belly and keep you full, yet super versatile depending on your choice of vehicle.
As of late, I've been craving this particular combo in the form of a slice of pizza. Or, more accurately, several slices of pizza. Specifically, I'm looking for great pizza that tastes as good fresh as it does reheated. So, in light of my search, I sought to try some of the most highly recommended pizza places in town.
Ahead, find my reviews of some of the most buzz-worthy pork-free pizza joints up for delivery in KL.
TW: Endorsement of fruit on pizza ahead. Proceed with caution.
Pizza Mansion
Full disclosure: We (AKA my family and I) ordered pretty much everything on the menu (how were we to choose? It all just looked so good). This included the truffle mac and cheese and the baked meatballs to start, followed by the Pineapple Express, the Smokey Robinson, the Magic Mushroom, the Anchovy Marinara, and the Carbonara.
Starting with the Truffle Mac and Cheese: This is hands-down one of the best things on the menu (duh). It's decadent and cheesy as all mac and cheeses should be, yet the truffle oils add a distinct flavour that isn't overwhelming. Needless to say, we wiped this plate clean collectively.
Next up are the baked meatballs. While it is a relatively simple dish, it is spectacularly done. Personally, I love a good marinara sauce, but I have seldom found one that is to my taste… until now. Tart and spicy, the sauce is the perfect complement to the meatballs, which are themselves perfectly cooked to that melt-in-your-mouth texture.
Now, the pizzas had us split. While I can confidently say that the Pineapple Express is my favourite, the rest of my family's votes were split between the Anchovy Marinara and the Smokey Robinson. One thing I particularly appreciate with Pizza Mansion's pizzas as a whole is that their crust is consistently good. Fluffy and flavourful (as all Italian-style pizzas should be), the dough stands perfectly well on its own, but also makes an absolutely ideal vehicle for the toppings.
Personally, I find that no matter what I'm eating, the combination of pineapple and smoked duck is unmatched. The Pineapple Express is sweet, savoury, and smoky all at once, and Pizza Mansion's little touch of cinnamon flavouring over the pineapple brings out the best in each ingredient of the dish.
The Smokey Robinson is definitely not for everyone, but it's better than you think it's going to be. I would actually place it in my top three pizzas from this joint—the combination of smoked salmon and hot pizza is initially quite weird, but with all the other toppings considered, it makes for a really fresh dish.
The Magic Mushroom, on the other hand, is an umami treat. Layered with porcini and button mushrooms and topped with truffle cream and oil, it's rich, flavourful, and delicious. I do find that it becomes a little too rich for me after a few slices (I blame my lactose intolerance), but that's no issue in a sharing party.
Next, we have the Anchovy Marinara. Fair warning: This pizza is salty. Now, the dough and the marinara sauce do work to balance it out, but the anchovies are still a little overpowering if you're unfortunate enough to get an exclusive mouthful of it. That said, it still made my top three! What can I say? I just love anchovies and marinara sauce. Just be sure to keep a litre or two of water on-hand…
Finally, the Carbonara. To be honest, I definitely wouldn't reach for it again but that's probably more to do with my personal preferences as opposed to the quality of the actual pizza. It just pales in comparison to everything else on the menu. In fact, I reckon that if I'd started on it before everything else, I would've enjoyed it far more. That said, though it wasn't for me, it did end up being one of my brother's favourites!
Website | Instagram | Facebook
Phil's Pizza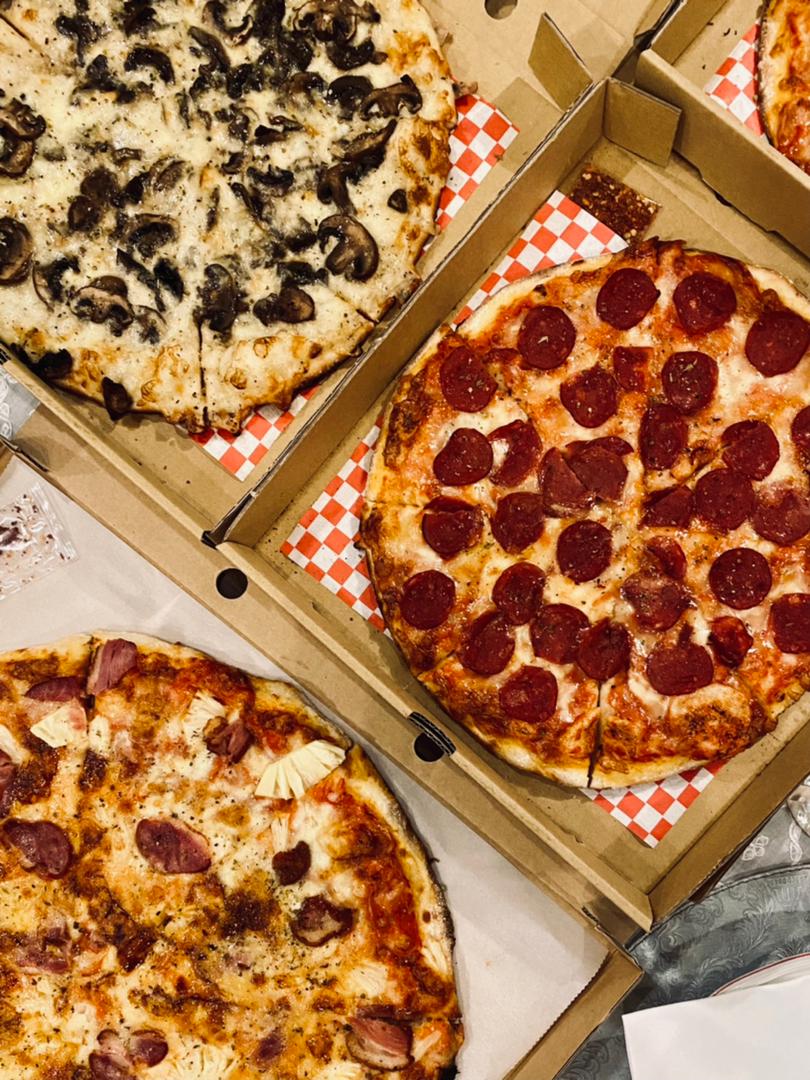 For our dine-in (at home) session, I looked to get a good sampling of the whole menu. Unfortunately, working out portions took a little brainpower. You see, Phil's has the unique offer of both 12″ and 18″ pizzas on their menu, with the option to go half-and-half on the 18″ pizzas (PS: You can also order by the 18″ slice). So, after figuring out exactly how much I'd have to order to feed the whole family for both Iftar and Sahur, I opted to order an 18″ Pineapple Sugus, a 12″ Beef Pepperoni, a 12″ Truffle Mushroom, and a 12″ Margarita.
Personally, I'm not a fan of New York/American pizzas as a general—they tend to be a little too dense and too rich for my preferences. While they taste great, I often find that they make me feel sick after a few bites (I believe the word I'm looking for here is jelak). Fortunately, the toppings at Phil's are so good that I don't even mind the inevitable nausea.
Obviously, Pineapple Sugus was in my top three (did I mention that I love smoked duck?), but I was surprised that my actual favourite from Phil's was the Margarita. The combination of basil, tomato sauce, and mozzarella just ticks all the boxes. In three words: Simple, but effective. Plus, as a girl who generally loves reliable classics, the Beef Pepperoni was the final pizza to make my top three (coincidentally, it's also apparently the namesake Phil's favourite). All in all, if I were to order again, these are the three I'd reach for first.
That's not to say that the Mushroom Truffle was bad in any way. In fact, it was a hit with the rest of my family, who seemed to prefer the Mushroom Truffle over all of my personal picks. For the record, it is a great pizza. It has everything you could want in a mushroom slice—I just found it a little too overwhelming together with the crust.
Website | Instagram | Facebook
MyPizzaLab
I'm already a regular patron of MyBurgerLab (as well as all of its other partnerships like the La Juiceria X Beyond Meat collab and, my personal favourite, the Hawker Hall collab), so when I found out that they had a branch dedicated to pizzas, I simply had to give it a try.
Like Phil's Pizza, MyPizzaLab also offers a range of sizes, albeit in a smaller range (not a bad thing): 10″ and 7″, depending on how hungry you are. My family aren't particularly big eaters, so we ordered a 10″ Huat The Duck, a 10″ BBQ Chicken, and a 10″ Honey Mustard for dinner one evening.
The Huat the Duck is—you guessed it—another smoked duck pizza, so there isn't really any competition as to which ended up being my favourite of the lot. However, one thing I did appreciate is that this sweet-and-savoury pizza comes with a twist. Instead of using pineapple as the default fruit on pizza, MyPizzaLab has opted to use mandarin oranges instead. Ever heard of Duck à l'Orange? It's the same principle, except on a pizza; and it tastes good. It's definitely not for everyone (as is custom for any fruit-on-pizza combo), but if you're feeling mildly adventurous, consider giving it a shot!
The BBQ Chicken ended up being a hit in my books—similarly to how pepperoni goes with pizza, the barbecue sauce and chicken combo is a reliable classic. The barbecue sauce isn't too sweet, and the chicken is nicely cooked; once you throw in a delicious, Italian-style crust and a hefty helping of cheese, it's perfect!
With regards to the Honey Mustard pizza, I have to be honest: I think I like actual honey mustard sauce more as a concept than I do in execution. This pizza is another sweet-and-savoury combo that almost hits just right—however, between the pepperoni, portabella chunk, onion jam, and titular sauce, while it's definitely tasty, there is a little too much going on at times. That is, however, just my opinion, and during our post-dinner family recap, it ended up being a big favourite with the brothers.
As mentioned, like Pizza Mansion, MyPizzaLab has opted for a lighter, Italian-style dough for its pizzas as opposed to heavy, American-style dough, so that's a point in their favour. I personally liked that there were some tamer options on the menu in addition to the wackier toppings—if you have picky eaters in your family, you can rest assured that there are options for everyone!
Overall, I think each joint brought its own unique twist to the table—Pizza Mansion with its interesting curation of toppings (and great starters), Phil's with its super-sized, party-friendly options, and MyPizzaLab with its excellent range in topping choices. Really, I'd be happy to recommend any one of them for great slices; it just depends on what you're looking for in particular. One thing I have to say is that each restaurant's goodies passed the test; they arrived hot and fresh, and tasted just as good when reheated.
Website | Instagram | Facebook
Find more food reviews here.
| | |
| --- | --- |
| SHARE THE STORY | |
| Explore More | |