Food + Drink
Chinese New Year 2020: These are the auspicious set menus and buffets to check out in KL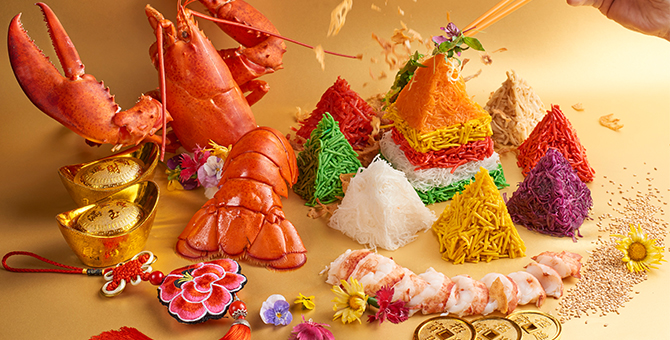 Chinese New Year is coming rather early this year and that's exciting! Many around the world will be celebrating the auspicious period from 25 January onwards (for 15 days) and that means—food galore. If you are searching for a spot in Kuala Lumpur to have a special reunion meal with family and friends, look no further than the suggestions we have for you. From dinner menus to buffets, the year of the rat is bound to be a fruitful and (definitely) filling one.
1. The St. Regis Kuala Lumpur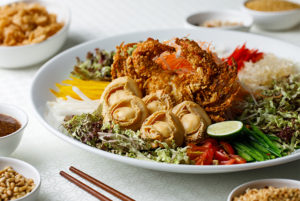 St Regis KL CNY menu
Get together with your family and friends to celebrate the auspicious season with the hotel's Chinese New Year Set Menu. You will be able to choose between three types of yee sang—Abalone and Soft Shell Crab Yee Sang, Salmon and Jellyfish Yee Sang, or Vegetarian Yee Sang. Curated by Chef de Cuisine, Cheong Boon Fei, expect to feast on treasured family recipes such as Handmade Chicken Jiao Zhi Dumpling with Spinach Skin, Braised Bird's Nest Soup, Crab Meat, Bamboo Pith and Egg White as well as Braised Abalone, Lotus Root, Fatt Choy, Dried Oyster and Broccoli. Don't forget about the Deep-fried Nian Gao with Yam and Sweet Potato!
Availability: 6 January 2020 – 7 February 2020
Price: RM468+ per person (Abalone and Crispy Soft-Shell Crab Yee Sang), RM398+ per person (Salmon and Jellyfish Yee Sang), RM368+ per person (Vegetarian Yee Sang)
Contact: 03 2727 6696
2. Hotel Stripes Kuala Lumpur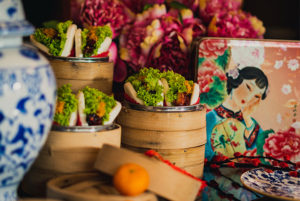 Hotel Stripes KL CNY menu
Head over to Brasserie 25 for the annual reunion dinner this Lunar New Year. Expect local festive favourites and the hotel's well-known man tao buns. There will also be sizzling meats and sweet desserts. In addition to that, a complimentary prosperity salmon yee sang will be served at your table.
Availability: 24 January 2020
Price: RM98 nett per adult, RM48 nett per child (with free flow of Prosperity mocktails)
Contact: 011 3774 8099
3. Four Seasons Hotel Kuala Lumpur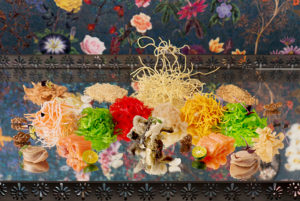 Four Seasons KL CNY menu
For Chinese New Year in 2020, why not have your get-together at the hotel's Yun House and feast on Chef Jimmy Wong's iconic seasonal menus? Moreover, you will also get to taste Chef Jimmy's personal favourites as well as the dishes he prepares for his family. Look forward to specialties such as Braised Money Bags filled with Ten Head Abalone, Fragrant Roasted Duck with Osmanthus Flower, and Double Boiled Superior Bird's Nest and Red Dates. As for yee sang, you have salmon belly, tuna toro, Australian lobster, and other prized ingredients. Get into the festive spirit with Yun House's curated Chinese New Year menus.
Availability: 2 January 2020 – 8 February 2020
Price: RM388 – RM688 nett per person (Set Menus), RM148 nett onwards for yee sang
Contact: 03 2382 8888
4. Sofitel Kuala Lumpur Damansara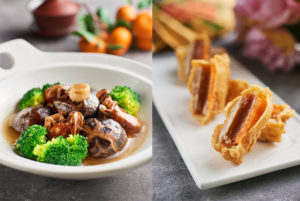 Sofitel KL Damansara CNY menu
Celebrate Lunar New Year with your loved ones at Wan Chun Ting and indulge in specially-curated menus. Choose from three menus and sink your teeth into dishes including the likes of Double Boiled Chicken Soup with Chinese Yam, Red Mushroom, and Sea Cucumber, Wok-fried Fresh Tiger Prawn with Dried Egg Shredded, Lotus Leaf Fried rice with Waxed Meat, and Deep-fried Chinese New Year Cake with Yam. All three Chinese New Year menus have nine courses. Prosperity Set Menu includes dishes such as Norwegian Salmon yee sang, Stewed Grouper with Black Fungus and Shimeiji Mushroom, as well as Braised Black Mushroom, Sun Dried Oyster, and Fish Maw with Broccoli. As for the Fortune Set Menu, you will get Deep-fried Soft Shell Crab and Crispy Fish Skin yee sang, Osmanthus Roasted Duck, and Wok-fried Fresh Tiger Prawn with Dried Egg Shredded. Last but not least, the Wealth Set Menu comes with Yee Sang with Strawberry and Scallop, Steamed Soon Hock Fish with Superior Soy Sauce, and Braised Ten Heads Abalone with Bean Puff, Sun Dried Oyster and Garden Greens.
Availability: 26 December 2019 to 8 February 2020
Price: Prosperity Set Menu (RM2,388 nett per table of ten), Fortune Set Menu (RM2,688 nett per table of ten), Wealth Set Menu (RM2,888 nett per table of ten); inclusive of a bottle of house wine per set
Contact: 03 2720 6688
5. Hilton Kuala Lumpur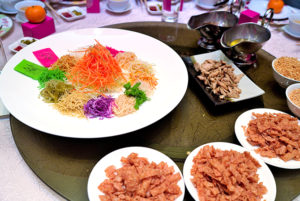 Hilton KL CNY menu
Thinking of where to go for your reunion dinner this year? Chynna in Hilton KL might be the spot for you. Five set menus are prepared by Master Chef Lam Hock Hin. The signature yee sang for 2020 is Smoky Chicken with Rice Krispies. The Abundance menu consists of Steamed Moontail Grouper with Chili Bean Sauce, Stewed Sea Cucumbers with Dry Oysters, as well as Gluten Roll and Fatt Choy in clay pot. If you go for the Prosperity menu, expect Eight Treasure Salt Baked Chicken, Sliced Abalone with Sea Cucumbers, and Stir Fried Prawns with Kam Heong Pepper Sauce. Choices for yee sang include unique concoctions such as Strawberry and Macadamia Nuts Yee Sang, Crispy Fish Skin and Salted Egg Yolk Soft Shell Crab Yee Sang, and Norwegian Salmon Yee Sang with Passion Fruit Sauce.
Availability: 2 January 2020 – 8 February 2020
Price: Abundance Set (RM2,088 nett per table of ten), Prosperity Set (RM2,688 nett per table of ten)
Contact: 03 2264 2264
6. Le Méridien Kuala Lumpur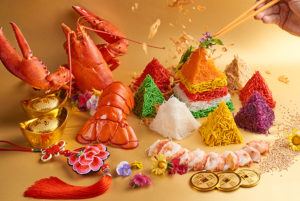 Le Meridien CNY menu
To celebrate the joyous occasion, Chef Teh of Latest Recipe has prepared a plethora of dishes perfect for Chinese New Year. What to expect? You will be able to feast on Hot & Sour Seafood Soup with Black Vinegar and finely-sliced Spring Onions, Braised Sea Cucumber with Mushrooms and Broccoli, Wok-Fried Salted Egg Yolk Prawns, Stir-Fried Kam Heong Chicken, Wok-Fried Ginger Lamb Slices, Crab with Salted Garlic Sauce Green Vegetables, Wok-Fried Crab with Spicy Chilli Sauce, and Pei Pa Style Roasted Duck among many others. The rotating yee sang selections include Yee Sang with Sliced Tuna, Yee Sang with Jelly Fish, Yee Sang with Salmon, Yee Sang with Lobster, and Yee Sang with Sliced Clam Abalone. The Chinese New Year buffet is available for dinner only.
Availability: 17 January 2020 – 8 February 2020
Price: RM168 nett per person (Monday – Thursday), RM178 nett per person (Friday – Sunday)
Contact: 03 2263 7434
7. Grand Hyatt Kuala Lumpur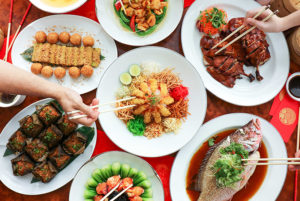 Grand Hyatt KL CNY menu
Thirty8's Chinese New Year offerings include festive culinary delights and a 360º view of Kuala Lumpur's skyline. The exclusive menus are curated by Executive Sous Chef Byron Zhang. In addition to three yee sang options (jelly fish, crispy fish skin, and salmon), there are two sharing menus to choose from: six courses and eight courses. The former includes dishes such as double-boiled chicken soup with fish maw, matsutake mushroom, and cordyceps flower as well as Teochew-style steamed tiger grouper with picked vegetables and bean curd. Both sharing menus come with the Prosperity Abalone Treasure Pot—eight-head abalone, dried scallops, dried oysters, sea cucumbers, tiger prawns, smoked duck breast, mushroom, lotus root, broccoli, and Chinese cabbage. For the eight-course menu, you will have Braised dried scallop broth with lobster claw and fish maw as well as Szechuan-style steamed grouper with picked chilli. A minimum order of four is required for the sharing menus.
Availability: 24 January 2020 – 9 February 2020
Price: RM368 nett per person for Six-Course, RM488 nett per person for Eight-Course
Contact: 03 2182 1234
8. The Majestic Hotel Kuala Lumpur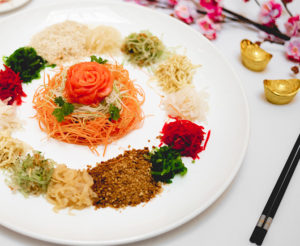 The Majestic Hotel KL CNY menu
Be at the Majestic Ballroom on the eve of Chinese New Year for the reunion dinner. There will be myriad of exciting festive specials. The hotel has prepared authentic and nostalgic dishes for you and your loved ones to feast on during the interactive dining session.
Availability: 24 January 2020
Price: RM138 nett per person
Contact: 03 2785 8000
9. Nobu Kuala Lumpur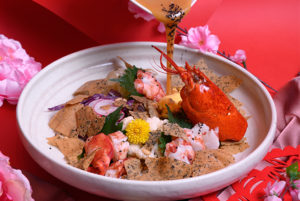 Nobu KL CNY menu
Executive Chef Philip Leong and his team have curated Chinese New Year concoctions with Japanese-Peruvian influence. Celebrate Lunar New Year with the Nobu Style Prosperity Platter. The Lobster Platter comes with fresh lobster, tuna, yellowtail, cauliflower, asparagus, shitake mushrooms, red cabbage, pomelo, jackfruit, pink radish, sesame seeds, and homemade sour plum sauce. You can also opt for the salmon sashimi version. Inspired by Poon Choi (traditional slow cook dish served in sharing style), the New Year Hot Pot Nabemono Nobu Style includes base made from kombu and chicken stock, seasonal mushrooms, tofu, leeks, cabbage, and abalone. Choose two choices of protein from a selection that includes Wagyu short ribs, chicken, freshwater prawns, and scallops.
Availability: 11 January 2020 – 2 February 2020
Price: Nobu Style Prosperity Sashimi Platter (RM188++ for two), Nobu Style Prosperity Lobster Platter (RM288++ for two), New Year Hot Pot Nabemono Nobu Style (RM288++ for two)
Contact: 03 2164 5084
10. The Ritz-Carlton Kuala Lumpur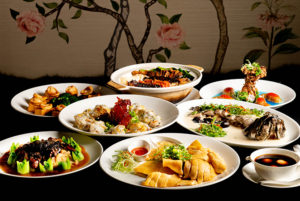 The Ritz-Carlton CNY Menu
Welcome the Year of the Rat with specially-designed Chinese New Year feasts at the hotel's Chinese restaurant, Li Yen. Available for lunch and dinner, Chef Alex Au and his team have prepared six menus that consist of traditional reunion delicacies and signature dishes. Creations to expect include the Hong Kong-Style Waxed Meat Clay Pot Rice, Dried Oysters with Sea Moss, Fish Maw, and Seasonal Vegetable, Steamed Tiger Grouper with Bamboo and Fungus in Fish Sauce, Wok-Fried Prawns with Truffle Sauce, Chicken Simmered in Bouillon, Braised Ten-Head Abalone with Mushrooms and Melon, Three-Layered Nian Gao, and Black Sugar Bentong Ginger Tea with Peach Gum and Sesame Dumplings.
Availability: Now – 8 February 2020
Price: Lunch (From RM148 per person with minimum of four), Dinner (RM1,988 onwards for table of ten)
Contact: 018 646 8033
11. Mandarin Oriental Kuala Lumpur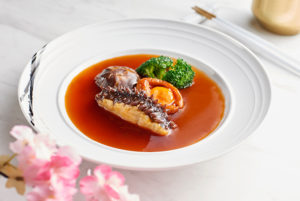 Mandarin Oriental KL CNY menu
You will be able to celebrate the Lunar New Year throughout January and February at the hotel's Lai Po Heen. Executive Chinese Chef Michael Wong and his team prepared a a multitude of menus and an array of yee sang to ring in the Year of the Metal Rat. There are three set menus—Fortune, Prosperity, and Wealth. Dishes you can expect include Double-boiled abalone soup with premium bamboo fungus, Steamed omega grouper fillet with duo of mushrooms in soy sauce, spring onions, and fresh coriander, as well as Abalone yee sang with crispy shredded treasures and blackcurrant plum dressing. If you're into dim sum, you need to check out the Happiness Dim Sum Set. It comes with selections such as Steamed prawn and water chestnut dumplings with gold leaf, Golden fried prawn and mango rolls with bread crumbs, as well as Deep-fried roasted duck dumplings.
Availability: 1 January 2020 – 29 February 2020
Price: Fortune (RM288 per person), Prosperity (RM398 per person), Wealth (RM518 per person), Happiness Dim Sum Set (RM238 per person)
Contact: 03 2179 8885
12. Four Points by Sheraton Kuala Lumpur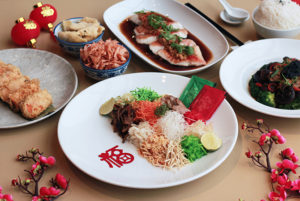 Four Points by Sheraton CNY menu
Quan's Kitchen, helmed by Head Chef Gerald Chong, has a myriad of dishes curated for Chinese New Year. Along with his team, they have prepared a feast inspired by the flavours and area of Chinatown. The Spring Set menu consists of eight courses and you will able to feast on the Triple Prosperity Yee Sang, Double Boiled Chicken and Ginseng Consommé, Steamed Star Grouper in Superior Soy Sauce, and Slow Braised Dried Oyster served with Broccoli and Fatt Choy. Another option is the Eight Treasure Happiness Pot—with 10-Head Abalone, Tiger Prawns, Fish Maw, Hokkaido Scallops, Roast Duck, and Steamed Chicken. Don't forget to make a booking at least two days in advance!
Availability: 10 January 2020 – 8 February 2020
Price: Spring Set menu (RM688 nett for four to six people), Eight Treasure Happiness Pot (RM688 nett for six)
Contact: 03 2035 7333
13. W Kuala Lumpur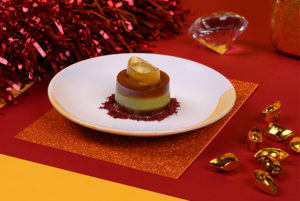 W KL CNY. menu
There are four Lunar New Year menus at the hotel's Yen. Available for lunch only is the Great Prosperity Set Menu and it consists of dishes such as Double-Boiled Fish Maw Soup with Fresh Ginseng and Hokkaido Scallop, Stewed Money Bag with Sea Cucumber, Sun-Dried Oyster, Sea Moss, and Abalone Sauce, as well as Braised Ee Fu Noodle with Lobster and Crab Meat. The Wealth Treasures Menu includes Yen's Mini "Monk Jumped Over The Wall" with Abalone, Fish Maw, Sea Cucumber, and Sun Dried Hokkaido Scallop, as well as Steamed Estuary Grouper with Preserved Vegetables and Crispy Fermented Bean. You will also get to feast on Steamed Layer Traditional Ninko with Xishuangbanna Orchid Flower and Gold Ingot. Other menus are the Happy Reunion Set Menu and Rich Fortune Set Menu. All set menus come with yee sang too.
Availability: 1 January 2020 – 8 February 2020
Price: RM188+ per person onwards
Contact: 03 2786 8888
14. The Chow Kit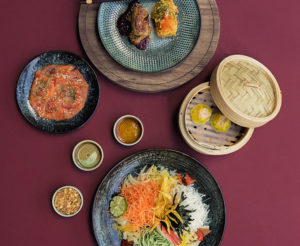 The Chow Kit CNYmenu
Head over to the hotel for a Chinese New Year feast with modern Malaysian elements. Available for lunch and dinner, the menu consists of dishes such as Five Spiced Duck Breast with Lychee Salsa, Burnt Citrus Glaze, and Toasted Barley as well as Soy Noisette Butter Fried Sole with Braised Leek and Tomato Mozzarella Mille-Feuille.
Availability: 17 January 2020 – 8 February 2020
Price: Lunch (RM68++ per person), Dinner (RM88++ per person)
Contact: 03 2778 6666
Happy Chinese New Year! For the best yee sang in KL, click here.
| | |
| --- | --- |
| SHARE THE STORY | |
| Explore More | |