Food + Drink
BURO Orders: 7 Dishes we tried at Limone—and which ones you should too
When life gives you Limone…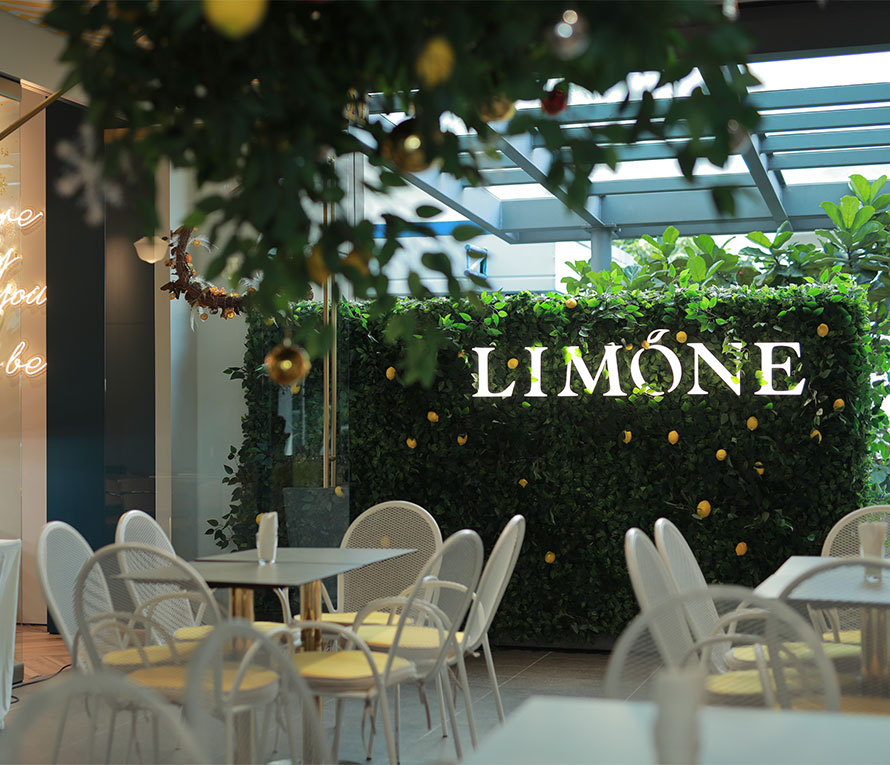 While everyone was celebrating the Lunar New Year with abundant 8-course menus, Team BURO Malaysia had a different kind of gathering for our "lou hei". Instead of a Chinese restaurant, we got together to commemorate the festive season at Limone Cafe, which opened its doors last September (it's the company that counts after all, right?).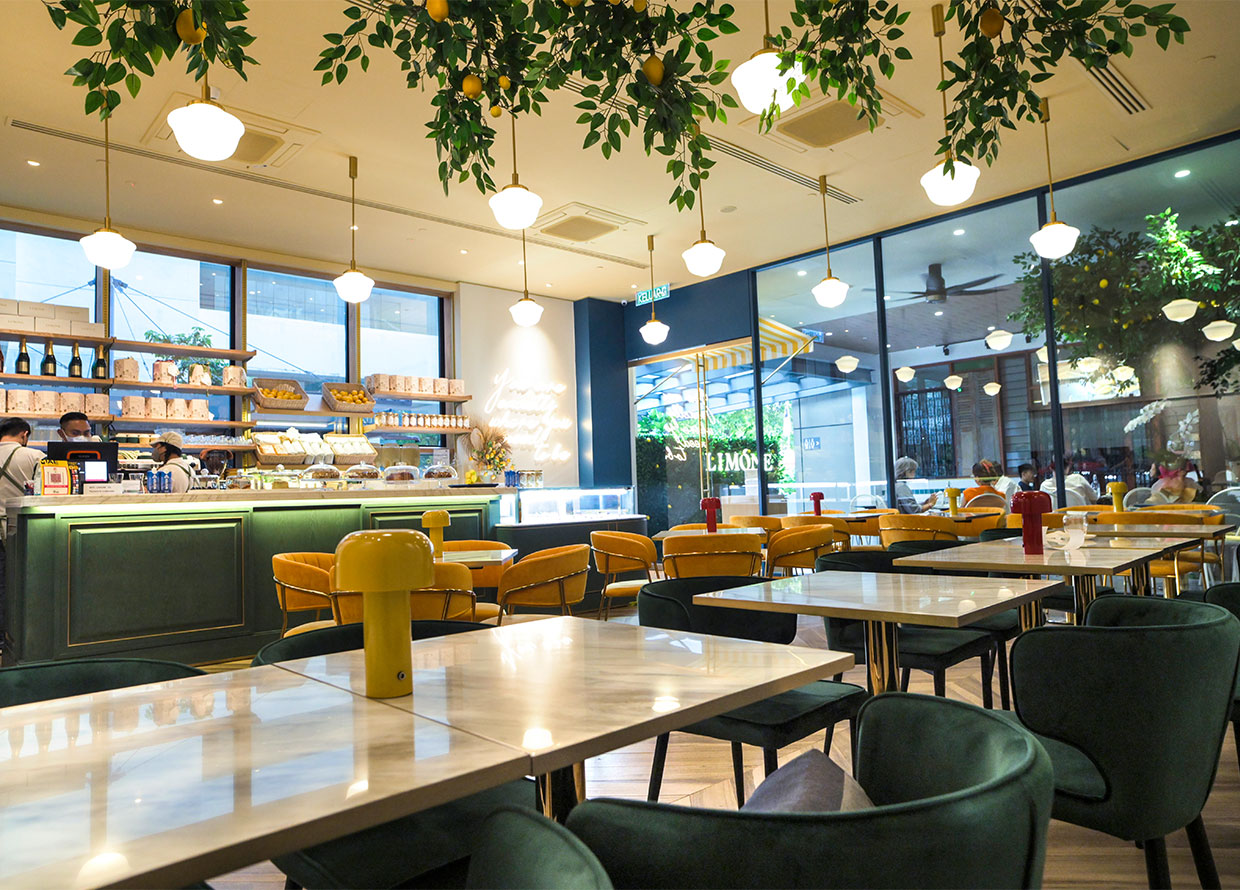 Located at The Five in Damansara Heights, Limone features interiors inspired by the beauty of an Italian garden in the summertime. Lemon trees form the centerpiece of the charming cafe, colouring the scene with bright yellow and lush green hues to emulate the European outdoors. We were greeted by the sight and smell of French pastries and sweet treats even before entering the space, which is characterised by chevron-cut wooden floors and velvet seating. 
Thanks to Head Chef Tee Jiunn Hoong and his team, we still had the pleasure of tossing a customary—and exclusively customised—yee sang platter during our visit, before savouring a plethora of CNY-themed desserts. Seasonal offerings aside, the cafe is known for its delectable financiers and madelines that are made fresh daily, in addition to brunch options and carefully crafted coffee. Here's what the BURO team ordered off the regular menu at Limone and our respective thoughts about the dishes if you're considering a visit. 
Spicy Gochujang Kaarage Don, RM28
Fried chicken with gochujang sauce, rice, egg, and broccoli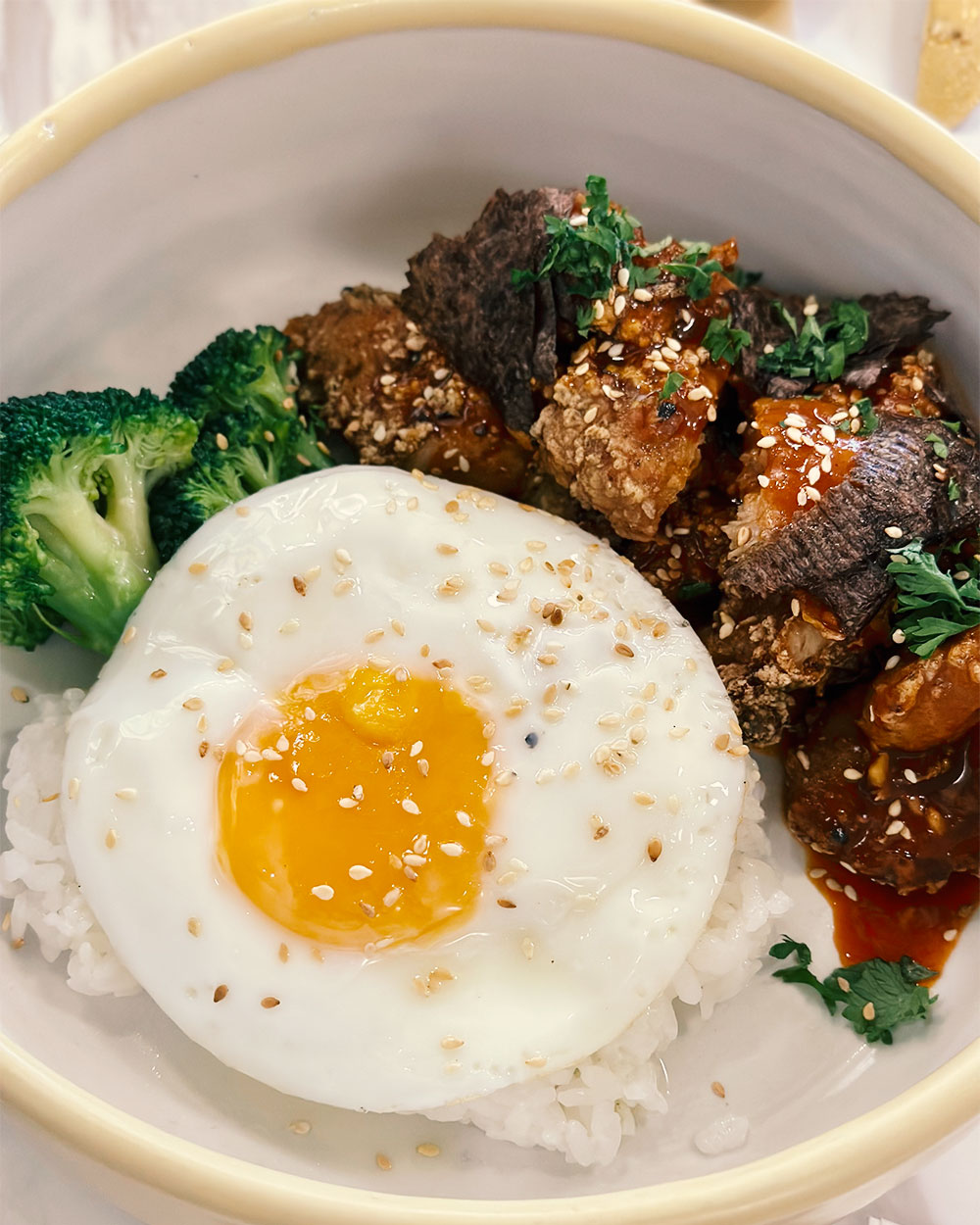 "This is a comfort meal to be had whenever you feel like you need to uplift your mood all day. It's simple but oh-so-satisfying. I love the hot, sweet and mildly sour taste of its Gochujang sauce poured over crispy deep-fried chicken, and eaten with steamed, short-grained rice. The dish is served with a side of sauteed broccoli and a fried egg, which perfectly complements the entire meal. Overall, you can't go wrong with this if you want to leave feeling full and content." —Sarah Hani Jamil, Editor
Sriracha Mayo Kaarage Don, RM28
Fried chicken with sriracha sauce, rice, egg, and broccoli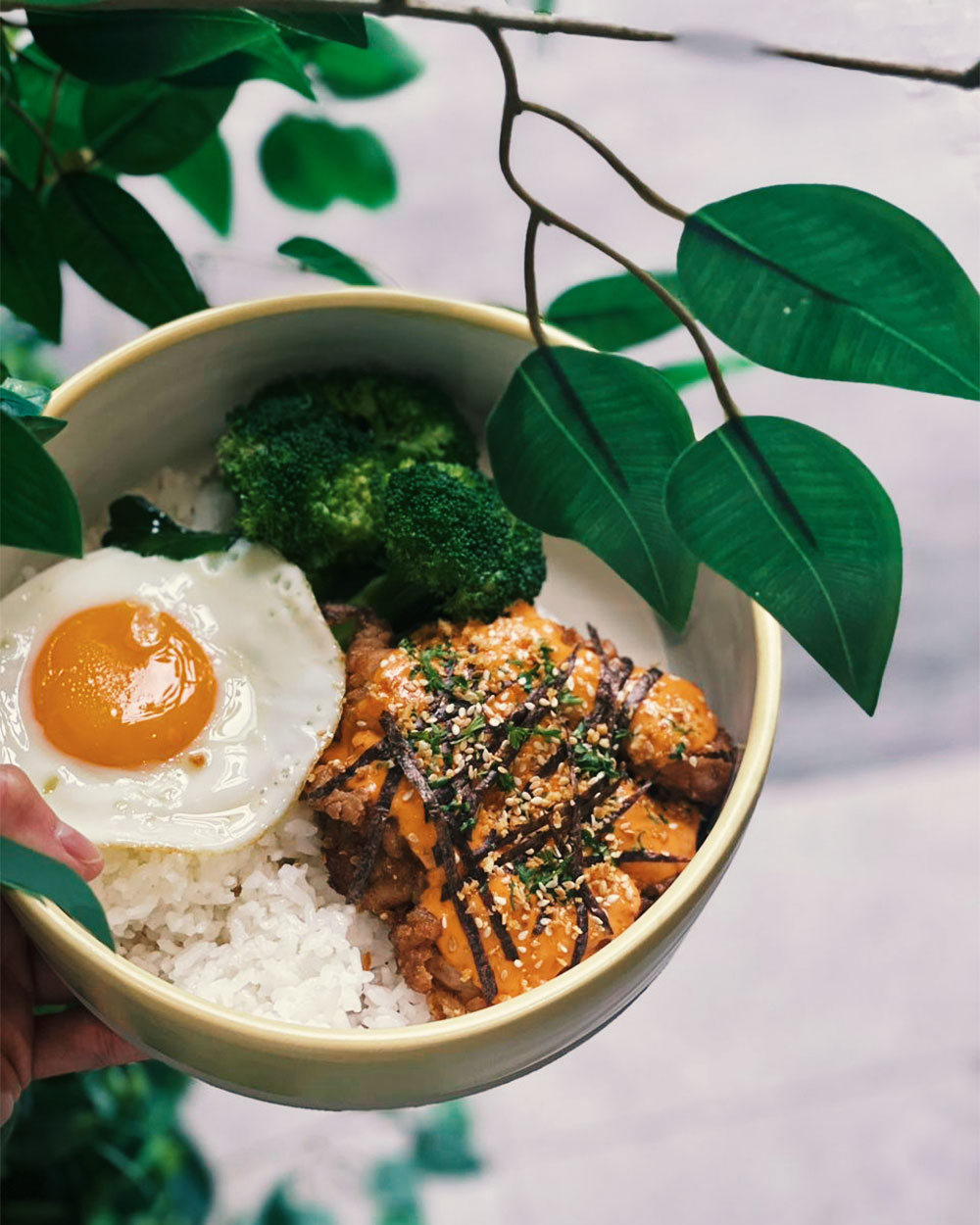 "Although I initially had the same dish in mind as Sarah (see above), I settled for the Sriracha Mayo Kaarage Don—the only other Donburi (translation: rice bowl) option—for the sake of comparison. Note: We also ordered the Spicy Gochujang Kaarage entrée for sharing around the table anyway. Having tried both, I can safely say that I'm happy with my choice. The sriracha mayo offers just the right tinge of spice to complement the crispy chicken, while the rest of the accompaniments make this a balanced meal. I would prefer to have more sauce to mix in with the rice though, as it can be slightly dry. Might I add that the Cafe Latte (RM14) here was one of the better ones I've recently tried at a cafe too!" —Natalie Khoo, Deputy Editor
Big Breakfast, RM38
Kampung eggs (cooked to preference), sourdough, mushroom, cherry tomatoes all tossed in homemade yuzu vinaigrette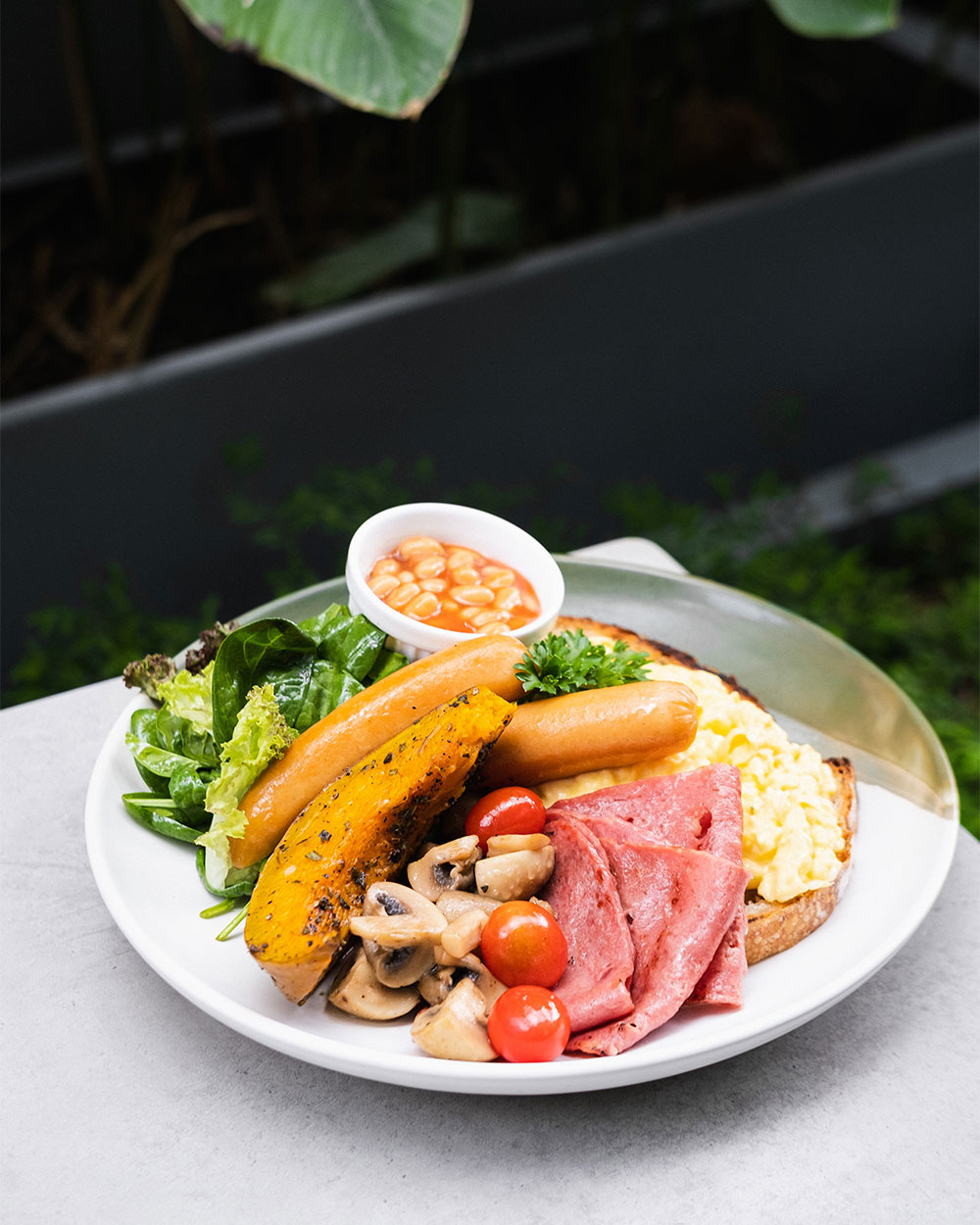 "I went for the Big Breakfast—I know, how very basic of me. Overall, the portions were very generous, the eggs were perfectly scrambled, the flavours were rich, and it was a hearty, filling meal for the day! It did not go with the starter of Yee Sang or the Chinese New Year-themed desserts we had, but it was exactly what I was craving for at the time." —Redzhanna Jazmin, Senior Beauty Writer
Spicy Buttermilk Fettuccine with Fried Chicken, RM36
Fettuccine with spicy buttermilk sauce and fried chicken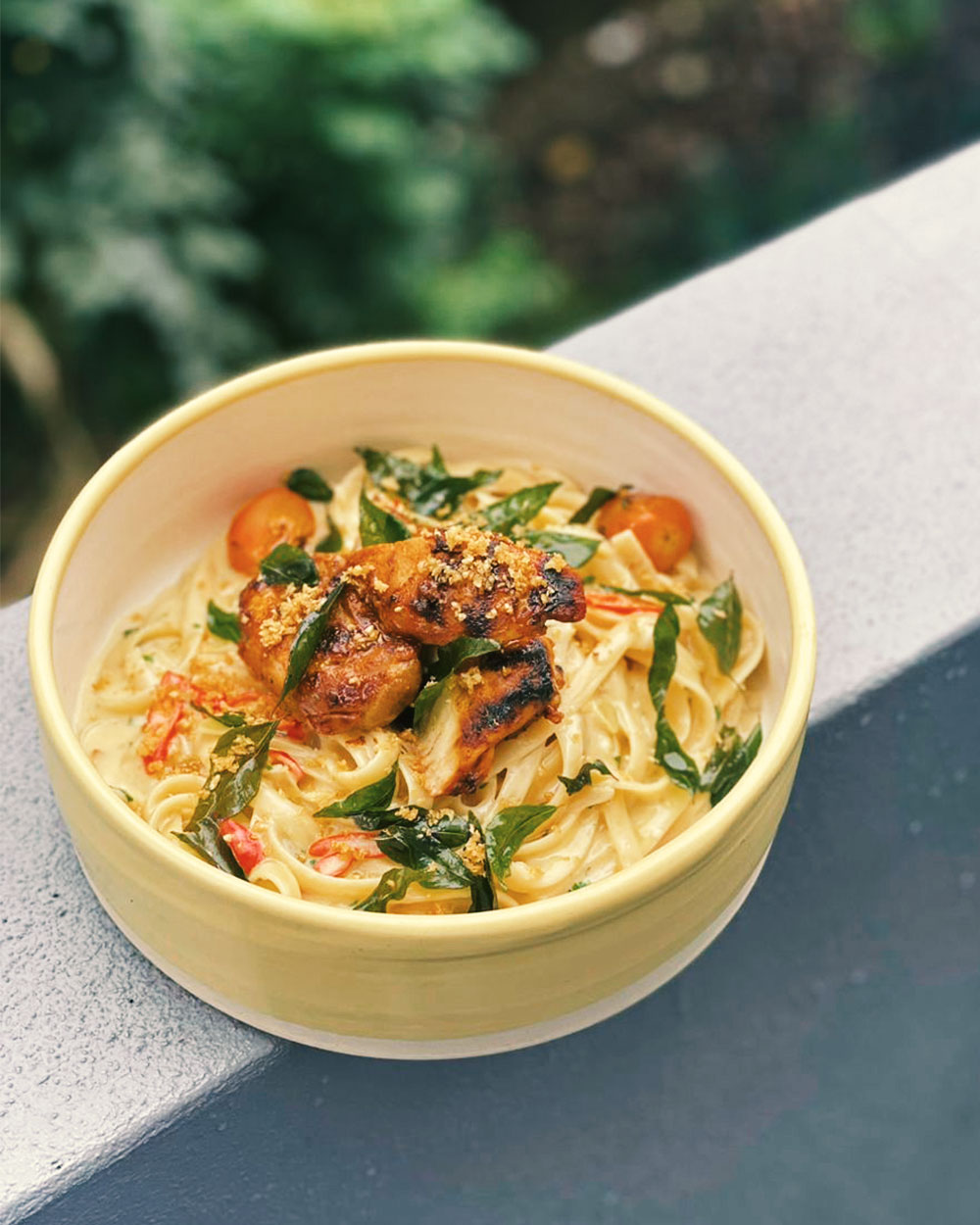 "I ordered this dish because it promises two of my favourite things: spice and fried chicken. They delivered on the latter as the chicken was crispy on the outside and moist on the inside. I did expect a punchier kick of spice as there were green chillies thrown in there (it's also in the name of the dish, after all). However, the heavy hand of buttermilk cream sauce made it hard to discern any spiciness. Having said that, I enjoyed the fragrance of the curry leaves in the sauce and the pasta was cooked al dente.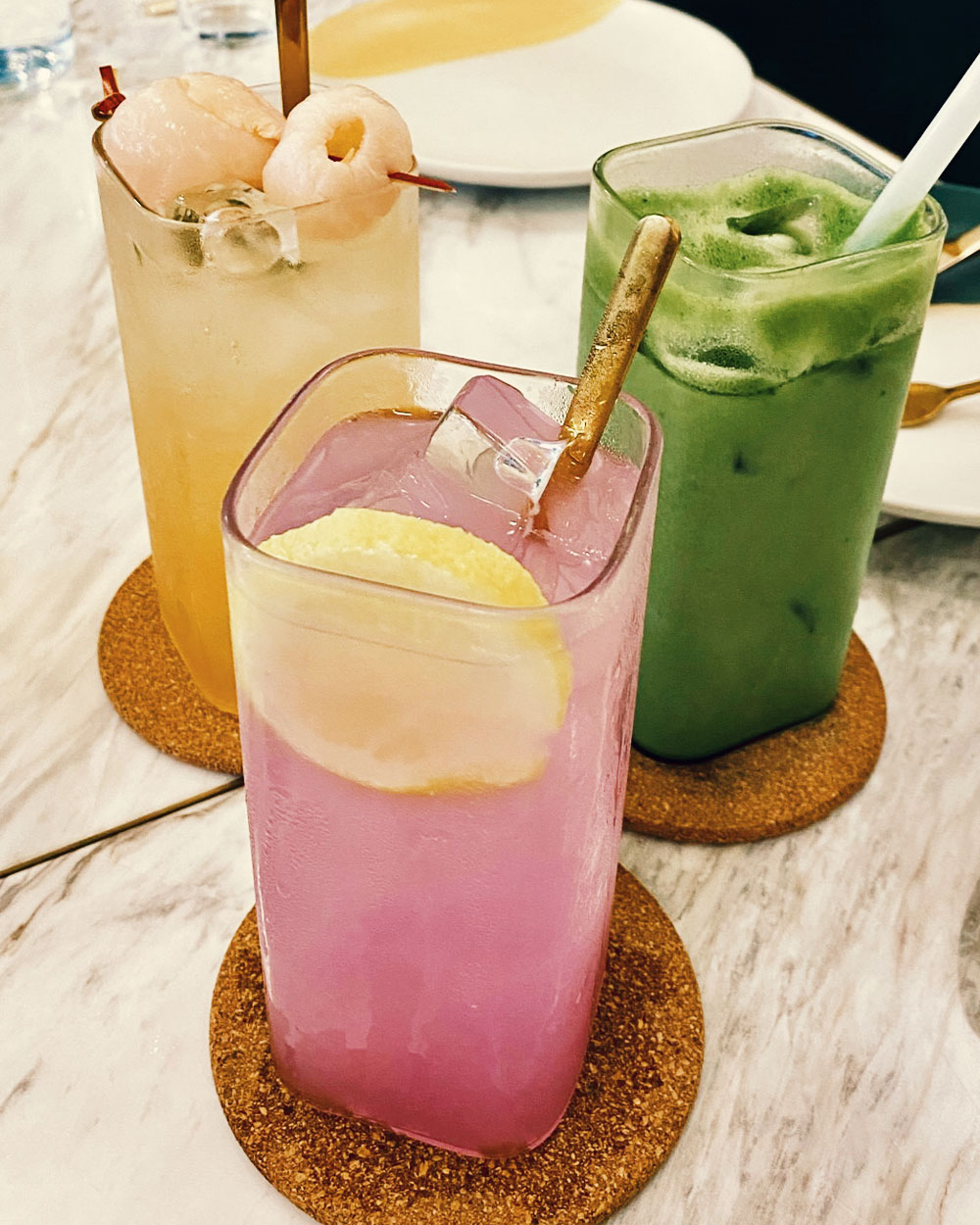 "Between the creaminess of the sauce and the greasiness of the fried chicken, I found myself looking for some relief in between bites. I wished there was something acidic—perhaps some pickles or even greens—to cut through the heaviness of the dish. Thankfully, the Classic Lemonade (RM14) was the perfect accompaniment and tart enough to refresh my palette for another bite. The drink is served with a side of butterfly pea sugar, which turns the liquid into a beautiful pink shade when poured in due to the reaction between alkaline and acidic liquids (science is fun!). All in all, while I wished my pasta dish offered more spice and dimension, my meal at Limoné was still pleasant and enjoyable." —Marissa Chin, Lifestyle & Culture Writer  
Chicken Teriyaki Poke Bowl, RM30
Brown rice, cucumber, carrot, edamame, pea sprout, seaweed, quinoa, tempeh, beetroot, chicken with teriyaki sauce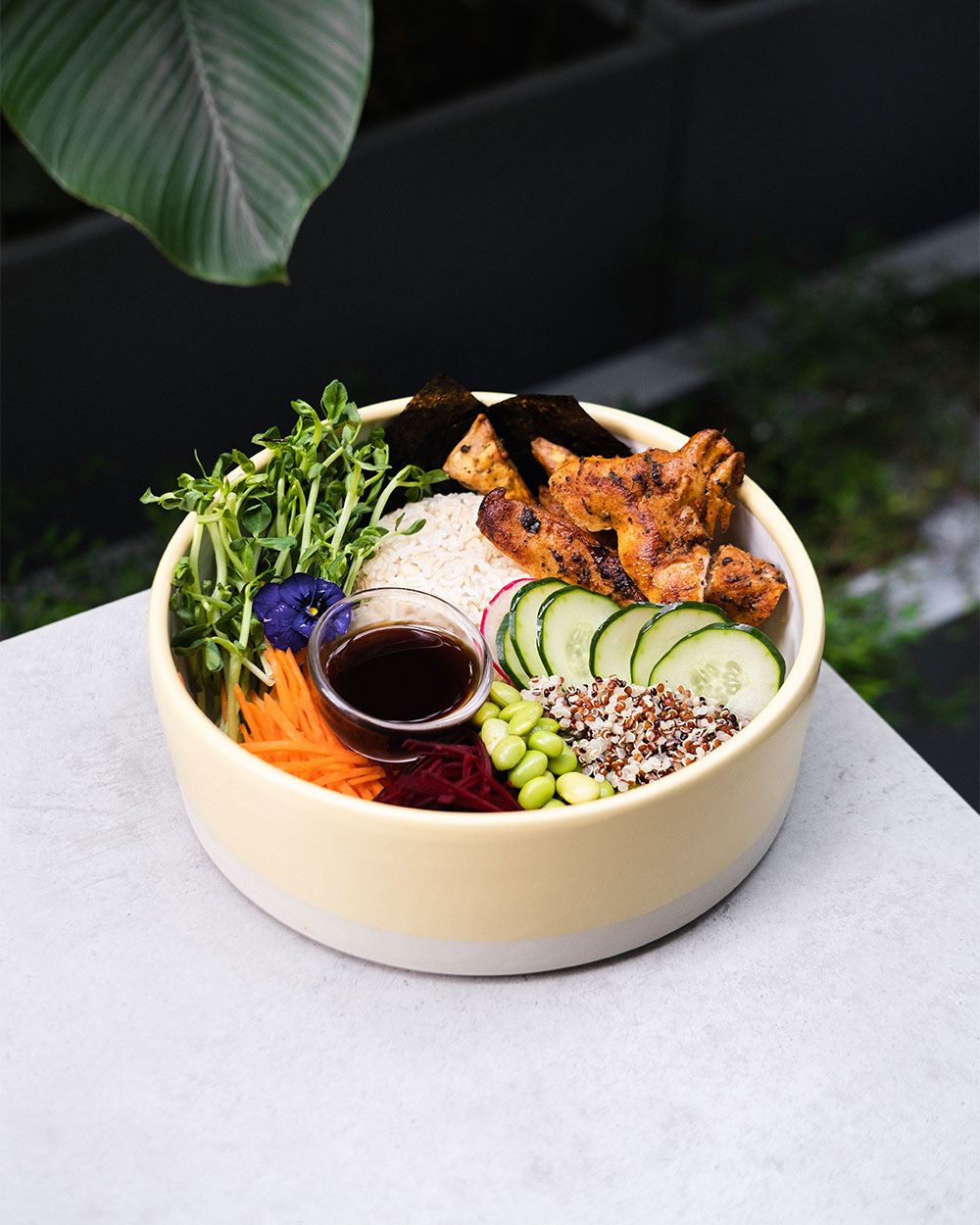 "I ordered rose lemonade. As someone who enjoys a citrus drink, it tasted fresh and hit the right spot. I also loved the fact they provided complimentary warm water on the side, so you'll always have the option to clean your palate before trying other foods. Food-wise, I had the Chicken Teriyaki Poke Bowl and to be honest, the chicken was a little too salty for my liking. With that said, it was packed with wholesome ingredients that came in generous portions so I enjoyed finishing the whole thing anyway! Overall, I would visit Limone again to try other items on the menu." —Benedict Unang, Fashion Writer
Salmon Teriyaki Poke Bowl, RM36
Brown rice, cucumber, carrot, edamame, pea sprout, seaweed, quinoa, tempeh, beetroot, salmon with teriyaki sauce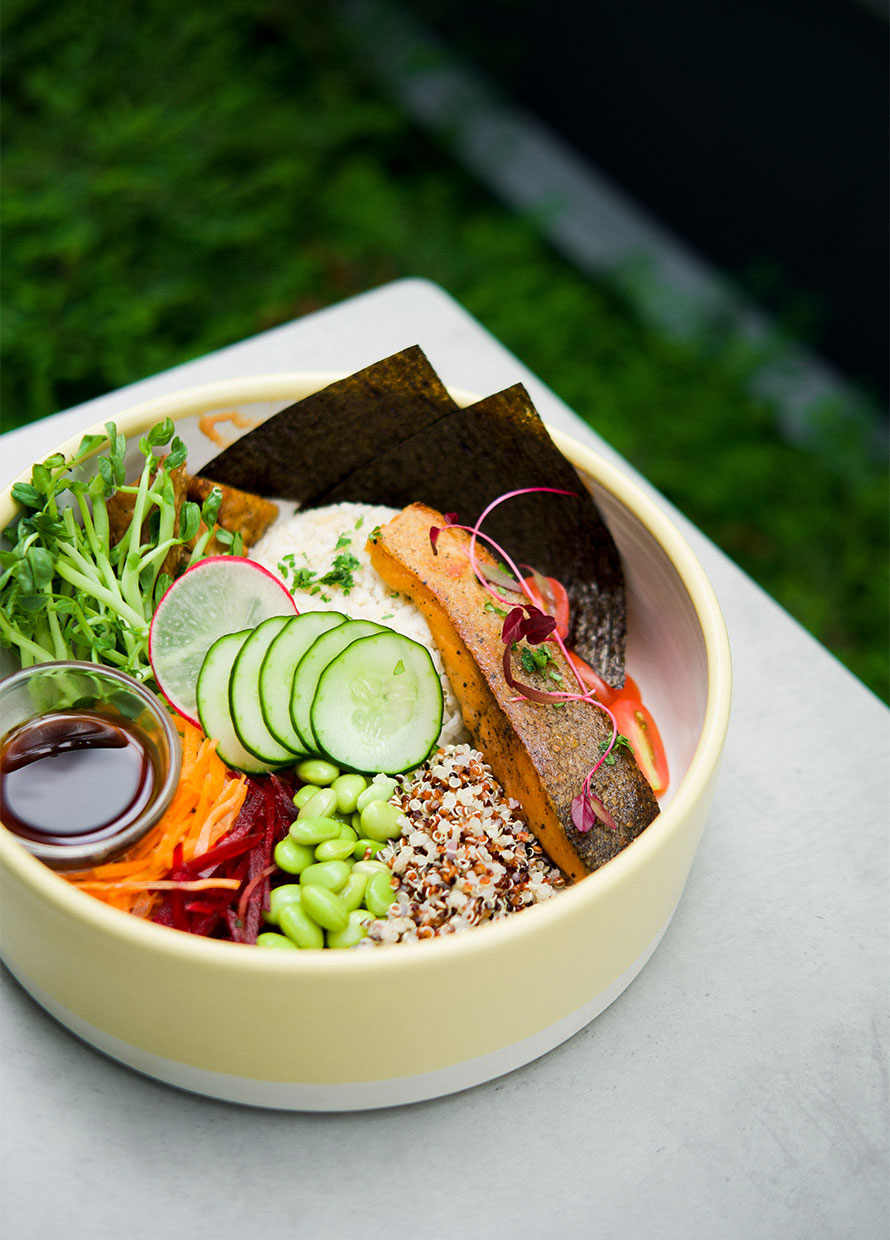 "The Salmon Teriyaki Poke Bowl was my pick and it was delightfully healthy as I had expected from how most poke bowls usually are. While the main star of the dish for me was none other than the salmon (which was grilled and not raw, thankfully, for someone who can't palate raw food), I couldn't help but enjoy the fresh and well-balanced mix of cucumbers, carrots, edamame, pea sprout, quinoa, and beetroot. Ultimately, each bite offered the texture I was looking for. The teriyaki sauce that came along also complemented the flavours of the whole dish. However, I will admit that had the serving of the sauce been more generous, it would have been perfect." —Sarah Tai, Head of Design
Spicy Spaghetti Aglio Olio, RM29
Zucchini, mushroom, broccoli and cherry tomatoes in spicy sauce (optional add-on: grilled chicken or seafood)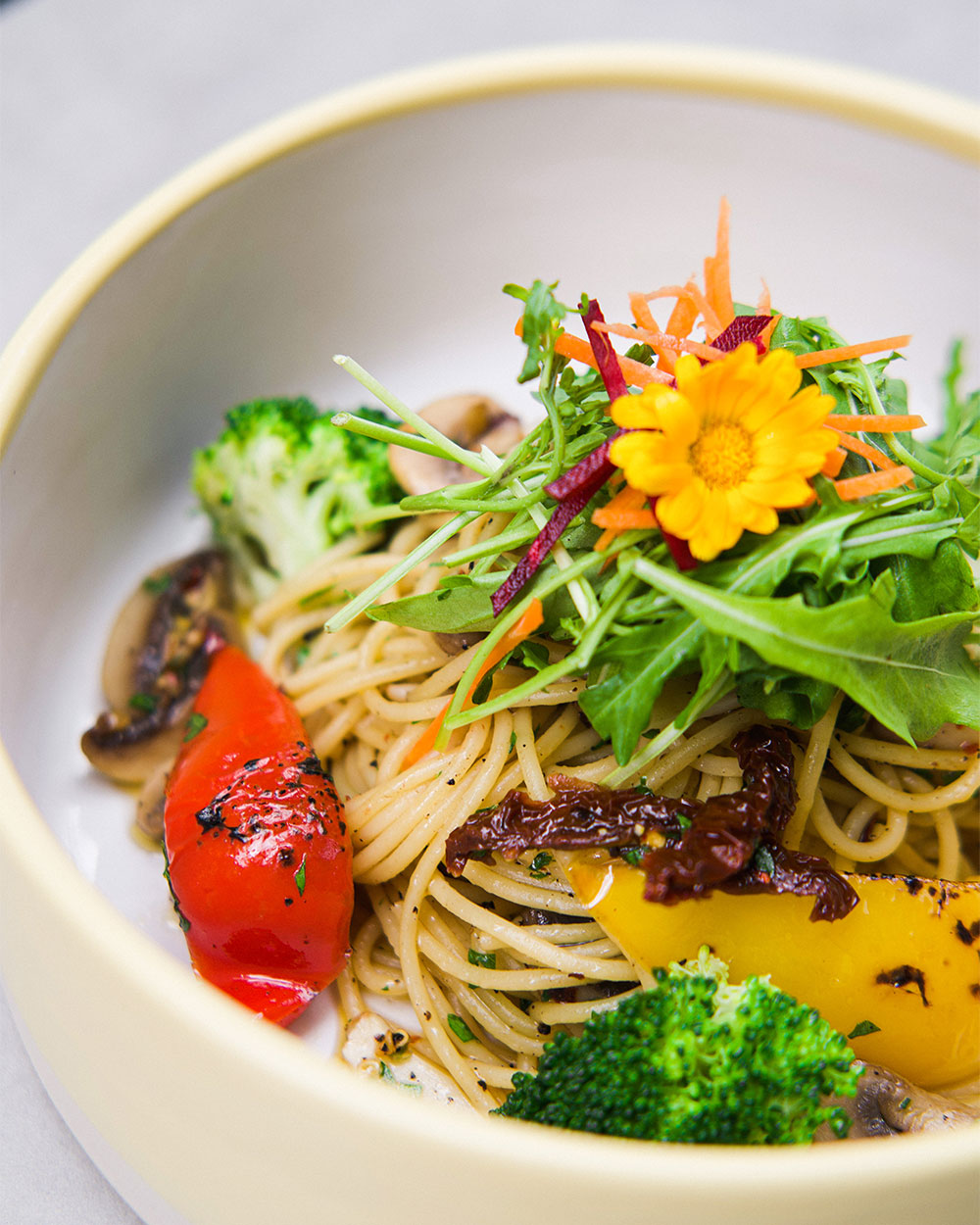 "I ordered Spicy Spaghetti Aglio Olio and personally, I think it wasn't that spicy although the pasta was coated with the sauce. It also comes with a variety of vegetables such as zucchini, mushrooms, broccoli, and cherry tomatoes which is refreshing and makes the whole dish less greasy but flavourful at the same time. This is a vegan dish, but you can also add on grilled chicken or seafood too! Overall, Limone is a pretty nice place to catch up with friends and family—the environment was great and the decor was lovely. Not to mention, the service was really amazing in our experience, as the waiter was very friendly and constantly checked on us to make sure we had a pleasant experience." —Amos Yip, Junior Web Designer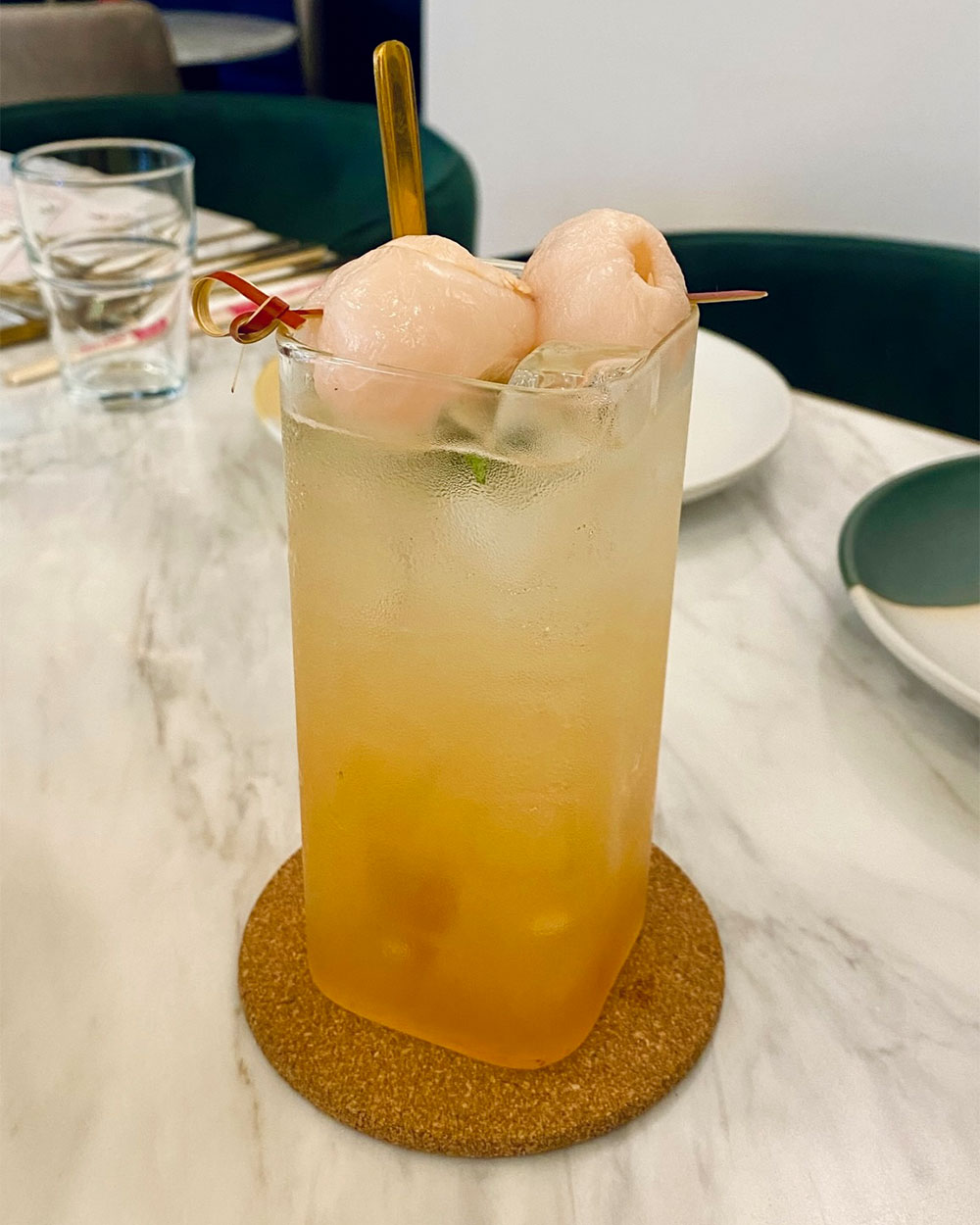 "I [also] had the Spicy Aglio Olio which I thought was cooked with the right amount of spice and flavour! However, I wished the portions were slightly bigger to make it a hearty meal. As for drinks, I had Princess Peach (RM16), which wins points for being aesthetically-pleasing. The mocktail is made with a blend of white peach pureé, lychee, mint leaves, and soda, which tasted refreshing and not too sweet either." —Lung Kye Lin, Senior Lifestyle Writer
Bonus: Petit Gâteau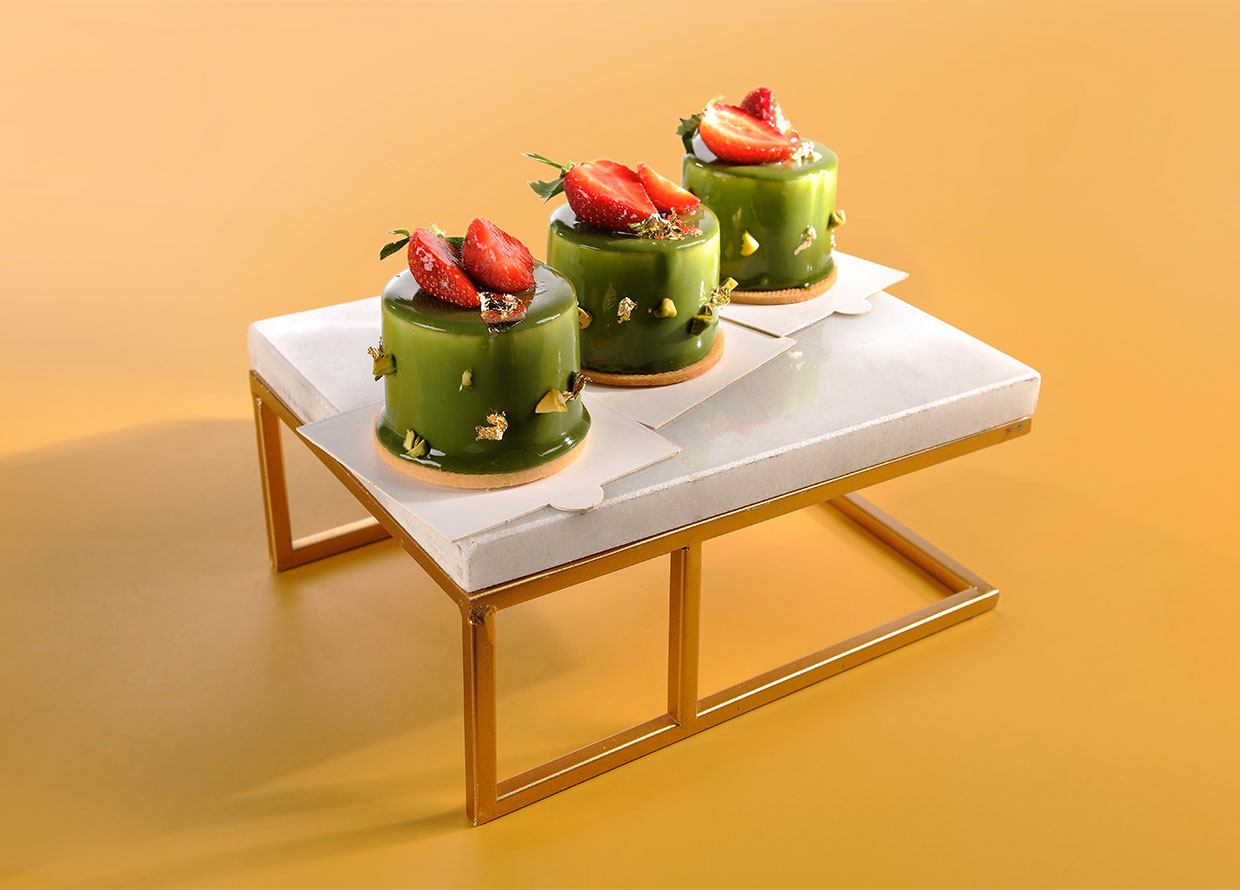 "If you have a sweet tooth or enjoy French desserts, then definitely try the petit gateau at Limone. We sampled four unique creations specially made for the Lunar New Year season (which means they're no longer available), and they were all finely crafted to just the right texture and flavour combination. Plus, they come in such pretty designs! The desserts are available to order online, along with a selection of cakes, pastries, and beverages—ideal for sending a loved one a sweet surprise." —Natalie Khoo, Deputy Editor
---
Limone Cafe
Address: Lot G01-03, Plaza Zúrich, Bukit Damansara
Opening hours: 9AM to 6PM, Tuesday to Sunday
Contact: +6012 373 3743
Website | Facebook | Instagram
Find more food and drink suggestions here. 
| | |
| --- | --- |
| SHARE THE STORY | |
| Explore More | |