Entier's new dinner menu couldn't come at a better time. It's been a year since the nose-to-tail dining concept at Alila Bangsar entered the KL dining scene, charming the hearts and stomachs of most of its patrons. With a unique approach as well as Chef Masashi Horiuchi's culinary precision, Entier easily redefines authentic French cuisine as food that's approachable, made to share, and an accompaniment to a good time with loved ones.
Already a firm believer in quality ingredients and bringing the best out of each flavour, Chef Masashi looks closer to home—Malaysia now, that is—for the new menu's inspiration. Perhaps it was the more-than-a-year experience of speaking to locals and uncovering the hidden gems in Malaysia, but whichever it was, Chef Masashi wanted to pay tribute to this very native land and region. The new dinner menu features another round of exciting dishes that truly celebrate the meaning of farm-to-table—beyond the use of quality Made-in-Malaysia produce, it also represents the different stories of the people behind these very ingredients.
We recently had the opportunity to try out Entier's new dinner menu and if we had to pick, these were our favourite dishes—in the event that you're looking for some recommendations.
1. CORN, RM34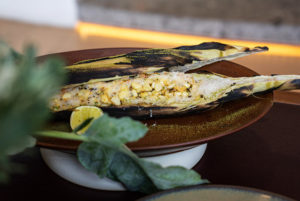 entier alila bangsar food review – corn
Sometime the simplest dish can be reinvented with the right combination. The main ingredient: White sweet corn freshly supplied from a local farm in Cameron Highlands—Weeds & More is an increasingly popular source of organic heirloom vegetables for local fine dining restaurants such as DC Restaurant and The Datai Langkawi (and their interesting story will have to be saved for another day). The equipment: A chef's favourite toy, the Josper Oven. The seasoning on top of said grilled white sweet corn: Seaweed butter and seasoning. Are you salivating yet?
2. CRAB, RM120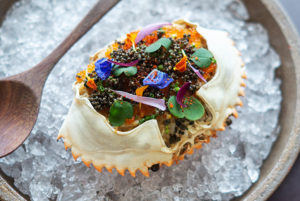 entier alila bangsar food review – crab
Beautifully plated within the shell of a crab that's placed atop of a bed of crushed ice, and garnished with delicately with edible flowers; this dish takes inspiration from the French where it's traditionally enjoyed with fresh mayonnaise or aioli. At Entier, however, the sweet, silky flesh of the cold mud crab is marinated with curry mayonnaise and dark crab meat; and topped with crunchy tobiko and Tonburi 'mountain caviar'. The result is a fine balance of textures and taste; and an amalgamation of flavours from the sea and mountain.
3. DUCK HEAD PATE, RM118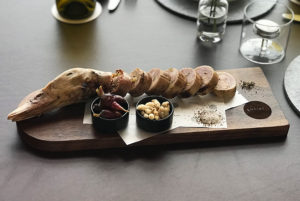 entier alila bangsar food review – duck head pate
Yet another interesting presentation, this pate-stuffed neck and head of the duck makes for a great starter—and we mean that in terms of a meal and conversation. The French is known to have an affinity for duck, especially in the Bordeaux region, but Entier's version is slightly Malaysian-ised. It's made with the Bidor duck from Ipoh that's known for its tender aroma and meat. Slightly chewy and not-at-all daunting.
4. QUAIL, RM98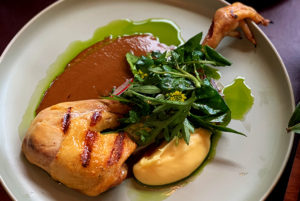 entier alila bangsar food review – quail
While quail is considered a traditional French delicacy for aristocrats, it's not quite so in Malaysia; though it is uncommon at most fine dining restaurants here. Entier, however, does the locally-bred baby bird justice. Josper-grilled, the meat is juicy and tender, though the skin is beautifully crisp. On both the nose and palate, the sweetness of French chestnuts and lentils with fresh herbs are just as evident. A delicate dish for the delicate palate.
5. WHOLE CHICKEN – entier signature, RM192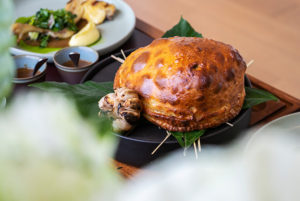 entier alila bangsar food review – chicken
They're calling it version 2.0. Having been in the menu since day one, the upgraded whole chicken now uses locally-bred Anxin Chicken, which has been "respectfully cultivated in a stress-free and natural environment under natural light and in absence of antibiotics and growth promoters". According to Chef Masashi, Anxin Chicken closely resembles its French counterpart. Another thing that's different is that he no longer roasts the entire chicken in the salt-crusted dough. Instead, different parts are cooked differently to ensure its best form and tenderness respectively. For example, the breast is roasted with black truffle within the salt crust dough while the legs are done confit-style. The real guilty pleasure of this dish, however, is the chicken fat mashed potato that's utterly creamy, rich and indulgent.
6. T-BONE STEAK – entier signature, RM340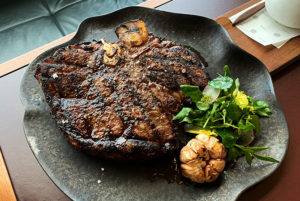 entier alila bangsar food review – steak
A potential number one in our personal ranking of favourite dishes at Entier, the Australian black angus is grilled—to complete perfection—with the Josper oven while retaining a juicy centre. In addition, the combination of café de paris sauce, brown butter and confit garlic wildly extends the flavour profile of this dish to an addictive level of satisfaction. Honestly, this was certainly value for money.
7. COCONUT & PASSION FRUIT, RM34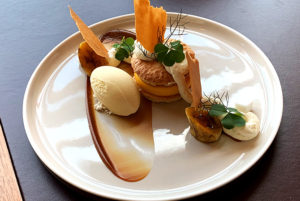 entier alila bangsar food review – dessert
And how can we not include a dessert in this list? The Dark Chocolate soufflé is a crowd favourite but props should be given to the masterpiece that is the elegant Coconut & Passion Fruit. Despite having so many bits and parts to this dessert, nothing about it is overkill. On one side, it's passion fruit mousse on coconut daquoise. Next to it, a scoop of Pahang coconut ice-cream. And surrounding them: white chocolate chantilly cream, tuille, caramel sauce, coconut jelly, and sliced caramelized banana. Whether you have them all together or separately, it's still good.
ENTIER
Address: Level 41, Alila Bangsar, No. 58, Jalan Ang Seng, 50470 Kuala Lumpur
Phone number: 016 236 0596
Website | Facebook | Instagram
| | |
| --- | --- |
| SHARE THE STORY | |
| Explore More | |