They say "April showers bring May flowers", but the month of March seems to have brought out a new crop of cafes and restaurants in the Klang Valley worth checking out
It's almost a year since Malaysia went into a full lockdown due to the Covid-19 pandemic. As Malaysia adapts and returns to some semblance of pre-Covid normalcy, restaurants and cafes are starting to open up and welcome dine-in customers. March seems to mark the food industry's rebirth, with a slew of dining options now made open to the public. While staying safe and following the government's SOPs are still a must, as the population waits to get their vaccinations, Malaysians now have the option to show their support for local businesses by dining out. So regardless if you're an avid cafe-hopper, looking for somewhere to celebrate your birthday or perhaps searching for a special place to celebrate that significant woman in your life this upcoming International Women's Day, we've got you covered.
1. Licky Chan
Sticky, sweet and incredibly salacious, Licky Chan is Kuala Lumpur's new ice cream shop where cones are served with sharp, hot flavours. When we say 'hot', we mean it. Have you ever tried an ice cream flavour that is a combination of strawberry, sake and wasabi? Well, that's what you get when a bartender opens his own ice cream shop. You'll find liquor-infused 'cone-tails' that put your average rum and raisin to shame. Safe to say, Licky Chan serves up a lot more than your basic batch of ice cream. Each scoop is made using natural ingredients and non-refined sugars. Plus, customers are also privy to a wide selection of dairy and vegan-friendly flavours.
The shop's concept is "cow-to-cone", meaning they use milk from grass-fed cows, sourced from a local farmer in Pahang. We recommend the Gin and Juice (RM14.80), which contains Bombay Sapphire mixed with tonic and calamansi. They don't stop at soft serves. If you're feeling extra frisky, try out Licky Chan's Boozy Cakes. Their Red Wine Coulis and Dark Chocolate Mousse (both priced at RM138) are also worth trying. Located in an unassuming double-storey shophouse, the space is something out of an early 90's dream. A combination of vivid lights with bright perspex floors and ceilings in blazing hues of red and orange emphasises the beaming energy of the space. For an added layer of fun, there is even an adult-sized ball pit filled with colourful balls that are perfect for an Instagram post while you reminisce about your childhood.
Address: 24, Jalan Yap Ah Shak, Chow Kit, 50300 Kuala Lumpur
Opening Hours: 12pm – 10pm
Email: [email protected]
Contact: 03 2694 1100
Facebook | Instagram | Website
2. Fox Paradox, The Grange at Ampwalk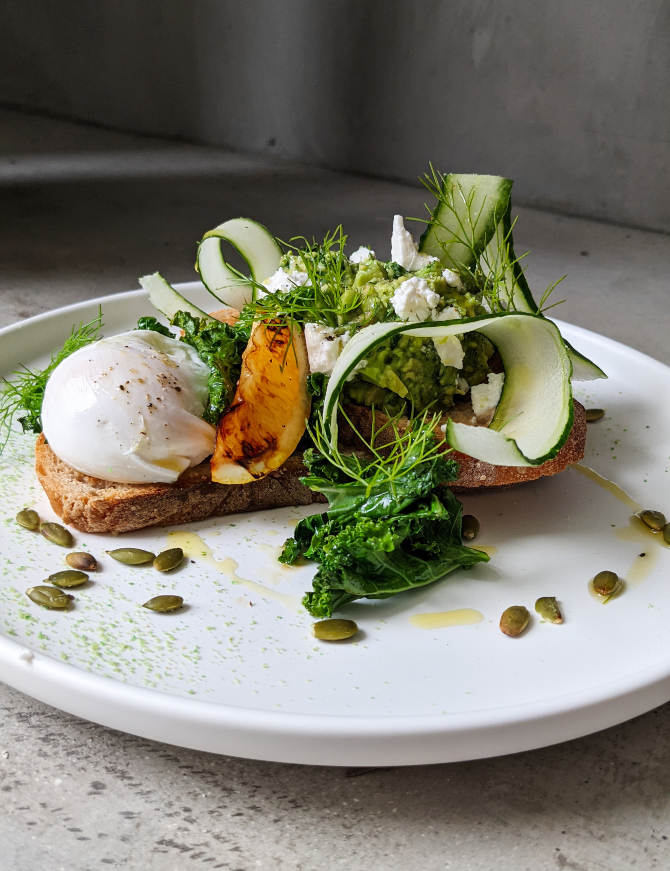 Don't be fooled by Fox Paradox's textured grey concrete walls. Inside this Ampang cafe holds dishes that are every bit as flavourful as they are colourful. You'll find the inclusion of green, leafy plants that beautifully contrast the walls (and makes for a great picture too). This cafe is a must-try for those who appreciate a great breakfast or brunch menu. Here, you'll find signatures like avocados on toast, gluten-free pancakes and even a Sriracha Spiced Crab Omelette. But the must-try dish is the Salmon Avacado Hollandaise Benedict On Normandy Bread (RM36). You won't be disappointed by the succulent dill poached egg mixed with a generous serving of home-made avocado hollandaise cream. When it comes to the drinks, check out their Ajisai Matcha (RM13) and Single Origin 72% Chocolate (RM14). The Ajisai Matcha is made from matcha courtesy of the popular Niko Neko Matcha, and as the name suggests, if you love chocolate, you'll definitely enjoy the Single Origin 72% Chocolate.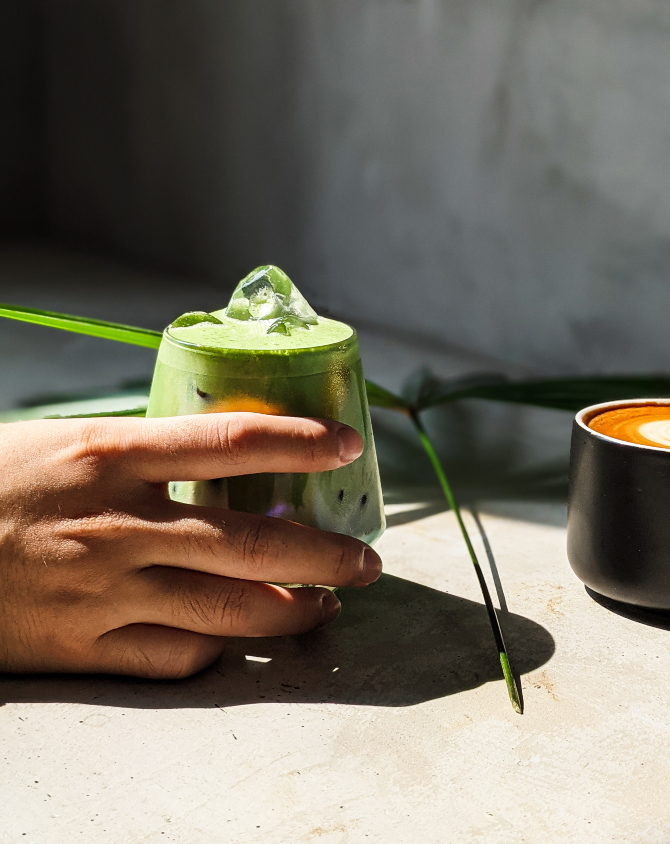 Address: G02-G03 The Grange, 218, Jalan Ampang, 55000 Kuala Lumpur
Opening Hours: 8:30am – 5:30pm (closed on Tuesdays)
Email: [email protected]
3. Ruma Puteh
You might have been seeing pictures of white column arches forming a walkway on Instagram. The installation is synonymous with Ruma Puteh's namesake (loosely translated to 'white house' in Malay), and its interior is second to none. Walk into the dining area, and you'll find a tropical-themed space with vibrant, eclectic furniture that complements its surroundings. The inclusion of lush greenery brings the outside in and harmoniously ties together the outdoor garden and the stunning architecture. However, this popular new restaurant isn't just for show. Local celebrities have been raving about the food too, which leans towards Malay cuisine. Scha Alyahya enjoyed the Johor classic, Laksa Bugis (RM21.90), while actors Ashraf Muslim and Awal Ashaari had nothing but praise for the Nasi Kerabu Puteri Saadong (RM22.90). The flavourful Kacang Pool (RM16.90) is a great option too, featuring a combination of beef gravy, spiced fava beans and poached eggs.
Address: 60A, Jalan Kuantan, Taman Tasik Titiwangsa, 54200 Kuala Lumpur
Opening Hours: 12pm – 9:30pm (closed on Mondays)
Contact: 014 714 0993
4. The Butter Pantry KL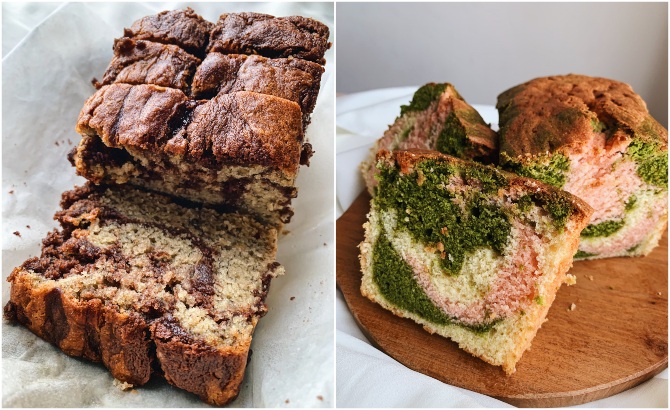 Coffee, cakes, croissants and scrambled eggs, Ampang Avenue has a new restaurant called The Butter Pantry, and it is your go-to place for a divine brunch or a casual afternoon tea. Their Matcha Loaf cakes (RM9) are both buttery and light with a tantalising matcha flavour. Brownies are a must-try here too. From their signature S'mores Brownie to the traditional Chocolate Fudge Brownie to the Nutella Pecan Brownie, chocolate lovers will be spoilt for choice. Even better, all their brownies are gluten-free. For something on the savoury side, their Smoked Salmon and Mushroom Quiche is delightful. The team tells us, "our ethos is really to make everything in-house and from scratch. From sourdough bread, pasta sauces, croissants to our entire range of cakes".
The Butter Pantry also claims to be the first cafe in Malaysia to bring some "not-so-usual" Japanese teas that contain a fusion of Rojicha flavours. When it comes to coffee, the cafe only uses Oatly Barista Edition. They explain that the reason behind this choice is because oat milk is the most sustainable form of alternative milk. As far as the interior goes, you'll find light brown wooden fixtures amidst a minimalist space with a touch of greenery. It's calming, cosy and the perfect place to spend a lazy afternoon.
Address: Jalan Ampang Utama 1/1, Ampang Avenue, Ampang, 68000 Kuala Lumpur
Opening Hours: 9:30am – 7pm
Email: [email protected]
Contact: 017 902 1132
5. Mary Jane Dining
Deeply sensual and romantic, Mary Jane Dining markets itself as something of a local "lovers' paradise". You'll find pastel pink roses cascading from the ceiling, blending seamlessly into the plush baby pink furniture. As one of its Instagram posts say, "Come for the aesthetic, stay for the food".
Dishes are certified halal-friendly with a menu that includes thick, fluffy pancakes, the Truffle Money Bag (RM24) and a juicy Australian Waygu Beef Burger. Priced at RM72, the Australian Waygu Beef Burger is made with an Australian Wagyu Beef Patty, a home-made brioche bun, caramelised onions, and it's served with a side of crispy fries.
The desserts and cocktails are a separate conversation altogether. If you love macaroons, you'll enjoy the selection at Mary Jane's, which ranges from Salted Popcorn to Rose Lychee and even Ribena (all RM7 each). The desserts are a fusion of east meets west, Malaysia meets Italy. For instance, the Soy Longan Rose Pannacotta is made with rose bandung and soy milk, while the Chai Tea Creme Brulee uses home-made chai tea.
If you're visiting the bar, try the house signature Mary Jane (RM60). It is gin-based and includes refreshing pineapple liqueur, chai tea syrup, yuzu and lemon juice. For something both sweet and adventurous, opt for the Onde Onde (RM45). This vodka-based drink is made with flavours of pandan, gula Melaka syrup, coconut syrup and topped off with some coconut cream.
Address: 106, Jalan Petaling, 50000 Kuala Lumpur
Opening Hours:
Weekdays: 11am – 10pm
Weekends: 10am – 10pm
(closed on Mondays)
Email: [email protected]
Contact: 018 216 0968
6. Phil's Pizza
Do you like pizzas with pineapples, or perhaps you prefer them spicier? Regardless of your topping preferences, Phil's Pizza in Bangsar has it all. Not to mention, the slices are thick with generous toppings at reasonable prices. If you enjoy meat and are keen on something spicy, try the Meat La Pinyo, made with a beef bolognese sauce, cherry tomatoes and finished off with pickled chilli. For a vegan option, try Nicole's, made from spinach, mushrooms, cherry tomatoes with a pesto and tomato sauce base (don't worry, there's no garlic, onions and cheese). Lastly, Phil's Pizza also offers some of the most delicious, thick, moist cookies in town. They are doughy, chocolatey and, much like the pizzas, bursting with flavour with each mouthful.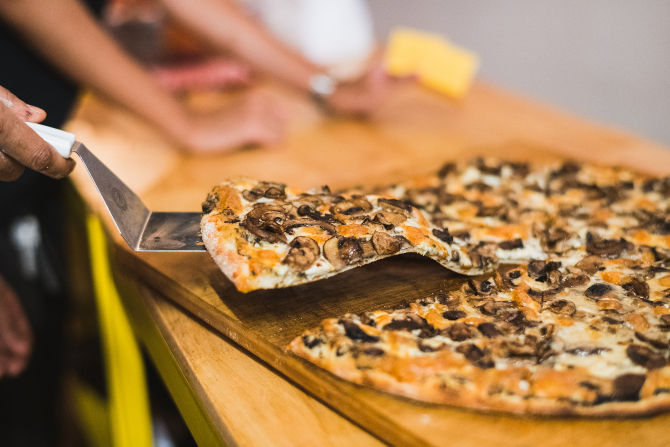 Address: 8, Jalan Telawi 2, Bangsar, 59100 Kuala Lumpur
Opening Hours: 11am – 11pm (closed on Mondays)
Email: [email protected]
7. Chubby Fingers Bakes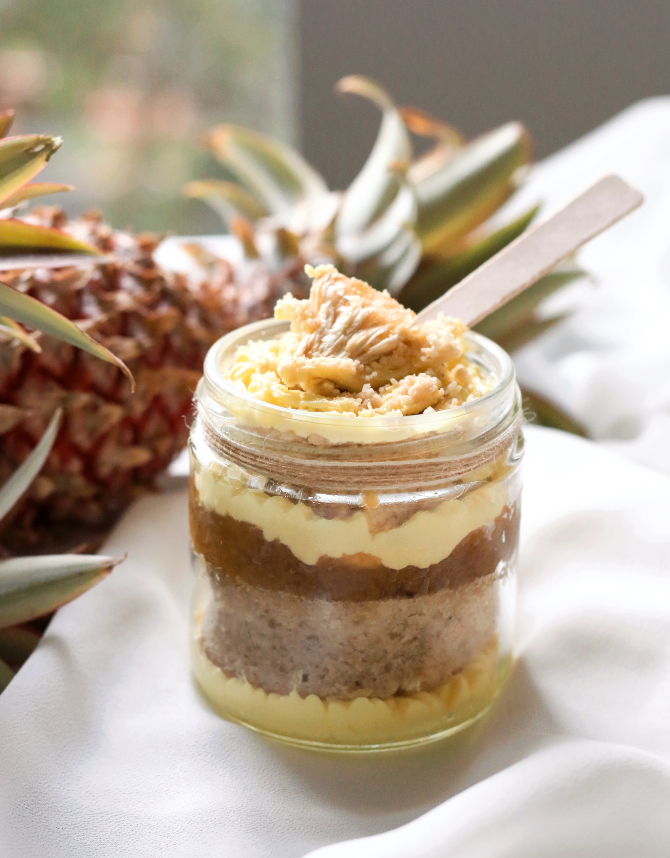 Chubby Fingers Bakes is the brainchild of Adeline. The name was inspired from a cheeky nickname used within her household. Adeline's brand of baked goods includes a range of unconventional delights, such as her festive signature Spiced Ong Lai Cake, which is essentially pineapple tarts turned into a cake. For something on the conventional side, try her decadent Dark Chocolate Cake, made from rich Callebaut Belgian cocoa powder, Callebaut 70 per cent chocolate chips, and Callebaut cocoa nibs.
The business recently ventured into cakes in jars as an on-the-go treat—ideal for an outdoor picnic or as part of a hamper for a loved one. The current line-up of cake jars includes Tangy Tango (a delicious key lime pie), the Coco-Cobana (a banoffee pie with coconut cream), as well as the Berrylicious (a fluffy sponge cake with home-made strawberry filling), to name a few.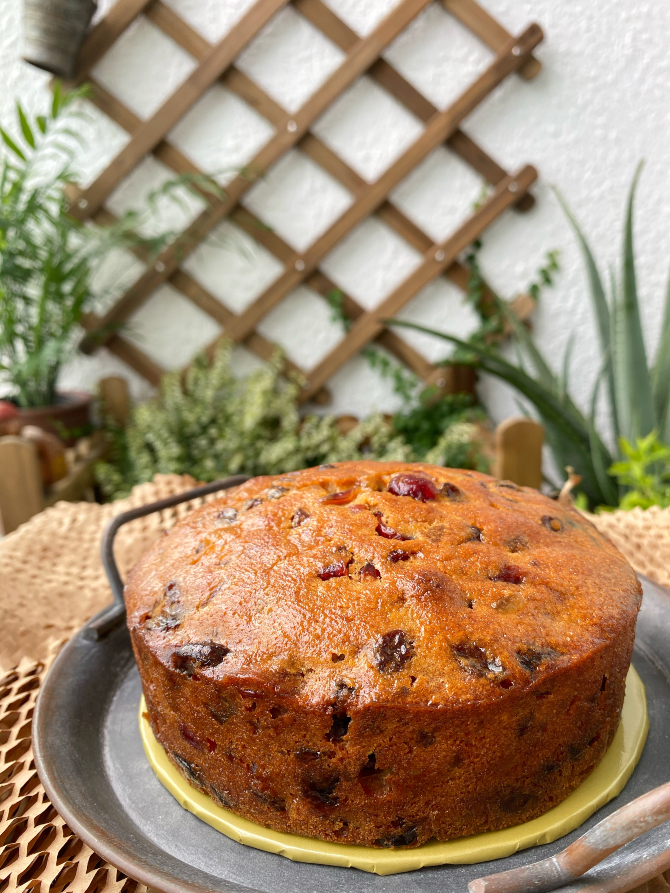 Address: Cyberjaya
Email: [email protected]
Contact: 017 8800 800 (Adeline)