How many times have you cooked during the Movement Control Order period? It's time to up the ante with some cooking tutorials taught by famed experts in the culinary industry
It's no secret that the COVID-19 pandemic has affected all sense of normalcy—and the number of positive cases are on the rise every day. Globally, we are all working together as a collective; staying at home, practising social distancing, and washing our hands. After all, the aim is to beat the novel coronavirus, flatten the curve, and save lives.
As of today (6 April 2020), there are 3,662 confirmed cases of coronavirus in Malaysia and 61 deaths. With the Movement Control Order in effect until 14 April 2020, Malaysians are now *encouraged* to stay in. One of the most popular things to do while self-isolating is cooking—and there are no better people than renowned celebrity chefs (apart from our grandparents and parents) to look to when it comes to preparing amazing, palatable meals. #HomecookedMeals. Even better, these cooking shows/tutorials conducted in their own home kitchens are all on Instagram!
If you prefer cooking instead of ordering from restaurants in KL and intend to bring some delicious normalcy back into your lives, check out the roundup below:
1. Martha Stewart
The Homeschool With Martha series includes Martha cooking some of her favourite recipes from her home kitchen as well as "fun and creative projects—from making a spring wreath to brighten up your space to knitting DIYs". This is a collaboration between Martha and the editors at Living. Learn to make Irish soda bread, creamy lemon squares, Turkey-and-Mushroom Bolognese, and more. Are you ready to go to Martha's school... without actually leaving home?
2. José Andrés
This celebrity chef—who turned his restaurants into community kitchens to feed the needy when the COVID-19 pandemic first hit the United States—found #RecipesForThePeople. Through this new avenue on Instagram, he shares ways to make simple dishes while his daughters sing songs from Hamilton. It's fun, entertaining, and simply delicious. Let's be honest... it's José Andrés. Expect nothing but joy while you practise social distancing at home.
3. Rachael Ray
Another prominent celebrity chef who has taken to Instagram to offer cooking tips is Rachael Ray—with the help of her husband John Cusimano. In her videos, Rachael takes you through ways to prepare meals such as plant-based tacos, breaded and baked halibut, as well as chicken pot pie. It's informative, easy, and a sure-fire way to bring your cooking skills up a notch while self-isolating at home.
4. Massimo Bottura
The world-renowned owner and chef of Italy's Osteria Francescana and Gucci Osteria was one of the earliest celebrity chefs to start a cooking show on Instagram during quarantine. Three Michelin-starred Chef Massimo Bottura's response to the lockdown in Italy is Kitchen Quarantine. The episodes feature help from Lara, Charlie, and Alexa (his wife, son, and daughter, respectively). Through Chef Massimo's shows, you can learn to make bollito salad, tortellini in panna, and vegetable Thai curry among other dishes.
5. Antoni Porowski
With Quar Eye: Cooking Lessons in Quarantine, the popular star of Netflix's Queer Eye is also using Instagram to share a tip or two while everyone's staying at home. Find ways to make dishes utilising ingredients you already have at home—preferably not canned goods or instant noodles. Dishes to try include chicken soup, chickpea pasta, turkey meatballs, roasted squash with peanut chicken, and snapper with fennel. Tasty!
6. Christina Tosi
The founder, owner, and chef of Milk Bar is no stranger to the culinary world. Christina Tosi has also appeared on Netflix's Chef's Table in 2018—that's where you might recognise her from. If you're craving something sugary while self-isolating at home, Christina Tosi's Instagram cooking classes are perfect for you. Why not start with some Cornflake Chocolate Chip Marshmallow Cookies? You can also ask questions, give feedback, and even request for specific tutorials.
7. Padma Lakshmi
In her Instagram cooking tutorials, the celebrity chef aims to show us ways to prepare super simple meals such as Chipotle Chicken, house-made chicken stock, pan-tossed noodles with ground veal, and black-eyed peas over polenta. In some of her videos, Padma Lakshmi's daughter Krishna helps her with the cooking! This is a great time to bond and spend time with your loved ones at home—especially while preparing scrumptious meals.
8. Ili Sulaiman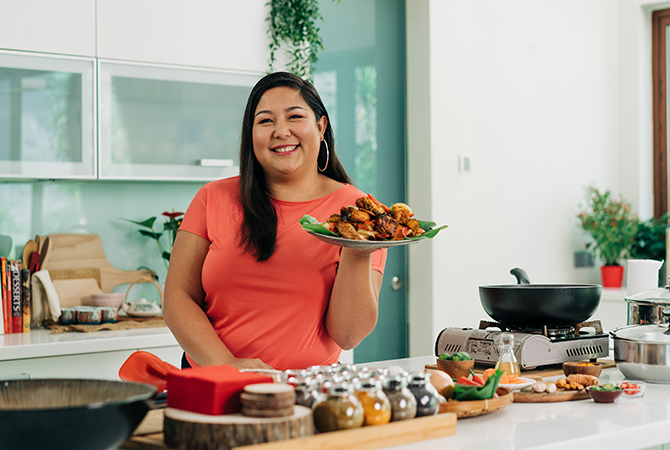 Malaysian chef extraordinaire Ili Sulaiman will be conducting live cooking sessions on Facebook in collaboration with the Asian Food Network (AFN). She will be sharing four surprise Ramadan recipes that will delight taste buds across Malaysia. Check out the required ingredients here and tune in to AFN's Facebook Page at 7pm when the dish for the day will be revealed. The live sessions will take place on 21 April, 28 April, 5 May, and 12 May at 7pm. To watch, click here.
It is now time for you to cook! Get your recipes and ingredients ready; round up your little assistants (or go independent); and get cooking. Make dishes that cheer you up and spark joy as we all get through the unfortunate situation together. Remember to follow the guidelines and always keep yourself safe.
For more fun and easy recipes, visit this website.