If you're always out and about in KL, you would have encountered at least one co-working facility. There's a certain buzz around co-working spaces. You might wonder why they are springing up everywhere—or why independent workers and companies consider them their offices. While the idea of a co-working space isn't new, its popularity has been increasing since 2005. Co-working spaces are now alternatives to working from home or at the office. If you enjoy working alongside others (who aren't necessarily in the same company as you), co-working is definitely for you, especially since it also brings about the advantage of networking. Yes, connections are important, people! With that being said, check out this round-up of some of the latest coolest co-working spaces available in Kuala Lumpur, and maybe down the road, you will be getting work done in one (or two) of them.
1. Regus Tribeca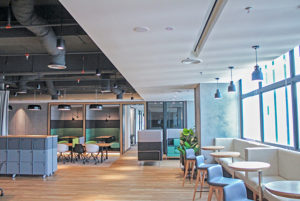 co-working space – Regus Tribeca
At the heart of Kuala Lumpur, specifcally in the Bukit Bintang area, is where you'll find the latest addition to Regus's growing stables of co-working spaces. This is their 34th office in Malaysia alone! The office, an amalgamation of work and play, measures 24,000 square feet over two levels. What does Regus Tribeca have that stands out in the competitive sea of co-working facilities? Well, apart from a business lounge, 371 workstations, 102 offices and three meeting rooms—there's also Wizards@Tribeca located right at the building entrance, which provides a suitable post-meeting meal (or if you're just hungry). Moreover, as a member of Regus Tribeca, you get to enjoy business-grade internet. Look forward to more offerings in the future as Regus continues to expand its portfolio in Malaysia. If you're around KL's business and leisure district, this is the co-working space for you.
Visit here for more information.
READ MORE: Find out how you can increase your chances of getting hired
2. WeWork Equatorial Plaza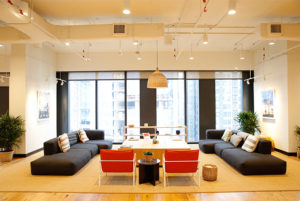 WeWork Equatorial Plaza
With the recent reopening of EQ comes the first ever WeWork in Malaysia. The ability to accommodate 1,900 members across five floors make WeWork's Equatorial Plaza space the largest in Southeast Asia. It is located in close proximity to Pavilion and KLCC—hence, essentially it is within the Golden Triangle of Kuala Lumpur. If you're searching for art-filled lounges, sleek private offices, and meeting rooms designed for collaborations, WeWork Equatorial Plaza will come in handy. Furthermore, there is seamless transportation around, so getting there is really easy. Let this all-inclusive shared office space be the co-working spot for your productive needs.
Visit here for more information.
READ MORE: Ever wondered what it's like for a woman working in tech?
3. Common Ground Jaya One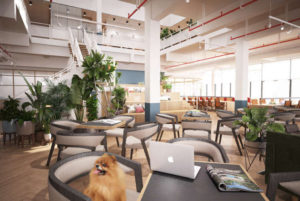 co-working space kl – Common Ground Jaya One
There are 13 Common Ground locations in the country, but the Jaya One branch is unique because it's their first pet-friendly venue. Yes, every day is "Bring Your Pet To Work Day". No more leaving furry friends alone at home! Common Ground Jaya One spans across 22,000 square feet of space. While the upper level is generally more pet-free, the lower floor is pet-friendly grounds all the way. In addition to the stunning aesthetics, Common Ground Jaya One also offers high-speed internet, complimentary drinks, and an event space if required. If you're a member, you can also use the CG app to connect with other members—for both work and play. Common Ground currently has three locations in the Philippines and will be expanding into the Thailand market this year.
Visit here for more information.
READ MORE: Coworking spaces provide comfort. These new Nike shoes do too
4. Colony Star Boulevard KLCC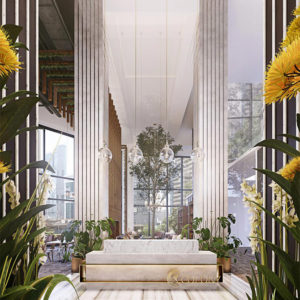 co-working space – Colony Star Boulevard KLCC
Welcome to Colony's fourth and largest location in the country. The Star Boulevard KLCC branch—taking up 35,000 square feet of space—will remind you of an elegant New York loft when you step in. There will also be a 12,000 square feet lush rooftop garden. If you think that's all, Colony Star Boulevard KLCC will be providing a Kids Play Room, Lactation Room, Nap Lounge and their signature Massage Room. Hungry? Fret not! Define:Food will be taking over Colony's in-house cafe here. The Colony Star Boulevard KLCC branch is slated to open in July 2019. You know where to be!
Visit here for more information.
READ MORE: These are exercises you can do at your desk
5. Dojo KL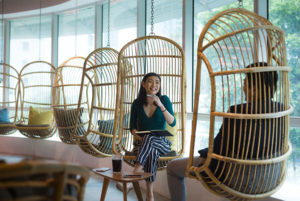 co-working space – dojo kl
Head over to the first floor of Menara Amplewest and you'll find Dojo KL. Modern contemporary vibes with traditional Japanese design adorn the interior of the co-working space. Aside from insanely fast internet, a Zen garden, and social areas with comfy rattan swings and chairs, you can also take hot showers here (yes, hot). Located right at the foothills of KL Tower, you are always within a 10-minute walking radius from a plethora of lifestyle and shopping choices. The good news is that you don't actually have to leave for food because there are refreshments too! Dojo KL is the the co-working dojo for you.
Visit here for more information.
READ MORE: This is where you can get help for depression and other mental health issues (don't overstress yourself at work)
6. Nomad Malaysia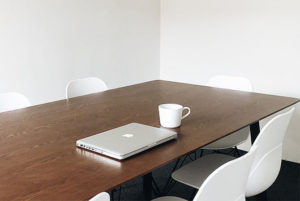 co-working space – nomad subang
If you're a budak Subang or just happen to be there, Nomad Malaysia will be the co-working space for you. Located at SS18, this is the spot for you if you're looking for a modern and minimal space, without the commitment of having a permanent office. Guess what makes Nomad different from other co-working spaces in the country? You have 24/7 access! Isn't that just cool?
Visit here for more information.
READ MORE: You've worked hard. You deserve a break at some of the best beach holiday destinations
Co-working spaces, in Malaysia and beyond, are perfect options for startups, entrepreneurs, and basically anyone who prefers low set-up costs, and a like-minded community. Major companies such as Indiegogo, Uber, and Instagram all had their light-bulb moments in co-working spaces. This roundup of co-working spaces in Kuala Lumpur might help you find your ideal spot and maybe—just maybe—you will find your breakthrough moment too.
| | |
| --- | --- |
| SHARE THE STORY | |
| Explore More | |