With FitFlop's latest Spring/Summer '18 collection, taking on the world in comfort and style is just a pair of shoes away
FitFlop may be best-known for their ergonomic sandals that you can always count on to go the extra mile in comfort, but one look at their creations in recent years and you'll realise that the brand offers so much more—it has established itself as an all-rounder footwear brand that can take a superwoman (that's you!) from work to play, and beyond. If it's good enough for Uma Thurman...
NEW SEASON, NEW STYLES
Just last month, we headed to sunny Bali to discover and experience the FitFlop SS18 collection. It was the perfect destination; what better place to put the footwear to test than a paradise that embodies both relaxation and adventure? 
We found everything we needed to breeze through the trip in comfort from the collection: iQushion Flip-Flops for beach strolls and down-time by the pool, Überknit sneakers to power through a nature walk and day out at Garuda Wisnu Kencana Cultura Park, and a pair of Halo sandals to dress up for a gala dinner on our last night there. 
For SS18, FitFlop introduced two new midsole technologies, enabling the brand to expand its footwear styles and designs further (see some of FitFlop's current midsoles here). We sat down with Melody Tan-Jimenez, regional brand manager, to find out more. 
"FitFlop is very proud of its midsole technologies," says Melody. "This year, we are introducing the new Microbubbleboard technology, which is a spin on our Microwobbleboard technology. It has the same height as the Microwobbleboard, but it has a slimmer silhouette, with bubble holes that makes it really, really light. Then there's the DuocomFF technology, a spin on the SupercomFF, but this one features a dual-layer midsole that is also really lightweight. It can be found in the more premium collections of sandals and shoes."
To wit, I find that the existing Microwobbleboard midsole looks a tad wide for my feet, but the new Microbubbleboard midsole fits me nicely—brownie points right there for catering to different consumer needs. Meanwhile, the DuocomFF technology is featured in our favourite release from the SS18 collection, the Cova Metallic Leather Closed-Toe Sandals. It is also one of Uma Thurman's picks for the season.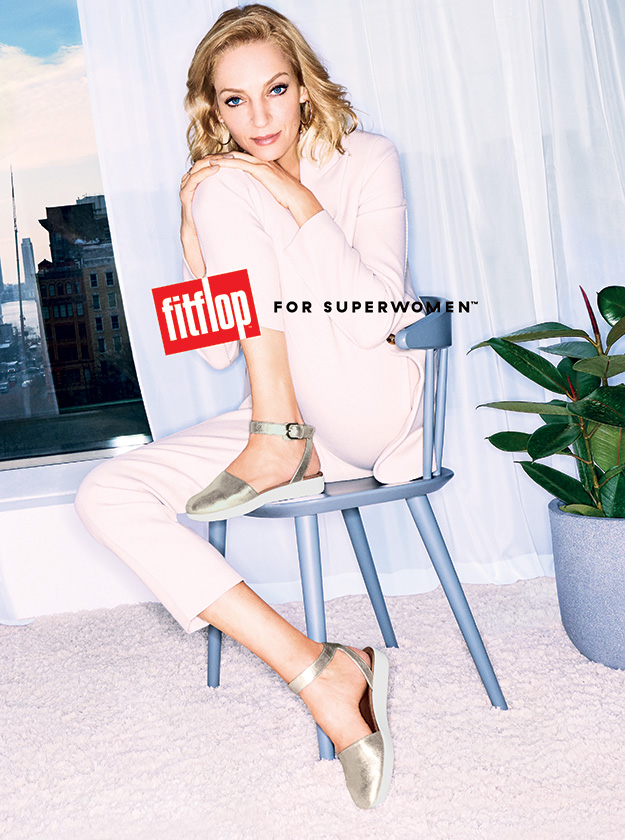 On the key styles for the season, Melody shares: "There were a lot of inspirations for the SS18 collection, but the main one will be athleisure. We know that the athleisure trend has been really popular—people like to dress down more these days, and sneakers are so popular at the moment. You can see the inspiration not just in our sneaker line, but also in our sandals, like the new Überknit sandals as well as the Neoflex line."
So how does FitFlop support the modern woman on-the-go a.k.a superwomen from the ground up? "FitFlop makes you feel very comfortable, and we believe that when you're comfortable in what you're wearing, you can do more things," answered Melody. "If your feet aches, it will be a struggle to go around and you'll be likely to just give up in the middle of the day and rest instead. But with a comfortable pair of shoes, you will be able to go more places, do more things, be more productive, and in turn be more successful, empowering you to be a superwoman."
We can't agree more—the right pair of shoes can really take you that much further. Below, discover a selection of footwear from the FitFlop SS18 collection and find the perfect pair for you to take on the day in comfort and style: 
FitFlop SS18 collection is now available in stores. To stay updated with Fitflop Malaysia's latest news or for more information, be sure to like their Facebook.