Usher in the auspicious Year of the Metal Ox with some delightful hampers and gift packs from hotels like The St Regis KL and Shangri-La Hotel KL, as well as brands like Nespresso and Glenfiddich
Just because we can't be around all our loved ones and family members for Chinese New Year this year, that doesn't mean we can't show our love and affection for them with some CNY gift giving. Chinese New Year is a time to celebrate good fortune and share prosperity with those we cherish but with the current times, it's also a great time to send some joy while staying apart to flatten the curve. As an addition to your celebratory feasts and takeaway selections, we've rounded some sweet and savoury delights that everyone can enjoy. 
1. The St. Regis Kuala Lumpur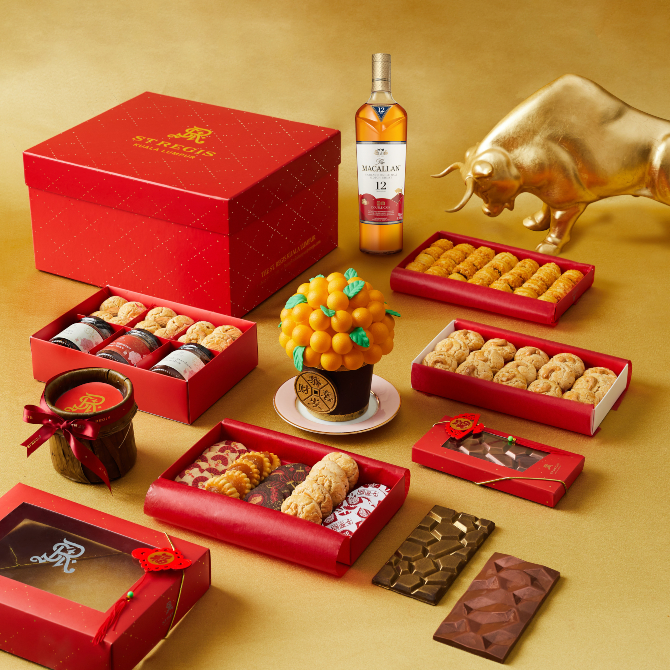 2021 sees The St. Regis Kuala Lumpur's House of Fortune offer a selection of three large Prosperity Boxes filled with a collection of homemade goodies. They include the Orange Butter Cake, Chocolate Truffles, and Chocolate Gold Coins. Prices are upwards of RM688 for the non-alcohol options and RM988++ for the boxes which are inclusive of a bottle of Delamotte champagne or a bottle of The Macallan 12-Year-Old Double Cask Chinese New Year Limited Edition Scotch whisky.
Availability: 11th January - 26th February 2021
Price: From RM688 to RM988++
Contact: 012 2801 303
E-mail: [email protected]
Address: No 6, Jalan Stesen Sentral 2, 50470 Kuala Lumpur
Facebook | Instagram | Website
2. Shangri-La Kuala Lumpur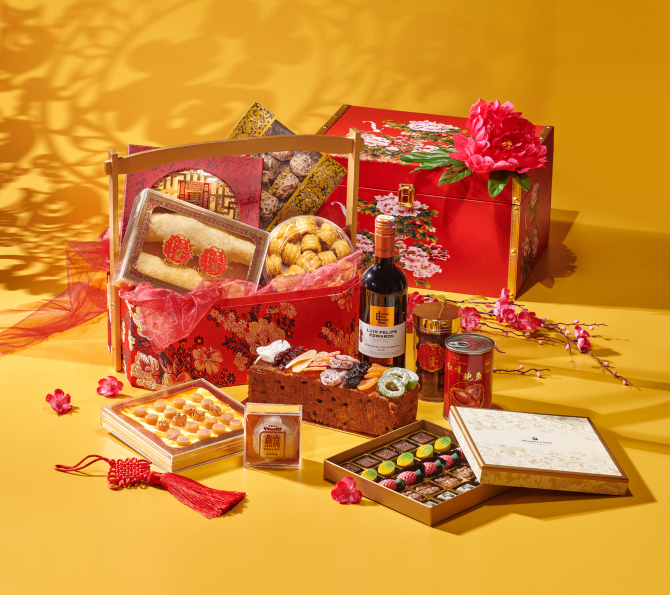 The usual CNY tradition would have families visiting each other's houses and a gift is of course, compulsory. While we may not be able to do it this year, it doesn't mean we still can't send something to our loved ones. Shangri-La Kuala Lumpur's Lemon Garden is offering a range of Auspicious Hampers—three variations, in fact! No matter if you pick the 'Treasure Delight', the 'Golden Premium Treasure' or the most opulent 'Prosperity Premium Treasure', the lucky recipients will surely feel your warm wishes through the ox-picious items (Eight Treasure Cake, premium oolong tea, dried scallop, abalone and more) within! 
With the implementation of the Movement Control Order (MCO), the festive items will only be available for self-pickup and delivery. Orders can be made via their online store.
Availability: 8th January - 26th February 2021
Price: From RM688 nett to RM1,388 nett
Contact: 03 2074 3900 or 019 390 2257
Address: 11, Jalan Sultan Ismail, 50250 Kuala Lumpur
READ MORE: MCO 2021: 9 Cocktail and drink deliveries in KL for your stay-at-home evenings
3. Mandarin Oriental Kuala Lumpur
For complete convenience, consider The Mandarin Oriental Shop Kuala Lumpur where not only are there hampers but also a wide variety of Chinese New Year cookies and desserts. Option one: The Festive Gift Sets, as they are, are already fitted with a range of premium delicacies that include dried seafood, bird's nest and more. Option two: Call or email them to customise your own festive gift set from the array of treats available from their online store. Option three: Select one or more treats from their menu and just add to cart (no one will say no to a tray of Chocolate Ingots that were made with jasmine milk). Some of the other delectable options include a whole 1kg Chocolate Orange Brulee Opalys cake, Mandarin Orange Chocolate Pralines (yes, in the shape of mandarin oranges!), and a set of Chinese New Year cookies (with the usual suspects e.g butter pineapple tart and orange cookies). 
For the full menu, click here.
Availability: 12th January - 28th February 2021
Price: From RM188 onwards for the gift sets; RM18 onwards for individual sweet treats
Contact: 03 2330 8798
E-mail: [email protected]
Facebook | Instagram | Website
4. Le Meridien Kuala Lumpur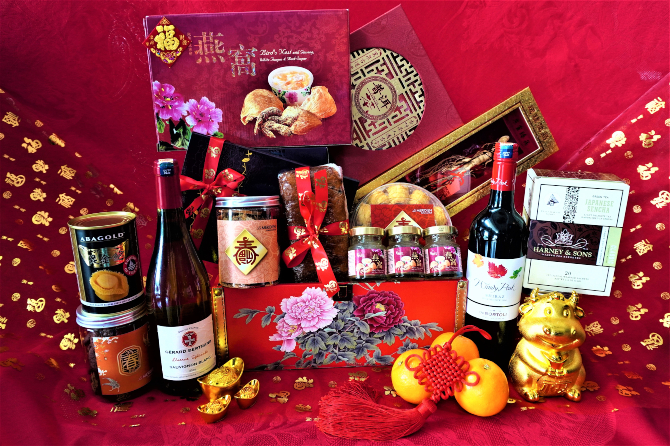 Having too many options might not always be a good thing for some. To keep things simpler, Le Meridien Kuala Lumpur has two types of gift packs as part of their Year Of The Ox festivities. The first is the exquisitely packed and beautifully decorated Chinese New Year Hampers that are available in three sizes. As an example, the first of the three is the Blooming Prosperity, which contains a bottle of Luis Felipe Edwards Rosé, a selection of Harney & Sons Tea, Festive Chocolate Pralines, Almond Stripe with Milk Chocolate and a box of pineapple tarts among other goodies.
Alternatively, there's the Take-Home Treats where you can order individual ones or, we recommend, the Chocolate Pralines in a 3-Tier Deluxe Oriental Box (28 pcs) or Chocolate Pralines in a 2-Tier Red Wooden Box (20 pcs).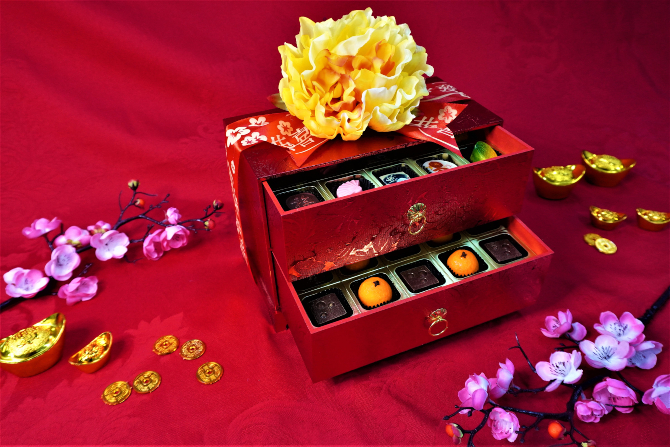 Place your orders here and have them delivered to your doorstep. Or collect them at Latest Recipe, located on level 5 of the hotel.
Availability: From now till 26th February 2021
Price: From RM388 nett for hampers; RM128 nett onwards for the tiered boxes
Contact: 03 2263 7888 or 012 215 8782
E-mail: [email protected]
Address: 2, Jalan Stesen Sentral, Kuala Lumpur Sentral, 50470 Kuala Lumpur
Facebook | Instagram | Website
5. Glenfiddich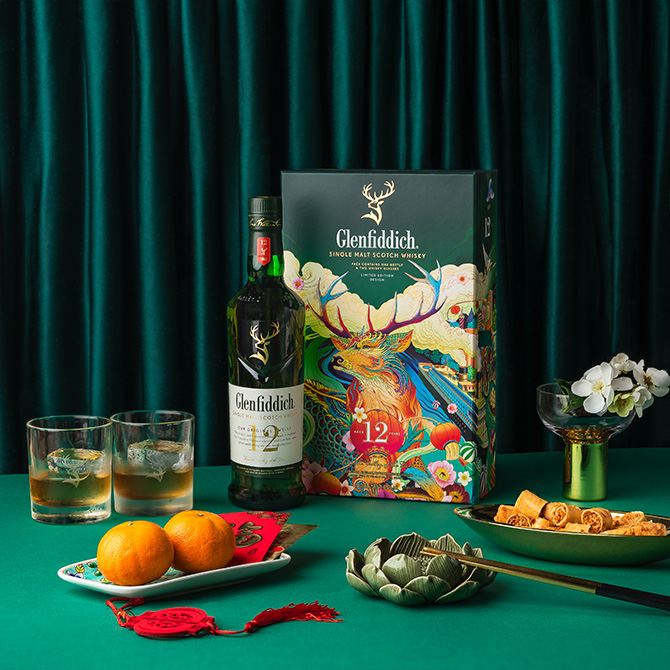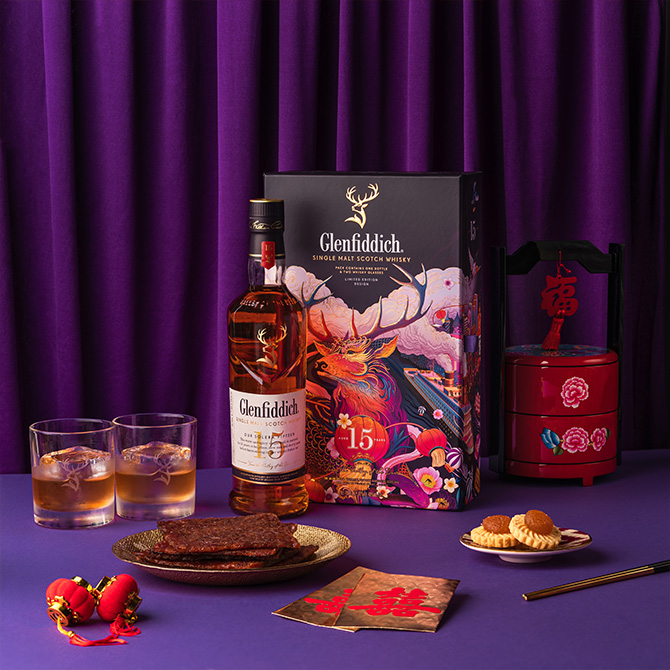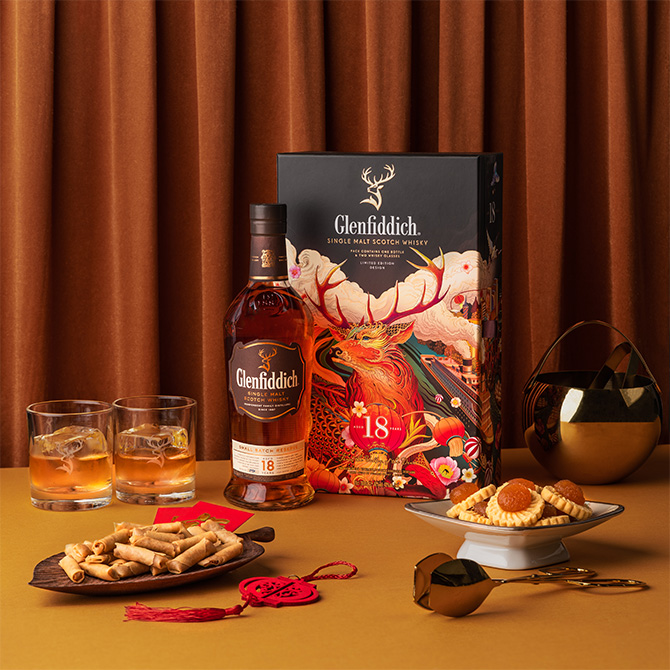 For something less traditional and a bit more personalised—and if it's for someone who loves a great single malt Scotch whisky—Glenfiddich's Chinese New Year special edition gift pack has all the makings of a gift working drinking to. From the outside, the gift pack looks gorgeous with the illustrations by up-and-coming Chinese illustrator Rlon Wang. The theme for the 2021 bottle (the second in a series) is 'The Great Homecoming', which was inspired by that heartwarming feeling of Chinese New Year family reunions. For the unfamiliar, it all started in 2020 when Wang first reimagined the royal stag icon and Charles Gordon (son-in-law of Glenfiddich founder William Grant) and his century-old epic journey of introducing the Speyside Scotch whisky to the world. He headed for Asia with just a few cases of whisky. He returned to Scotland a year later, triumphant! And so, in 2021, the bottle celebrates that honorary return to his home.
Backstory aside, there's more to the gift pack than meets the eye. Within the box is a bottle of Glenfiddich as well as two glasses. And you can step it up with a special Augmented Reality (AR) experience created by Glenfiddich where you can send customised messages. All you have to do is:
Purchase a bottle of Glenfiddich

Visit www.GlenfiddichAR.com  

Fill in your details and type in your message (50 characters)

Upon confirmation, a link to your personalised AR experience will appear on screen

Gift the bottle together with the link to your intended recipient
The limited edition Chinese New Year gift pack is available with the Glenfiddich Reserva Rum Cask 21 Year Old as well as the 12, 15 and 18 Year Old Malt Whisky variants.
For more info, check out @GlenfiddichSEA.
6. Nespresso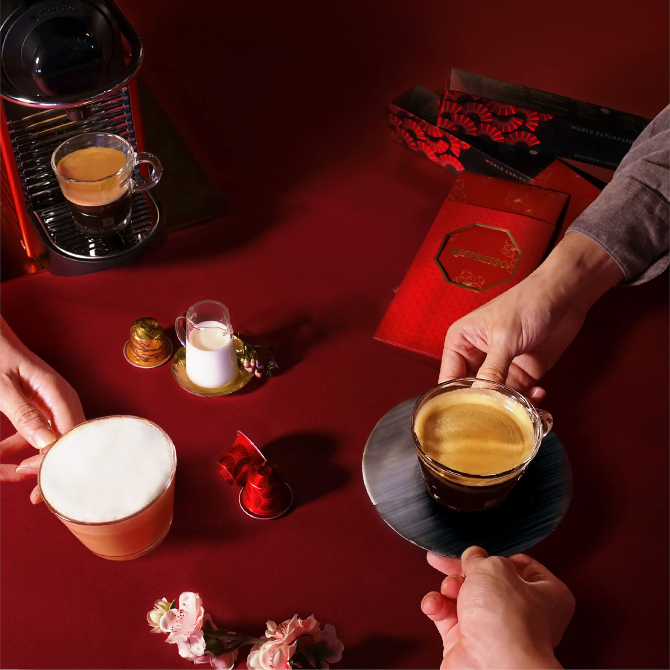 Who doesn't love a good cup of coffee? For most people, they have it to start their day. This Lunar New Year, Nespresso is incorporating a few auspicious practices in their Nespresso 10-sleeves CNY Assortments Giftbox. Priced at RM239, the gift box features window and Spring Festival couplets elements and leverages on the idea of fresh new beginnings. It comes with a door sticker that carries the Chinese word 'Fú', which represents good fortune, blessing and happiness. It's something to consider if you're gifting it to someone who appreciates tradition. 
In addition, there's a new permanent coffee blend called the Shanghai Lungo. Priced at RM23 per sleeve, this auspicious gesture is a tribute to China, a nation that has grown coffee for centuries. Nespresso's Shanghai Lungo is a distinctive light-roast blend that will please the palate with its berry notes. The brand also aims to encourage sustainability amongst its coffee drinkers. If you recycle your used capsules, you can redeem the Nespresso Second Life Chopsticks during this festive season. Each set of chopsticks are made with aluminium from 45 used Nespresso capsules.
Note:
"As a precautionary measure, Nespresso Boutiques at The Gardens Mall, One Utama Shopping Centre and pop-up store at Kiara 163 Retail Park will be closed temporarily to ensure the safety of both coffee lovers and staff."
Instead, purchases can be made via the Nespresso mobile app and Nespresso official site.
Contact: 1800 80 7001
Facebook | Instagram | Website 
READ MORE: Chinese New Year 2021: Can you guess what your favourite dishes symbolise?
7. Oh Cha Matcha x Lo Hong Ka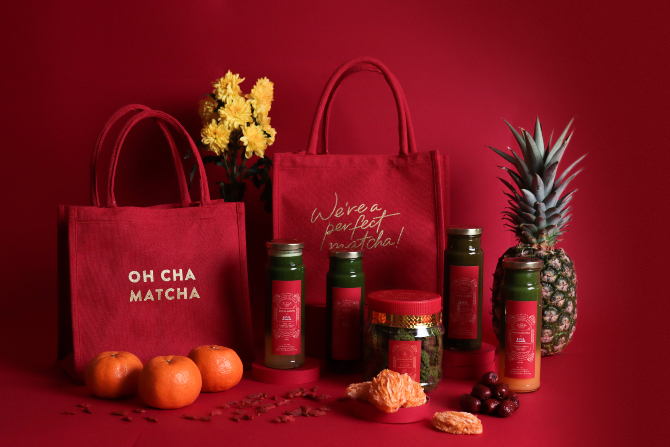 For their Chinese New Year special, Oh Cha Matcha has collaborated with Lo Hong Ka for a gift bag that is both delicious and great for your health. Priced at RM168, the eco-friendly gold print juco bag includes four refreshing CNY-inspired matcha drinks complemented with Lo Hong Ka's all-natural concentrated Gold Bird's Nest; a box of homemade matcha pineapple tarts; and to top it off, some auspicious Oh Cha Matcha and Lo Hong Ka red packets. What are the four said matcha flavours, you ask? Well, they are Mandarin Orange with Matcha, Red Dates and Goji Berries with Matcha, Pineapple with Matcha and lastly, Chrysanthemum with Matcha.
Find the complete menu here. Delivery is available via Beepit, Foodpanda and GrabFood. You can also DM them on Instagram to order the special gift bag.
Availability: From 19th January onwards
Price: RM168
Contact: 03 7732 0397
Address: 130, Jalan Burhanuddin Helmi, Taman Tun Dr Ismail, 60000 Kuala Lumpur
Facebook | Instagram | Website
8. Halycon Days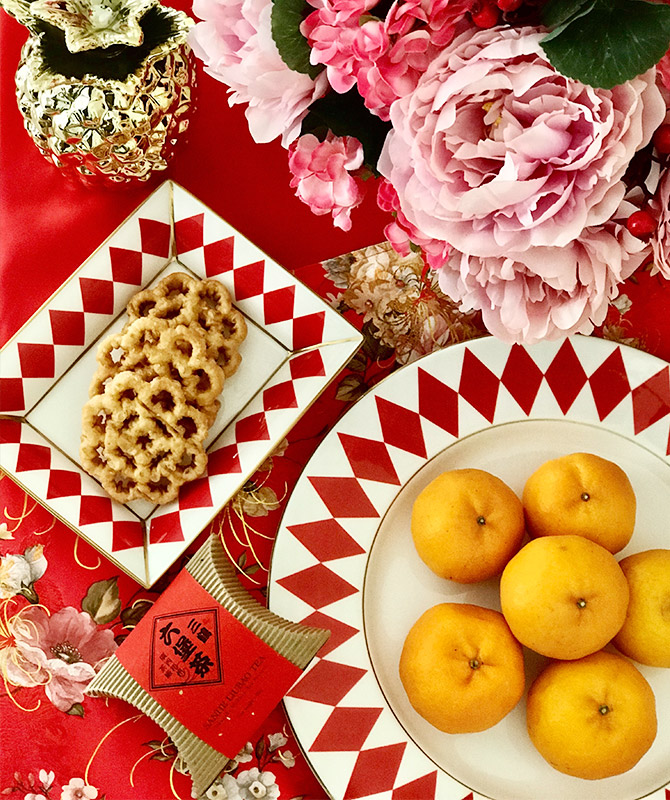 Look no further than Halcyon Days for the recipient that appreciates elegant English bone china. For this festive season, it's all about the red and gold and Parterre, with its diamond-shaped motif, is the star of the collection. Every piece has been handcrafted in their Stoke-on-Trent factory by master craftsmen, potters and artisans so you can be sure that it's of the finest quality.
Order for delivery: 012 758 8001
9. Botanica+Co
Beautifully packed into a matte wooden box, Botanica+Co's The Good Spring Cookies Box is more than just cookies. It's delicious cookies that have each been handcrafted with love and a sincere wish for only good things to come. For example, the Vanilla Pumpkin Cookie represents a wish for beauty, youth and energy (don't we all need that these days) while the Peanut Butter Cookie is for longevity and good health. A little box of happiness and well wishes could go a long way. 
Availability: Currently sold out but the next availability is from 7 Feb onwards
*To pre-order, DM them on IG/FB
Website (for online orders) | Facebook | Instagram 
10. Royal Salute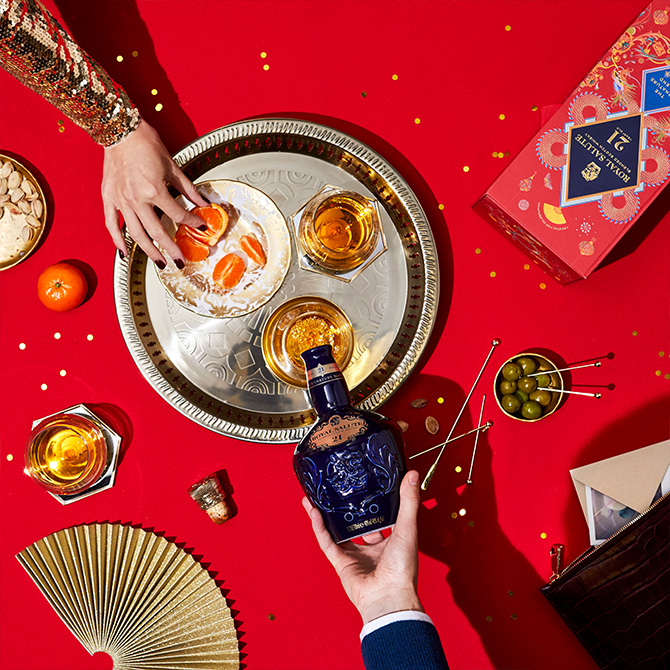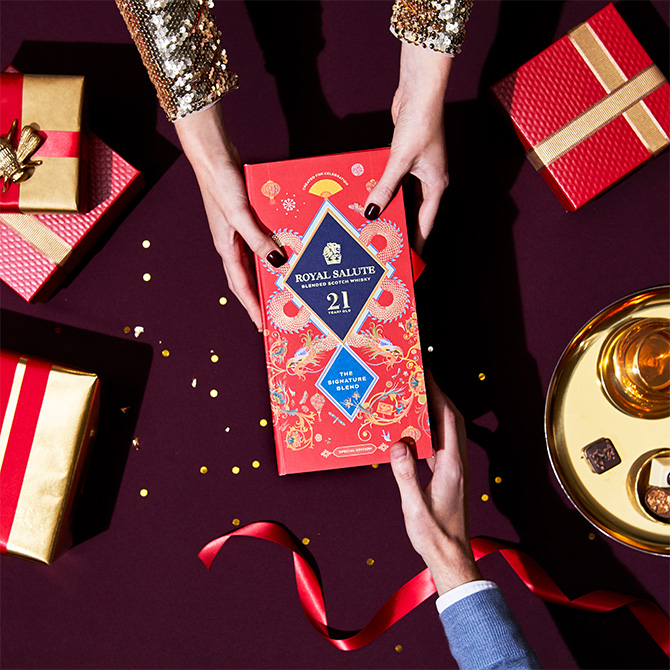 Royal Salute may be known for its family of rare and precious whiskies but it's also often linked as a great gift. After all, it first came into existence as a coronation gift for Queen Elizabeth II in 1953. Despite the years that have passed since then, the 21 Year Old Signature Blend is as exquisite as it was before: elegant and opulent in character with a sublime composition of ripened fruits and spices. And so, to mark the new year and as a gift fit for royals, the house has released a Royal Salute Chinese New Year edition. The exterior is a splash of vibrant red, acting as the canvas for the artistic illustrations that depict the spring festival traditions as well as auspicious symbols. There are even extra personalisation options to elevate the gifting experience such as engraving the bottle with the recipient's initials or as an engraved message on a plaque placed on the box. Head over to The Good Stuff for inquiries.