Trends
These are 5 trends that have nothing to do with clothes, but will rule the fashion industry this 2021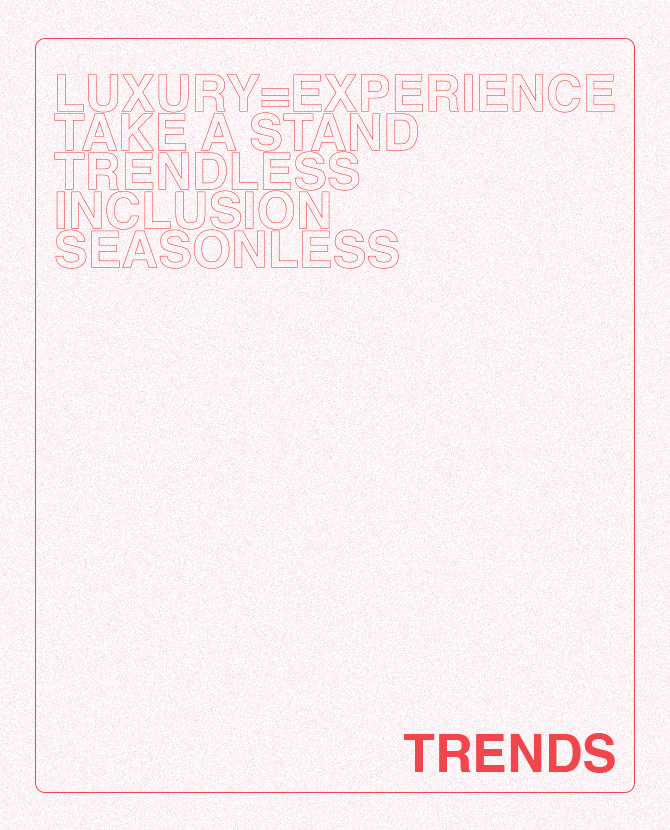 The whole world is in its vortex of foresight. We are in unfamiliar terrain and different types of quizzes, user surveys, as well as the employment of artificial intelligence are serving as tools of companies to anticipate trends, and whose importance has increased sharply in the last 10 years. While the pandemic has certainly accelerated some of these processes, what is happening is actually far from the expected if we bear in mind that sustainability, for example, is one of the most important items cited by respondents as essential in all industries.
FOR STARTERS, IT'S QUITE CLEAR THAT THEY'RE GOING TO INSIST MORE ON A LOT OF TRENDS THAT WERE RIGHT IN FRONT OF US BUT DIDN'T GIVE THEM ENOUGH IMPORTANCE.
These include the fact that fashion seasons are excessive and don't make the most sense; that fashion pollutes the planet and exploits communities that cannot defend themselves from economic slavery; as well as the pervasive types of discrimination. But no matter how socially correct these sound, it's still general overarching issues. Concrete answers that can be implemented immediately are a little harder to look for, but new research conducted by Dazed comes quite close, especially considering that their readers are young and that the world is yet to be tailored to their tastes (and principles). So, what did we learn from this survey that was conducted on 3,500 respondents?
THE ATTITUDE YOU TAKE IS WHAT MAKES A BRAND INFLUENTIAL
Seventy percent of participants believe that the values ​​represented by a brand are what gives it power (compared to only 14 percent who think that the product the brand offer is more crucial). If anything, 2020 has shown us how important it is for brands to be included in all the cultural phenomena that society deals with, and to use their influence to initiate change where necessary. This applies to everything—from Black Lives Matter protests to funding art projects, now that budgets for culture have been reduced all over the world.
CULTURAL EXCHANGE AT ALL LEVELS IS THE WAY OF THE FUTURE
From K-beauty and K-pop to the rise of stars like Rosalía, it is clear that there are no geographical boundaries for today's pop culture. Until recently, the West definitely dominated in this field, but today that is no longer the case. Social networks have become a channel through which the mainstream can be reached from anywhere on the planet, making the culture of the future truly global. Consequently, this also applies to everything that accompanies popular culture, and in this case—to the fashion and comedy industry.
LUXURY IS AN EXPERIENCE, AND NOT MERELY A TANGIBLE OBJECT
Sixty three percent of people do not think that luxury goods are more important than experience. The sole anomaly is China, which is currently the only country on the road to recovery when it comes to the luxury goods market. Expensive goods still rank quite high there—about 60 percent of respondents there consider it necessary. As such, large luxury conglomerates will have to adapt to global consumption trends that have been changing of late.
FASHION WILL BE LESS TREND-ORIENTED
This is one of the main reasons why minimalism has taken over, as luxury has been manifested more subtly now than a few years ago. The proof is in the most popular brands of today, such as Bottega Veneta. No matter how recognisable some of their signature pieces are individually, not everything is distinguished just from its logo. The same goes for independent brands whose popularity is on the rise like Khaite, Tibi, Totême and others. In times of a global crisis, it is vulgar to brag.
WE ARE TIRED OF COLLABORATIONS
At least, high-low collabs such as Ikea and Virgil Abloh. Ultra-hype collaborations seem to have reached their peak as most respondents feel that fashion has been deemed too redundant to have the strength and excitement for yet another limited series of something—typically at a steeper price tag than the usual merch, and if we're being realistic about it,  we simply don't need it at all. Disruption of this kind of elitist fashion landscape has done its job and it's time for it to take a break (or perhaps a full retirement).
This article was originally published on BURO Serbia.
| | |
| --- | --- |
| SHARE THE STORY | |
| Explore More | |