From burnt orange locks to endless glittering eye looks, here's a round-up of the best hair and makeup looks from recent K-Pop MVs for your summer beauty mood board
With the arrival of summer comes the opportunity to go all out with your makeup routine and this year, we're seeing a season of gloss, glitter and bright colours that will give you that inner (and outer) summer glow. As always, the world of K-pop offers endless beauty inspiration to try out and have fun with thanks to the variety of comeback concepts that range from bewitchingly dark looks to casual chic to mark a melt-free hot girl summer. Take hair and makeup cues from the K-beauties in some of the most recent music videos below:
Chung Ha (Ft. pH-1) - 'My Friend'
Solo artist Chungha switches out her fierce girl crush style for a more laidback beauty look in the playful music video of her latest Zion.T-produced track 'My Friend' featuring rapper pH-1. The anthem of encouragement sees her flaunt a sense of breezy self-confidence with no-makeup makeup that highlights her natural features through spidery mascara and rose-tinted lips, topped off with rainbow-coloured nails each dotted with a single pearl to add a bit of fun to the look. We're also loving the statement black scrunchie holding her casual half-up do in place, a trend that is bound to take off by the time autumn rolls around.
Choi Ye Geun - 'Lucid Dream' 
Choi Ye-Geun's glossy glitter makeup in her dreamy 'Lucid Dream' music video is the perfect beauty look for a summer in the new normal. Sprinkles of glitter accentuate her upper lid and brows to place emphasis on her upper part of her face (an ideal highlight during an age when masks are an essential public accessory), underscored by blush pink shadow, giving off the ultimate dewy youthful glow. 
Weki Meki - 'Oopsy'
For something more night-time appropriate, look to the girls of Weki Meki in their latest 'Oopsy' music video and be inspired by their updated take on the classic evening beauty look. The key here is to pair a statement matte lip with a chic winged liner and hints of matching rosy blush around the eyes and cheeks. Take it to the next level by adding a bit of sparkle in the form of rhinestones to line either side of your eyes; and gloss to elevate the blush with some shine.
TXT - 'Puma'
Feeling sultry? Go wild by recreating some of TXT's edgy beauty looks in their mysterious 'Puma' music video which sees the brother group of BTS show off a darker, beast-like aura for the new track. Piercings, prints and slick hairstyles aside, the boys rock some seriously smokey eyes in shades that match their coloured locks, ranging from lilac to burgundy and umber brown, to give off a stylish, feline vibe.
Oh My Girl - 'Nonstop' 
Sweeping the music charts, Oh My Girl's latest title track Nonstop highlight the group's lovable energy in a casual but chic retro-inspired style with a hint of cowgirl swag. For standout hair, take notes from Seunghee and Mimi's pink and purple pastel-coloured dye jobs or wrap it back with a printed bandana scarf for a 90's era look. Amidst the various makeup looks, the group shows that a stained glossy lip goes with virtually anything, pairing it with crystallised 60's cat-eyes, peachy-pink monochrome makeup to OTT blush to give off an ethereal, ultra-romantic look that's also low-key enough for the everyday. 
Ha Sung Woon - 'Get Ready' 
If you've been thinking about jumping onto the orange lockdown hair trend, let Ha Sung Woon sway you into finally doing it for real. The former Wanna One member shows just how trendy and effortlessly easy burnt fiery locks can be in his funky 'Get Ready' music video by pairing it with different retro-looking outfits that punctuate the song's smooth, jazzy style. Whether it's tousled under a red beret, or styled in elegant finger waves for an evening tux ensemble, Sung Woon's carrot top offers more evidence as to why orange is the new black for summer 2020 hair. 
Blackpink - 'How You Like That'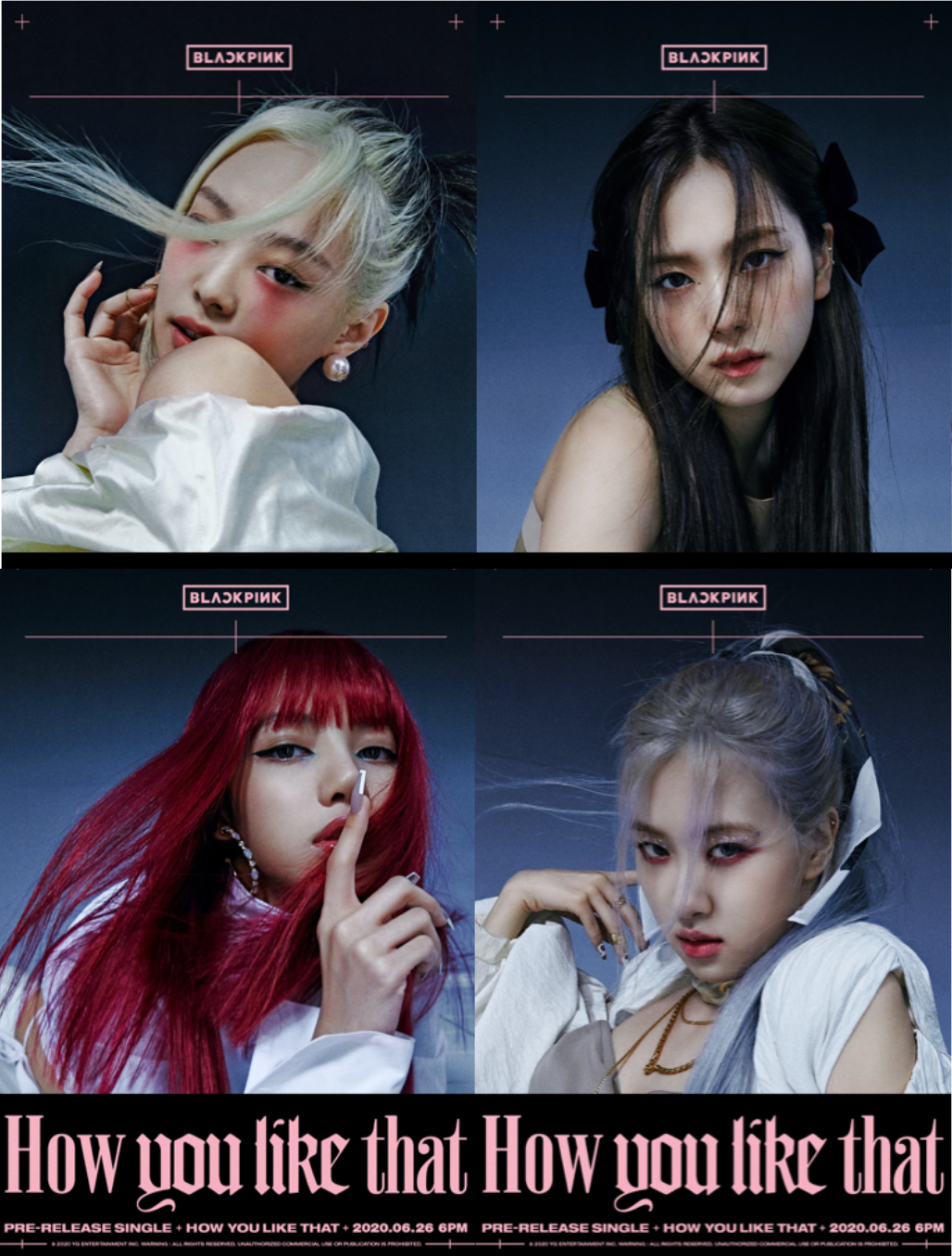 Blackpink's How You Like That may only be arriving next week but the concept teasers for the group's latest single had to be mentioned for its bewitching beauty looks. From Jennie's chunky ash blonde highlights and crimson-blush undereye shadow to Lisa's graphic lilac mani and blunt cherry red bangs, all four girls are seen sporting dramatic new makeovers for the upcoming comeback, offering head-turning hairstyles, ultra-long glamour nails and enchanting eye makeup that are all guaranteed to put anyone under a spell.