We need to talk about a specific trend that hit the fashion scene like a two-tonne truck: bike shorts. You probably first spotted them in 2018 when the notorious trend was making its rounds on stylish celebrity #OOTDs. Why would anyone willingly put themselves in a pair of body-hugging gym shorts and wear it out was beyond me. I thought of its practicality and possible embarrassing camel-toes and wedgies that may ensue.
They say you can't knock it until you try it, so I bit the bullet and begrudgingly got myself a pair of the stretchy cycling shorts in my attempt to understand what the hype was all about. I got a simple black pair with a logocentric waistband from Topshop, and as I looked in the mirror I wondered how I was going to incorporate this athleisure driven trend into my non-sporty wardrobe. The article in question is a blend of viscose and elastane, responsible for its thin yet stretchy material. Its fast-drying properties definitely came in handy for a quick wash-and-go as I embarked on a 5-day challenge of wearing bike shorts. I knew then it was not going to be an easy feat.
DAY 1 : Clocking in to work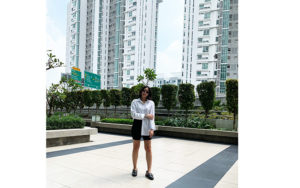 "Wow, I feel incredibly exposed", I thought as I walked out the front door. For my first day in the short, tight gymwear, I balanced it out with a white button-down and leather loafers in the hopes of smartening it up and making it office-appropriate. I leave the last three buttons unfastened, and tuck one side in and let the other conveniently shield me. I was very aware of how tightly the shorts hugged my hips and thighs and wondered if people in the building would think I forgot to bring the rest of my work clothes after a morning gym sesh.
DAY 2: On set for a shoot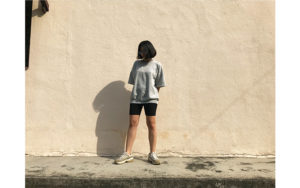 It's no surprise to anyone that the bike shorts phenomenon trickled down from athleisure. The key problem here is that I do not indulge, but my only salvation from the sport-influenced fashion movement and dressing like your dad in the '80s is… that my dad did dress like this in the '80s. His sporty threads back in the day have stood the test of time, and I've been lucky enough to inherit a couple. For my second day, I take a jab at it and attempt at athleisure with a vintage sweatshirt. It's safe to say that my family has issues with throwing things away; at the back of my shoe closet, I found a relic from the early '00s I thought I had thrown out years ago: a pair of Skechers D'Lites. Thank God I'm a hoarder because a pair of chunky sneakers was the perfect finish. I look like a bonafide hypebae, I do not know the person in the mirror is.
DAY 3: Spin class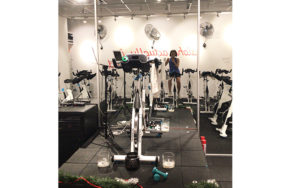 I've been on ClassPass for a good 2 months now and have been enjoying its variety of gyms and classes. So for Day 3, I wear the tight and stretchy bike shorts exactly what they were made for: cycling. I head over to Aloha Cycle Club before work and knew it would be the only time the item in question wouldn't look out of place. It's no shock that the bike shorts' function was at its optimum here. They were comfortable to cycle in and kept me cool during the fast bursts of speed.
DAY 4: Trip to the art musuem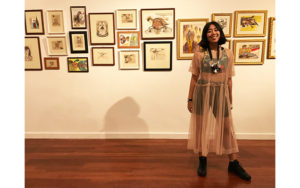 It's the weekend so I head to Balai Seni Negara to check out multi-disciplinary artist Chang Yoong Chia's latest exhibit, Second Life. For today's #OOTD, I offset the shorts' plain design with a vivid floral-printed sports bra under a sheer tulle dress. For accessories, I pick out a ribbon-tie necklace with acrylic flower petal charms to match what I'm wearing underneath, and toughen it up with leather combat boots. I figure dressing outlandishly would fit right in at a contemporary art museum, but I did get some stares from the staff and double-takes from fellow museum visitors. But by Day 4, I'm already immune to it.
DAY 5: Out for errands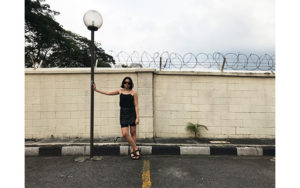 Sundays are usually errand days for me so I like to be as comfortable as possible. I chose to wear the form-fitting shorts under a mini skirt and voila — they're now a pair of skorts! One perk from the shorts being made from viscose and elastane is that you can adjust them to your liking depending on the length of your skirt. I kept mine long enough to peek underneath the skirt, but hiking them up concealed from the hemline works just as well.
Conclusion: Having to incorporate the bike shorts into a non-athleisure closet was challenging to say the least. But it was a fun little exercise taking me out of my usual outfit rotation, not to mention mustering up the courage to walk out of the house in figure-hugging shorts. However, as much as I had warmed up to it by the end of the 5-day experiment, I strongly believe this trend needs to stay in the gym or on the bicycle.What do you think about the bike shorts trend?
{insert poll tpl="sub-vote-freesize.tpl" id="27″}
Photos by Rachel Au, Vida Roman and Joceline Yan
| | |
| --- | --- |
| SHARE THE STORY | |
| Explore More | |