Fashion
Taylor Swift channels the magic of the '70s in 'Midnights'
Power to the flower
Images: 'Midnights' Album Booklet/Republic Records and Taylor Swift/YouTube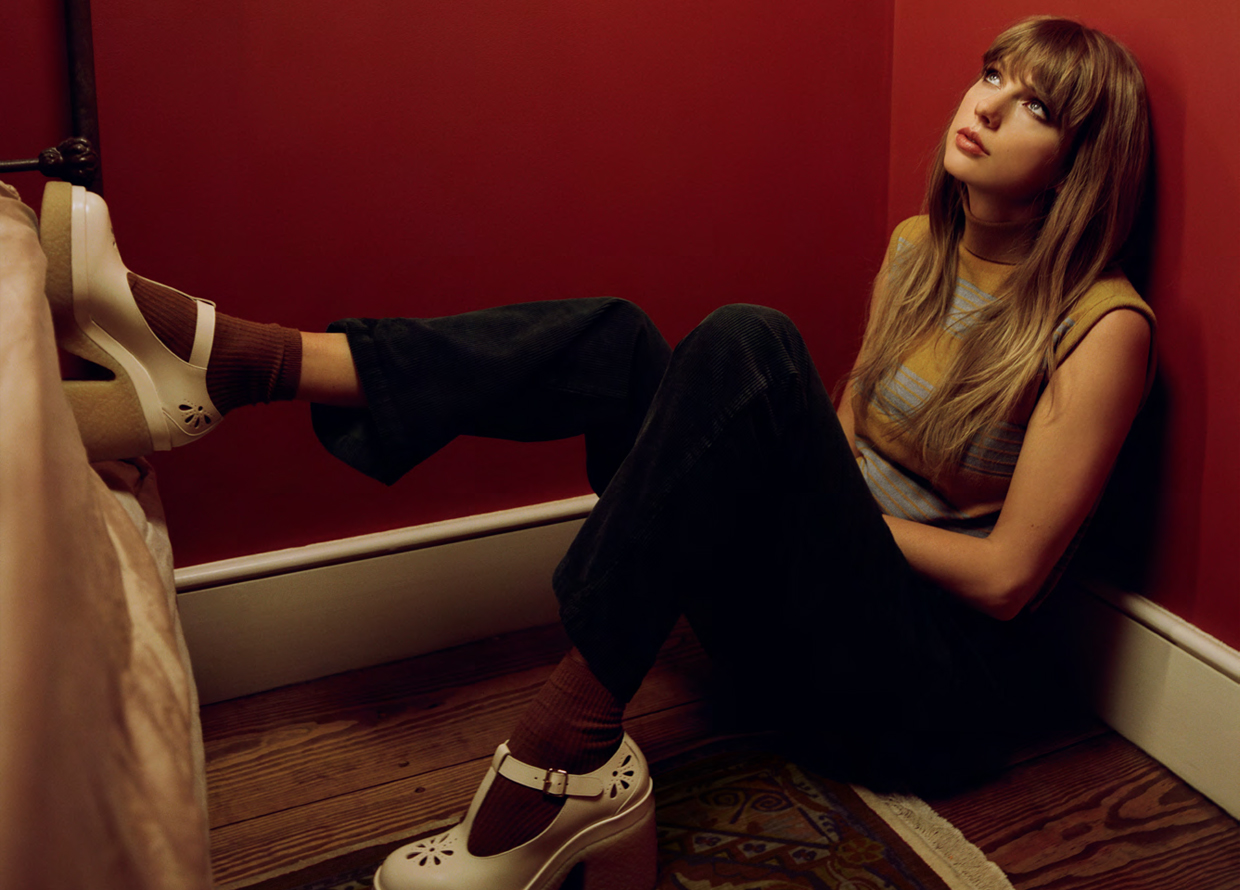 Taylor Swift has officially entered a new era and is taking us along for the ride. 
Last Friday, on the 21st of October, at midnight EST (12pm local time), her latest album, Midnights, a collection of thirteen songs, dropped and slowly began changing the lives of Swifties worldwide.
Several hours later, the superstar made a surprise revelation. On top of the initial album release, Swift offers seven additional songs in a second album called Midnights (3am Edition).
"Surprise! I think of Midnights as a complete concept album, with those 13 songs forming a full picture of the intensities of that mystifying, mad hour. However! There were other songs we wrote on our journey to find that magic 13. I'm calling them the 3am tracks," she says on Instagram.
Not only is she one of our generation's most revered artists, but Swift's ability to craft insightful lyrics and inject remarkable production value into every track has captured the hearts of many. The singer-songwriter is widely recognised as a revolutionary force in the music industry, and she's got 11 Grammys, an honorary doctorate degree from New York University and, more recently, the Nashville Songwriter's Association International (NSAI) Songwriter-Artist of the Decade award, amongst others, as proof!
Swift first revealed her upcoming album during the MTV Video Music Awards 2022 on the 29th of August while accepting the Video of the Year award for her short film, All Too Well (10-Minute Version) (Taylor's Version). A few hours later, Swift hopped onto Instagram and dropped the first of many visuals that we would slowly see over time. 
View this post on Instagram
From learning about the premise of the album—a collection of stories depicting sleepless nights—to the 'Midnights Mayhem with Me' series on TikTok, we can all unanimously agree on one thing: the clothes she's wearing in this era are one of the truly defining elements of Midnights.
Now that the album is out and we're seeing jaw-dropping visuals from Swift across the board, we'll go over some of her best looks from the album. Drawing images from her album booklet and her newly-released music video Anti-Hero, scroll down below to check out our favourite looks from the singer's 'Midnights' era and where you can shop them. 
Feminine power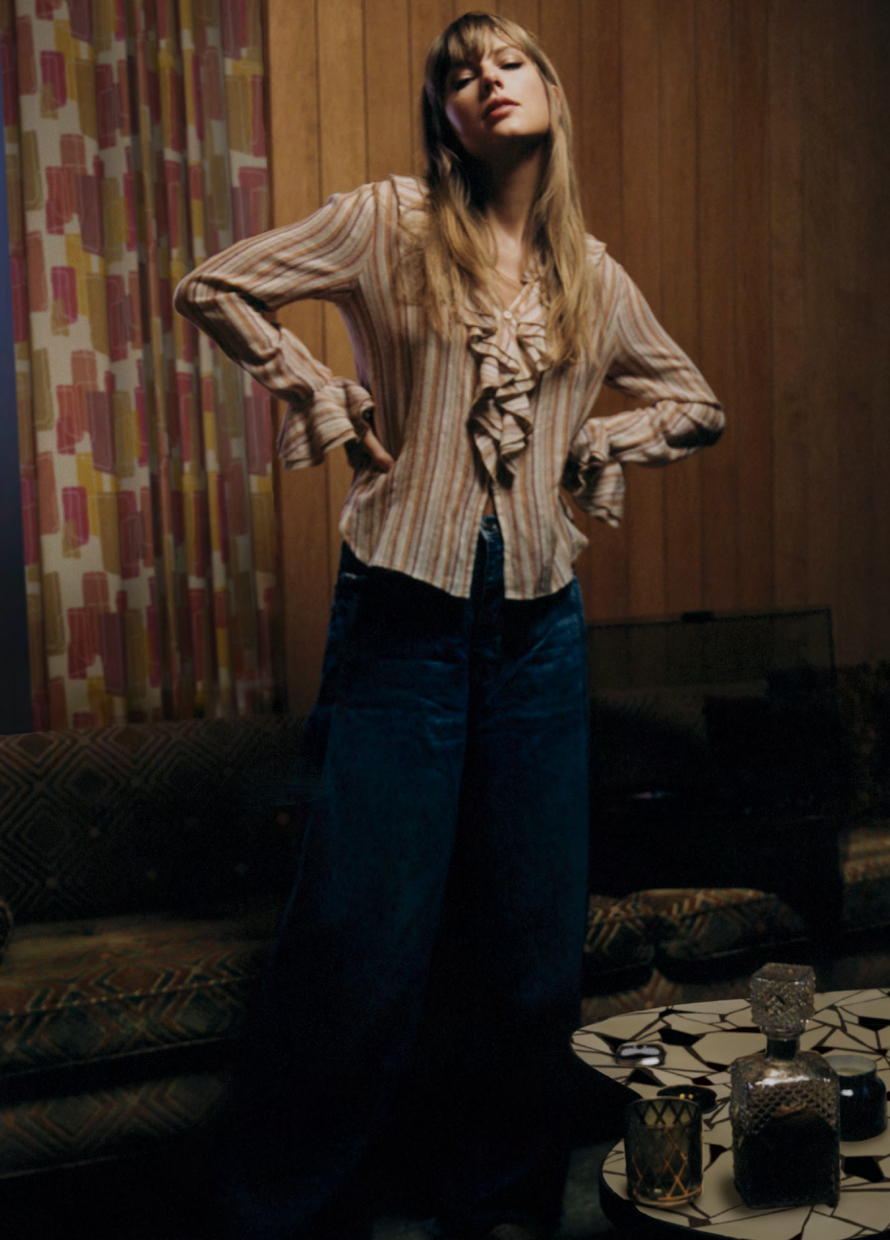 Starting strong, Swift channels her inner hippie in a striped ruffled gauze blouse from See by Chloé. Its muted colours, rich texture and bell cuffs give it a retro feel. For bottoms, this wide-legged jeans with tailored pleats are the perfect addition to your very '70s-Swift wardrobe.
Party like it's 1989!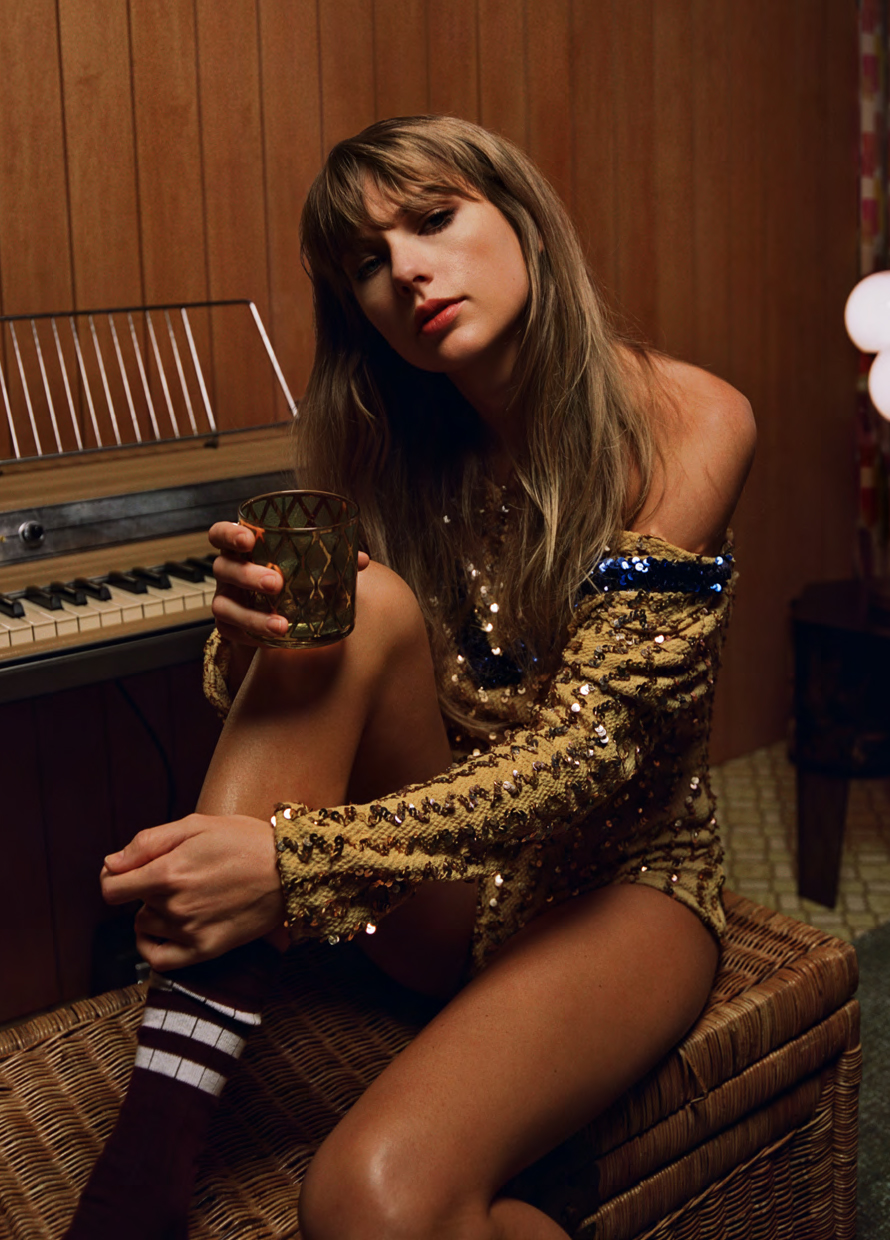 All that glitters will always be a part of Taylor Swift's life, from her Fearless era to the revolutionary disco aesthetic of 1989, the sparkly black Reputation dress, the shimmery Lover era and now, Midnights. In another visual from the booklet, Swift is seen wearing a blue and yellow sequined bodysuit. Shop similar looks below.
Pretty platforms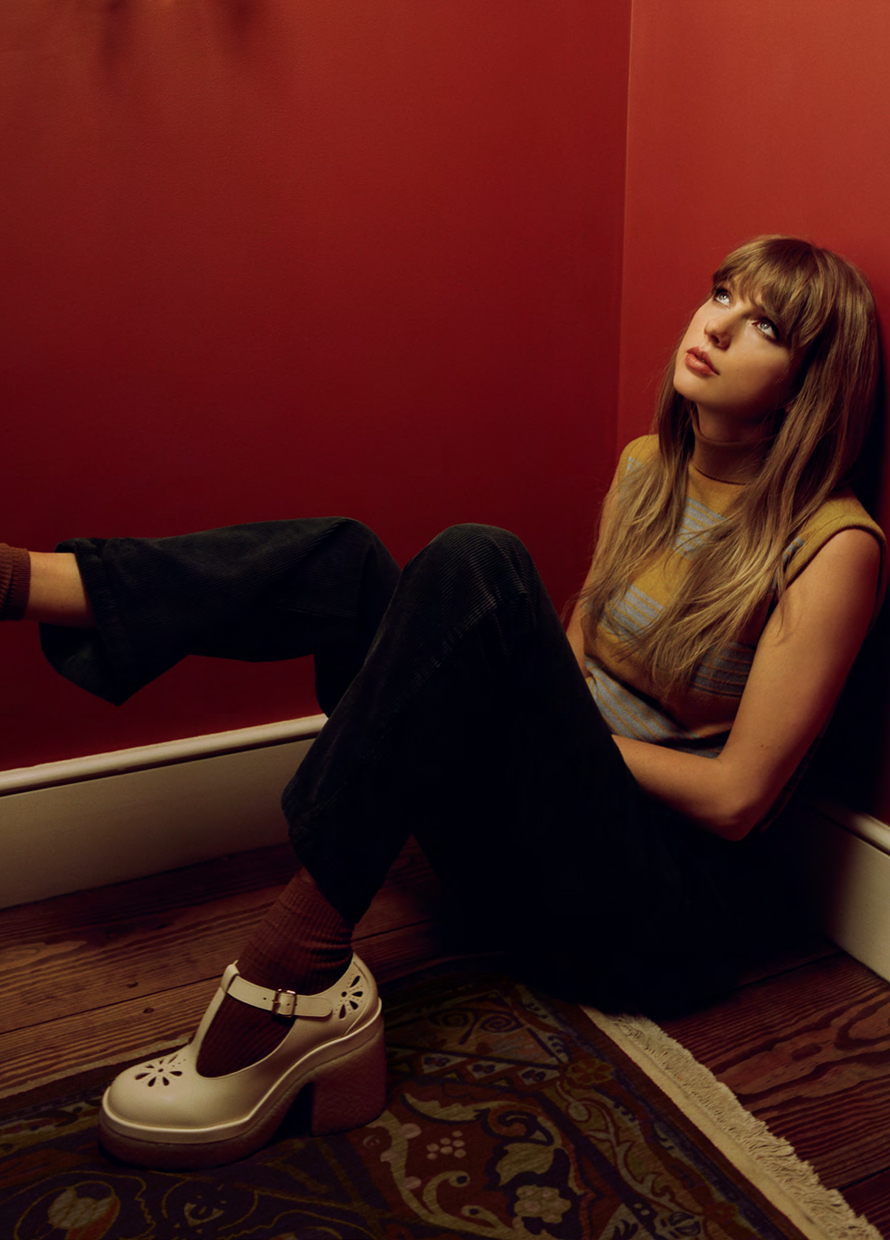 We love seeing the star in a really good Chloé piece.  Pictured here is a pair of chunky Mary Janes with fine flower-perforated detailing and a similar option for you to shop.
Dressed to kill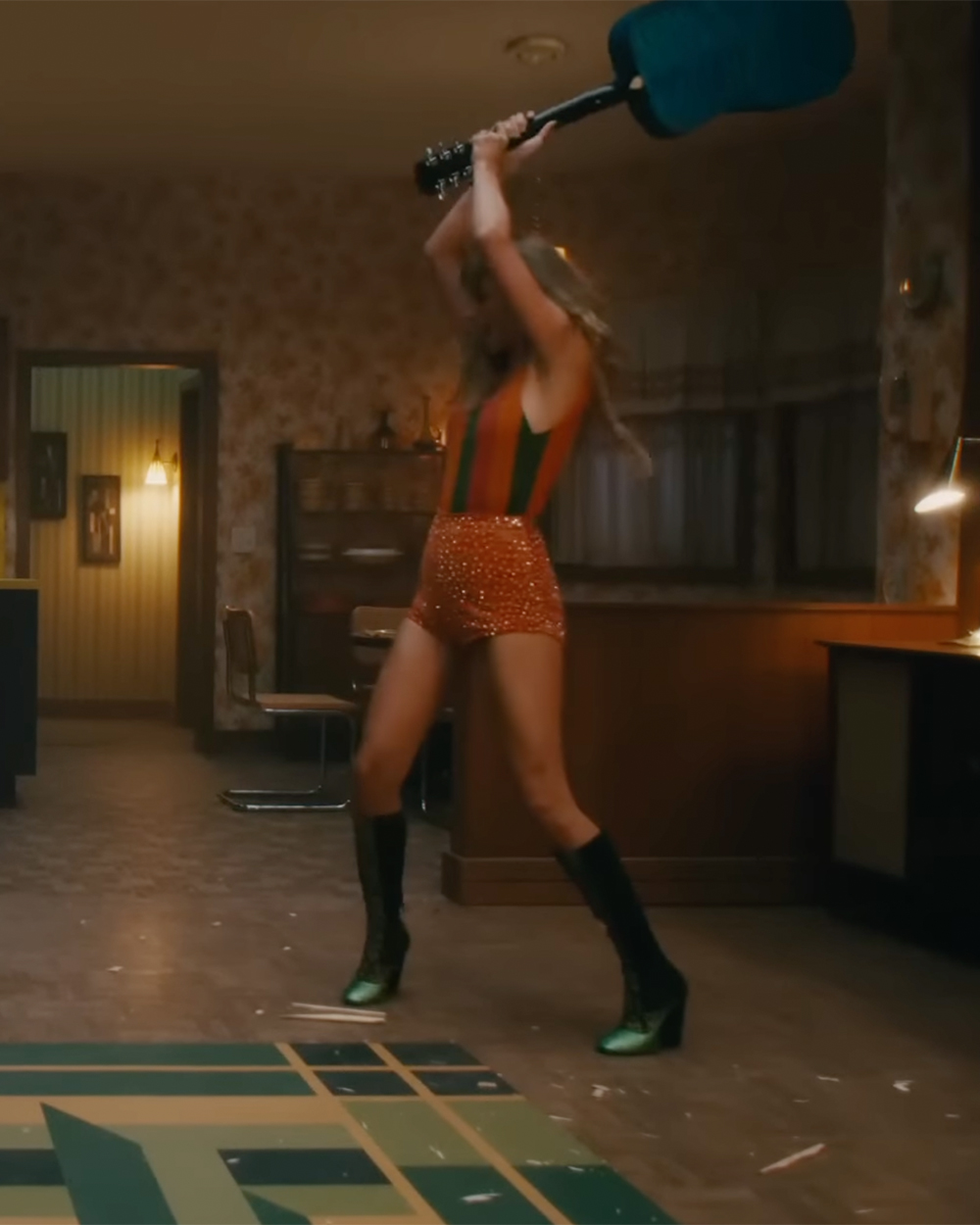 In one of her very personal and famous songs from her Lover album, Swift sings of herself as being an archer—a self-sabotaging persona—quoting, "Who could ever leave me darling, but who could stay?" In Midnights, the singer-songwriter revisits a similar theme in her song Anti-Hero. And yes, this song does come with a visually stunning music video. Living alongside her very stylish anti-hero, we're shown evil Swift wearing a stunning pair of knee-high leather boots.
Sad girl autumn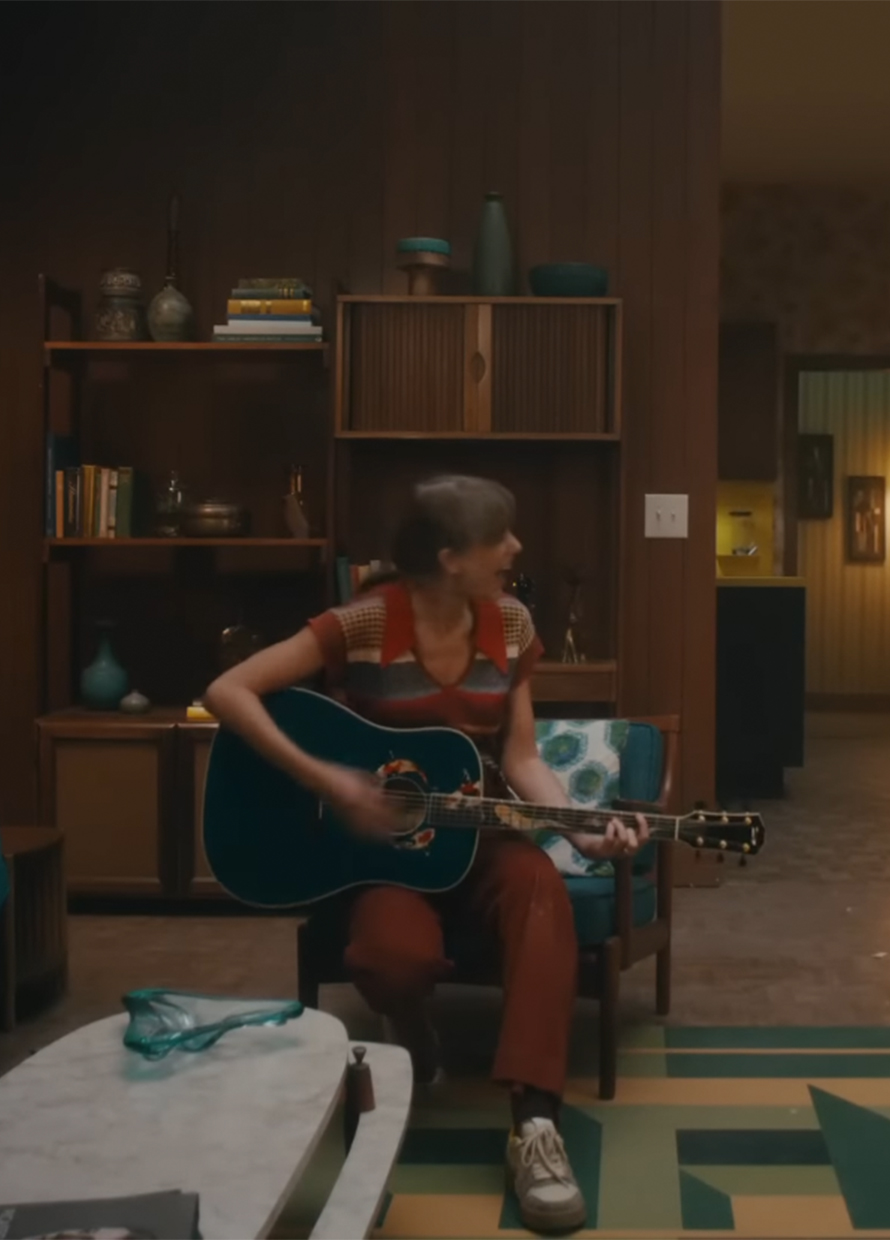 Simultaneously in the same video, we see the real Swift wearing a mixed-print collared top, corduroy pants and a very fancy pair of Fendi sneakers. 
Burning red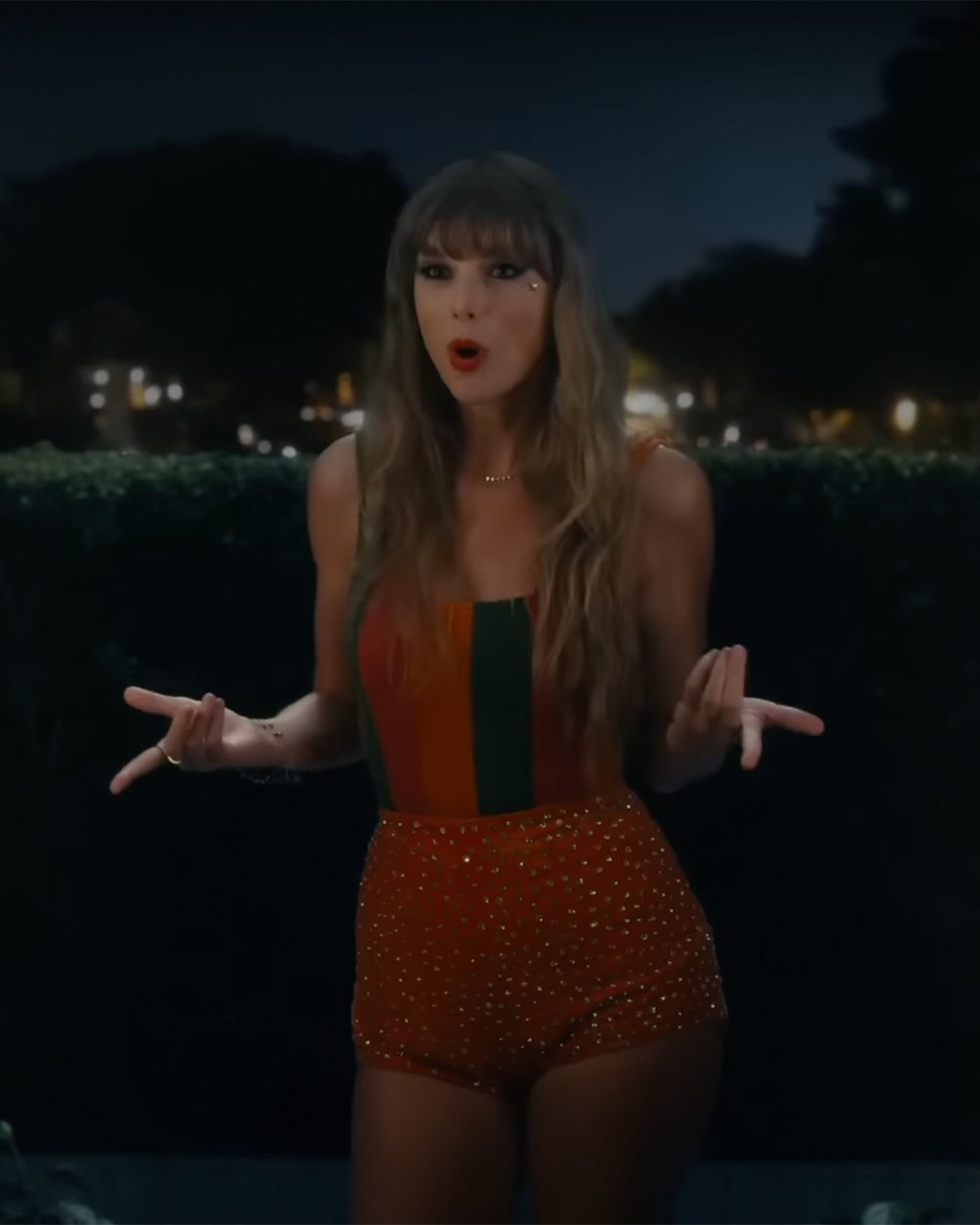 The Anti-Hero is dressed to be the best in the room—even while manipulating and making fun of Swift and her deep-rooted insecurities. Wearing a striped red one-piece, you too can look like the stylish anti-hero with these beautiful options.
Read more on Taylor Swift here. For more fashion stories, click here.
| | |
| --- | --- |
| SHARE THE STORY | |
| Explore More | |