Visionary designer Virgil Abloh, also founder of Off-White and artistic director of Louis Vuitton Menswear, has passed from cancer at the age of 41. The news broke on November 28, according to a statement released by his family on Instagram, saying that he had been privately battling a "rare, aggressive form of cancer, cardiac angiosarcoma" for the past several years.
"He chose to endure his battle privately since his diagnosis in 2019, undergoing numerous challenging treatments, all while helming several significant institutions that span fashion, art, and culture," the post said. "Through it all, his work ethic, infinite curiosity, and optimism never wavered. Virgil was driven by his dedication to his craft and to his mission to open doors for others and create pathways for greater equality in art and design. He often said, 'Everything I do is for the 17-year-old version of myself,' believing deeply in the power of art to inspire future generations."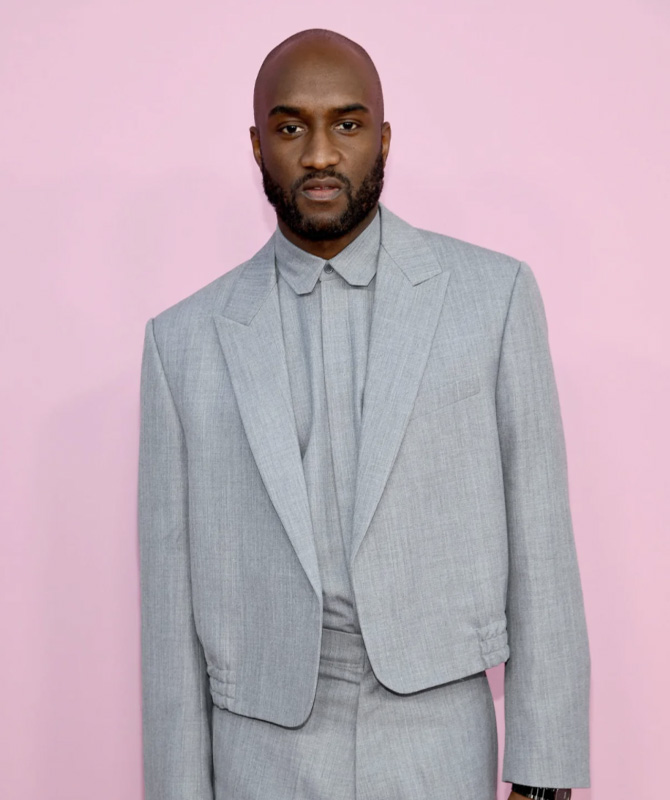 Abloh's shocking death comes two days before he was due to stage a show in Miami for Louis Vuitton Men's Spring 2022 collection, which would debut 10 new looks created for the occasion. The show was to coincide with an official opening of Vuitton's first freestanding store devoted to his men's collection in the Miami Design District. "We are all shocked after this terrible news," Bernard Arnualt, LVMH chairman and Chief Executive Officer of LMVH, the parent company of Louis Vuitton, wrote in a statement. "Virgil was not only a genius designer, a visionary, he was also a man with a beautiful soul and great wisdom. The LVMH family joins me in this moment of great sorrow, and we are all thinking of his loved ones after the passing of their husband, their father, their brother or their friend."
Ahead, we look back on the life of the trailblazing figure, whose creative arsenal included fashion designer, entrepreneur, DJ, artist and furniture designer: 
View this post on Instagram
1. Born just outside of Chicago, Illinois in 1980, Abloh was the son of two Ghanaian immigrants. His father managed a paint company, while his mother, who also taught him how to sew, was a seamstress.
2. Abloh held a Bachelor of Science degree in Civil Engineering and is also a trained architect, having studied Master of Architecture at the Illinois Institute of Technology. It was during his time there when he saw a building on campus designed by architect Rem Koolhaas (who also worked on runway collections for Prada) that piqued his interest into fashion.
3. He first met Kanye West while designing T-shirts at a Chicago print shop, and the two interned together at Fendi in 2009, which would also begin the start of their collaborative relationship. Later that year, Abloh launched retail store, RSVP Gallery, together with West's artistic partner Don C, and a year later, he assumed the role of creative director at the rapper's creative agency, Donda.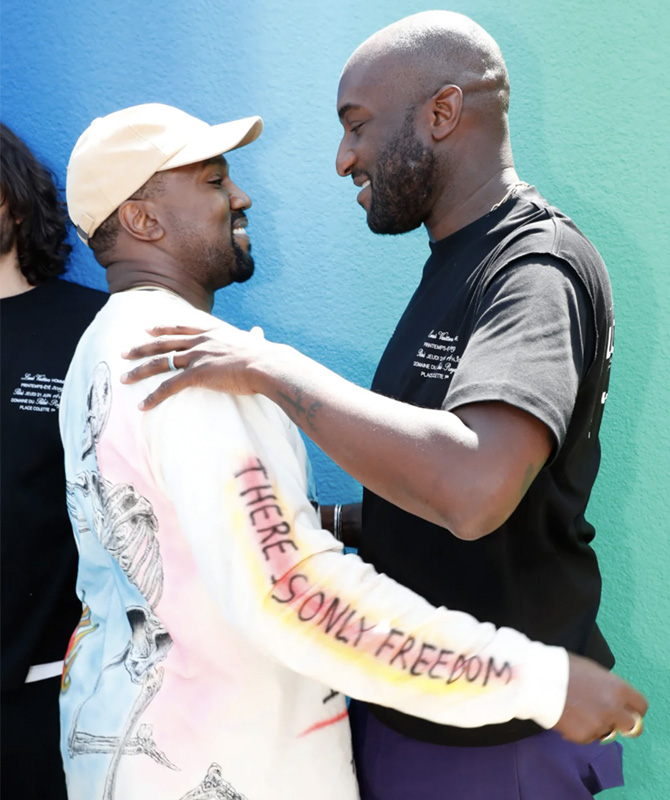 4. Abloh was also influential in rap, having designed and art directed several album covers within the field, including Kanye West's My Beautiful Dark Twisted Fantasy among others, as well as covers for Lil Uzi Vert, Pop Smoke, A$AP Rocky and more. His art direction for West and Jay-Z's join album Watch the Throne earned him a Grammy nomination. His interest in the music industry ran deep, having pursued DJing as a teen to playing sets on major tours and festival line-ups around the world, and constantly bridging the gap between fashion and music throughout his career.
Albums Virgil Abloh has either designed or served as Creative Director for. pic.twitter.com/UXpjFdUGZb

— TIDAL (@TIDAL) November 28, 2021
5. Before Off-White, there was Pyrex Vision. In 2012, Abloh made his first foray into high fashion, purchasing deadstock Ralph Lauren flannel shirts and screen-printing them with the word Pyrex and the number 23 in homage to his childhood hero, Michael Jordan. Intended as an artistic experiment rather than a commercial enterprise, Pyrex Vision was established to represent the importance of youth culture and was closed a year later.
6. In late 2013, Off-White, a Milan-based multi-platform creative endeavour with its main medium being fashion, was launched online. Defined as "the grey area between black and white as the colour Off-White", Off-White allowed Abloh to combine ideas of streetwear, luxury, art, music and travel to reach a common ground between streetwear culture and high fashion. Its visual signature of thick diagonal stripes and quotation marks––used to convey detachment from society and social norms-–would go on to become an embodiment of insider cool, and the brand made it onto the shortlist of the 2015 edition of the LVMH Prize for Young Fashion Designers.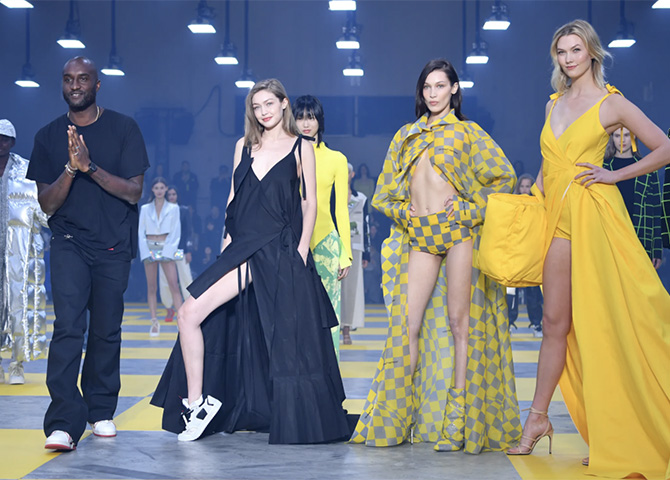 READ: Virgil Abloh, creative director of Off-White: "It's built off that feeling that it's okay not to be in a box"
7. In 2016, Abloh opened his first concept store in the Aoyama area of Tokyo, featuring a watercooler with Off-White branded cups that visitors could take for free and resell on the secondary market. That same year, he also started the company's furniture arm, Grey Area, debuting a collection of iron grid chairs, tables with leather cushions and Carrara marble tops. Three years later, Abloh partnered up with Ikea on the Markerad––Swedish for "clear-cut, crisp"––collection, which consisted of practical furniture created in contemporary designs that would become one of the most-sought after collaborations of 2019.
8. 2017 marked a year of many achievements. Alongside a collaborative exhibition with Takashi Murakami; the British Fashion Award for Urban Luxe Brand; the release of his first song 'Orvnge'; collaborations with retailer Warby Parker, Jacob the Jeweler, Supreme and Jimmy Choo, Abloh also joined forces with Nike on "The Ten"––hailed as the biggest sneaker release of the year––where he recreated 10 of Nike's emblematic shoe styles, including the Air Jordan I. The partnership was extended to a capsule line for Serena Williams and a women's ready-to-wear line.
View this post on Instagram
9. Abloh was named artistic director of Louis Vuitton's menswear in 2018, making him the first Black designer to take the creative reins of the industry's biggest luxury brands. His first show rebooted the French fashion house for a new generation, featuring a rainbow runway and a cast of diverse models and rappers including Playboi Carti, Steve Lacy and Kid Cudi in a collection inspired by the 1939 musical The Wizard of Oz, as a reference to the American Dream and his own journey from Illinois to Paris.
10. In 2019, the Museum of Contemporary Art of Chicago held a retrospective of Abloh's past and current work, spanning fashion and music to art and architecture, which was entitled "Figures of Speech". He recently appeared in Doha to open the latest instalment of the exhibition.
11. Abloh also mentored fellow designers like A-Cold-Wall's Samuel Ross, joined the board of the Council of Fashion Designers of America (CFDA) in 2019 and launched a "Post-Modern" Scholarship Fund to benefit Black creatives just last year.
11. Abloh is survived by his high school sweetheart and wife, Shannon, and kids Lowe and Grey.
Update: Louis Vuitton will keep the original date to present Virgil Abloh's last menswear collection tomorrow, November 30. The show will be titled "Virgil was here" and will be aired on www.louisvuitton.com on 1st December 2021, Wednesday morning at 6:30AM local Malaysia time.
Read more fashion stories here.
| | |
| --- | --- |
| SHARE THE STORY | |
| Explore More | |