Love 'em, hate 'em or if you simply just can't seem to wrap your head around 'em––one thing's for sure: these days, virtual influencers are virtually everywhere. From K-pop to runway shows and high-profile luxury collaborations, the presence of computer-generated personalities are becoming so prevalent (especially since we're spending more time online due to MCO), sometimes it's easy to forget that they're not real.
Back in 2018, we spent seven minutes with Paris-based Noonoouri after her Dior IG takeover and subsequent appearance at the house's Cruise 2019 show. The 19-year-old virtual influencer was only four months fresh to the scene, but was spotted in no time (and in real-life designer clothes) rubbing shoulders with Maria Grazia Chiuri alongside other notable insiders and celebrities. She joined the ranks of popstar Miquela and supermodel Shudu, who both emerged in the years before, as a CGI influencer with vast social capital. Fast forward to today, her success—and that of this new breed of influencers—has only continued to grow. Noonoouri now boasts 377k followers on Instagram, is signed to talent agency IMG worldwide and works with all the biggest brands in the game.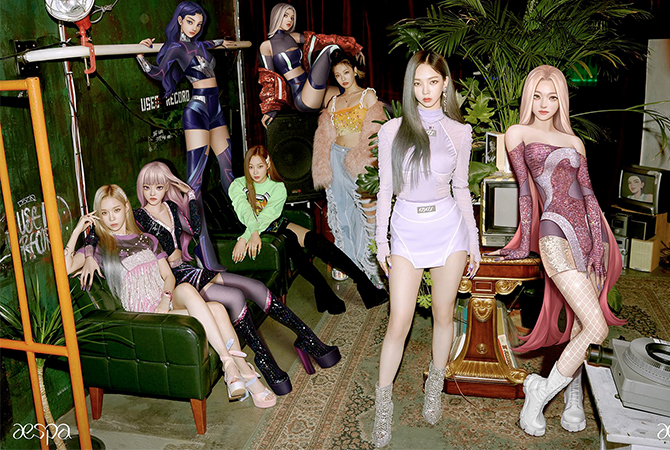 According to industry insiders, this is only the beginning of their rise. Virtual influencers in Asia may still be at their infancy stage compared to their Western counterparts, but 2020 saw an influx in commercial interest, according to Launchmetrics insights reports SCMP. Case in point, brands like Puma and L'Oréal have gone on to launch their own virtual ambassadors, while K-pop girl group Aespa made their debut with digital counterparts to explore mixed-reality experiences. There's also Gen V, a modelling agency featuring virtual avatars, founded by Singapore-based fashion photographer Shavonne Wong last year during the pandemic.
Though it's not the first time virtual reality and fashion has collided, computer-generated characters blur the lines between fantasy and reality even more, taking up space once reserved for real people. It's a bit of a no brainer in the influencer marketing industry, especially from a brand's perspective. Foregoing the fact that they're not real, CGI counterparts offer advantages that actual humans can't: they're available 24/7 worldwide, don't age or die, and can be trusted to stay confidential and generally scandal-free. While being low-risk, they also provide opportunities to evoke escapism in audiences while offering new ways to project voices and express ideas. Data suggests they also outperform human influencers in engagement rates— and will continue to do so in their role within wider discussions of diversity, eco-friendliness and acceptance of technology.
In a world filled with photoshop, FaceTune and filters, what's real these days anyway? As we continue to reach new levels of intimacy with the digital world, it's perhaps time we get used to virtual influencers because for now, it looks like they're here to stay.
Scroll on below to see some of the virtual influencers to know and double-tap:
3M followers on Instagram 
i knooiiii right @lilmiquela https://t.co/SFMkZRzEwa

— YUNA (@yunamusic) November 25, 2019
Best known as Lil Miquela, LA-based musician and model Miquela Souza probably needs no introduction. She wears Chanel and Supreme, advocates for social change, and has a roster full of endorsement deals with brands from Prada to Samsung. She's the bot who kissed Bella Hadid in that controversial Calvin Klein campaign, was named one of Time's 25 most influential people on the internet and got into a prolific feud with fellow influencer Bermuda about the truth behind her existence. Yuna's even covered one of her songs, from a discography which includes Spotify chart-toppers.
The hip and forever-19-year-old Brazilian-American was one of the first virtual beings to gain online notoriety since her appearance in 2016, a project masterminded by Californian AI and robotics startup Brud. They're also the ones behind ex-Trumpian It-girl Bermuda (she and Miquela have since made up, FYI) and self-proclaimed "low-life" masked Blawko, who each possess over hundreds of thousands of Instagram followers. All three influencers are mates with each other, hang out from time to time and are among the top ten highest-earning robots on the 'gram:
In between posting photos of her "life" and exposing the robots among our favourite celebrities, Miquela's currently working on new music, releasing NFTs and trying to get to the bottom of her virtual existential crisis—a hyper-meta narrative we can't get enough of.
218k followers on Instagram
View this post on Instagram
With her flawless skin and legs for days, the world's first digital supermodel Shudu was also among one of the earlier influencers who shook the scene in 2017. Her profile skyrocketed after Fenty Beauty reposted an image of her rocking their 'Saw-C lip shade and she went on to do campaigns with Balmain and Tiffany's. These days, Shudu continues to front magazines editorials and ad campaigns for brands including Lexus, Samsung and Ellesse.
Upon her debut, Shudu looked so realistic that a debate was heated online as to whether or not she was real. The truth was soon revealed and immediately sparked controversy: she was the creation of British fashion photographer Cameron-James Wilson, who's also a white man, which did not sit well with people. It was tokenisation and fetishisation at its finest, the online world screamed; "a white man's projection of real-life black womanhood" as New Yorker writer Lauren Michele Jackson so aptly put. While the conversation continues around the ethics of CGI representation, Wilson has since gone on to start his own digital modelling agency, The Diigitals.
377k followers on Instagram, 17k followers on Weibo
View this post on Instagram
Bar our earlier introductions to Noonoouri, we've yet to mention that the fashionista also self-identifies as a vegan, fur-free, feminism-supporting activist who uses her platform to champion eco-friendly causes under the mantra #neverbesilent. The model is also exclusively represented in China by Vogue China and Vogue Me, and graced the magazine's 'The Future Is Now' cover in the February of 2019. Her collaborations are diverse, spanning from partnerships with the International Union for Conservation of Nature and netflix documentary Seaspiracy to Dior, Valentino, Mugler as well as Kim Kardashian's KKW Beauty.
Created by German creative director Joerg Zuber and hailed by Suzy Menkes as "digital haute couture", the doe-eyed influencer takes a discernably different appearance to her fellow influencers, but that hasn't stopped her from becoming high fashion's answer to the CGI world. She's "living" proof that luxury can exist within the digital space without any physical presence. Former Vogue Paris editor-in-chief and model Carine Roitfield has been a supporter of hers since day one and the two friends have been spotted around together upon numerous occasions, including brunch meetings in Paris.
342k followers on Instagram
View this post on Instagram
With an infamous bubblegum pink bob and infinite curiosity, Tokyo native Imma is a virtual girl with interests in Japanese culture, art and film. Created by Japanese start-up Aww Inc., she was initially made to be an art project but went on to attract massive sponsorship. She's appeared in countless fashion editorials, some alongside her fire-red-haired brother Zinn, who goes by the handle @plusticboy and presents a more mysterious facade in contrast. She's also partnered with the likes of Salvatore Ferragamo, SK-II and IKEA, and was hailed as one of the new 100 talents to watch by Japan Economics Entertainment.
The bubbly personality currently divides her time between visiting art galleries, participating in online (her #syncchallenge on TikTok garnered over 6.6 million views) and offline experiences, and her latest venture: creating her own digital clothes. Imma's somewhat aware of her virtual existence, occasionally captioning her posts with #ithinkimcgi. Most recently, she collaborated with 13 artists to host a group exhibition in Shibuya to explore the boundaries of the virtual and the real.
View this post on Instagram
38.8k followers on Instagram
View this post on Instagram
With a name that means "one and only" in Korean, Oh Rozy is South Korea's first virtual influencer adored by Gen-Z for her facial expressions and poses. Unveiled by Sidus Studio-X in December, the 5'7, forever-21-year-old model includes surfing and skateboarding as her favourite pastimes, though a strong passion for fashion and travel is also evident from her feed. She's starred in various fashion editorials; teamed up with model-entrepreneur Irene Kim, as well as brands including Salvatore Ferragamo; and made her television debut for life insurance company ShinhanLife. The advertisement has racked up over 1.4 million views on YouTube today.
6.8k followers on Instagram, 510k followers on Weibo
View this post on Instagram
25-year-old newcomer Rae is Singapore's first virtual being and boundary-pushing digital artist who creates colourful artworks and stands out for her streetwear-centric sartorial choices. Occasionally spotted with her skateboard, the chic influencer only made her debut last fall but started off the year as a Jstyle cover girl alongside China's number one rapper Vava and bagged projects with Audi, Singaporean artist Sam Lo, and cult label SBTG for a capsule collection that was sold out in three days.
This month marked her first venture into the world of NFTs, the first time a Southeast Asian virtual influencer is minting a collectible series that took over 50 hours individually to conceptualise and create. Her three-piece animated artwork series titled 'Take A Byte' offers a glimpse into her hybrid reality. As of now, her origins remain a mystery.
| | |
| --- | --- |
| SHARE THE STORY | |
| Explore More | |