Style
Muslim women aren't here to fill your diversity quota—here's the real reason why Halima Aden has left the fashion industry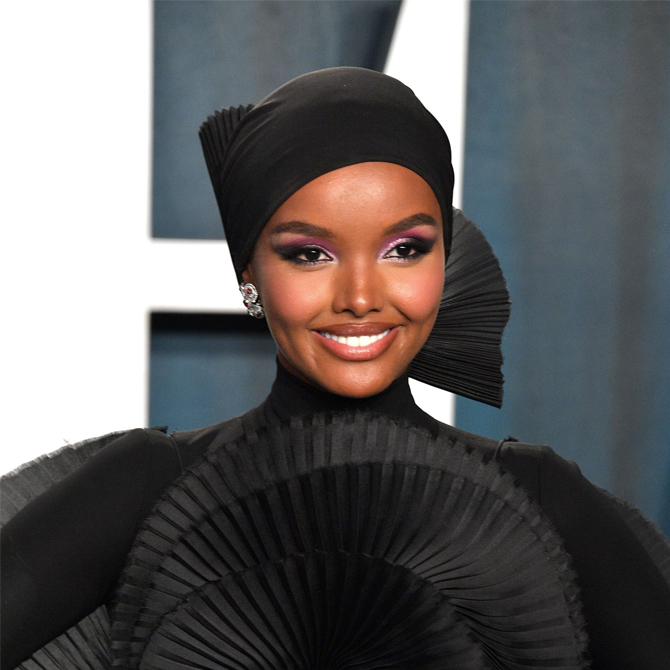 Despite the fact that its origins have absolutely nothing to do with the industry, the hijab has become one of fashion's most controversial articles of clothing. In recent memory, we've seen countless brands take an (often-misguided) stab at 'diversity' in an effort to capitalise on the halal demographic.
However, despite the waves that halal fashion has made in the Western world, the hijab isn't—nor has it ever been—a fashion statement. At its core, the hijab is used purely to preserve modesty; to cover the hair and aurat of Muslim women. Further, not every Muslim woman chooses to use one, and the specific styling of the garment varies widely between cultures.
That said, whether a woman decides to use her hijab to express herself as she would with the rest of her wardrobe is completely her decision. Recently, with the growing popularity of 'hijabista' influencers—the fashionable, modern, hijab-wearing women—the number of ways to style the hijab has skyrocketed. The headscarf has begun to infiltrate the fashion industry as consumer demand shifts towards inclusivity, with brands like Dolce & Gabbana and Marc Jacobs launching entire collections specifically for Muslim women.
While that sounds promising and there certainly are brands out there making a conscious systemic change, the unfortunate reality is that the surge in popularity of halal fashion has placed the garment at the centre of tokenism.
That brings us to one of this week's biggest headlines in fashion. Twenty-three-year-old hijabi supermodel Halima Aden announced that she is taking a step back from the fashion and modelling industry. The Somali-American was born in a refugee camp in Kenya and immigrated to the USA at the age of seven. After being scouted by IMG models during her time on Miss USA Minnesota, she found fame as one of the faces in Rihanna's Fenty Beauty campaign. Since then, Aden has gone on to make a huge impact as her celebrity has grown, trailblazing hijabi representation in the industry.
With all that considered, her decision to leave it all behind comes as a surprise. After all, Aden has built up a considerable (and thoroughly impressive) portfolio, all while being a vocal advocate for young black and Muslim women. So, the question on everyone's mind is: Why would she leave?
In a nutshell, she feels that her experience in the industry has forced her to compromise on many of her fundamental beliefs, stripping her of her sense of self and robbing her of her integrity. Put simply, she didn't see herself as the role model she wanted to be for the young women who looked up to her.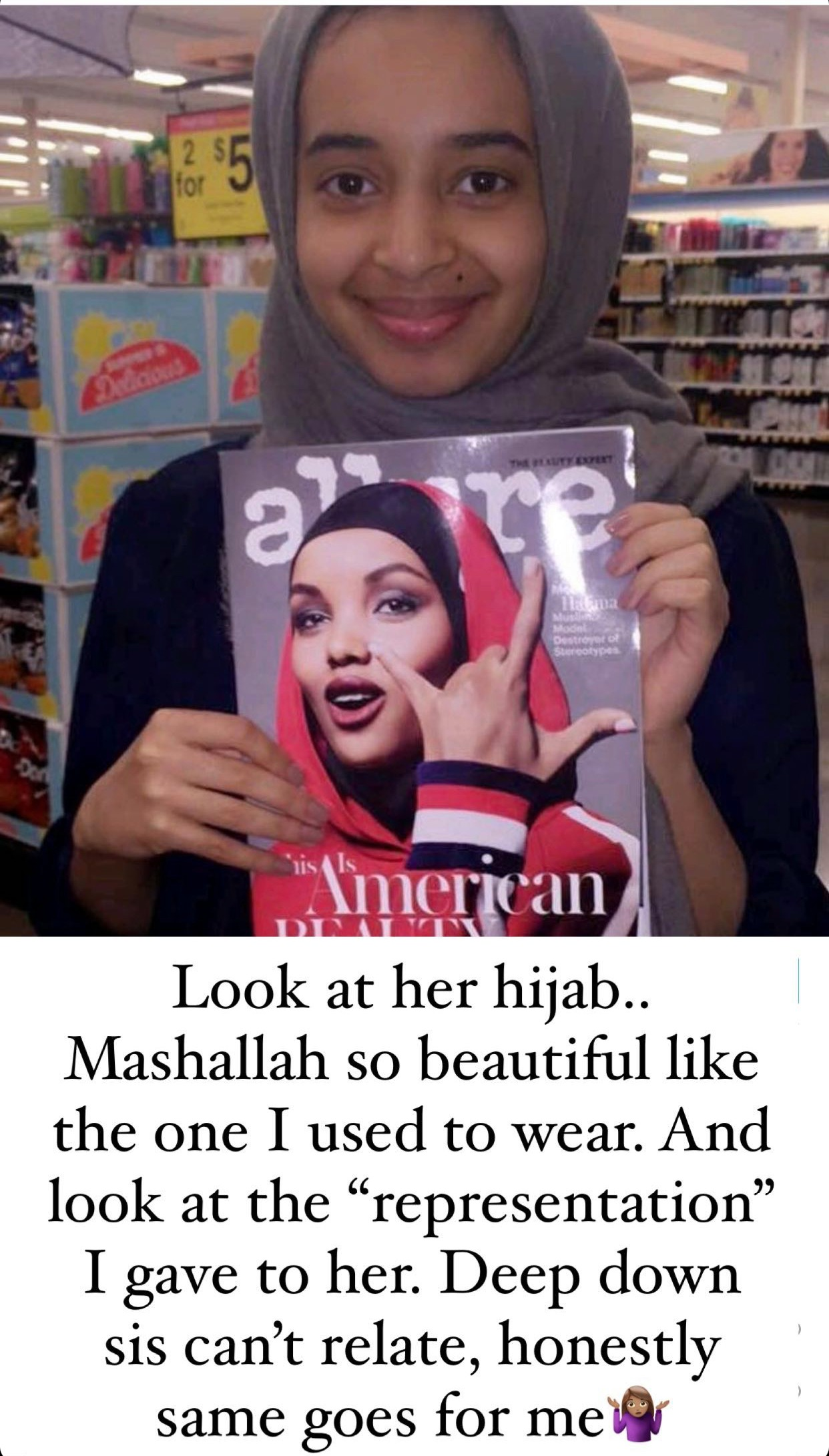 The model detailed the reasoning behind her decision in a 73-part Instagram highlight (along with a few grid posts). According to her stories, Aden has been struggling to consolidate her faith with her work, and being home with her mother during the COVID-19 pandemic has put her situation into perspective.
"I went through a period of resenting the hijab," she recalls. "I remember wanting to be the 'hot hijabi' as if that just didn't defeat the whole purpose."
The supermodel describes her experience in fashion as one big compromise—in her stories, she reflects on her colourful career thus far, airing out all the highs and lows. Aden explains that she felt she had to compromise her hijab to accommodate the visions of her employers, and to make others 'more comfortable' with her appearance.
While it may not seem like a massive change to those who don't regularly don a hijab, if you look at Aden's situation from her shoes, she was often pressured to alter her headscarf entirely, either so that it was more revealing or less visible. Further, she admits that she would skip her daily prayers while working; something she deeply regrets.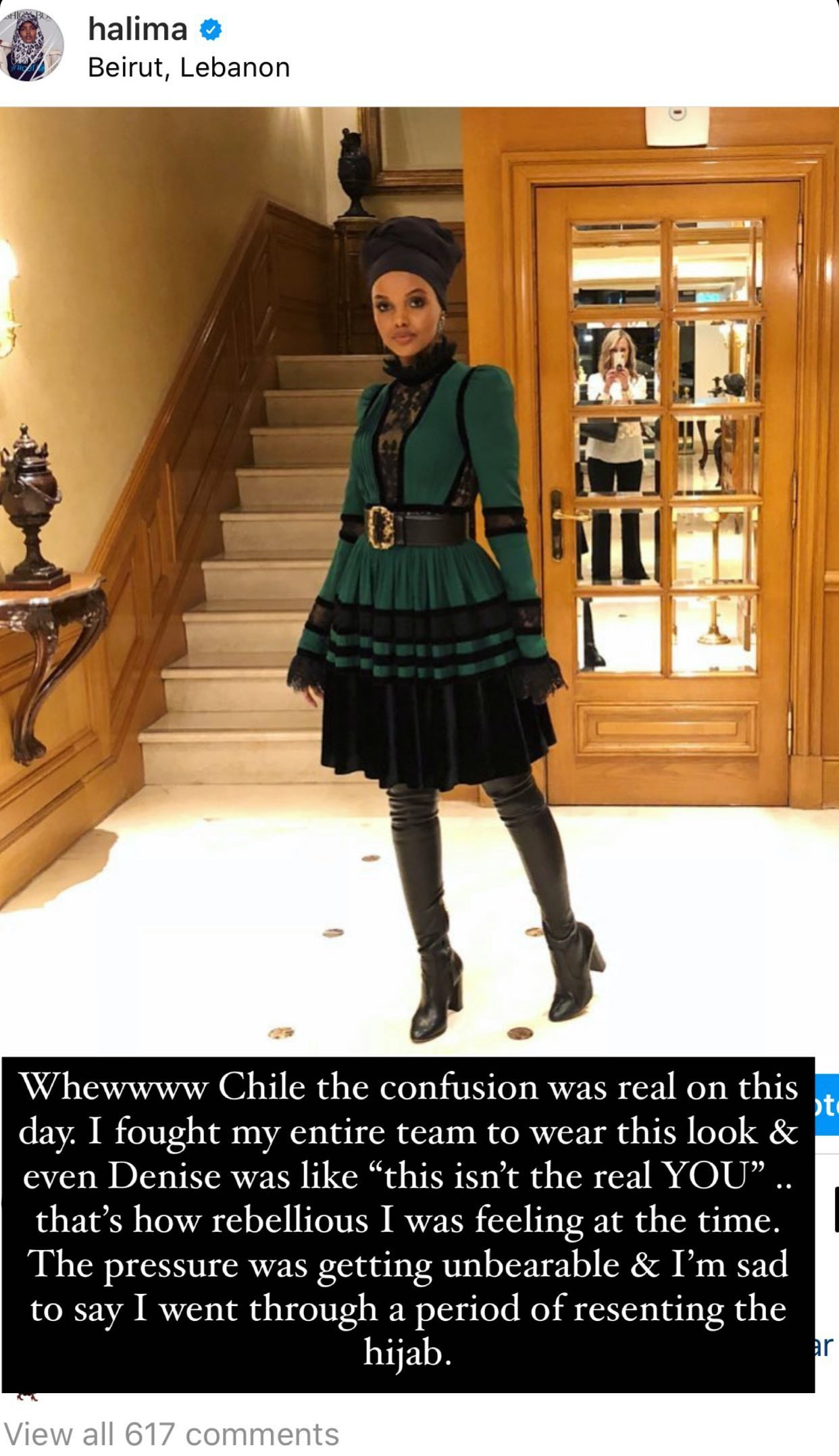 "Looking back now, I did what I said I would never do, which is compromise who I am in order to fit in… if I continued down this path, I would've definitely lost my hijab completely," she states.
In addition, the model made a point to call out the performative representation within the industry: "I'm taking a stand for myself but I'm also taking a stand for all the people who lost their soul to fashion. We will never need your representation." Specifically, she means that everyone in the industry, but especially the Muslim/hijabi community, will and should only be represented on their own terms.
Further, while she acknowledges that there are many facets of the industry that are committed to meaningful change, the line between inclusivity and tokenism is thin.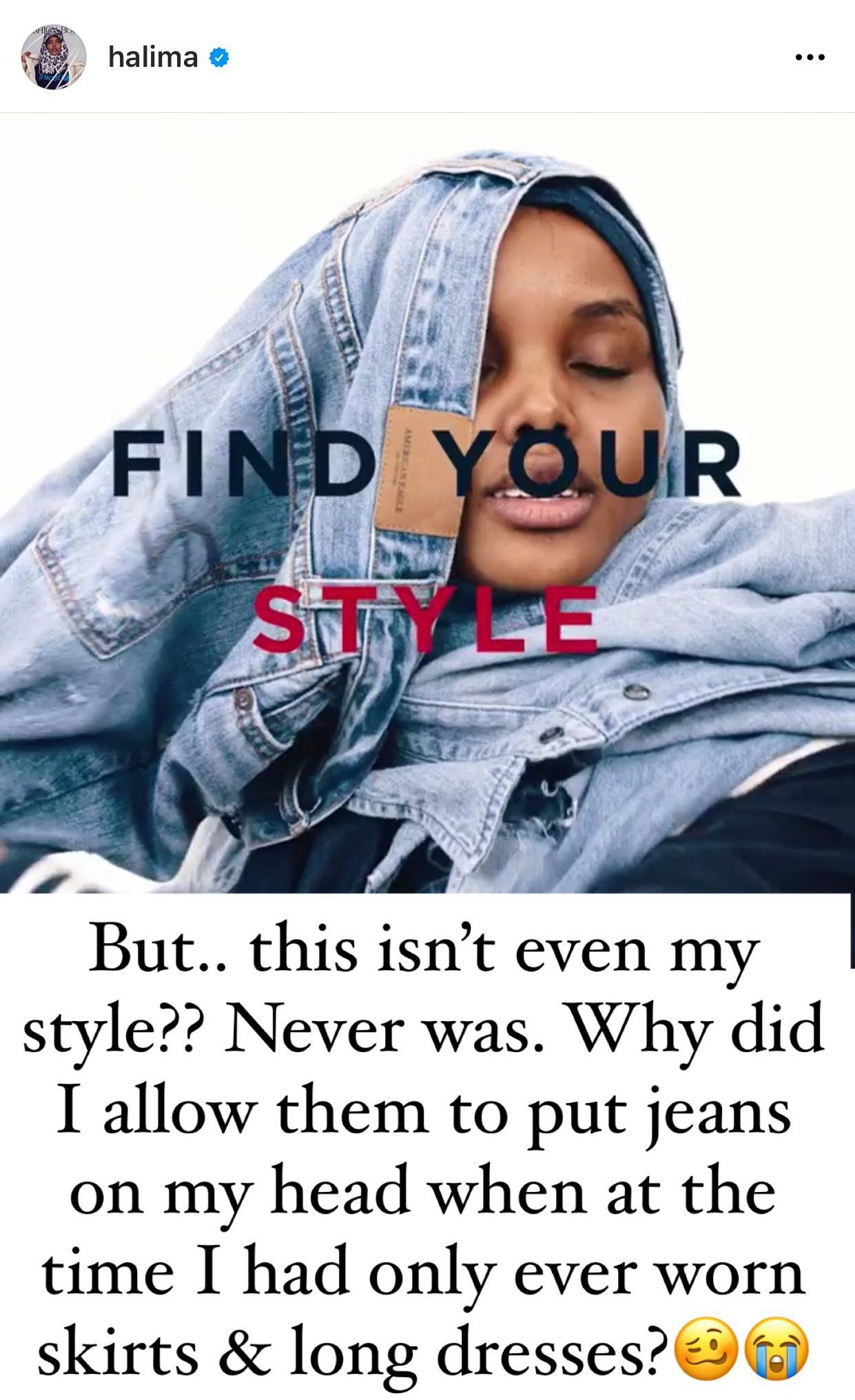 One particular shoot with American Eagle saw Aden's head draped in jeans. Though clearly conceptualised by a creative team looking to put a 'modern twist' on the hijab, the final product has unfortunate connotations. Apart from the styling being wildly impractical (and not very stylish), the shot frames Aden as less of an empowered woman exploring her aesthetic, and more of an object. Obviously reducing the young model to a coat rack was (hopefully) not the intention, but there's no denying that that's the impression it leaves. How can we call this representation?
Simply put—we don't. We call it what it is, which is dehumanising and condescending. "I was just so desperate back then for any 'representation' that I lost touch with who I was," writes Aden. "I can only blame myself for caring more about the opportunity than what was actually at stake."
With that in mind, we should address the fact that there is a distinct lack of female Muslim stylists in fashion, which is the key issue with most of these campaigns. How are Muslim women expected to thrive in an industry when their basic needs are ignored and their culture is not handled with respect? Aden said it best with this story: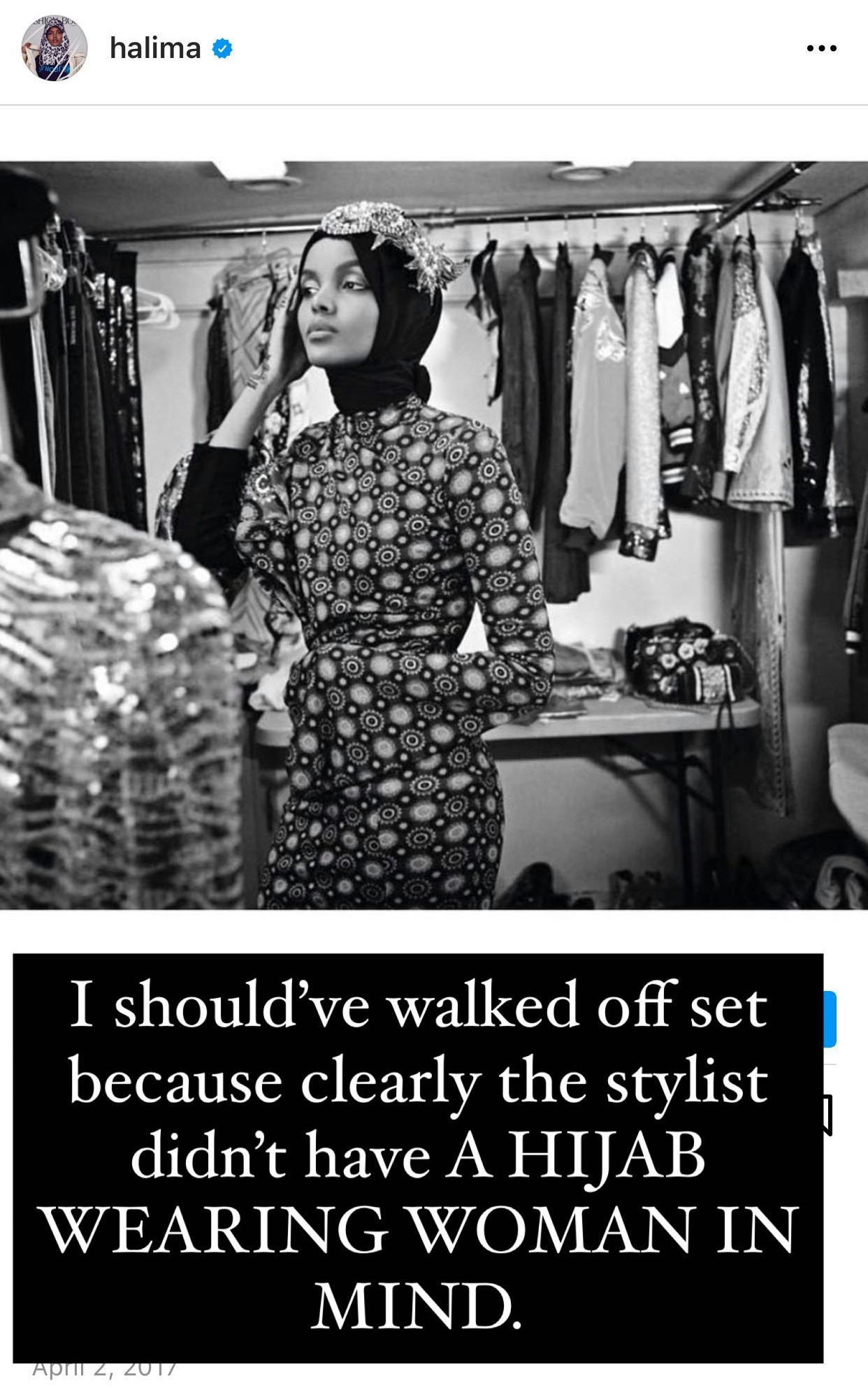 The model's decision has been met with resounding support from friends like the Hadid sisters, Rihanna, and Noor Tahouri. However, she has also been met with much criticism from commenters who claim that she is 'ungrateful' for the opportunities she's had.
What they fail to understand, however, is that Aden is more than just a number in a brand's diversity quota. Further, though she is accountable for her own decisions, there is no doubt that the fashion industry leaves very little room for real innovation and change. Not to mention, the unforgiving industry has a nefarious reputation for exploitation, be it cultural, sexual or labour.
Outside of fashion, the hijab isn't a 'trend'; in the West, it is very much stigmatised. The garment has been politicised and demonised following the rise in Islamophobia, and the fashion industry's lazy approach to inclusion isn't helping. Rather, it is just a symptom of the pervasive marginalisation of the Muslim minority in the West. Case in point—France's ongoing hijab ban that was originally introduced in 2004, along with similar bans that have followed suit across Europe.
The hijab has been corrupted; turned from an innocent piece of cloth into a punchline—or, in the worst of cases, into a target on the heads of Muslim minorities. You don't even have to look very far back to find cases of abuse; just last month, two Muslim women were stabbed repeatedly under the Eiffel Tower in the name of Islamophobia and racism. This is not an isolated case—the reality is that it is dangerous to be a Muslim living in the West.
With that in mind, Aden's commitment to her faith is brave. To stand up to the industry and say 'I deserve better' is what makes her truly inspiring: She doesn't place herself on a pedestal and she holds herself accountable, while respectfully pointing out the shortfalls of the fashion world. Her story also doesn't demonise other women who choose to wear the hijab differently (or not at all)—rather, it is a reminder that you don't have to compromise who you are to suit other people's needs.
"I had to make those mistakes to be the role model you all can trust. Remember I had no one before me paving the way, so mistakes are part of the learning experience. I did good, but that isn't enough. We gotta have these conversations in order to change the system truly." — Halima Aden
Find more stories here.
| | |
| --- | --- |
| SHARE THE STORY | |
| Explore More | |