For a 32-year old mother of two (soon to be three), Russian entrepreneur Miroslava Duma isn't slowing down just yet—not in terms of expanding her digital empire that encompasses news platform Buro 24/7 alongside a multitude of investments in fashion companies. Most recently, Duma announced the partnership of Buro 24/7 and independent fashion magazine System, a few months after launching her hybrid company and multinational accelerator Fashion Tech Lab (FTL).
Despite her enterprising streak, Duma started out in the fashion industry as a journalist armed with a keen eye for style. After acquiring a master's degree in International Business, she took on the role of special projects director at Harper's Bazaar Russia, later on writing for other titles in the nation including Vogue, L'Officiel and Tatler. It was only in 2011 when she realised that there was a pressing need for an online platform targeting digital consumers that she founded Buro 24/7. Currently, the online news portal is available in 11 countries across four continents, from Croatia and Middle East to Mexico and Australia, not to mention another 11 more in the pipeline.
While that feat was achieved before she turned 32, Duma decided to set her sights on bigger prospects. Tapping into her well-connected network of leaders in the fashion and technology industries, she flexed her entrepreneurial muscles by investing in a handful of companies such as monetization platform RewardStyle and sustainable fashion label Reformation. One thing that these companies have in common is that they complement her existing business strategy. Deeply rooted in fashion, the companies that she has invested in are usually borned from unique ideas teemed with careful implementation—a testament to her far-sighted vision. "I always say that idea is 10 percent, while execution is 90 percent. That is why very often the team means much more than the idea," she said in an interview.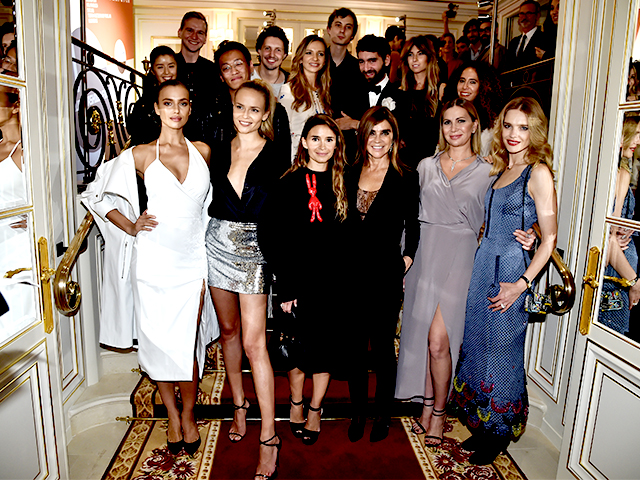 In spite of her burgeoning portfolio to date, Duma's "socialite" status still gets under her skin. The appellation—alongside others such as a "czarina" and street style star—isn't one that she is particularly fond of. In a 2016 interview with Business of Fashion, the entrepreneur was quick to point out that the media doesn't often recognise the amount of effort she pours into her numerous projects. Not to mention, a mother who is juggling two kids (at that time) with the abovementioned ventures. On that topic, she quotes: "My 'squad' aren't cool socialites, influencers or fashion celebrities. My squad [comprises] the chief executives of fashion and tech companies and the coolest tech nerds."
It'd be hard to refute that statement. Duma is a regular speaker on business, digital and media, having facilitated panels with Alibaba founder Jack Ma along with other forums and conferences across the globe. If anything, her investments reflect her inquisitive outlook on bridging the gap between digital innovations and a growing pool of consumers. Last year, she co-founded The Tot, an e-commerce destination for mothers and mothers-to-be that also serves as a one-stop shop for eco-friendly products that are safe to use for the family. Earlier this year, she invested $50 million into venture capital fund and accelerator FTL—an experimental laboratory that aims to help global fashion players access cutting edge technology across the fields of material science, wearable tech, among other innovations, to their products. Case in point: A Sicilian peel-recycling startup that creates textiles from the cellulose of discarded orange fibers; and even a lab-mined diamond company that's revolutionising the forefront of the industry with its man-made gems.
It's no wonder she's been termed a mover and shaker in the tech sphere. Believing that digital is the future of everything, her latest partnership with fashion insider's magazine System echoes that sentiment while ushering in a new dawn for the industry. "In an era when media giants are acquiring the credibility of independent titles … there is clearly scope to build a nimble-and entirely independent-cross-media business in both editorial and commercial contexts. Ultimately, it's a win-win situation," says Duma in an official statement.
3 Quotes to live by from Miroslava Duma:
On sustainability: "Sustainability is a core consideration in the millennial mindset, so my generation already values responsible businesses. Our children—that is, Generation Z—are even more socially conscious and charitable. As such, the fashion industry is going to have to become more sustainable to actually remain commercially successful. That's a fact."
On perseverance: "I recently read an interesting article about how people tend to call very successful people—take Steve Jobs, for example—geniuses. These people aren't actually geniuses. They are successful because they spent on average 10,000 hours investing in their project. Basically, it's persistence, hard work, trust and the strong belief in what you do. So I believe anyone can achieve anything if you have these things in you. Go for your dream and be passionate about it."
On dedication: "You know I love this idea of Napoleon: Dream the impossible, get maximum. I was always joking that we were going to do this, do that; and that we were going to launch here and there. That was simply me dreaming. And half of my crazy dreams actually happened even though people used to look at me and think "she's insane". But it's also about hard work. It's not just about talent. It's about a number of things all put together like a puzzle. There is luck, time, effort, love put in it and obviously investments."
3 Books on her reading list:
The Fourth Industrial Revolution by Klaus Schwab
The Innovators: How a Group of Hackers, Geniuses, and Geeks Created the Digital Revolution by Walter Isaacson
Giving 2.0: Transform Your Giving and Our World by Laura Arrillaga-Andreessen
Related stories:
Buro 24/7 joins forces with System magazine
| | |
| --- | --- |
| SHARE THE STORY | |
| Explore More | |