Fashion
Mother's Day 2018: Shen-Tel Lee, Melinda Looi, Hunny Madu and their kids talk fashion
Mummy knows best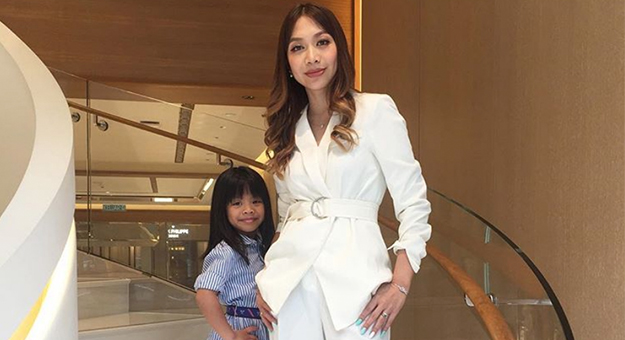 Shen-Tel Lee
1. Describe Benjamin and Kingston's styles.
Benjamin loves a uniform—if he could, he would wear the same red T-shirt daily. He is obsessed with dressing head to toe in one solid colour (down to underwear and singlets!), and it can be challenging when his chosen colour is in the wash. His favourite look would be dressing as a cabin crew from AirAsia. He has the full uniform complete with a safety demonstration kit—it's all about the accessories!
Kingston is obsessed with the colour yellow and cars. If one of those things is not present in his look, there will be a meltdown (laughs). He has a shoe fetish and has a ritual of taking all his shoes out and looking at them before picking the most inappropriate ones (slippers with socks) to wear. It's his persistent need to make things clash that gives him his signature style.
2. Thoughts on dressing kids like adults?
I love it, and I'm totally guilty of it! A little man in skinny jeans, a tucked in shirt with rolled sleeves, a bow tie and a belt is just the cutest thing. I did get a note from my sons' preschool asking me to dress the boys in loose stretchy clothes as they were struggling to climb up the playground slide.
3. Do you follow any stylish mother-kid duo on social media?
I am obsessed with Peepy and Mother Lee. They are the ultimate mum and son duo for me. OTT never looked so good.
4. What is your go-to outfit when you need to be out and about with the kids?
Cotton printed dress with a cross body bag, a Sereni & Shentel hair scrunchie to hold back my hair and a simple pair of Bowerhaus pearl stud earrings, finished off with a pair of nude ballerina flats so I can run after the boys.
5. We know of Benjamin's love for aeroplanes. Tell us more about his obsession (and the oh-so-cute flight attendant outfits)!
Benjamin loves to fly, and he loves plane-spotting and collecting miniature aeroplanes as a hobby. He picked up a strange love for the safety demonstrations at the start of flights and at the age of four started copying the demos from Youtube clips. We were forced to watch him do his pretend demo for weeks and in the end, and now, we have two little flight attendants who know what to do if an oxygen mask drops mid-flight.
Benjamin and Kingston Ting
1. What do you think fashion is?
Benjamin: Something nice.
Kingston: It means boom boom boom boom!
2. Do you like dressing in matching outfits?
Benjamin: Not really.
Kingston: Yes, I love to copy Benji but he doesn't like it at all.
3. If you could only wear one fashion item for the rest of your life, what would it be?
Benjamin: My AirAsia t-shirt with many infant leader badges and my gold medals around my neck.
Kingston: A yellow car T-shirt! I hate red.
4. Describe your favourite outfit of mummy's.
Benjamin: Her pink Flamingo dress. It makes me happy.
Kingston: I love her rainbow pants. (Shen-Tel: I don't own a pair of rainbow pants!)
Sereni & Shentel has launched a Mini Me collection in conjunction with Mother's Day. Shop them here.
Melinda Looi
1. Your family is often seen in coordinated outfits, made by you. How do you decide on the designs, or do you discuss it as a family?
I love that the kids are too young to decide so as to not drag the design process any longer, but I will ask Dirk if he will wear certain colours before I make them.
2. Describe Max, Maya, Mika and Myla's styles.
Max is the oldest boy, and he is very easygoing—I would say he's the least "stylish" child (laughs). He'll wear anything loose and stretchy as long as they are comfortable—even with holes!
Maya is very careful with clothing—she doesn't like showing too much skin. If she's in shorts or skirts, she'll make sure she has leggings or an extra pair of shorts on. The only thing she doesn't care about is her hair, she hates combing them—just like her mama!
Mika is the most fashionable and cool little man in the family, you'll rarely see him in a plain T-shirt. At the age of five, he has already asked me to dye his hair blue, and get him shiny shoes and coloured contact lenses in blue. All my cool handbags have been stolen by him too.
The youngest, Myla, is also known as the Tutu Lala as she loves her Tutu skirts! She wears them on a daily basis. She is also obsessed with shoes (especially heels) and likes to pretend she's a supermodel on a catwalk. Imagine her trying on the gowns from my showroom saying: "Nevermind Mama, if they are too long I'll wear heels!"
3. Kids fashion has changed a lot over the years – what are your thoughts on this?
They have now become very adult-like but in a cute way. Parents are more willing to spend more on their kids these days, so there are a lot of high-end brands that have introduced children's line, and I love them. I think it's cute to dress them however we want before they start telling you they don't like it and don't want to wear it.
4. Do you get inspiration from your kids when designing a children's collection?
Yes, I take their drawings and paintings and incorporate them as prints into my collection. I must say that they are very creative, as I have been inspired many times.
5. Do you think kids should dress however they want (appropriately), or should adults have a say in it?
I allow my kids to be themselves and dress however they want, even though I may not agree sometimes (laughs).
Max, Maya, Mika and Myla Luebbert
1. Describe mummy's style.
Maya: Mama loves anything black, and I love her big crazy hair!
Mika: Fashionable! I want to dress like mama.
2. What is your favourite part about mummy's job as a fashion designer?
Max: She spends time with us even though she's busy.
Mika: She is my fashion advisor.
3. What is the one fashion item you can't get enough of?
Maya: Bling!
Mika: Harem pants.
Myla: My Tutus.
Hunny Madu
1. Where do you get your style inspiration from?
I dress according to my mood—I'm usually inspired by the music I listened the night before. I'm trying to wear more colours this year as I always catch myself only wearing black and white.
2. Describe Eva's style.
She hates wearing any type of pants and most days she only wants to wear dresses or skirts with a matching headband or shades.
3. Where do you think Eva gets her fashion sense from?
The Disney movies and Youtube videos she watches! (laughs)
4. Do you pick out the outfit for her or do you let her dress up on her own?
She usually dresses up on her own, but she'll always ask for my fashion advice, and she'll listen to me if I say some of her choices don't match. But mostly I like that she picks out her clothes on her own before I "QC" them (laughs).
5. Thoughts on mummy-and-me dressing?
I know some people might think it's cheesy but I don't mind at all!
Eva Medina
1. Describe your style in three words.
Cool, princess, fun!
2. What is the one fashion item you wish mummy would buy you more of?
Necklaces.
3. We love your OOTDs. Any tips on getting the perfect OOTD shot?
Get mummy's help!
4. What are some of the must-have items in your bag?
My powder, my Madu Cosmetic lipstick, my comb.
5. What do you want to be when you grow up?
A policewoman and a singer!
| | |
| --- | --- |
| SHARE THE STORY | |
| Explore More | |