It's business as usual! Despite the wrench that the Omicron variant has thrown into plans for upcoming events, men's fashion month continues on. Though various brands have either ushered cancellations (Giorgio Armani was the first, followed by London entirely) or postponed their plans until after the current wave, there's still plenty scheduled to happen in the realm of menswear. Surprisingly, Pitti Uomo, the bi-annual menswear trade fair in Florence, took place earlier this week with a rise in attendance compared that of last summer's, while fashion weeks in Milan and Paris will charge on with luxury houses like Armani, JW Anderson, Zegna, Dries Van Noten––alongside a slew of emerging international talents––pivoting to digital showcases in the wake of rising cases. As for in-person presentations, there will still be a few taking place from Fendi, Louis Vuitton, Prada, Dior Men and Loewe.
Read on for what to watch out for, from the buzzy runways moments to collaborations and stay tuned as we refresh the page with post-show updates:
Milan Fashion Week
January 14 – 17, 2022
Milan Fashion Week kicked off today, via the runways of brands such as Ermenegildo Zegna and Matthew William's Alyx, who are staging their first runway show in Italy. In a recent study commissioned by Design Bundles, Prada came out on top as the most anticipated runway of the upcoming menswear season in the capital, with Fendi in second place––both brands are slated to show in-person presentations, alongside Tod's and MSGM. Meanwhile, JW Anderson, who was scheduled to present their first physical catwalk since the pandemic will be showing with a digital format with an avatar scheme from London instead.
Highlights: 
Zegna
When: Friday, January 14 at 10pm Malaysia time
For Zegna's Autumn/Winter 2022 collection, artistic director Alessandro Sartori took inspiration from Road 232, the path winding through Nothern Italy's Oasi Zegna that's deeply woven within the brand's founding ethos and founder Ermenegildo's original vision 112 years ago. This very road also marks Zegna's newly rebranded visual identity, which in turn marks a new aesthetic and chapter via the new collection.
"The reality we live in today requires adaptability; it asks us all to be fluid. Translating this idea into clothing means building a language of shapes and textures that grows and consolidates over time, matching the needs of the moment," Sartori said. "The notion of the hybrid is one I keep exploring, because there's progress in erasing staid categories."
Presented via a spell-binding video filmed at Oasi Zegna, the show unveiled the Italian designer's vision of the masculine wardrobe for the here and now, with models walking across snow, barren plains and gravel as a stunning sunset served as the backdrop. The short film riffed off the idea of a road leading to the future and closed with a special performance choreographed y Sadeck Waff at Milan's Duomo cathedral to pay tribute to the 160 hands that worked on the collection.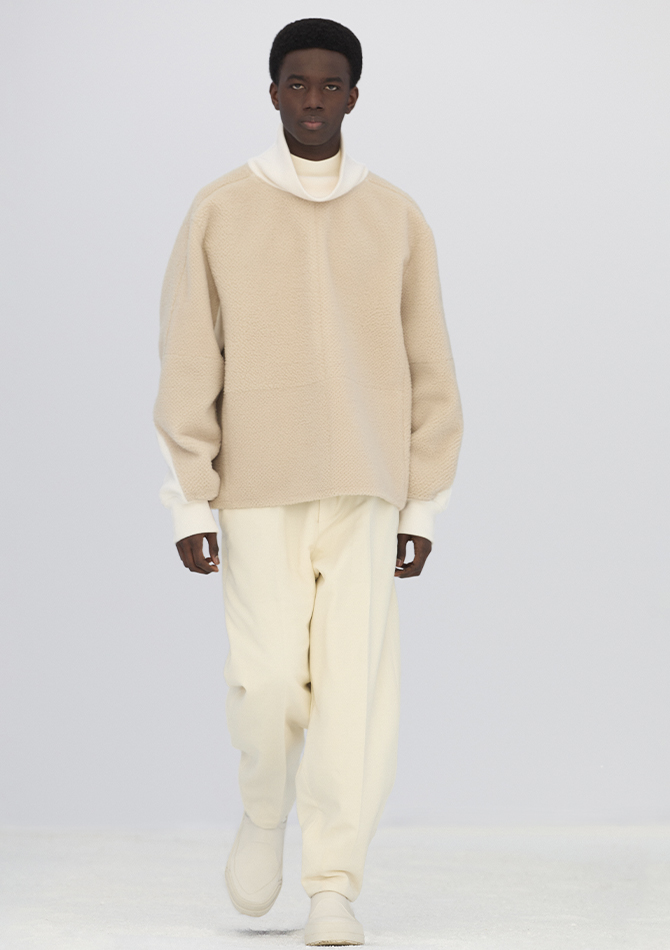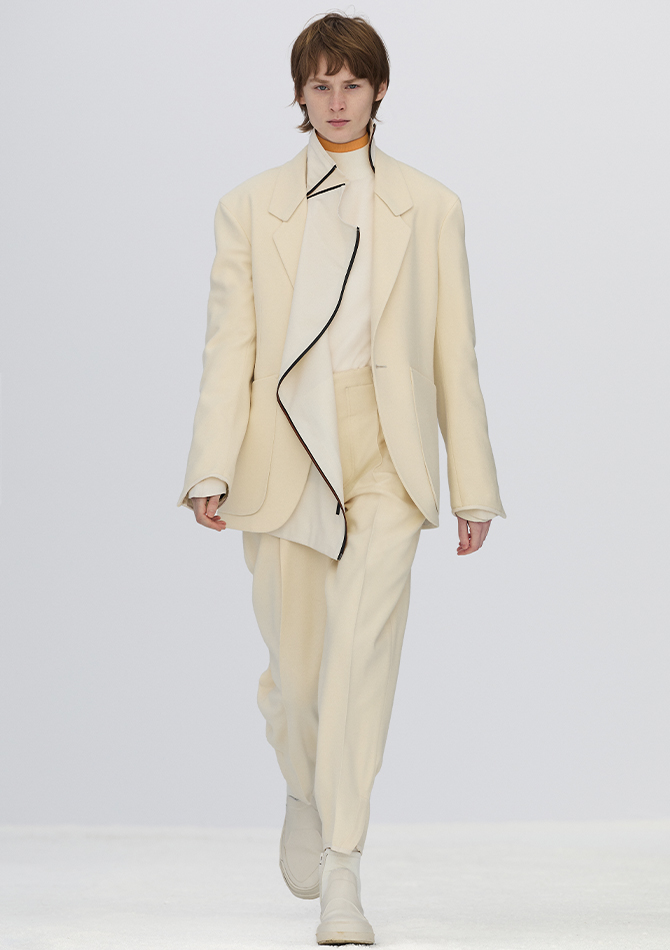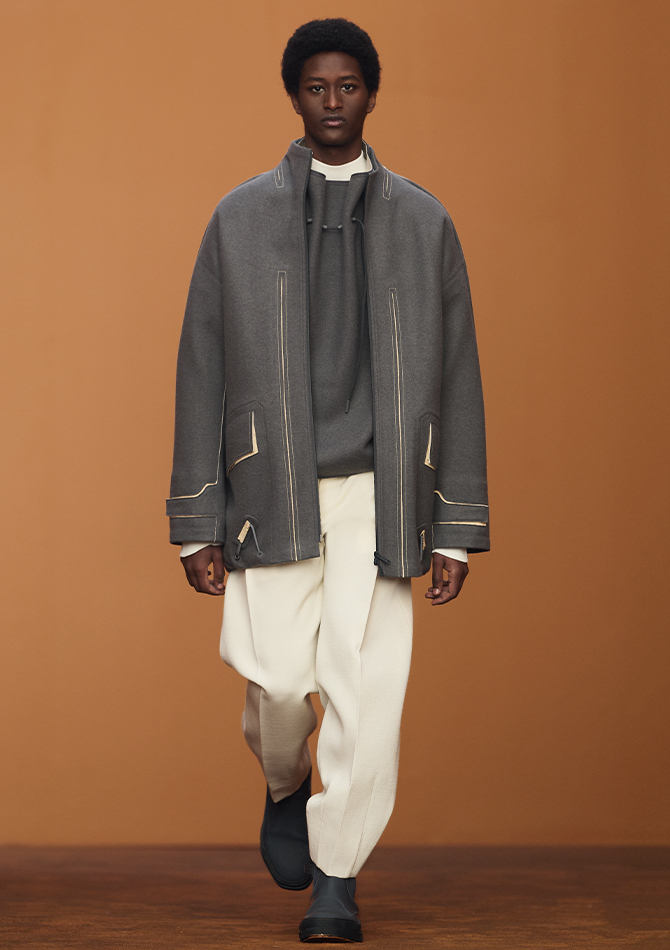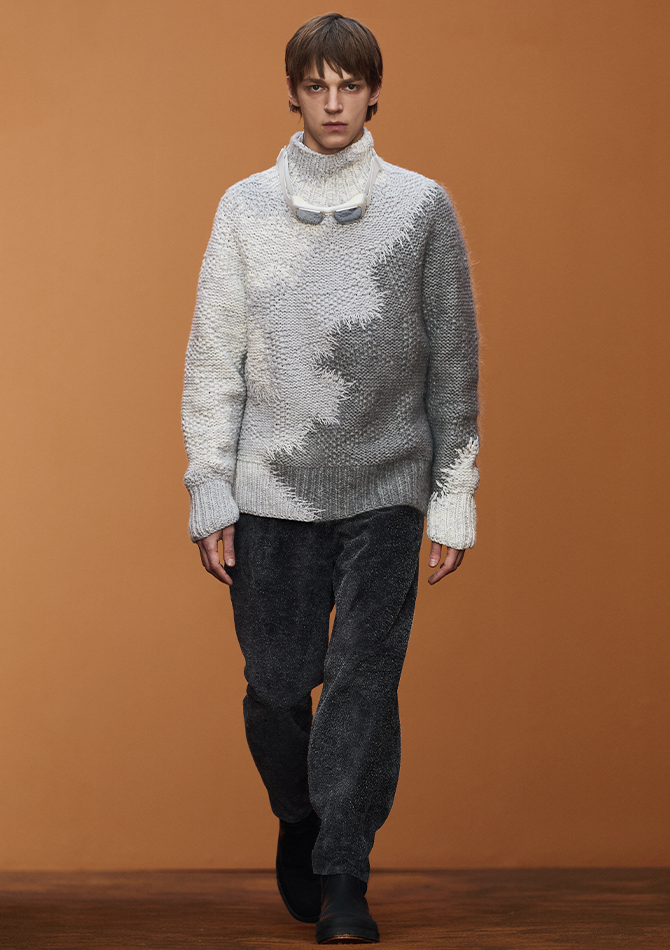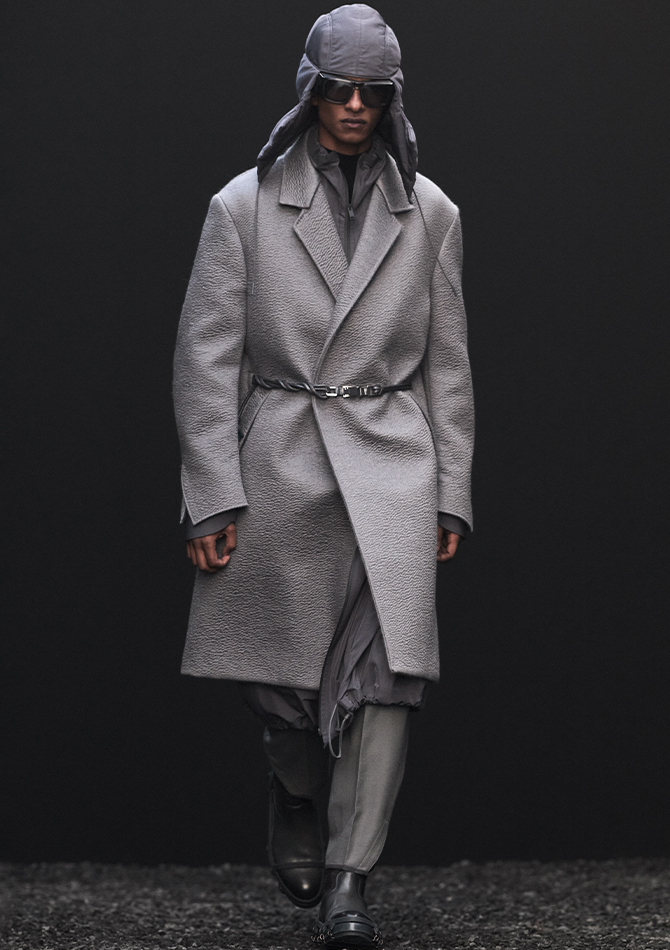 Looks were "functional and individual, comfortable yet non-comformist", punctuated by a sharp yet fluid silhouette alongside layering, dense fabrics and the fusion of shapes and functions. Fine leather manifested via shirts bonded in cashmere worn alone and under blazers, while trapeze-shaped coats were worn over taped, technical silk inner shells. Collars and pockets featured subtle details that brought movement to the surface across an effortless series of tabarro coats, utilitarian jackets, parks, ripstock anoracks and pullovers in an organic array of colours. For the finishing touch, padded capacious bags and scuba boots affirmed the newfound wardrobe meant for the road ahead and beyond.
See every look from Zegna's Autumn/Winter 2022 collection here. 
Fendi
When: Saturday, January 15
Formal menswear just got a facelift. After years in track pants and sweaters, Silvia Venturini Fendi brought a much-needed update to the classic menswear wardrobe with an exploration into the art of dressing smart for Fendi's Autumn/Winter 2022 menswear collection. Goodbye, tailoring of the past, because we're entering a new era of male sophistication, where sartorial tropes have been turned on its head and formality disrupted in playful gestures.
Taking place on a raised runway in the shape of a double-F, the Fendi menswear runway introduced "a treasure trove of future heirlooms"––deemed by Silvia as "neo-dandy"––for the new roaring twenties. Think classic tailoring but hacked via a play on proportions and volume through a combination of suiting, knitwear and leather in a rich but understated palette of black and cream, burgundy, raspberry, mocha, taupe and white. While chopped collars and keyhole knits exposed the male clavicle, blazers were presented with either cape-sleeves or cropped in textured fabrics ranging from Vichy check tweeds to hound's tooth.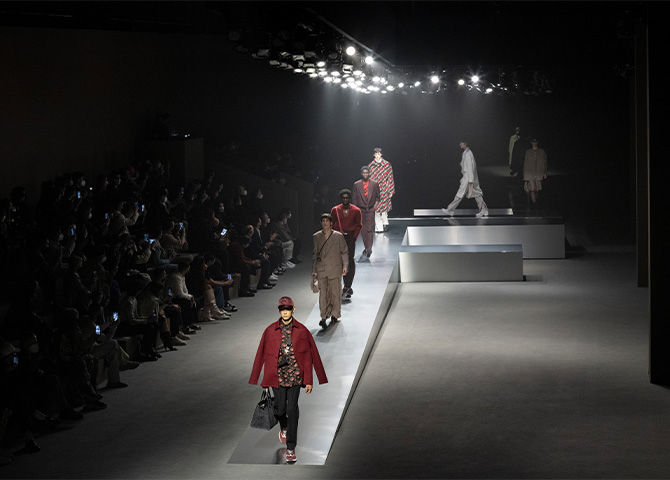 Adding a finishing touch to every look was a sense of styling steeped in romanticism, as pearl necklaces, shearling floral brooches and crystal FF pendants were adorned to co-opt symbols of a bygone age. As for accessories, the Fendi Peekaboo appeared in its most architectural form to date, while the Baguette received a tech (and size) update via a collaboration with Ledger Nano, a leading digital hardware wallet for cryptocurrency and digital assets, that bridged the Fendi-verse with the meta.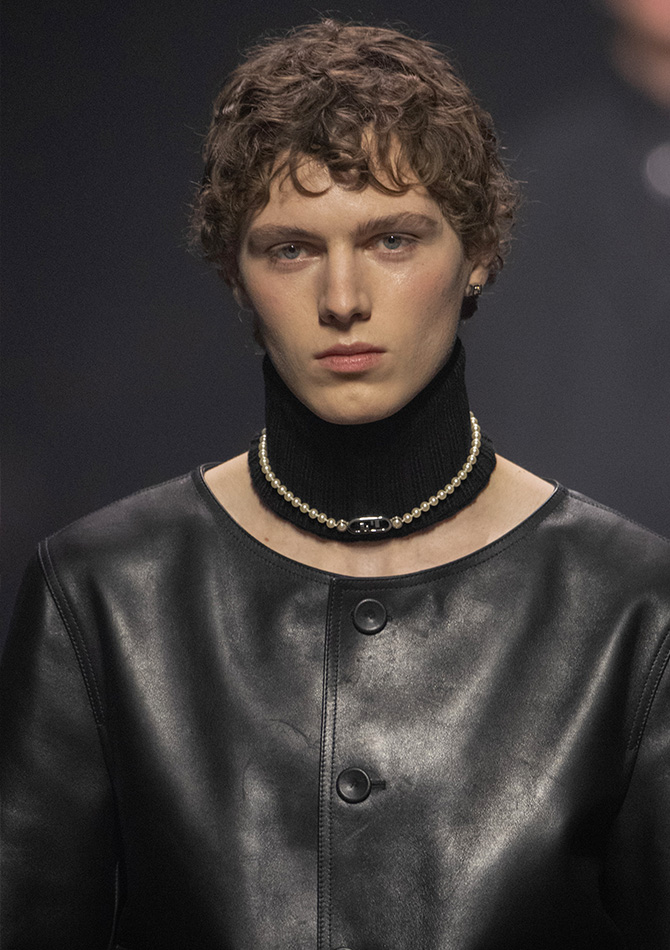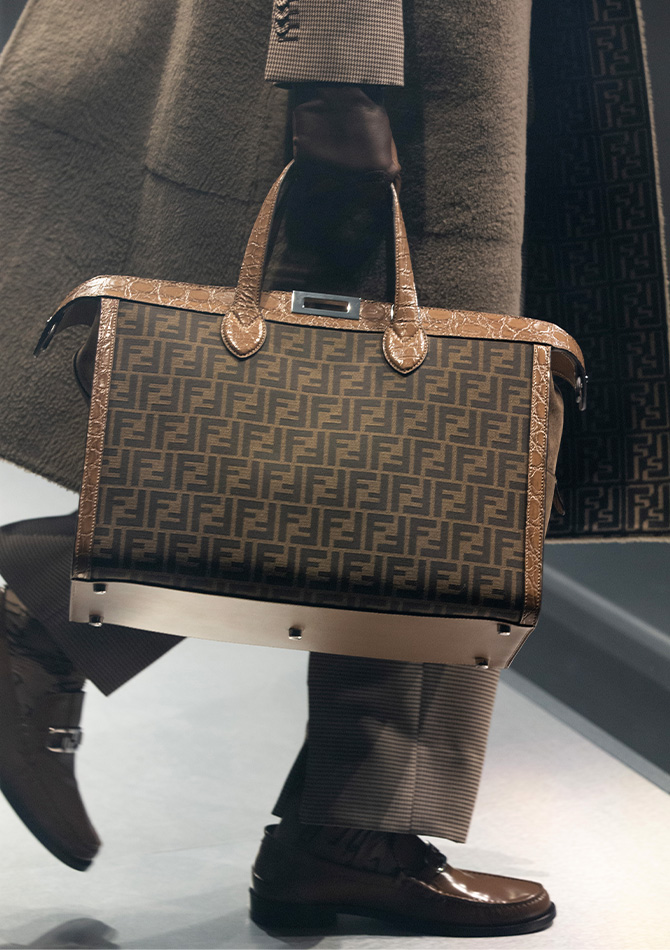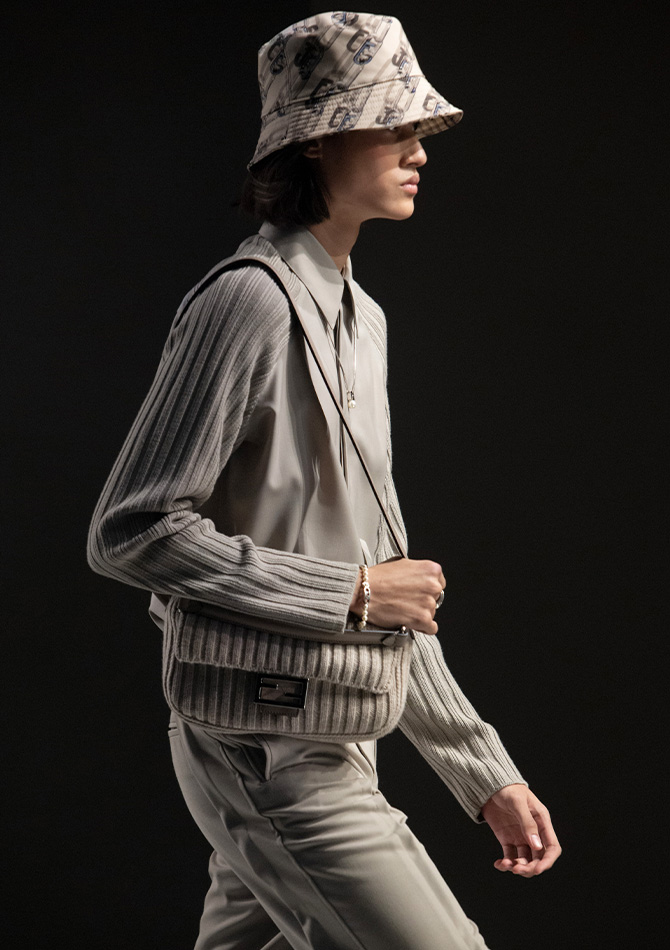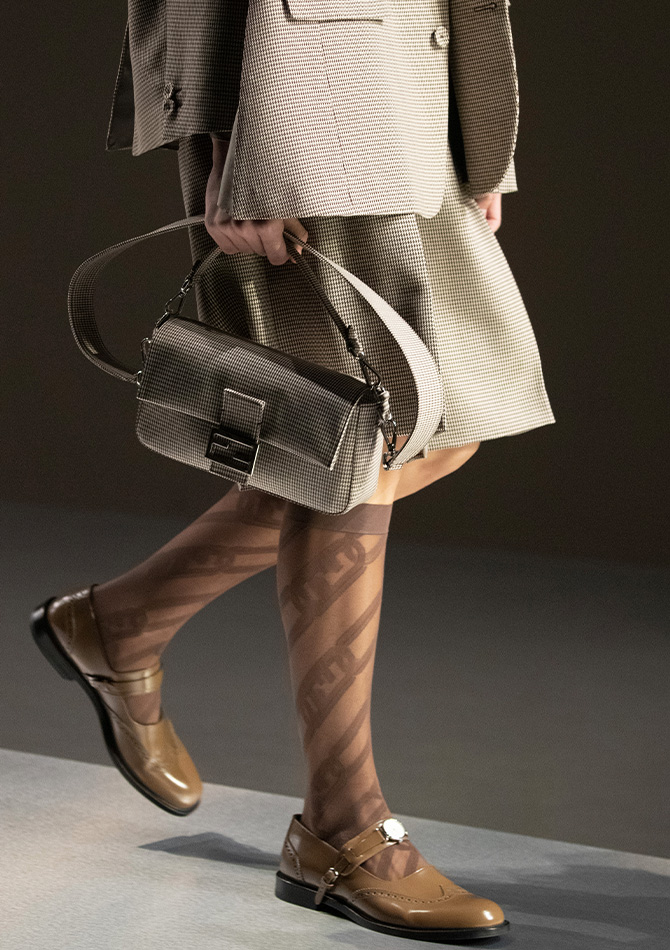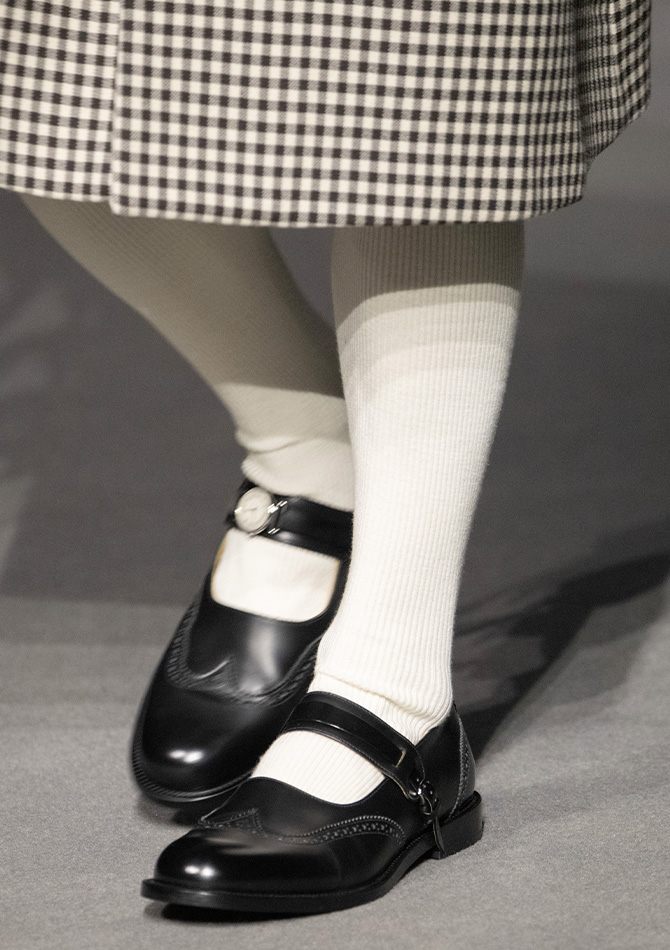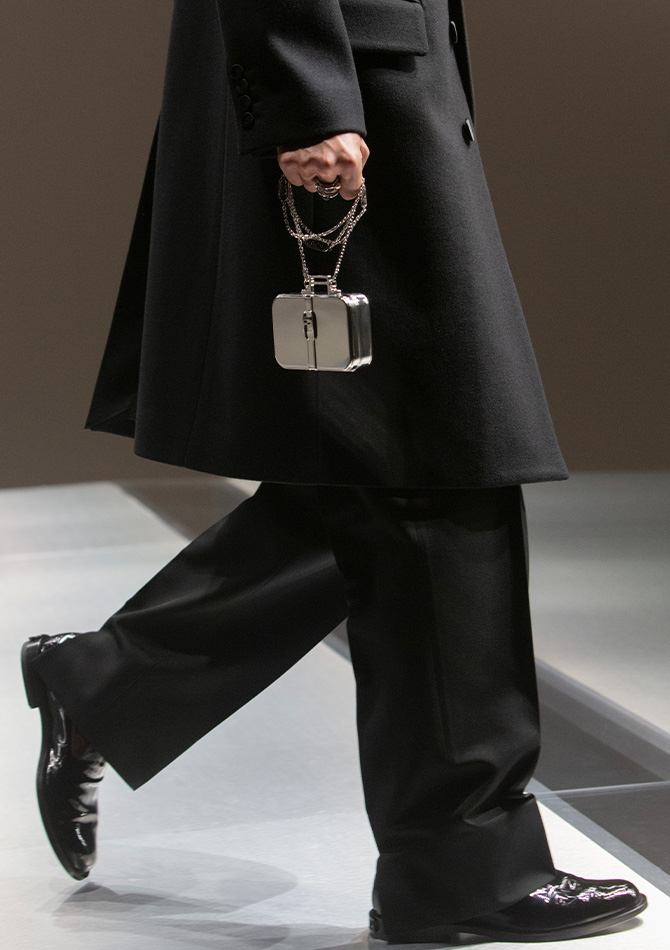 A procession of super high-waisted trousers and tailcoats over Mary Jane brogues closed the show in the ultimate expression of Fendi's Roman elegance, proving the future of dress codes to be subversive yet romantic and disruptively digital.
See every look from the Fendi Autumn/Winter 2022 Menswear show here.
Paris Fashion Week
January 18 – 23, 2022
Over in the French capital, shows from Hermès, Dior Men, Loewe, RIck Owens and Issey Miyake will be showing on the IRL runway. All eyes will be on Kenzo on January 23 as Bape founder Nigo will be debuting his first collection for the brand, as well as the moving tribute and final collection of the late Virgil Abloh at Louis Vuitton on January 20.
Highlights:
Louis Vuitton 
When: Thursday, January 20 at 9.30pm Malaysia time
Louis Vuitton will be presenting the new Autumn/Winter 2022 Men's Collection by Virgil Abloh (which, according to Louis Vuitton chairman and CEO Michael Burke, was 95 per cent completed at the time of the designer's passing) via two shows in Paris. More than an opportunity to remember the pioneering trailblazer, the event will be a celebration of Abloh's life and work, where some of his final designs for Louis Vuitton will be shared. Catch the livestream below and check back for post-show highlights.
READ: 12 Things you didn't know about Virgil Abloh
Over at the Carreau du Temple in Paris, Virgil Abloh's final collection for Louis Vuitton was unveiled on a dreamlike and nostalgic set rendered in the colours of a sunset. It was "Louis Dreamhouse", based off Abloh's original concept "where the surreal becomes real and fantasy manifests in real life". Against a Tyler, the Creator soundtrack (the artist himself was also present front-row) performed by the diverse Chineke! Orchestra, dancers moved with models, beds rotated in symphony and the rooftop sprung out of the floor.
View this post on Instagram
"Resurgence is the mantra of our moment in time. Carried by hope, it conveys the act of surging: rising up, uprising, progressing. Some solve crossword puzzles. Nuance is my game." Abloh stated in a 2020 manifesto that accompanied show notes for the AW22 collection. "As we collectively resurge, consider this my manifesto: as a presence of colour within the fashion establishment, I commit to inclusivity, unity, diversity, and individuality. I will continue to employ diverse candidates, financially support BIPOC and LGBTI+ causes, shed light on businesses owned by BIPOC and LGBTI+ individuals, work on public-facing initiatives that showcase BIPOC and LGBTI+ role models, and assist organisations that promote more inclusive workforces. This is my invitation to move forward together with awareness, hope and determination. You are witnessing unapologetic Black Imagination on display."
As such, imagination was at the core of the collection, a theme that linked back to the late designer's past eight seasons at the house, in which he's explored a boyhood ideology, a wondrous childlike perspective of viewing the world filled with endless possibilities. The show begun with a cinematic prelude directed by Caleb Femi that spoke to the mind-expanding interior of ideas and prospects, before turning onto the runway where the coming-of-age story that has been central to Abloh's tenure at the house was met with a rite of passage. Dress codes tied to societal archetypes were taken apart and patchworked into new ways where tailoring collided with sportswear, and bridalwear met streetwear across cape-like tracksuits, fuzzy bags and sequined suits.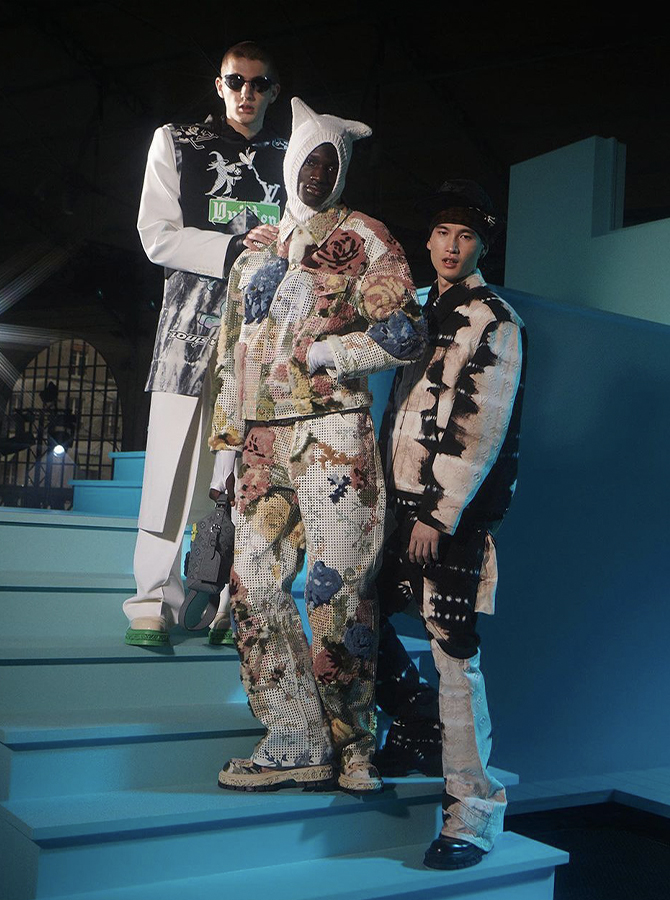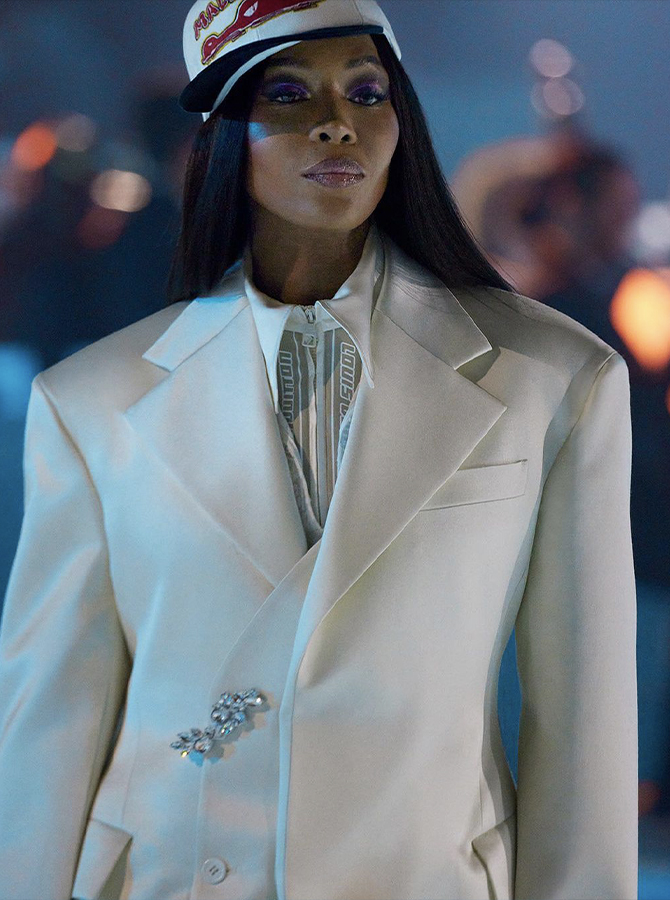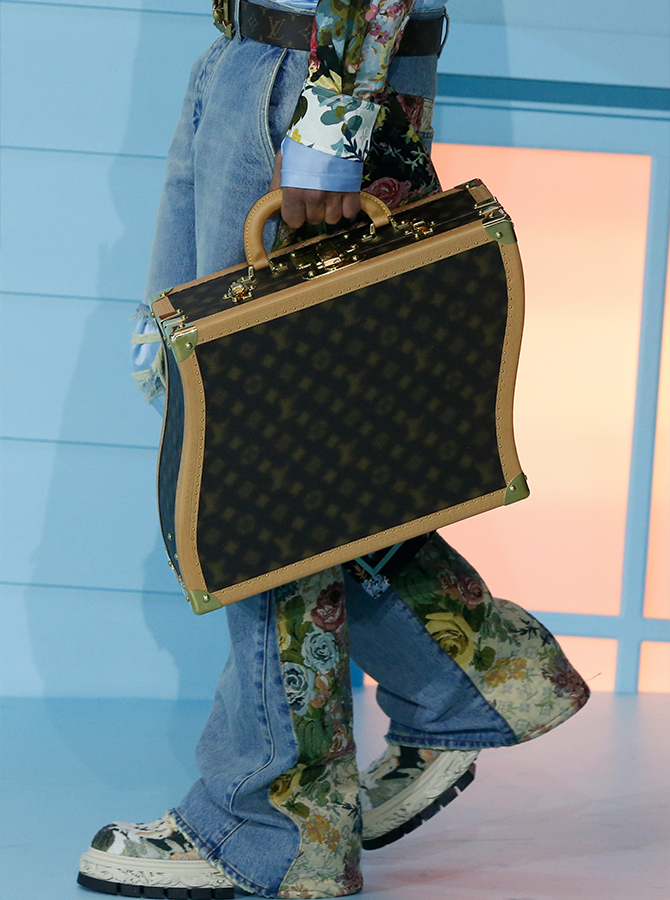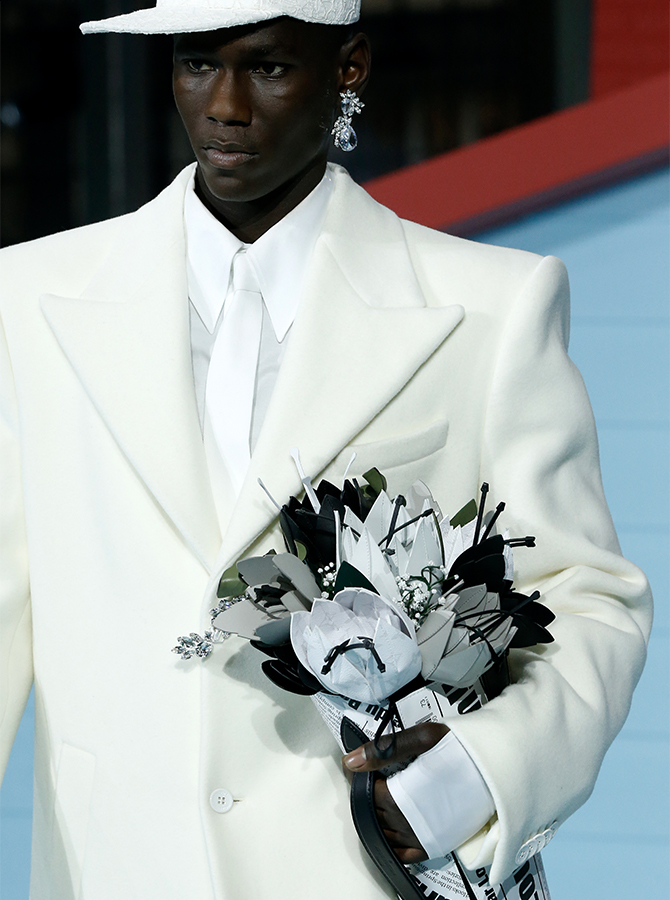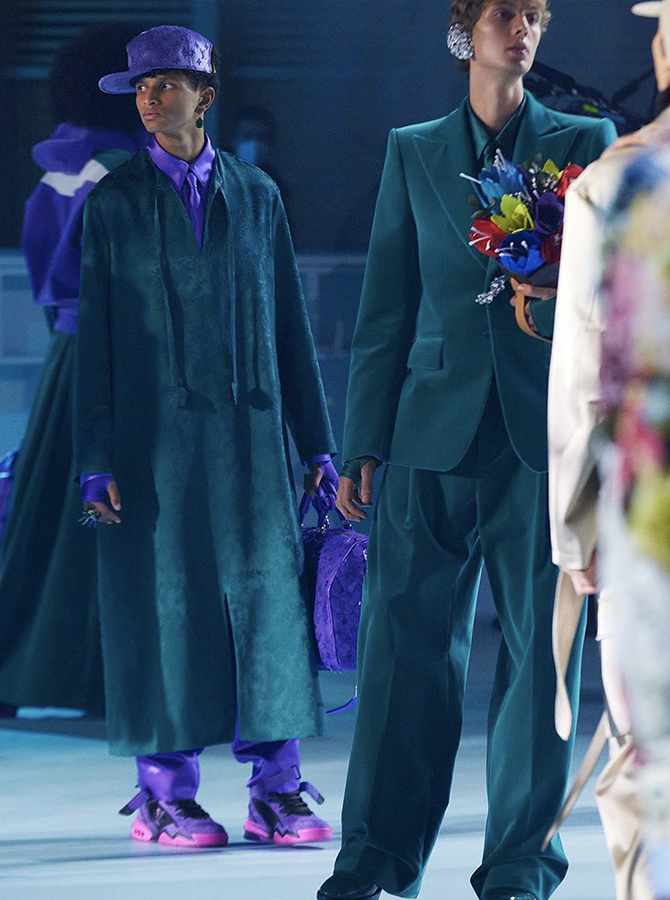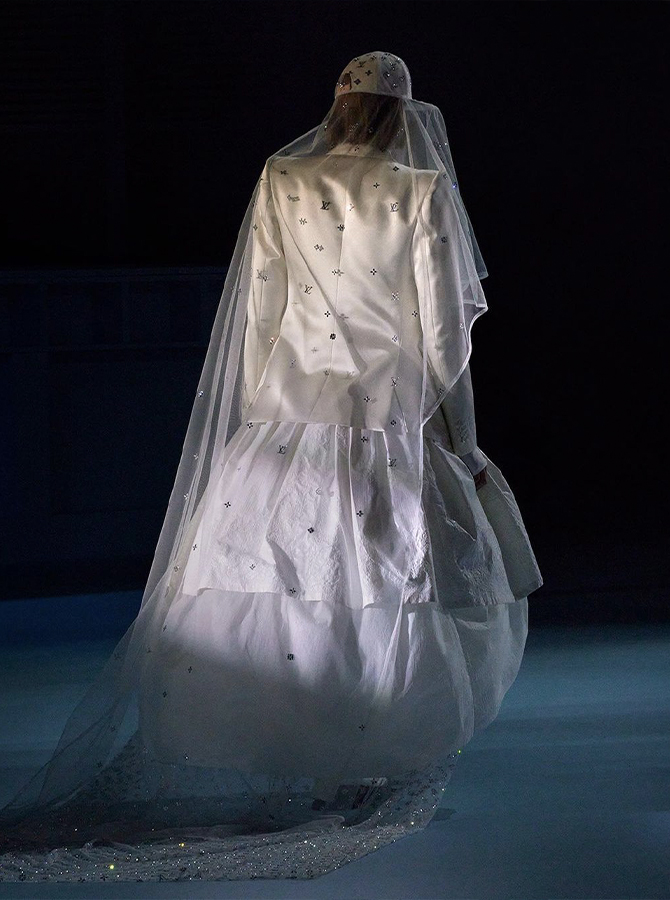 References to the spiritual and supernatural also came to the fore via lace fairy wings that grew as the show progressed, as well as imagery of wizard motifs, grim reaper cartoons, cherubs on clouds speckled here and there. Through the use of materials and techniques, presented as not what they initially seem, gestures of surrealism took form, as a slew of leather bags appeared in the form of pop art tin paints and a Dalí-esque trunk that had been warped out of shape.
See every look from Virgil Abloh's final collection for Louis Vuitton here. 
Dior Homme 
When: Friday, January 21
2022 marks Dior's 75th anniversary. As such, for the fashion house's first show of the year, Kim Jones unveiled a collection that paid homage to Christian Dior himself. Taking place in a tent on Place de la Concorde in Paris, the show took place atop a recreation of the famous Pont Alexandre III bridge, where models walked to a backdrop of a gorgeous skyline of a Parisian sunset.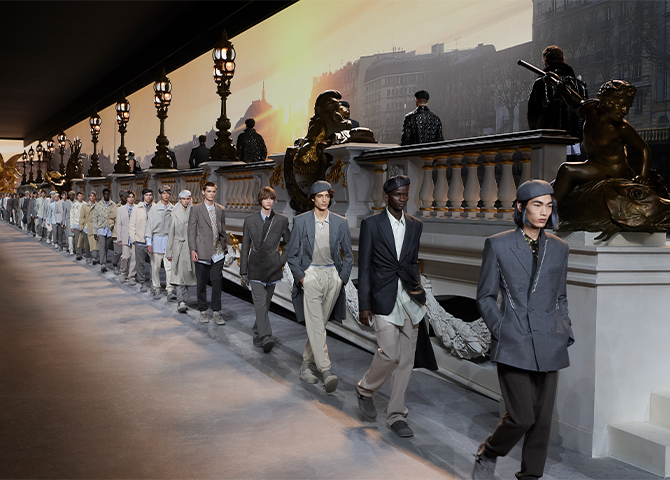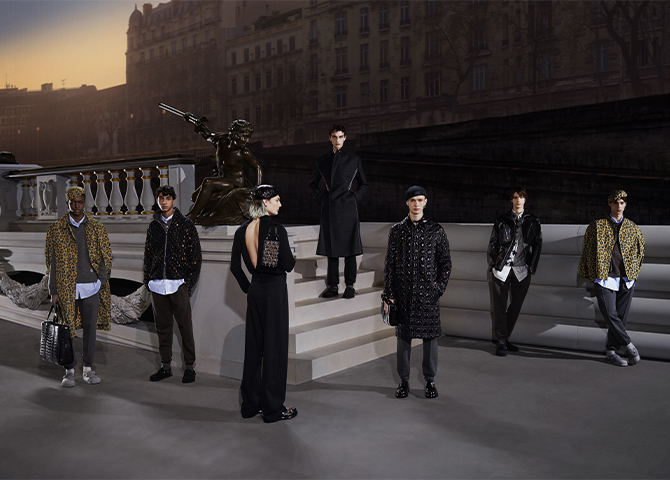 "I wanted to look at the archive, at the purity of the beginnings of the house, at its original impulse," the British designer said in a press release. "We looked at the initial collections and focused on the architecture, taking these elements and transforming them almost instinctively in a masculine way for today, always keeping the joie de vivre at the heart of Christian Dior's clothing" And so he did. As looks came out in shades reflecting the winter morning sky, past, present and future coalesced through signs and symbols central to the history of Monsieur Dior: leopard print appeared across utilitarian jackets, mesh layers and sweaters were adorned with delicate lily-of-the-valley embroideries, and coats in the cannage quilting of the iconic Lady Dior bag. Womenswear transformed to menswear, while the old became new and British masculine tailoring met with the French tailleur of haute couture, across interpretations of the couturier's most characteristic designs including the Lady Dior dress, the wrap coat and the Bar jacket.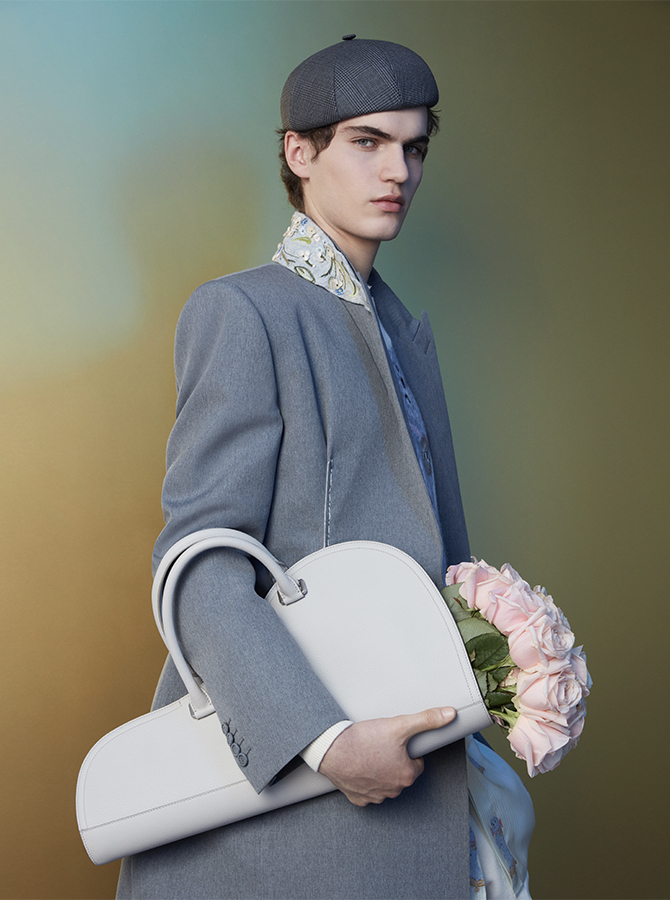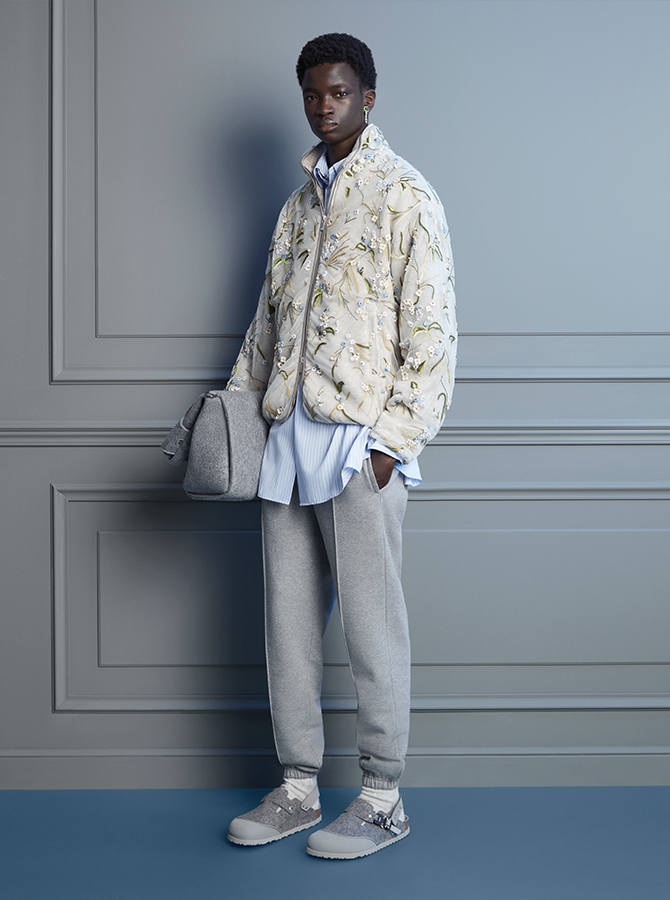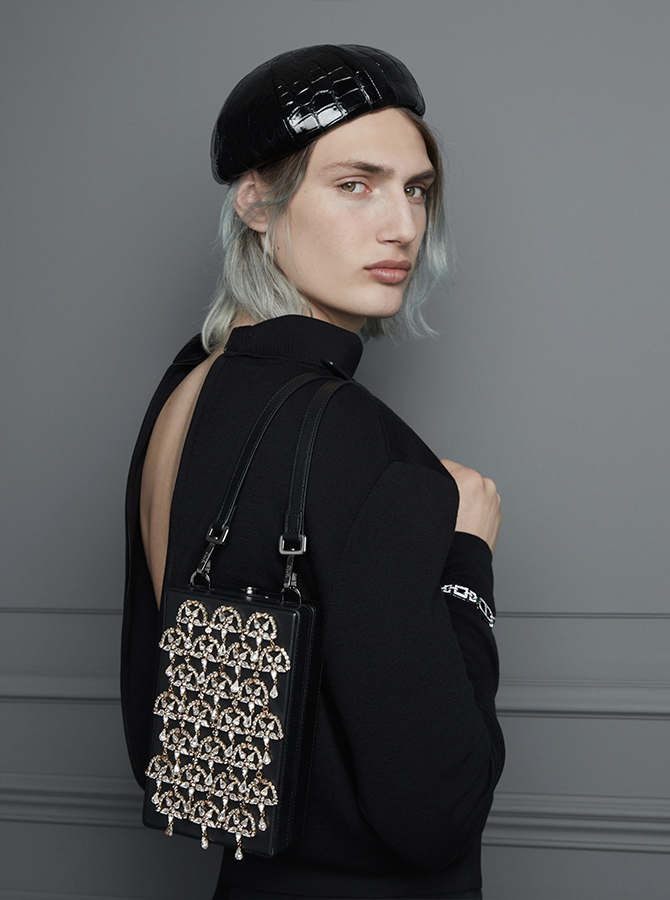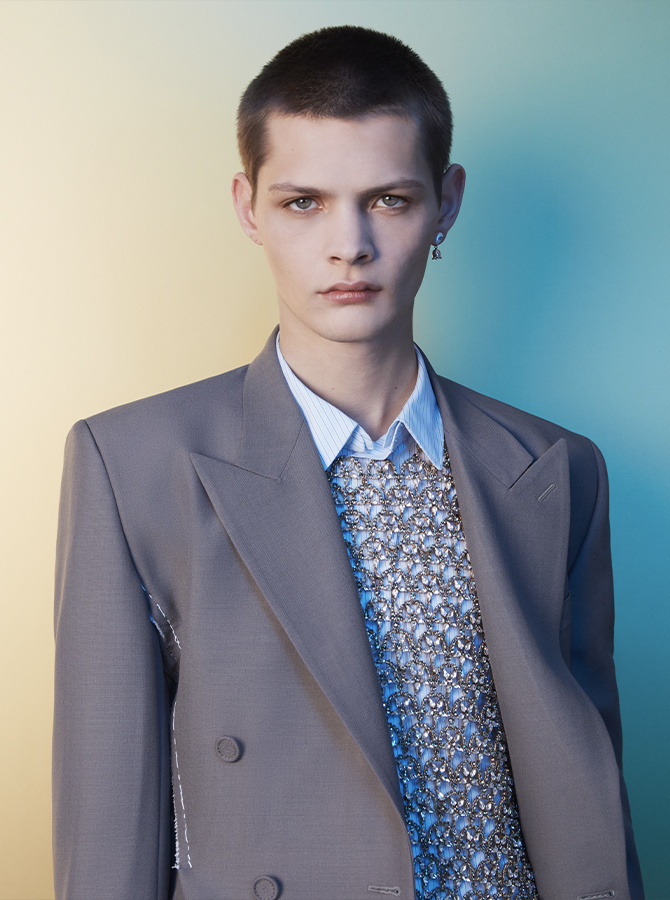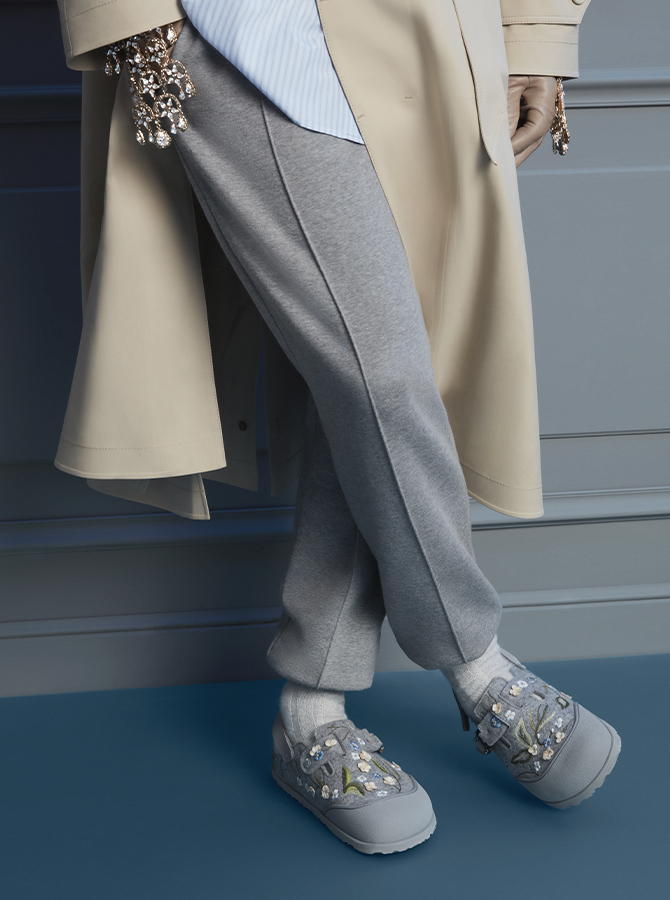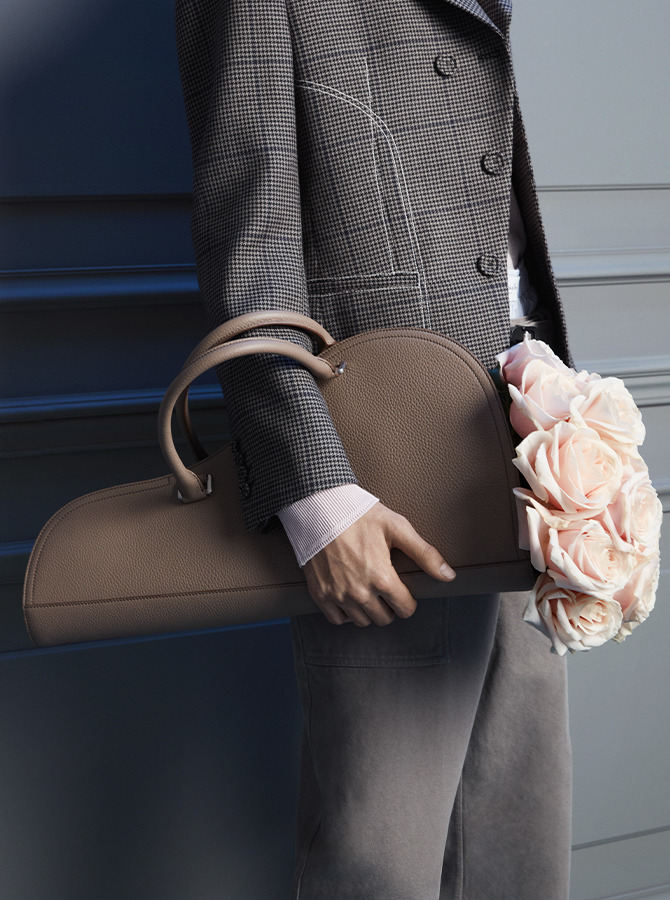 Meanwhile, cementing Dior heritage for the current generation were elements of sportwear, where trackpants were updated with a tailored touch, and a new collaboration with Birkenstock introduced new slip-ons in tribute to the founder's passion for gardening, featuring rubber details and industrial buckles emulating accents of the Dior Saddle bag. There were also bags in the form of leather cornets packed with pink roses, carried at the waist like a clutch. The most notable accessories of the collection were the small, structured Stephen Jones berets that complemented the ensembles they were paired with, which also drew up Dior's history and celebrated the milliner's own 25th anniversary as the house's hat designer.
See every look from the Dior AW22 collection here. 
Loewe
When: Saturday, January 22 at 7pm Malaysia time
Following last season's rave-inspired collection that had us ready for a hot boy (or girl) summer, Jonathan Anderson will present Loewe's next menswear collection for the upcoming fall season this Saturday. Catch it live on loewe.com and across Loewe's social channels.
View this post on Instagram
What is real today? That was the question on Jonathan Anderson's mind for Loewe's thought-provoking Autumn/Winter 2022 menswear show, which was befitting for the dawn of a new decade where reality is more muddled than ever. With talk of the metaverse far and wide, the new collection "proposes that nothing is as it seems" in an effort to define an altered real world. The show took place within 'Flags', a site-specific installation of eighty-seven faceless flags made of nearly 4,000 individually cut ribbons by artists Joe McShea & Edgar Mosa. Stripped of meaning, the flags acted as a call to reflection, with the unveiling of Anderson's collection that questioned the role of clothing in the digital world.
Devoid of seasonal connotations, this seasons' clothes were created around the body instead. LED lights were reworked into garments, shining through waistbands and coat flaps, while hoops and wires contorted the silhouette into dramatic warped shapes that reminded of a body stuck in extreme Facetuning. Meanwhile, trompe l'oeil bodysuits were printed with shrunken versions of the body beneath them as digital presentations (a literal second skin) of the external self.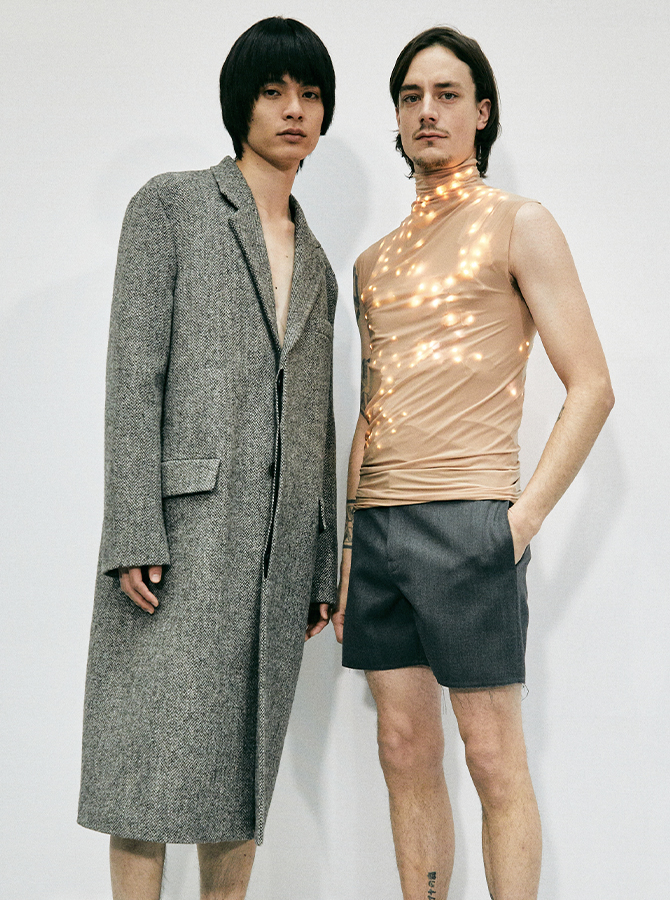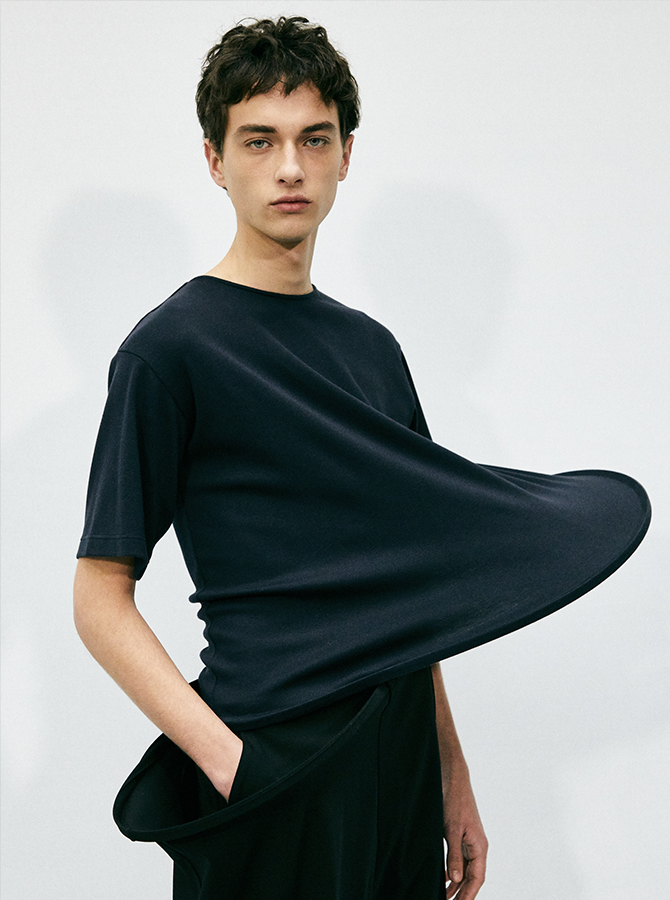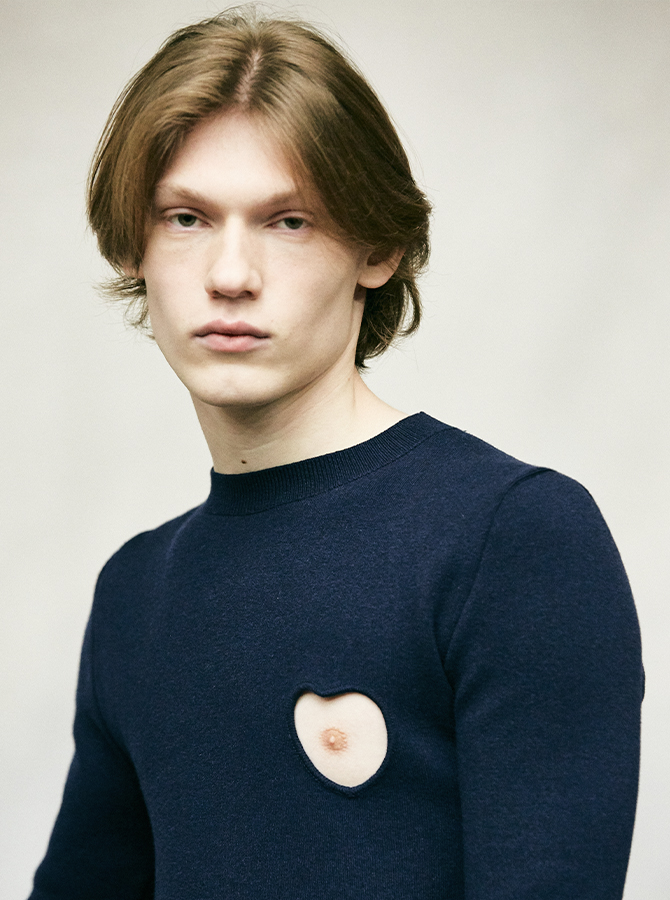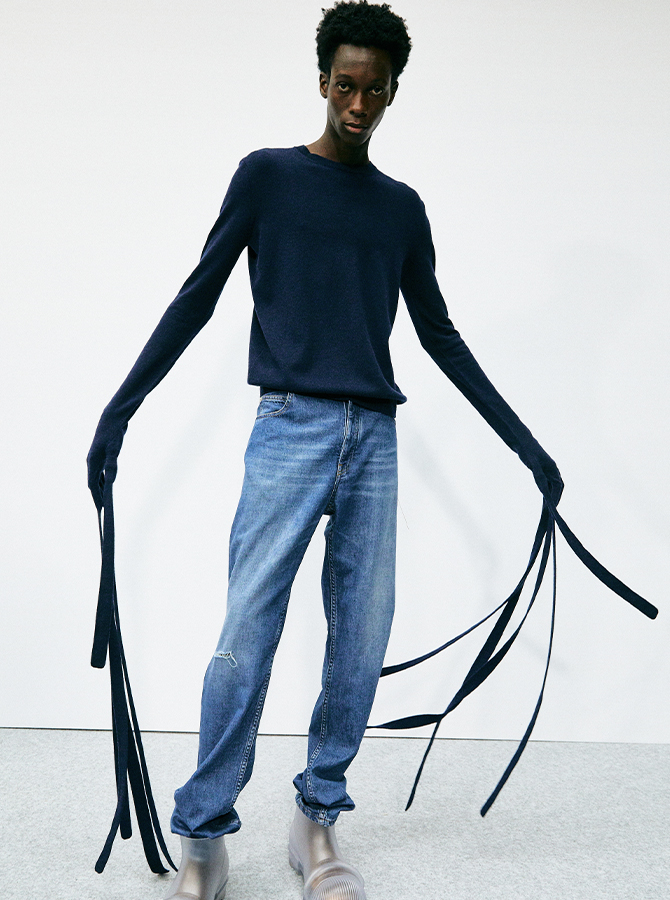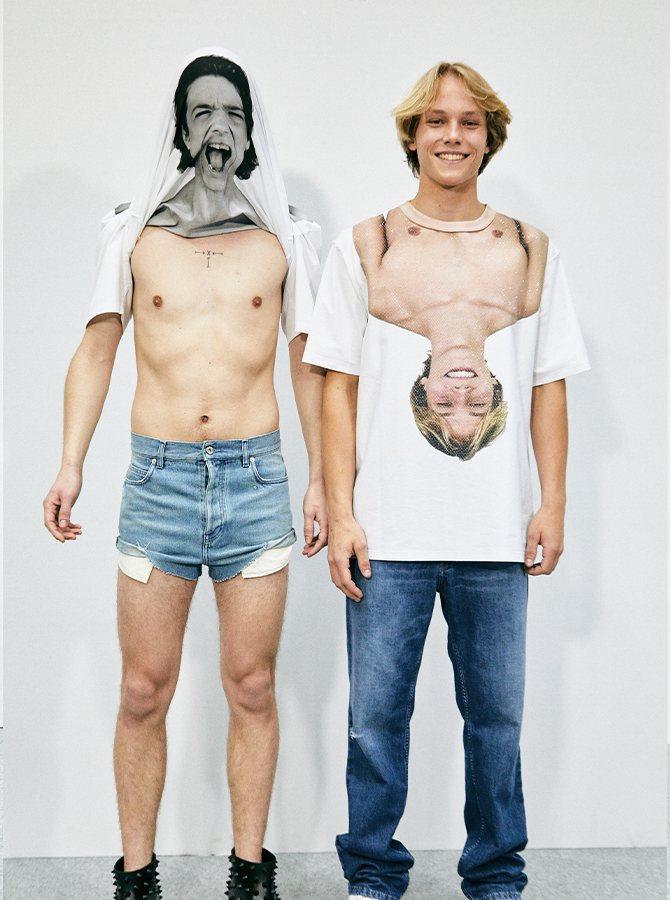 Archetypes of men's dressing were also twisted into a new vision, where pieces like exposed boxers and briefs, sweaters with heart cut-outs at the nipple and provocatively transparent leather coats were framed by the naked body to emphasise the physical form. Accessories arrived in the form of capacious totes: a tall and rectangular Amazona, the nappa leather Cubi featured with sinkholes alongside the Flamenco clutch embellished with shells of the sea. It was a show that explored fashion's shifting place in culture and defines a reset by putting the body first.
See every look from the collection here. 
Read more stories on men's fashion here. 
| | |
| --- | --- |
| SHARE THE STORY | |
| Explore More | |