Fashion
Bra 101: Finding the perfect fit for comfort, health and confidence
Know your bosom
Image credits: @triumphlingerie/ Instagram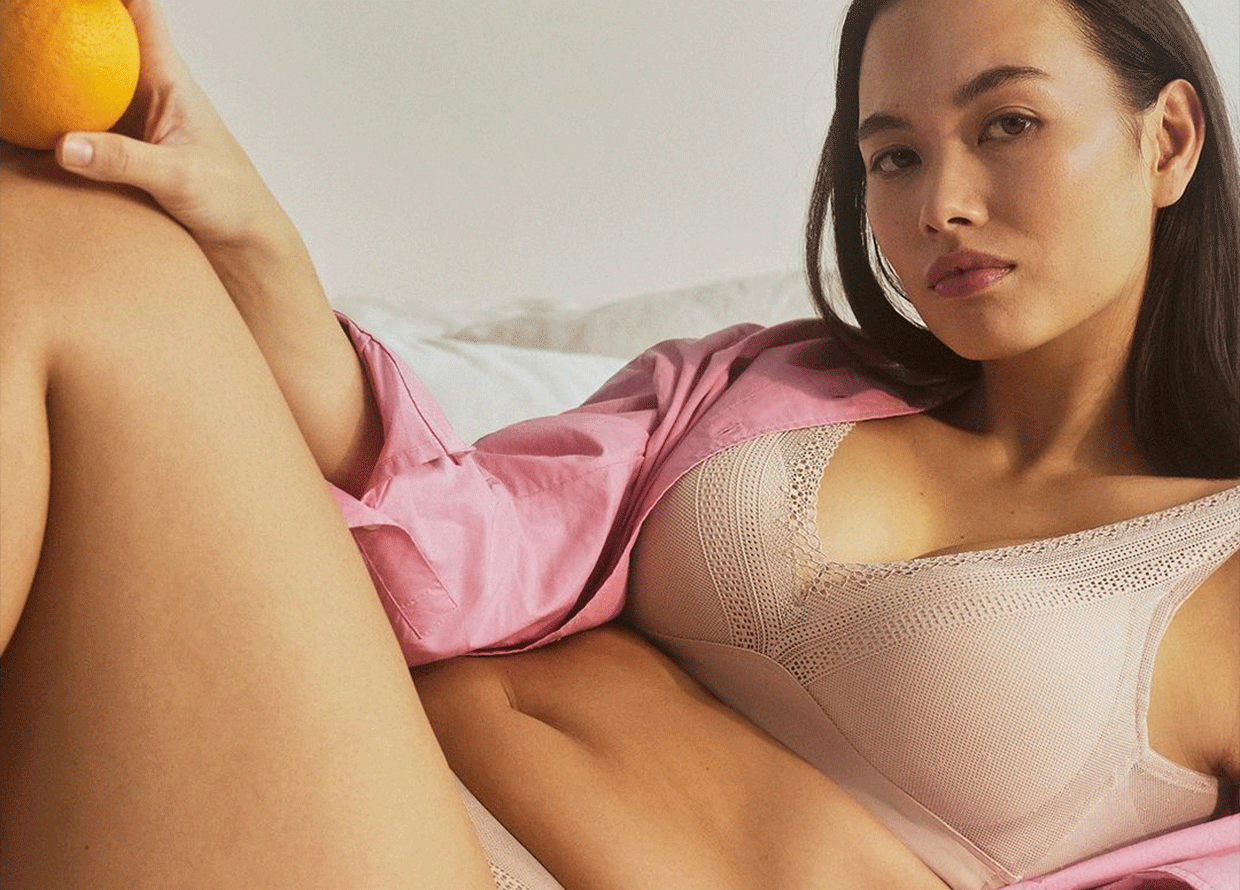 Before we start: Yes, Your bra can affect your health. A survey by underwear brand Triumph in 2008, a 1998 research by plastic surgeon Edward Pechter, and a 2012 study done in the UK have all found that 80 per cent of women are wearing the wrong bra size. But while many have claimed that the statistic is bunk—after all, bra sizes from different brands vary, and a group of women doesn't represent women everywhere—we can't deny that wearing an ill-fitting bra happens to the best of us. And the wrong bra size isn't only uncomfortable, it's also bad for your health.
In conjunction with Breast Cancer Awareness Month, here's how you can identify your bra fit and take better care of your body:
How to find your correct bra size
Most women end up picking the wrong size because they don't know how to take their measurements correctly. If you're too shy to ask for help from professionals at the lingerie store, here's how you can find your right size at home. 
Start by wrapping a measuring tape loosely around the fullest part of your bust and the circumference right under your bust for your band size. You'll get your cup size by subtracting your bust size from your underbust size, for example, AA=0, A=1, B=2, C=3, D=4, DD=5, F=6, FF=7, G=8, GG=9. Easy-peasy! For more help, refer to this video below:
Which type of bra is the right one for you?
View this post on Instagram
Bras can be broken down into four big categories—padded, non-padded, wired and non-wired. You might've already known about these bra constructions, but do you know how to decide which are the best ones for you? 
Let's start with the pads and non-pads. Padded bras are great for special occasions when you need a little extra oomph to make your breasts look extra perky, while non-padded bras are better options for everyday wear. However, the padded ones are also good for daily wear if you're comfortable with them, as they are not harmful in the long run.
Moving onto the wired and non-wired bras, which will ultimately help you determine the right innerwear for you. Wired bras are great for those with fuller breasts as they provide more support to create a better lift for your bosoms. However, they do get out of shape faster than non-wired ones because the wires break or become crooked over time, which might irritate your skin. On the other hand, non-wired bras do feel more comfortable to wear every day, best suited for women with smaller breasts because they do not give as much support as the wired ones.
How do I know if I'm wearing the right bra size?
Do you take off your bra as soon as you get home? If your answer is yes, you're not alone. But a bra that fits perfectly should never make you feel uncomfortable. Here are the signs that you're wearing the wrong fit:
View this post on Instagram
Bulges, everywhere
Bulges are the most obvious signs. Whether it's at the sides (this is not the side boob you want), the front, or the back, any kind of bulging means that the fit is not right. But the correct underband fit can fix that. Read on to find out how.
 You're clasping it on the tightest hook
The band is where most of the support comes from. If you've always hooked it on the tightest setting, you're doing it wrong. When you purchase a new bra, cinch the clasp on the loosest hook and make sure only two fingers can slide in. The tighter hooks are for when your bra stretches out after wash and wear.
The straps are digging into your shoulders
While the band provides the most support, the weight of your breasts should be evenly distributed when you're wearing a perfectly fitting bra. If you have marks on your shoulders after taking your bra off, it's a sign that you're relying on the straps too much for support.
Your boobs get irritated
Ever get an itchy red line under your breasts? It might be caused by the underwire in your bra. Diagnostic radiologist Dr. Nina Watson told Bustle that it could happen when "your bras are old and the fabric overlying the underwire has worn thin, leaving this sensitive area of skin exposed to the underwire". It can also be caused by friction when the underwire doesn't fit properly.
You have to readjust your bra throughout the day
Caught yourself pulling and tugging your bra throughout the day? It's probably because the cups are too big or too small, or the band is too loose.
Bra spillage (aka double-boobing / quad-boob)
If your breasts are spilling out of your bra (whether it's on the sides or on top), you probably have to size up the cup—your girls have to breathe! On the contrary, if there's a huge gap at the top of the cup and tightening your bra straps doesn't work, try going down a cup size.
Why is wearing the wrong bra fit bad for my health?
Regardless of whether your bra is too big or too small, the consequences are the same: it's bad for your body. Wearing the wrong size can cause a range of health problems, and here are some of them:
View this post on Instagram
 Aching ribs
Yes, your ribs can hurt if the bra band is too tight. But if the fit is right, the pain might be caused by the underwire—certain bras that sit right on the rib can cause pain and discomfort to those who have a high ribcage or a fuller cup. If this happens to you, it's time to try a different style.
Shoulder and neck aches
Bras with a bigger cup size typically come with thicker straps to help distribute the weight across the shoulder. If it's too tight, it can cause indentation on your shoulders, and the strain can spread up to the neck. Combined with long hours in front of the computer? The aches might just develop into shoulder and neck pain.
Headaches
If your bra doesn't fit correctly (i.e too loose), your upper body muscles—specifically the ones in your neck and shoulder—will have to work harder to support the weight of your breasts. When they're overworked, it can cause headaches, specifically cervicogenic headaches (or neck-in-origin headaches).
Bad posture
The pain and ache from your shoulder, neck, and back will make you hunch your shoulders, and in the long run, it'll ruin your posture. According to The Joint Chiropractic, bad posture can cause shortness of breath as there's insufficient air going into your lungs.
Boobs stretching or sagging
It's normal for your boobs to have stretch marks and sag, but if it happens too quickly and too soon, it's most likely due to a wrongly-fitting bra. If your bra doesn't provide enough support, the Cooper's ligaments in your breasts—which help to maintain the shape—will stretch out; and once they do, they can't be reversed.
Blocked lymph nodes
In more serious cases, blockage of lymph nodes may happen. The lymphatic vessels are very thin, and when your bra is too tight, the pressure exerted over time can cause them to close.
For more fashion reads, click here.
| | |
| --- | --- |
| SHARE THE STORY | |
| Explore More | |