Kendall Jenner dyes her hair blonde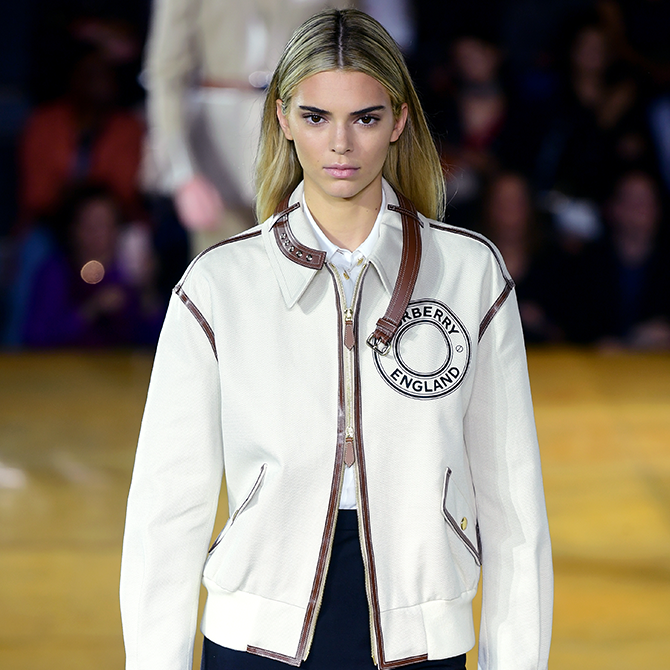 During Burberry's SS20 show, Kendall Jenner immediately stole the spotlight when she stepped out on the runway. Why? Because instead of rocking her signature brunette locks, she ditched it for a brighter platinum blonde hue. If you're feeling a little déjà vu right now, you're not alone. After all, it's not her first time sporting lighter strands. Remember when she did that Pepsi ad and also the Balmain hair swap with Gigi Hadid?
Naomi Campbell stuns in a see-through dress at Fashion for Relief
Trust supermodels—and especially Naomi Campbell—when it comes to making a statement for charity. This year, Naomi brought the Fashion for Relief charity gala back to her hometown and she was definitely the hostess with the mostest skin on show with her super-sheer and plunging (both in the front and back) Thierry Mugler gown that left little to the imagination. If anyone can pull off such a daring, nearly-nude number (besides J.Lo), it has to be Naomi.
Chalayan's cocoon dresses that covered models' faces
By now, you've probably seen photos of faceless models in metallic floral plissé dresses on Instagram. If you're wondering what's up with that, here's what: those (opening) looks are from Chalayan's "Post-Colonial Body" SS20 show and it's inspired by how historical events shape our physical presence, specifically in the expression of dance and how the body moves, which explains all constricted yet liberating silhouettes.
Burberry's SS20 show is certified carbon neutral
Other things you might've seen on Instagram: an announcement by Burberry stating that the production of its SS20 #Evolution show (yes, the same runway that blonde Kendall strutted on) is certified carbon neutral. The statement reads, "We have offset our impacts, such as the flights of guests travelling to London specifically for the show and the build and production of the event, through VSC-certified REDD+ projects which prevent deforestation and conserve tropical rainforest in the Brazilian Amazon."
FROW #twinning: Harper Beckham and Anna Wintour wear matching florals
Besides being 'groundbreaking' for spring, florals are, in fact, timeless no matter how old (or young) you are. Take the FROW at Victoria Beckham's SS20 show for example, where little Harper Beckham and Vogue's Editor-in-Chief Anna Wintour were spotted #twinning in florals—a print the latter is often seen in. Side note: of course, the entire Beckham clan was there as well to support mummy dearest.
Molly Goddard's Insta-worthy tulles
Three words: big dress energy. Editors who are always on the lookout for photogenic dresses would've found their answer when they attended Molly Goddard's SS20 show. The catwalk was filled with frothy, voluminous tulle silhouettes (as well as ruffles, bubbles, smocking and babydoll cuts) in highlighter-bright hues that would definitely make heads turn and earn second takes, whether seen on editorial pages or IRL. PS: we even spotted similar street styles outside LFW shows.
Christopher Kane's "eco-sexual" cosmic knits
The celestial trend is certainly not slowing down and at LFW, we're seeing stars and the moon as well as earthy elements being sprinkled on skirts and comfy knitwear. With a collection named "Eco-sexual" (and the word "eco-sex" even adorned on one sweater), the show notes read, "Make love with the wind, sleep with the stars, feel the flowers—this season, the collection encourages us to become intimate with nature by indulging in earthly pleasures."
| | |
| --- | --- |
| SHARE THE STORY | |
| Explore More | |