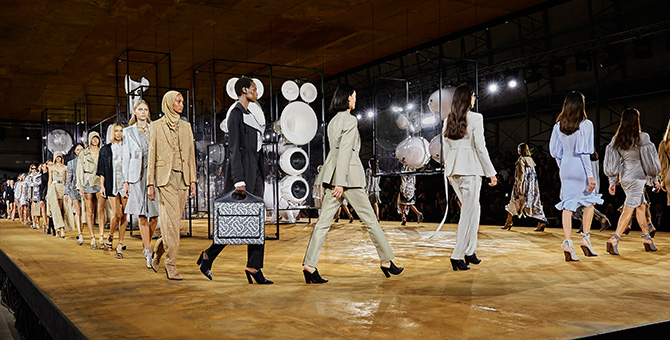 Most memorable and wearable item from the show—this hankerchief-hemmed halter top
Styling idea: Worn on its own or layered over a dress shirt.
Extended sleeves are further enhanced with fringed adornments.
Scalloped hem coat embellished with rings and crystals
A closer look at the detailed finish
Are shoe charms the next big thing? Burberry starts the pitch with an oversized sequin add-on to a gingham block heel.
Shimmering sparkles appear to be the general consensus of the upcoming 2020 season.
Kendall Jenner closes the Burberry SS20 with blonde hair. First Bella, now Kenny… do blondes have more fun?
Roped "bras" were a recurring accessory, as well as diamante belts and chokers.
Also spotted: Diamante-embellished rope bras worn over
Our knight in shining armour is in fact a woman in a silver satin cape.
A camel trench is reimagined with a cape back and exposed sleeves.
Asymmetry takes the stage again with a single puffy balloon sleeve.
Structured boning produce an unorthodox boxy shape on a traditional suit.
Decorative ink blotches create a relaxed polkadoted print.
When you don't want to put on your thinking cap and prefer to carry it around.
Roped yarn decorated essential leather bags for an added flair.
Erdem Moralioglu's muse for the collection was Tina Modotti, an Italian-born silent movie actress in old Hollywood.
Her multi-episodic life spanned from actress, to photographer and and a communist in Mexico.
Her time in Mexico can be seen through the Spanish influence of Erdem's clothes, especially the exaggerated ruffled sleeves.
The accompanying hats were made by milliner, Noel Stewart.
Seductive lace-up gloves for the flirtatious vixen.
A cheeky monkey brooch for the mischievous rebel.
Blue and white porcelain print adorn platform espradilles
The traditional cropped Spanish jacket is reimagined with studs and pearls.
In pictures: London Fashion Week SS20 Day 4 feat. Burberry, JW Anderson and Erdem