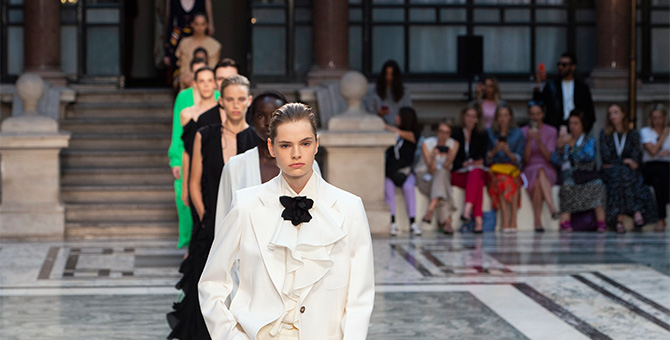 The collection was heavily inspired by film and music from the 1970s.
Complementary tonal hues make a subtle yet solid statement.
A plunging keyhole is accented with floral neck cords.
Florals were a repeating motif and was seen throughout the collection.
"There are lots of neutrals mixed in a strange way, and we've punctuated the collection with bright green, purple, lemon yellow and icy blues. The colours feel fresh. The prints also feel really luminous. And I love the ruffles story" — Victoria Beckham
A feminine pleated ruffled dress gets an asymmetrical treatment with a mismatched neckline.
The masculinity of a pinstriped suit was offset with soft ruffled details.
A plunging necklines balances the conservative modesty of this flowy maxi dress.
Love the playful mix of colours on this fun '70s-inspired look.
The collection was heavily inspired by film and music from the 1970s.
The opening look made the crowd buzz with a cocoon-like shaped dress that completely engulfed the model. Kudos to her walking that runway!
The look that followed was a gradual descent from the former resulting in a pleated dress that fanned out and up, partially covering the model's head.
Ah, we finally see a face! The third look saw an asymmetrical midi dress that had a similar fan that grazed the chin.
The same floral motif was repeated on a spaghetti tank and sun hat.
Our favourite look from the collection.
Skirts were fitted with structural hoops for a stiffened hem
For inspiration, the Dublin-based designer looked to the Celtic tradition of Wren Day
Which explained the reasoning behind the usage of straws into the clothes
And hair accessories of the models
Simone Rocha also incorporated pearls into the line-up, seen here as a pearl strap on a see-through clutch
The collection was a beautiful stream of sheer folk dresses with intricate embroidery
And roped sandals decorated with PVC, spikes, pearls and rhinestones
A close-up of the embroidery on the sheer silk organza
In pictures: London Fashion Week SS20 Day 3: Victoria Beckham, Chayalan and Simone Rocha