Here's everything you need to know about Paris Couture Week, taking place both virtual and IRL between January 24 to 27
Following weeks of the latest menswear, Paris Couture Week returns today with more IRL-ness. Twice the number of last season, a total of 15 physical shows are slated to show this week in comparison to the six digital-only events, with luxury brands including Chanel, Dior, Fendi, Valentino and Schiaparelli returning to the IRL runway in the French capital. To mark their respective anniversaries in fashion, both Iris Van Herpen and Giambattista Valli have planned for special July shows (though they will still be presenting this week via different formats), while Glenn Martens, creative director of Y/Project and Diesel, will be debuting his one-off couture collection for Jean Paul Gaultier on Wednesday.
Scroll on for a schedule of the week ahead and bookmark this page for the lowdown on the best shows once they happen: 
PHYSICAL SHOWS  
January 24: Schiaparelli, Ulyana Sergeenko, Iris Van Herpen, Dior
January 25: Chanel, Alexis Mabille, Alexandre Vauthier
January 26: Zuhair Murad, Valentino, Jean Paul Gaultier, Viktor & Rolf, Elie Saab 
January 27: Fendi  
DIGITAL SHOWS
January 24: Giambattista Valli 
January 25: Giorgio Armani Privé
Highlights
Dior
When: Monday, January 24 at 9.45pm Malaysia time
Maria Grazia Chiuri will unveil Dior's spring couture collection at Rodin Museum in Paris with a show that will shed light on the French fashion house's creative dialogue with India. Rendered in embroidery by the Chanakya ateliers in Mumbai, the set will feature the work of Indian artists and husband-wife duo Madhvi and Manu Parekh, marking the first time Chiuri is collaborating with a male artist. Their work will cover the entirety of the walls to make up a retrospective of the pair's art. Watch the teaser below, and catch the show live tonight on dior.com.
The show: 
While the rest of fashion is scurrying to get a foot into the metaverse, Maria Grazia Chiuri prefers to focus on the tangible. Invested in IRL human connection, her Spring/Summer 2022 couture collection for Dior was all about the atelier's innovation: craftsmanship––something that requires the physical touch to create and value.  This was also why she chose to work with long-time Dior collaborator Chanakya School of Craft in India once again, who executed the hand-embroidered renditions of artists Madhvi and Manu Parekh's colourful graphic works that covered the walls of the show space in the garden of Musée Rodin.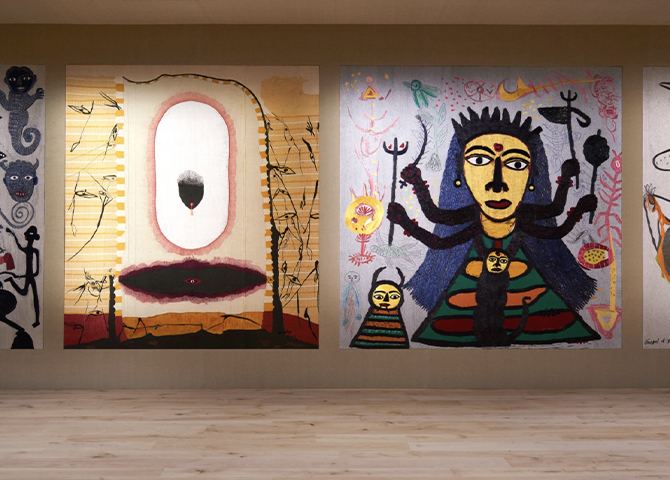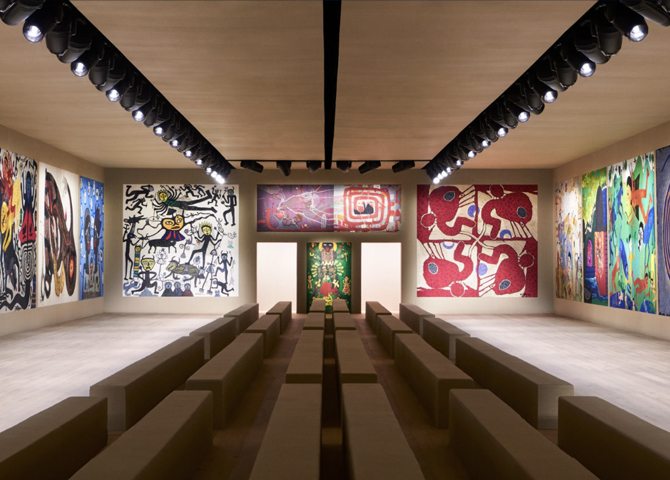 Across a muted palette of blacks, white and greys, the collection emphasised embroidery, and how it makes up a vital component in the construction of haute couture, providing fabrics with a sense of architecture. Infused with an air of delicate romanticism, dresses were physically structured with embroidery to manifest as lace, while ornate geometric patterning encased a series of midnight black bodysuits to showcase that beloved attention to detail and bespoke. Built around the body, luxe woollen day dresses and tailored blazers cut broadly just enough in the hips to hint towards the infamous Bar jacket were chic and nodded to the swinging '60s, echoing the overall season's sentiment that couture isn't just made for ballrooms and red carpets.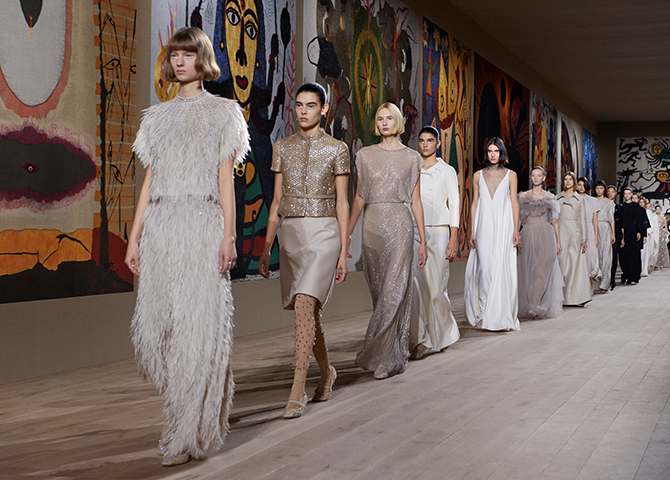 That same simplified, statuesque ethos from her Spring 2022 ready-to-wear was present in this current collection, where streamlined silhouettes showcased the simple elegance of eveningwear that had been stripped back with halter necklines and busts that spotlighted the décolletage, but with hints of flashes here and there: crystal-sprinkled tights layered under airy chiffon gowns, glittering Mary Jane flats, feathers foaming around a shirt-skirt ensemble. And of course, for the brides and grooms waiting for their turn down the aisle, there was an undertone of bridalwear across the lineup with layers of all-white purity adorning the body in a myriad of different silhouettes. 
Chanel 
When: Tuesday, January 25 at 9pm Malaysia time
In the lead-up to Chanel's Spring/Summer 2022 Haute Couture show, Virginie Viard has invited French contemporary artist Xavier Veilhan and Norwegian photographer Ola Rindal to create the first images of the collection, teased below. The show, which will take place at the Grand Palais Éphémère, will be staged in a visual universe created by Veilhem, marking this the first time the house has entrusted a contemporary artist to do so. Part landscape, part garden and part open theatre stage, the project integrates both the catwalk and seating reserved for spectators, set at the crossroads of fantasy and reality. Watch the show live at chanel.com and check back for post-show highlights.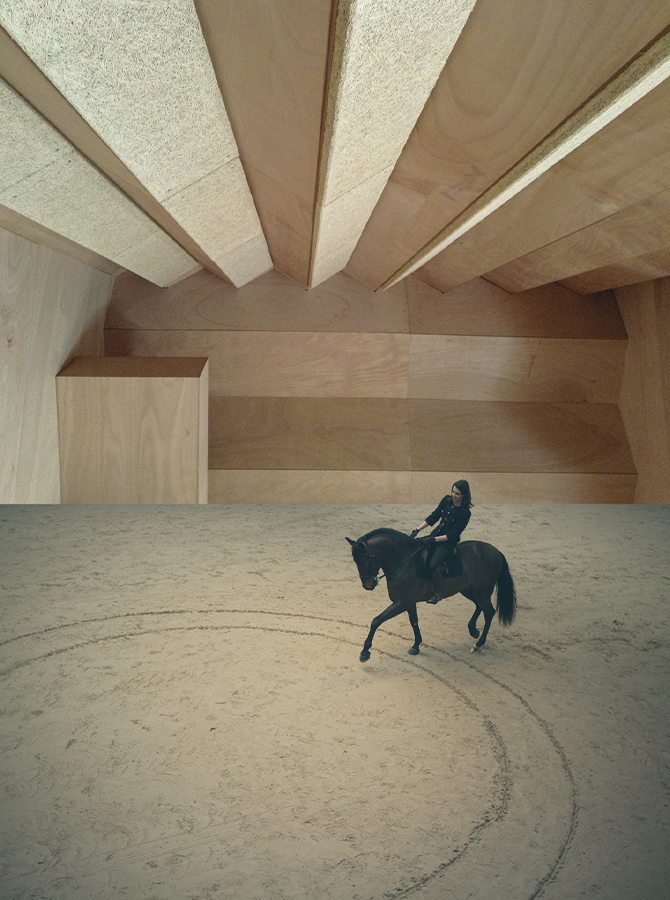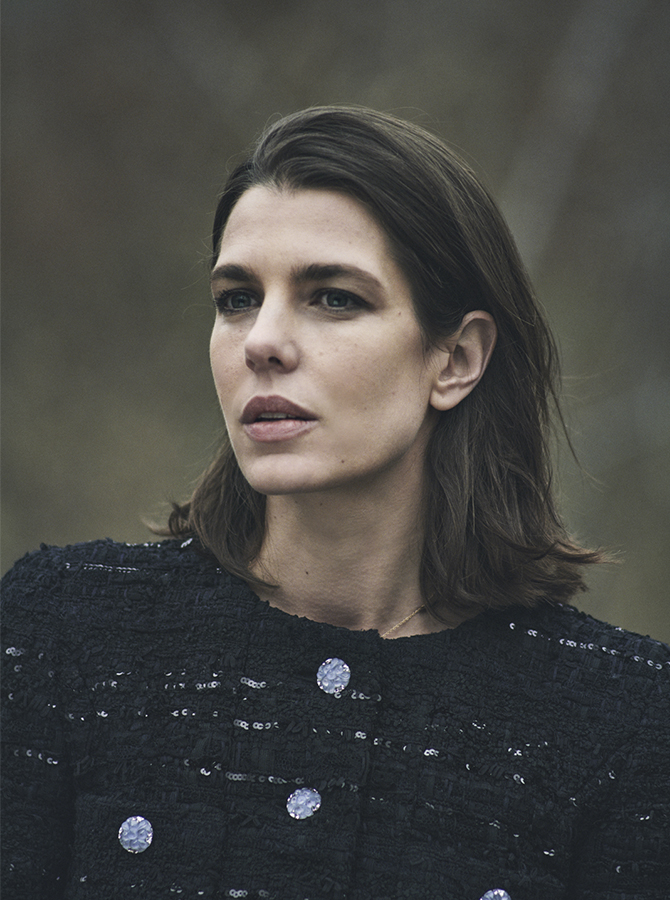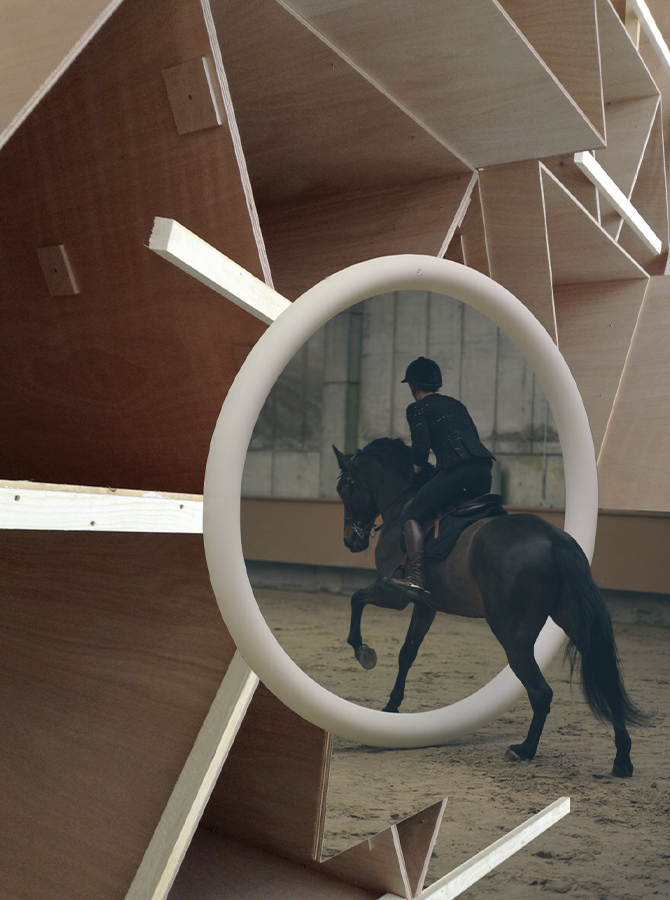 The show:
Inside the Grand Palais Éphémère, a horse opened the Chanel Spring/Summer 2022 Haute Couture show. More precisely, Charlotte Casiraghi––house ambassador, muse to the late Karl Lagerfeld, and granddaughter of Grace Kelly––opened the presentation on horseback at a surreal show jumping set filled with supersized objects. A nod to the aesthetics of Universal Exhibitions of the late 1800s, the décor was designed by artist Xavier Veilhan, whose references to constructivism reminded Virginie Viard of those of her predecessor. "I like this similarity of spirit between us, now and across time. In addition to creating the show décor with its references to the avant-gardes of the 1920s and 1930s, Xavier wanted to work with Charlotte Casiraghi. His artistic universe is full of horses and Charlotte is a skilled rider," she added.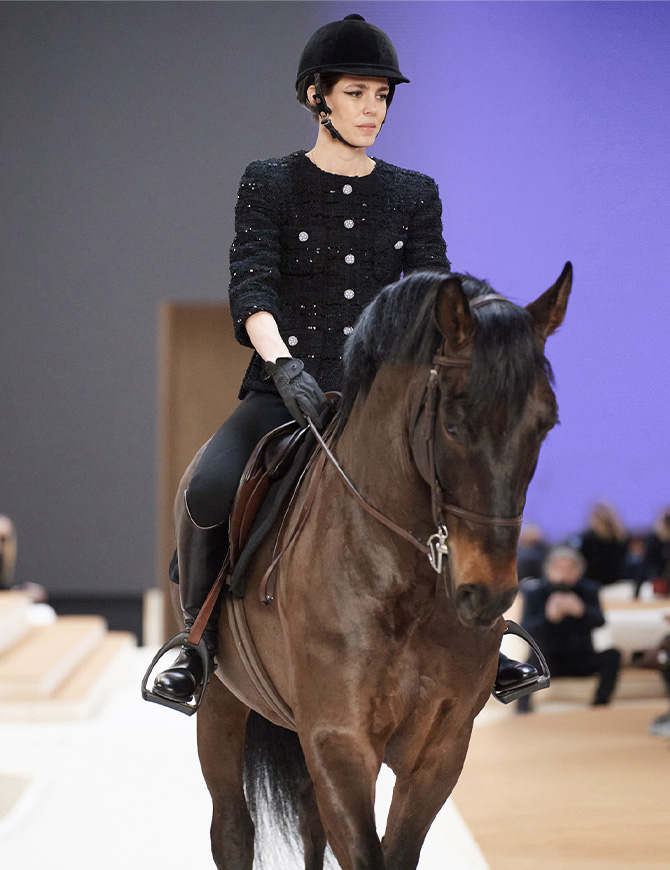 Working within this space, filled with its geometric shapes and the graphic sculptural work of Veilhan, made Viard feel free. Feather light and full of freshness, such was a collection punctuated by the laidback-luxe appeal that's come to define the current era of Chanel, as impeccably tailored twin sets and ethereal day dresses floated down the runway as if suspended. It was high octane glamour via an impossibly cool air of nonchalance presented across a palette of blacks, blues and whites, where drop-waist silhouettes (a tried-and-true staple of house ambassador Lily Rose-Depp), tapered wide legs and spaghetti-strapped silk dresses reigned the runway.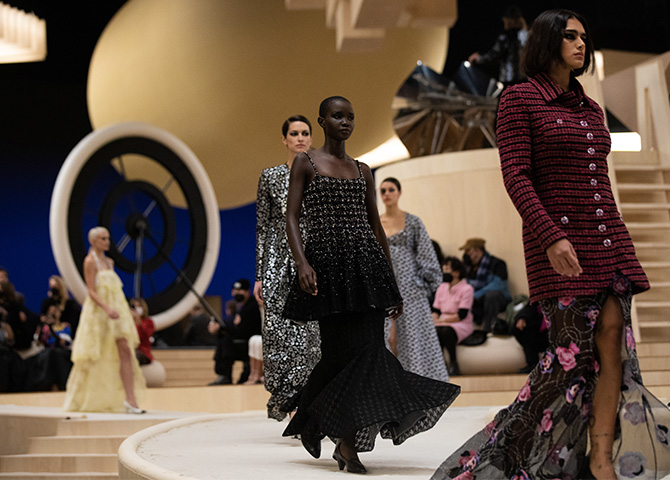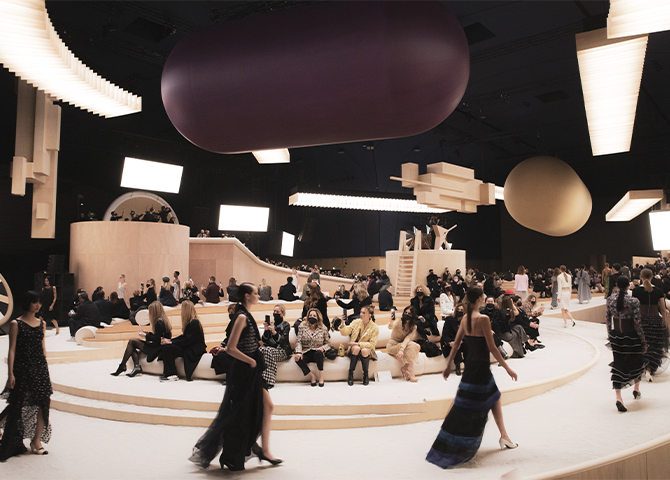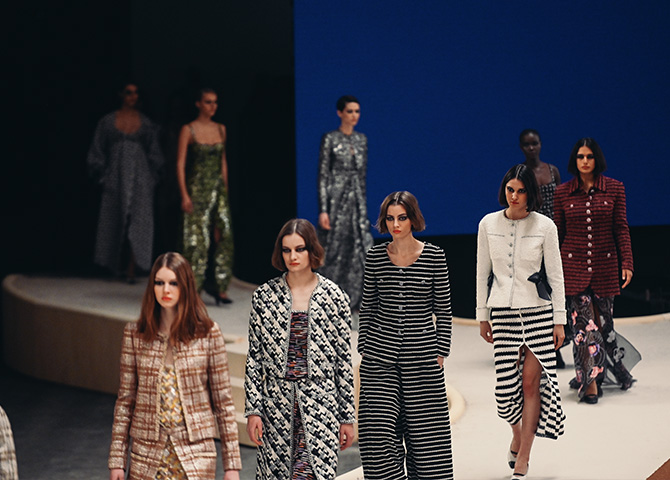 With the help of the house's artisan partners, Viard had also explored embroidery via the construction of dresses to create a lineup of geometric eveningwear. Whether in the form of constructivist camellias or minimalist beading on braided straps, the embellishments were quintessentially Chanel and shone bright across cape-collared gowns, a sheer bustier that descended into a panel-tiered skirt, and a bubble-skirted gown adorned in mixed materials that manifested as a Cubist work of art. Elsewhere, there was a flapper fringe in silk tendrils decorated with crystal beads, tiny sparkling gilets and iridescent tweeds on the new Chanel summer suit, featuring a side-slit skirt that revealed a lace dress underneath.
Closing off the show in couture tradition was an elegantly uncomplicated bridal look, made up of a tulle-layered silk dress with subtle glittering adornments, and paired with a white flower crown and long bows at the ears. The takeaway for the current direction of couture? Less is more, affirms Chanel. 
See every look from the collection here. 
Valentino
When: Wednesday, January 26 at 8pm Malaysian time 
Following last season in Venice with the 'Valentino Des Ateliers' collection, Valentino will return to Paris for the first time since beginning of the pandemic to stage its physical couture show, 'Valentino Anatomy of Couture'. The brand is scheduled to unveil its spring collection at its headquarters on Place Vendôme. Catch the show live here and check back for post-show highlights. 
The show: 
This season, Pierpaolo Piccioli set out to get down to the anatomy of haute couture, challenging its rules and constructs that have long dictated the canons of beauty to explore what can be achieved at that very degree of craftsmanship––especially, across a range of bodies. Unveiled at the Valentino's Place Vendôme salon, the collection represented "a composite harmony of physical types, and the garments that dress them" with the body as the starting and ending point of the whole process. As such, the designer worked with not one but 10 house models beyond just a sample size, an age and gender to create dresses that fitted perfectly to the body.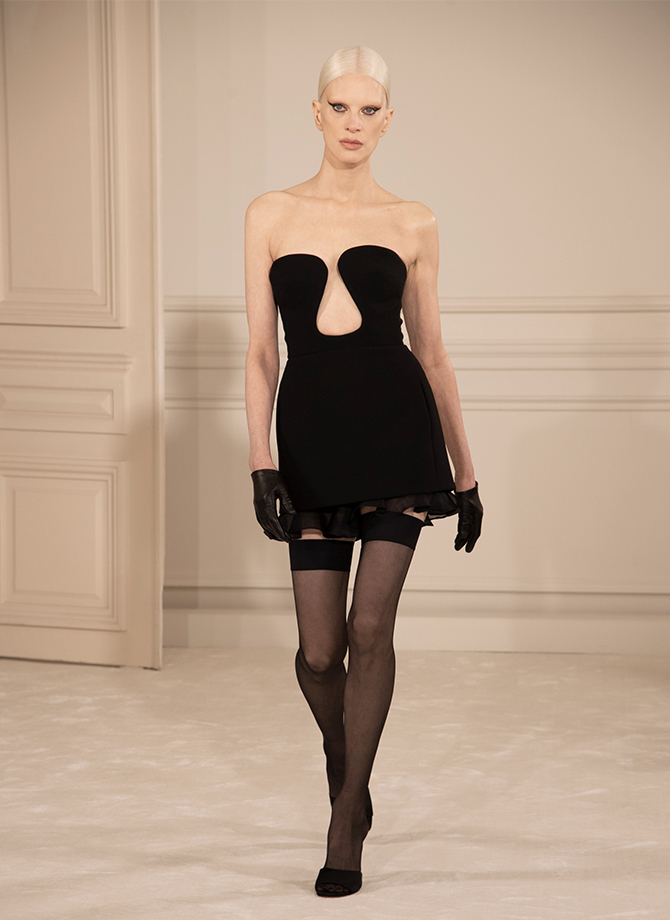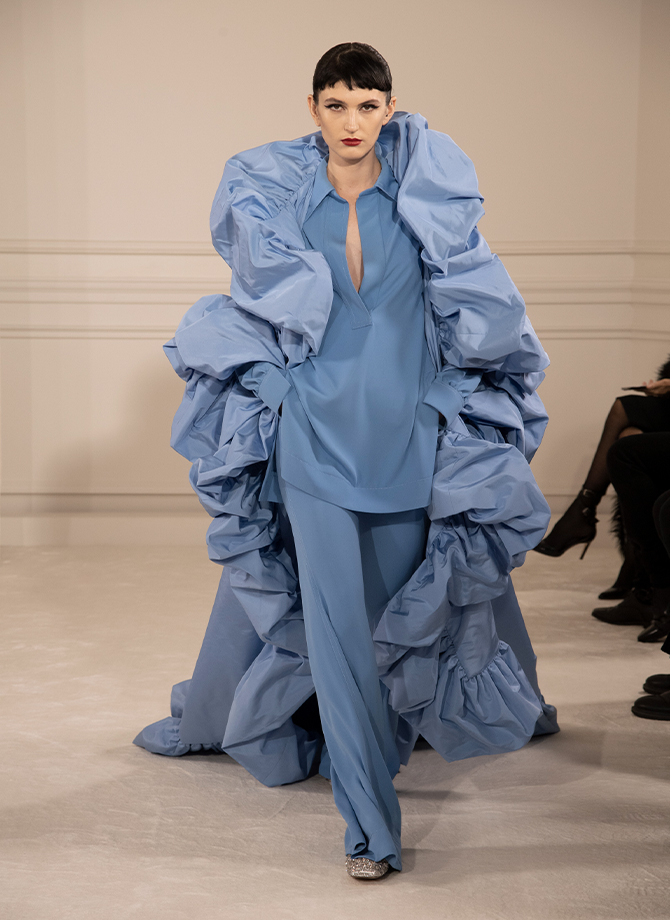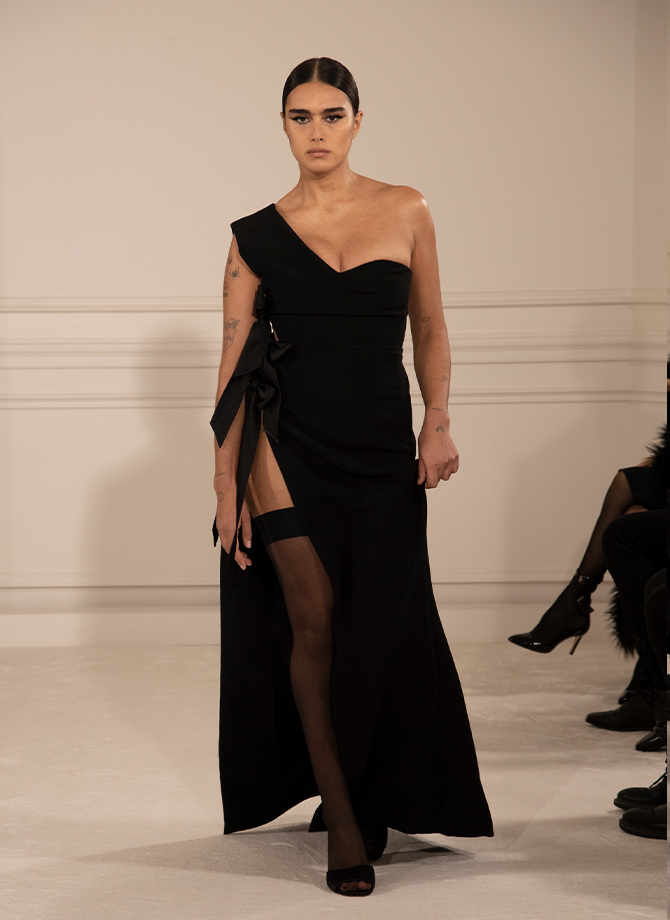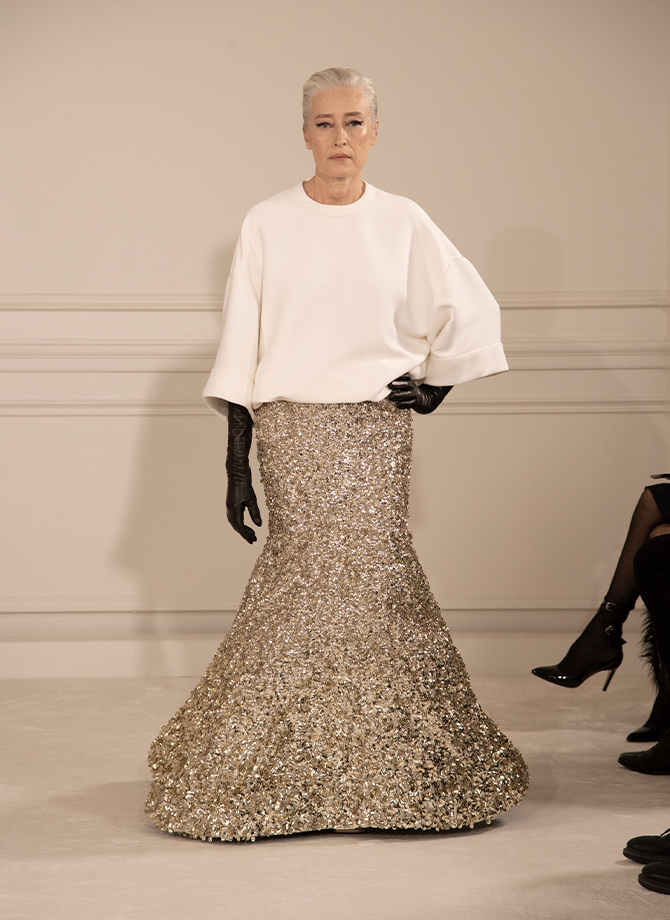 With a soundtrack specially recorded by Anohni, the show began with cult runway star Kristen McMenamy, who descended the space's spiralling staircase in a slinky LBD with a moulded sweetheart neckline, semi-transparent stockings and leather gloves fitted to the wrist. She's been a favourite of the house since SS19, when she returned to the catwalk for the first time in eight years. 
The show continued with a casting of different ages and body types, breaking the skinny stigma of the couture heritage to feature curvier models, which made sense due to the fact that the whole category of clothing is made to measure. Garments took form across a spectrum of designs: unembellished and draped to sheer ruching perfection across the torso (a couture take on the stretchy body con); trousers slouched in a considered, yet cooly nonchalant manner; extravagant floral motifs that adorn a coat in crystals and pearls, while decorating a green minidress with side cut-outs and a sheer menswear ensemble in silver vines of tiny blooms. Suits were sculpted to fitted elegance but loose enough to convey a laidback ease, and styled in a variety of ways for every occasion. Across it all, proportions were balanced and considered around the body to help the clothes adapt to its wearer, rather than the other way around.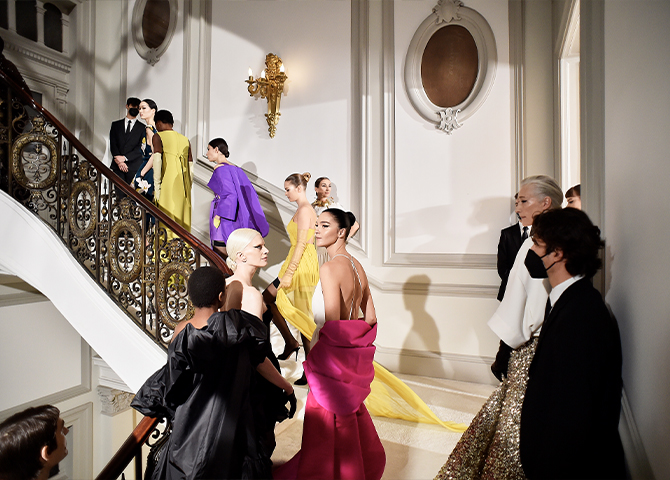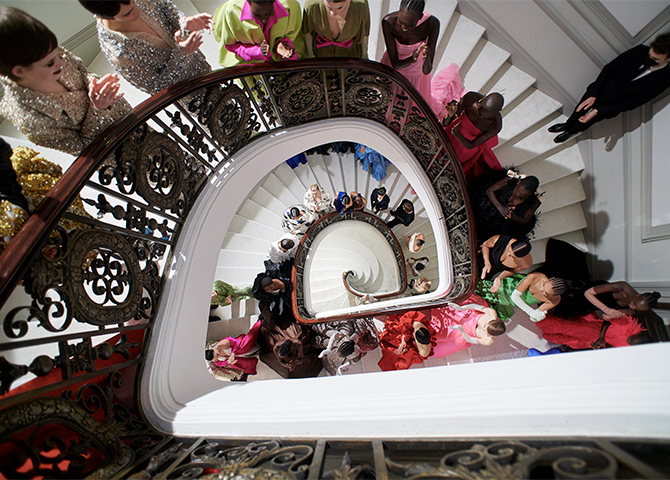 The finale lineup succeeded into a series of eveningwear looks, voluminous gowns in pops of bold brights that were designed to simple elegance, alongside dresses that exploded in hot pink feathers that wafted upwards and a striking red-hot ensemble featuring a bandeau, loose trousers that bunched at the bottom and a matching floor-grazing shawl with great big bows around the elbows and arms. The only canon of beauty here tonight was humanity, in all its different forms with the freedom to be yourself. 
Elie Saab 
When: Wednesday, January 26 at 8pm Malaysian time
The show:
Elie Saab made a joyous return to the physical runway for the first time in two years with a vibrant Spring/Summer 2022 show inspired by the Mediterranean. Titled 'Eden on Earth', the show bloomed with satin, taffeta, tulle and sun-kissed organza bougainvillea via a technicolour dream of voluminous, floor-grazing silhouettes. The pioneering Lebanese designer's comeback came with the opulence and optimism that he knew best, moving forward with resilient and hope from the past years that had been affected by the pandemic and the Beirut port blast. "I felt my clients are looking for release, they want things that are flashy, with colours, lively things––I see that this period has affected a lot of people," the designer said in an interview with Reuters. 
As such, on the runways in Paris, the collection offered an escapist fantasy to dream. Each gown was a world of its own, pulsating with remnants of the natural landscape in the Mediterranean: shimmery sequins and crystals embellish the tulle of night like stars that guide towards plunging necklines and mermaid tails, while large off-the-shoulder rose petals and peony bouquets accentuated organic feminine curves. Celestial blues and ocean green reflect the sun-tinted ocean horizon across a couple of resplendent dresses while micro minis mushroomed at the back with billowing trains of organza, and styled with inbuilt gloves decorated in a sparkling sea of crystals. These were red carpet-ready looks bursting in colour and craft. As the finale drew near, an outlandishly glamorous veiled bridal look closed the show, enraptured in shimmering feathers that billowed outwards into vast layers of organza and tulle. Elie Saab is back, and delivering tons of high-octane, ultra-feminine drama at that. 
See every look from the collection here. 
Fendi 
When: Thursday, January 27 at 9.30pm Malaysia time 
Following last season's ethereal debut in "Rome", Kim Jones will unveil his second couture collection for Fendi at the Palais Brongniart, a landmark and essential monument of Parisian heritage that housed the historical Paris stock exchange for nearly two centuries. Catch the show live at fendi.com and check back for post-show highlights. 
The show: 
For Spring/Summer 2022, Kim Jones brought Rome to Paris, with his first physical presentation for Fendi Couture in Palais Brongniart. Like previous collections, the British designer continued his exploration of the eternal city––this time going slightly sci-fi, with a light display of the brand's Roman headquarters suspended in the air as smoke wafted all around. On the galactic runway, models descended like an army of empresses––their hair slicked back and faces glittering with crystals, sporting the otherworldly collection that celebrated the power of womanhood central to Jones' vision for Fendi.
"When you walk down the street in Rome, you are constantly moving back and forth in time," shared Jones in house notes. "Where we work feels very modern, but you pass monuments on the way there. There's a total timelessness to the city: a historic vein which runs through it, but also a movement that is projecting forwards."
Rome's temporality, both ancient past and imaginary future, is the starting point, where it's historic codes and statuesque marbles are mixed in with futuristic imagery and applied to Jones' evening wear of column dresses and structured outerwear. Fluid fabrics draped across shimmering bodies, while renditions of statues were hand-painted on shifting velvet dresses and short knee-length dresses were paired with long flowing capes. Elsewhere, distorted photographs were printed on silk and organza, then drawn out with traditional beading and mother of pearl––luminous under the light.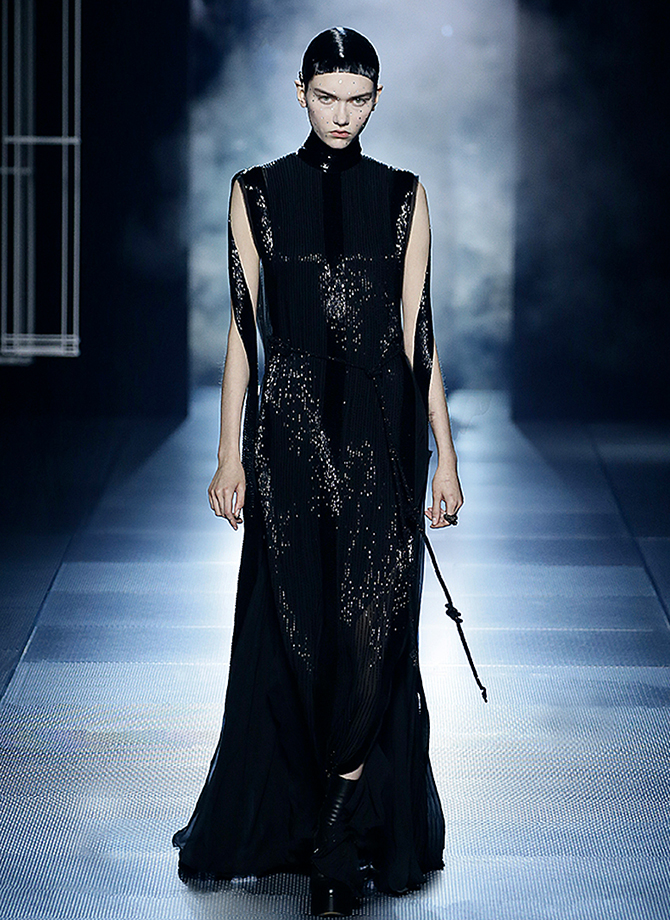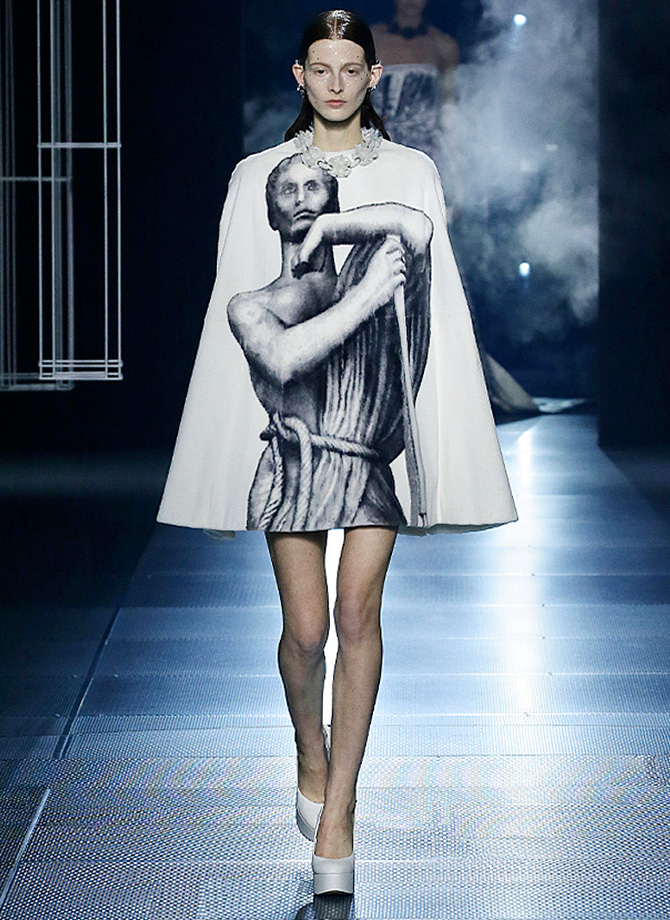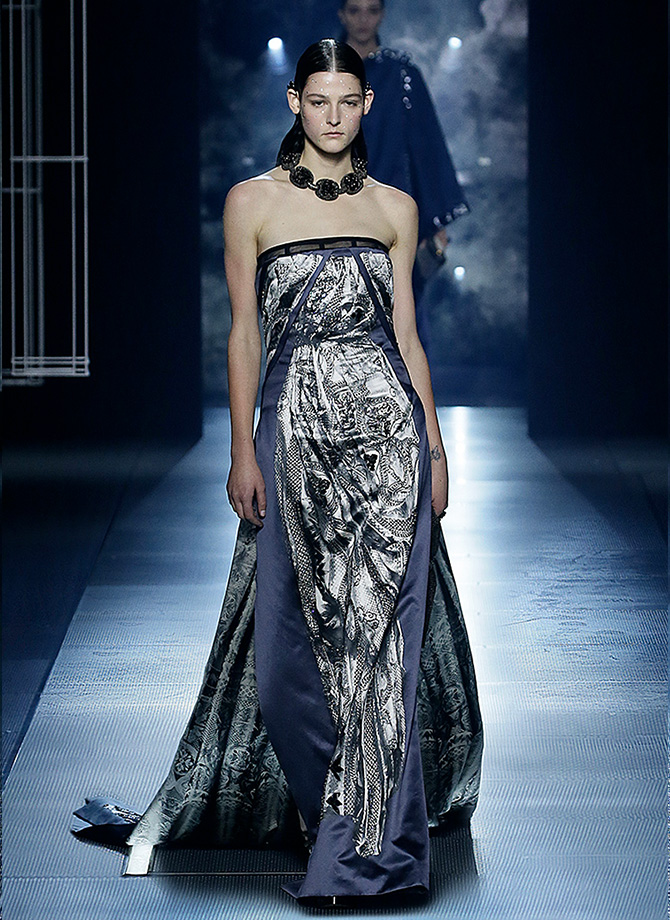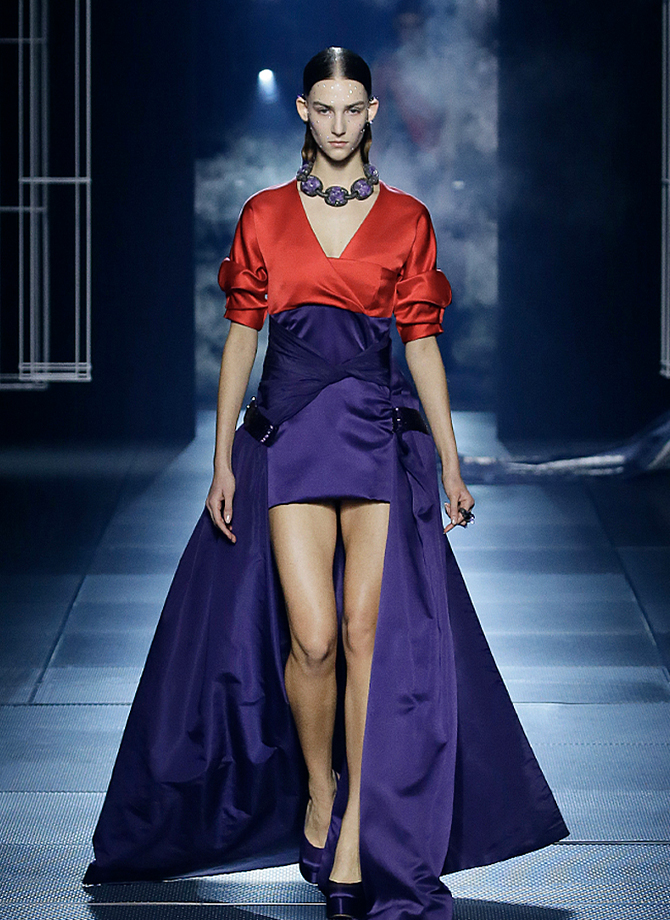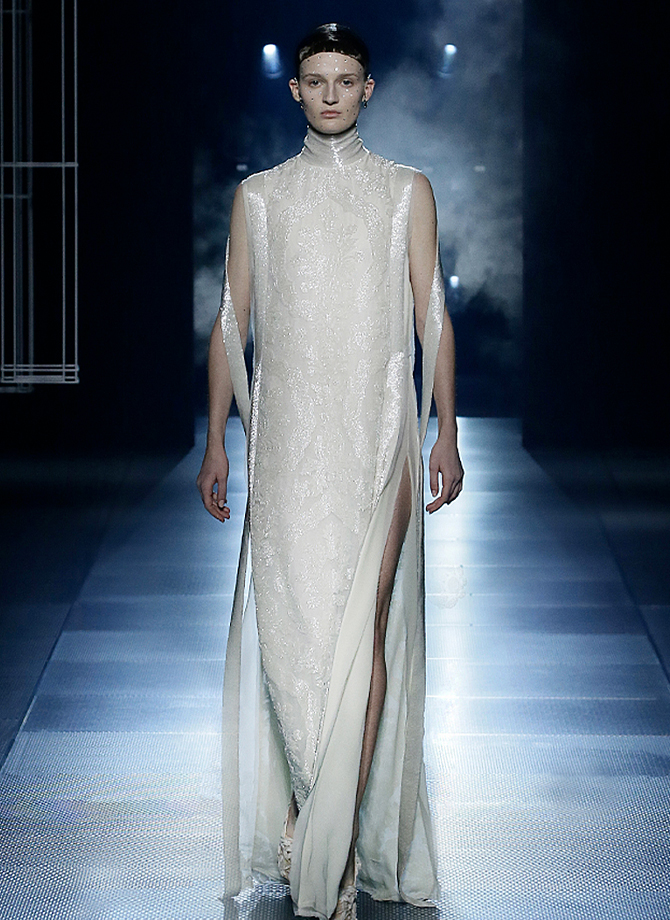 The palette was very much monotone, with touches of scarlet and regal purple here and there. Aglow from the surrounding lights, these were looks charged with a transcendent energy as Jones sought to tap into the spiritual side of the Italian capital. "Rome has a certain spirituality as a city," he noted. Not necessarily just something religious, but something present in the layers of its history."
See the full collection here. 
Read more stories on haute couture here.