Presenting the newest Bottega Veneta campaign imagery and short film "Mixed Messages"
The Art of Collaboration was the brainchild of Bottega Veneta's Creative Director Tomas Maier in 2001. Since, this ongoing project has seen world-renowned artists—such as Nobuyoshi Araki, Nan Goldin, Philip-Lorca diCorcia, Pieter Hugo, Ryan McGinley and Robert Longo—lend their artistic vision to the brand's campaign. This season, we're in for a reprise of springtime's collaboration with photographer Todd Hido. Commenting on Hido, Maier says, "Todd is known for his moody interior shots, but his personal imagery is unlike any other. His use of light creates both a connection with, and a distance from his subjects. At the same time, both campaigns that he has shot are about embracing women and men of every age, and celebrating their style."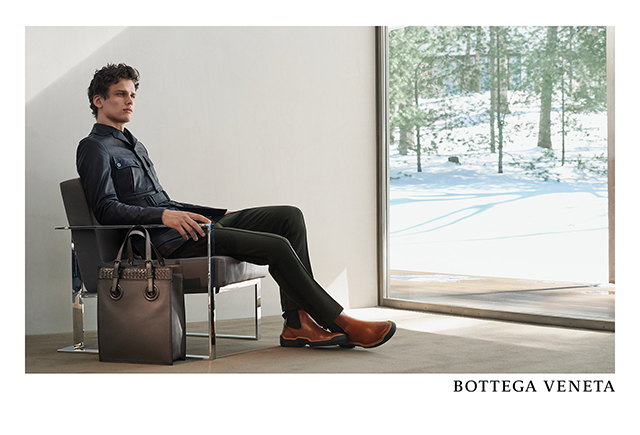 With a blanket of snow draped against the glass-enclosed rooms and corridors of the famed Lee House 2 in Connecticut and the threads of Fall/Winter 2017 draped upon their figures, Eva Herzigova, Mariacarla Boscono, Grace Chen and Simon Nessman star in this season's Art of Collaboration, captured through the lens of Todd Hido. "That white background really brought out the colours of the clothing in a way that I had not seen before. It reminded me of how a cardinal looks so vibrant in the snow," says the photographer.
In line with the campaign, the brand is launching a new platform of episodic content: The Art of Collaboration Film. Watch how Mr. Maier evolves the campaign's concept into moving image below. As for the connections between those who star and the ending of the film, Maier offers this: "It's always better to walk away guessing."
Related stories:
Bottega Veneta's Spring 2017 campaign is a fashion-loving modernist's dream
These shades reflect 50 years of Bottega Veneta and 15 years of Tomas Maier
Bottega Veneta partners with The Shanghai Centre of Photography