Gwen Ong, Deputy Editor: Oliver Spencer, Look 1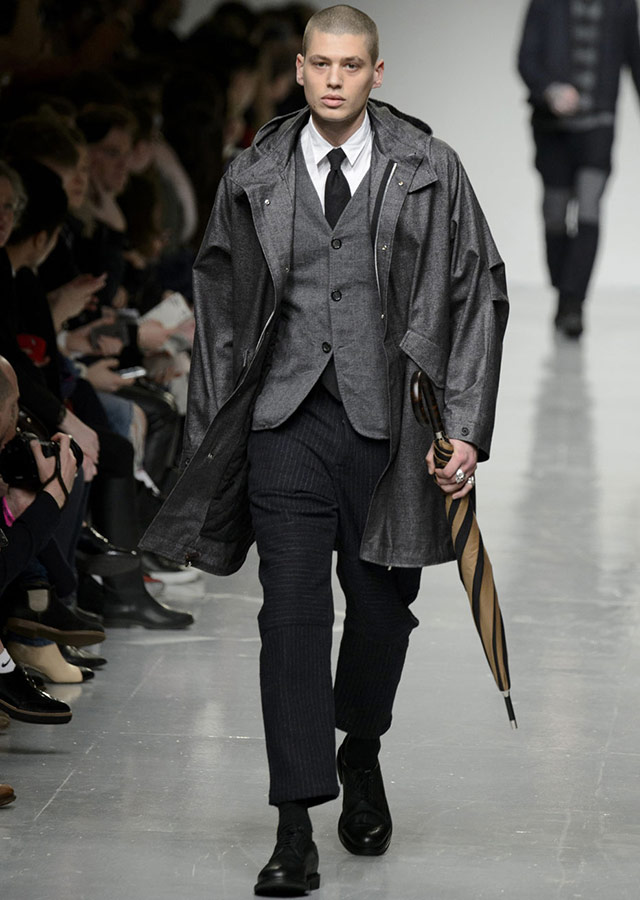 I'm a traditionalist. I like vintage style; my mantra is that you can never go wrong with a classic cut. Hence, I like the look of a dapper gentleman. The sight of a man in a clean, crisp shirt paired with a well-tailored suit—delightful! Chivalry, is that you? Oliver Spencer's look #1 ticks all the right boxes of the perfect bloke. And if he is as understanding as I hope he'll be, he won't mind me stealing the chunky grey parka—it looks perfect to shield me from the cold autumn! I'll take that brolly too, thanks!
Jasmine Leong, Senior Fashion Writer: Topman, Look 40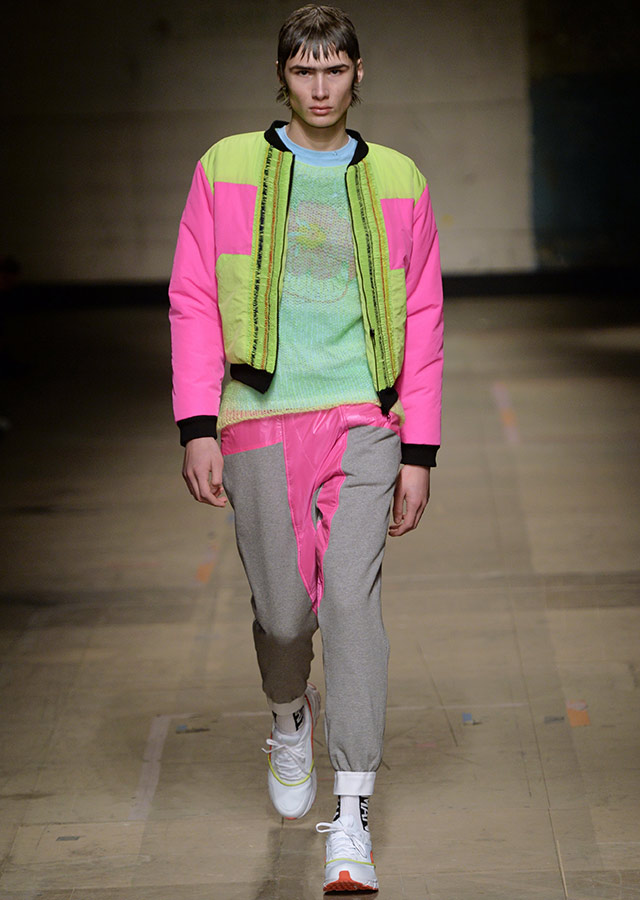 There is just something very exuberant and eccentric about the '90s, which makes me a huge fan of the era. With so many throwback trends making a comeback in the past few seasons, they definitely got me feeling nostalgic—although it is time that I retire some of them (read: the choker). However, when Topman opened LFW Men's 2017, it felt like the yesteryears never left: from the slouchy silhouettes to the hand-drawn graphics and neon hues. Look 40 particularly stood out to me, mainly due to the head-turning bomber jacket. The colourblock patchwork with pops of shocking pink and fluorescent yellow on the outerwear feels so wrong yet so right, which precisely explains my sentiments about the '90s. The jacket is sure to make me stand out in a crowd even when paired with the simplest ensemble, or perhaps come in handy for a Fresh Prince of Bel Air Halloween costume. Either way, still #winning.
Loh Wei Yeen, Fashion & Beauty Writer: Craig Green, Look 3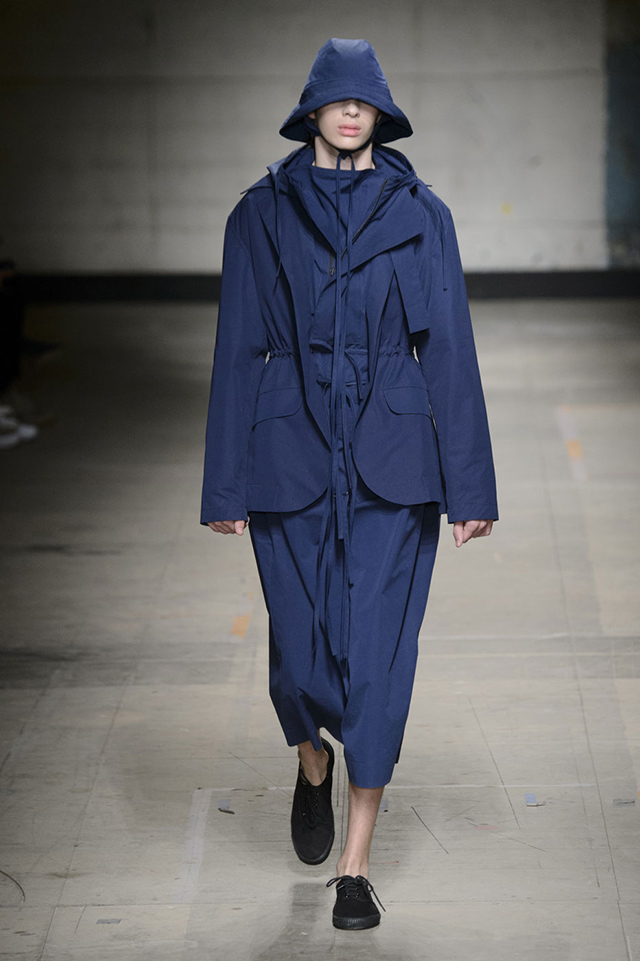 It's not difficult to see that Craig Green was very much inspired with the sea this Fall 2017. His references to sailormen's uniforms were abundant, from drawstring smocked jackets to wide-legged pants. But instead of alluding to the beauty of the ocean, Green drew on the fear and uncertainty that the vast waters present—this collection showed off his prowess for combining military-like, utilitarian silhouettes and said influences with ease. If I had to get soaked in the rain (because getting swept away in the ocean is too wretched of an idea to think about) and needed to look stylish, this is likely my go-to ensemble—yes, including the downturned hat tied under the chin for good measure.
Rachel Au, Lifestyle Writer: Christopher Shannon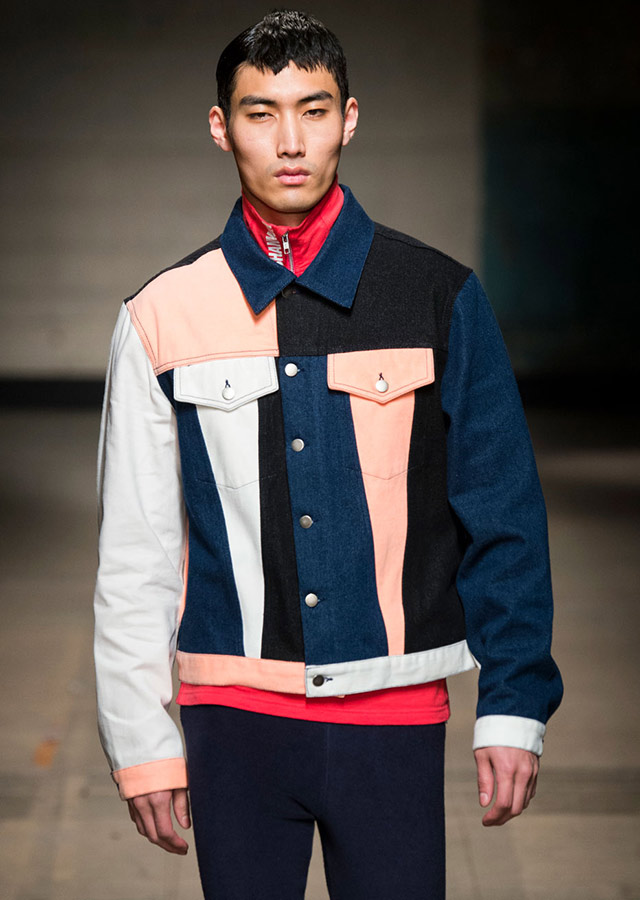 Sometimes I feel it's harder to pick just one favourite from a menswear collection as compared to a womenswear. Unfortunately, a lot of the ones I liked from LFW AW17 are also the usual and basic black leather jackets, neutral-toned trench coats and denim pieces. A more eye-catching piece on my wishlist however comes from Christopher Shannon's collection—this jacket with its multicoloured panels. The clothes are seemingly inspired by the post-chaos revolved around recent political affairs (read: Brexit) but I'm inspired by how it'll go well with all the dark coloured pieces in my wardrobe. But wait, would that be breaking my 2017 style resolution?
Tan Su Fen, Writer: Miharayasuhiro, Look 18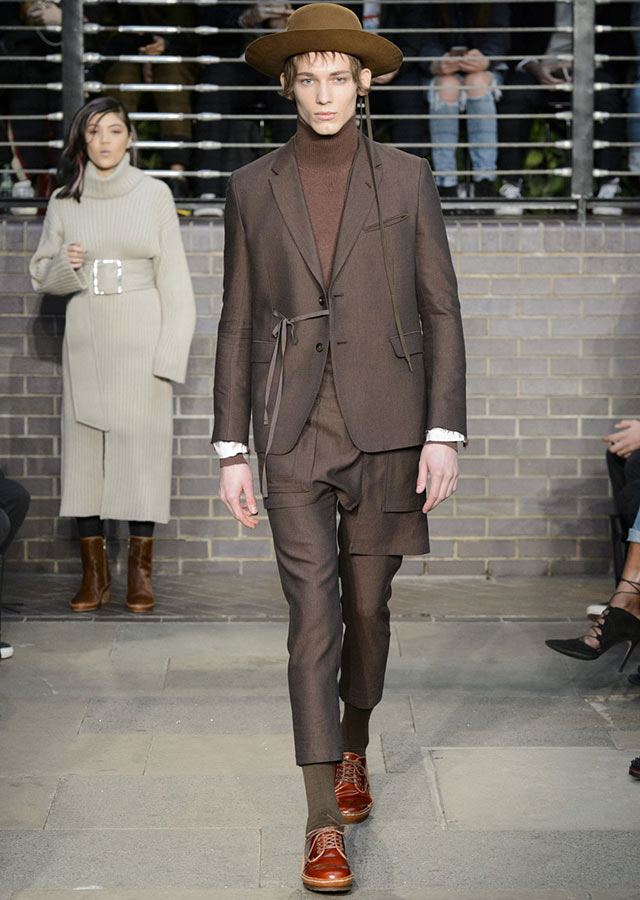 "Simple [is often seen] as basic, but I think simple is strong, impactful," said Mihara Yasuhiro backstage after the show. Thus, this season he showcased a pared down collection, featuring wardrobe staples with subtle, unexpected details. There were some gorgeous rust hues in the lineup, but somehow I find myself gravitated to this finely tailored suit in brown—a colour I wouldn't usually opt for, yet Yasuhiro's tonal styling made it work. I like how the unexpected came in the little things that don't immediately catch the eye, like the thin bow that softened the sharp, tailored look ever so slightly, and the frayed hem on the cuffs.
Alyssa Lee, Editorial Assistant: J.W. Anderson, Look 3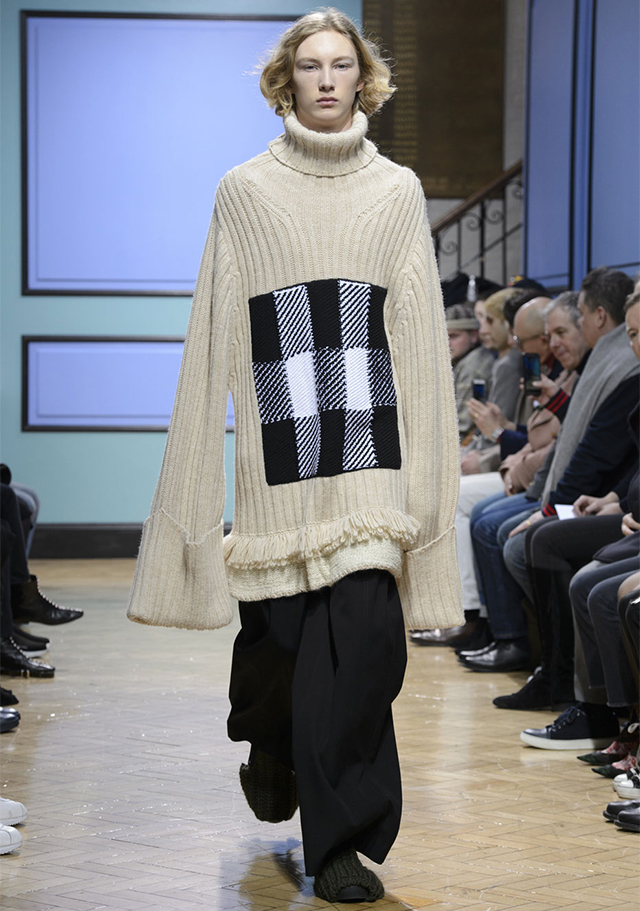 In a collection inspired by knights and medieval jousts, it's a cosy cream jumper of thick woolen knit—the antithesis of fearsome metallic armour—that has piqued my fancy. I wouldn't go as far as to draw parallels between the Dark Ages and the venerable matriarch of my family, but with the thick knitted ribbing, patch of nostalgic gingham, oversized fit and 'don't-you-catch-a-cold' rolled collar, I can't help but bring dear old granny to mind. Unfashionable desire for cosiness and comfort aside, the jumper is still undeniably in vogue; trailing sleeves are huge and granny chic, anyone?
Related links:
#WednesdayWishlist: Unique furniture picks for every dream home
| | |
| --- | --- |
| SHARE THE STORY | |
| Explore More | |