Fashion
Raya 2023: 7 'Baju Melayu' collections to shop for a fashionable Eid
Comfort meets elegance
Featured images: @khatamkl and @putih.rtw on Instagram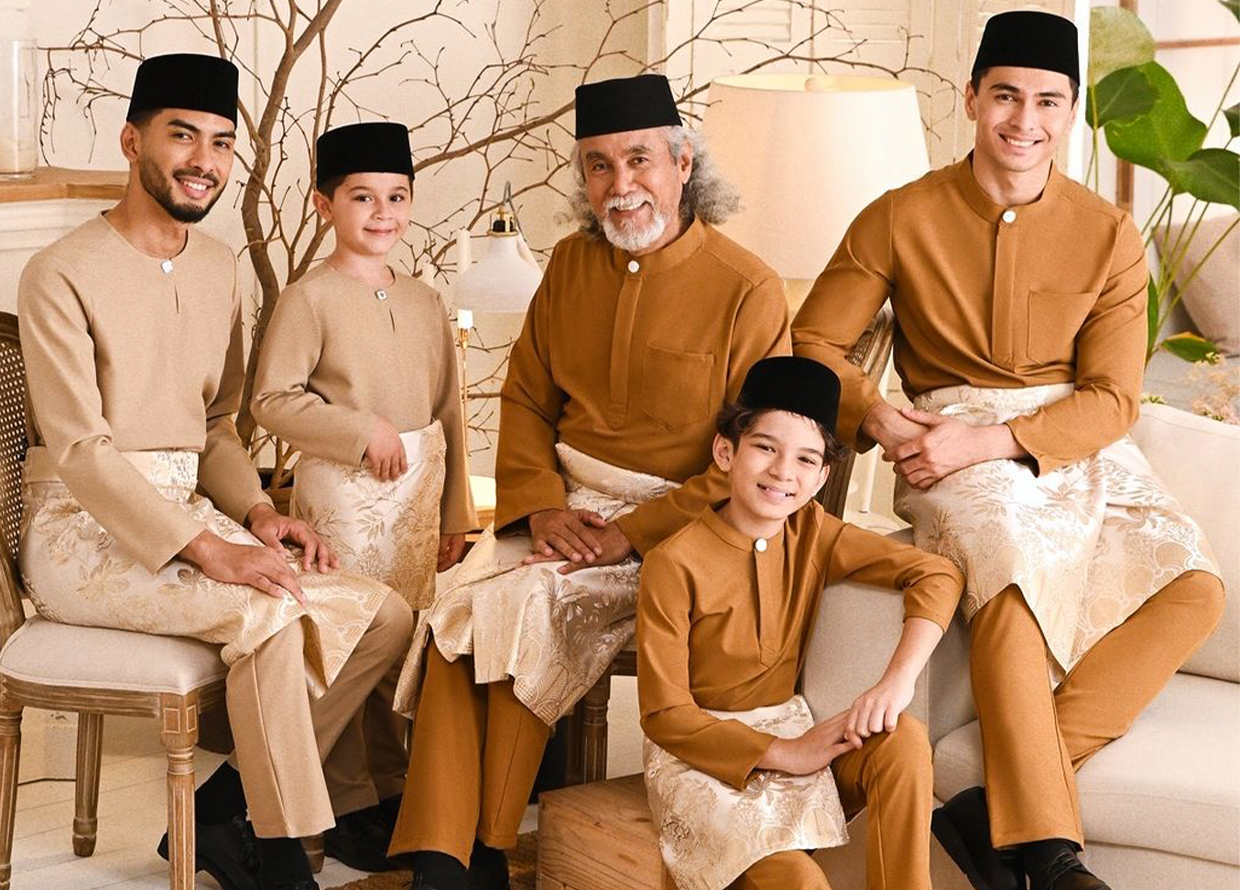 Gentlemen, if you think we've forgotten you, we promise we haven't! While there are plenty of made-to-measure and ready-to-wear pieces for women, as well as several alternatives for those who favour laid-back style, several homegrown fashion labels have also released their offerings for guys. From Jovian to Behati, here are seven baju Melayu collections that will have you looking dapper on the first day of Eid and throughout the month of Syawal.
Jovian
View this post on Instagram
'Jovian Men' is the first thing that comes to mind when comfort and style are on top of the list. Made of cotton and rayon, the kurta comes in nine different styles and each with a Mandarin collar, front button closure and silver J emblem. While the relaxed finish makes the garment seem airy and light, the loose fit and the long sleeves add to the comfort factor. Also offered is the trendy baju Melayu in a soft colour with a pleated cekak musang collar and regular fit cutting.
Shop the collection here. 
Putih
View this post on Instagram
If you have not heard, Putih is the latest entry into the local fashion scene, centred on ethnic clothing, most notably with baju Melayu. Four collections are launched this year, and while the designs may be identical, the materials used—ranging from rayon and twill to hybrid cotton—make each collection unique. For instance, the classic Teluk Belanga design is made of rayon, which makes it suitable for the tropical climate. Not to be missed is the traditional Nehru collar style, which has hidden buttons up and is available in children's and infant sizes so you can match with the young ones. 
Shop the collection here. 
Khatam
View this post on Instagram
Khatam always brings their A-game when it comes to festive seasons like Raya, offering contemporary garments with a traditional twist. The 'Patawali' series elevates the baju Melayu with a high neckline, long sleeves, and multiple front pockets. If you only want the tops, you can choose between the Lajor, which is inspired by pelikats motifs, and the softly textured Nadir, which comes in six different colours. Other than that, Khatam also offers a ready-to-wear checkered sampin line that will instantly complete your look.
Shop the collection here. 
Umma
View this post on Instagram
To celebrate the culture that unites the community, Umma launched 'Ka.cu/kan' which puts comfort into timeless pieces. There are six designs for men this time, with two colours for each style and sizes ranging from S to XXL. Kurtas are reimagined across the collection with the button-up style on the kurta Ladoo, modernised chequered print on the kurta Puri, and loose collarless shirt on the kurta Masala to provide comfort to its wearer. For a boxy and oversized cutting, kurta Wajik and Yee Sang, which are perfected with pockets and the traditional collar style are the way to go. 
Shop the collection here. 
Inhanna
View this post on Instagram
This year, Inhanna presents not one, but three different collections. 'The Opulent' features baju Melayu with a cekak musang that is easy to iron and suitable for wearing all day thanks to its crinkle-textured fabric. Another collection titled 'Old is New' highlights the baju Melayu Teluk Belanga, which uses cotton and polyester fabrics as well as wood buttons to give it a more exclusive feel. There are seven colours to choose from, and sizing will not be an issue because sizes range from XS to XXL.
Shop the collection here. 
Truna & Propaganda
View this post on Instagram
Batik is always a great choice that you can never go wrong with. If you are looking for one, Truna & Propaganda has some amazing selections that are crafted from durable fabrics and decorated with intricate Batik artwork. As with any other design, the famous Teluk Belanga collar and the slim fitting will undoubtedly make you appear dashing for the celebration while keeping you cosy throughout the day.
Shop the collection here. 
Behati
View this post on Instagram
The vivid 'Pelangi' is a must-have for those searching for something out-of-the-box this Raya. Aside from the use of plaids and floral prints on classic silhouettes, the adoption of multiracial techniques throughout the assortment takes the spotlight. Among the key pieces are the traditional Chinese Pankou on Teluk Belanga, the Indian brocade on baju Melayu, and the Jubah slit. Additionally, there's the baju Melayu Butang Batu, which features a natural healing stone as a button to attract good energy to the wearer.
Shop the collection here. 
For more fashion reads, click here.
| | |
| --- | --- |
| SHARE THE STORY | |
| Explore More | |