On Day 5, Joseph Altuzarra returns to his homeland, Acne Studios returns to the '70s and Haider Ackermann returns to his glory days
Altuzarra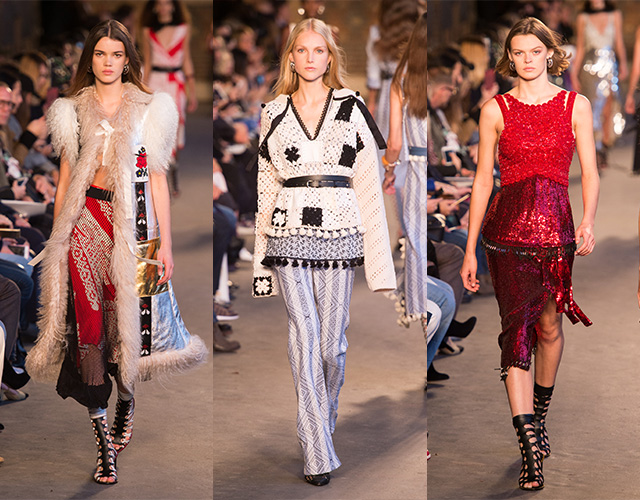 One person stands out amongst Paris Fashion Week's newcomers who originally held slots on New York's schedule. That man is French native, Joseph Altuzarra; whose homecoming follows almost a decade of showing in the Big Apple. And despite his usual lineup that oozes French flair, his intention was not to amp his heritage up during his Parisian debut."I didn't want to suddenly do a super French show inspired by France," he said. Instead, an homage was paid through meaningful notions pulled from his childhood—countryside recollections informed patchwork on flirty dresses hemmed with fringe and beads, crocheted numbers were lined with tassels, and sequinned evening wear had a homespun chic vibe a la granny's table runners. The handcrafted thread was carried through with references to Princess Mononoke and Charle Freger's "Wilder Mann" photographs. Fur trim, wiry and unkempt; cords, trailing and aloof; mesh, sparse and coarse; the collection was rough, but rough with premeditated finesse.
Acne Studios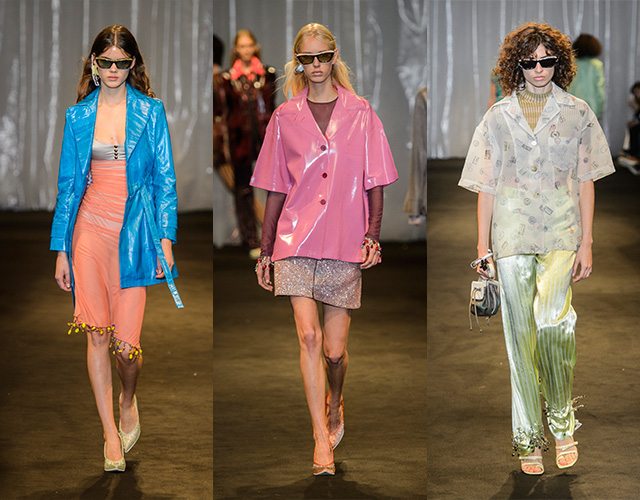 Outliers with a healthy disregard for trends. Bemused by rebellion and apathy, Jonny Johansson, the brand's creative director said, "I've always felt that I've been a bit apart from the system, and really the collection was about exploring that idea." A four word summary he offered on Acne Studios Spring 2018? "Thrift shop on acid." And by the looks of the splashy pantsuits featuring lurid shades of green, camp collared Hawaiian shirts wide enough to swallow an island, and the abundance of faux shine the ensembles put forth, this "trip" to the secondhand store took place in 'The Disco Era'. Distasteful as it sounds, it is this satire of fashion that the insiders cannot get enough of. Look out for our street style report come SS19 because that pink patent short sleeved overshirt from look 29 is officially dreadful turned darling.
Haider Ackermann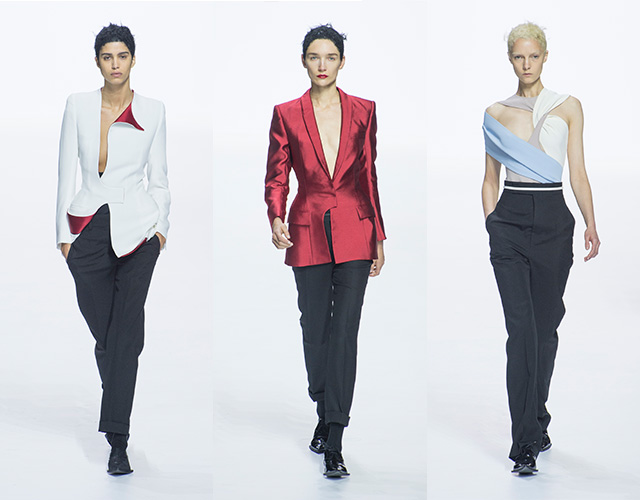 You may be missing the showmanship that has become synonymous with the runways by this designer but this season's dramatics have been ripped off the stage and sown right into the garments. It seems that Ackermann's well-recognised craft of women's tailoring has perhaps gone through a revival and sharpening on the pumice which is his appointment at Berluti, LVMH's sole menswear brand. "Linear and graphic... [and] this sensuality to make it less razor-cut, because life is like a razor cut," was claimed of his lineup. Less razor cut it may be but the insanely sleek suits with the tabs, structure and cut-lines that trace a woman's curves like no other, along with the knotted bodices tucked into perfectly flowy, leg-skimming trousers say that this man's tailoring prowess remains sharp as hell.
Related stories:
Paris Fashion Week SS18: Highlights of Day 4
Paris Fashion Week SS18: Highlights of Day 3
Paris Fashion Week SS18: Highlights of Day 2