Paris Fashion Week bows out with a blastoff at Chanel, and a futuristic showcase by Karl Lagerfeld. Elsewhere, fur-glam takes centre-stage at Miu Miu, and the Louis Vuitton woman struts with confidence in the breathtaking venue that is the Louvre:
Chanel's rocket launch at the Grand Palais certainly created a lot of buzz in Paris this morning. Karl Lagerfeld always manages to capture the zeitgeist, but how could he have known about the seven newly-found planets before NASA?
Either way, at Chanel's space age show, there were lots of metallic silver leather, white, black and grey tweed pieces, worn with super-glittery silver knee-high boots. Models had '60s-style bombshell hair, a nod to Barbarella, played by Jane Fonda in 1968. Wide embellished headbands held their hair back in place—an accessory that's bound to sell like hot cakes if and when it lands in stores, alongside those planet-shaped bags. Chanel's Gabrielle bag also took to the runway, worn on both male and female models, including Lagerfeld's godson, eight-year-old Hudson Kroenig, who walked with Lagerfeld at the finale, as the base of the rocket lifted some 10 metres into the air accompanied by sparks and an abundance of dry ice that elicited a collective gasp of wonderment from the crowd. Just as the Space Race was a competitive show of spaceflight capability, Chanel's rocket launch cemented Lagerfeld's creativity at pole position.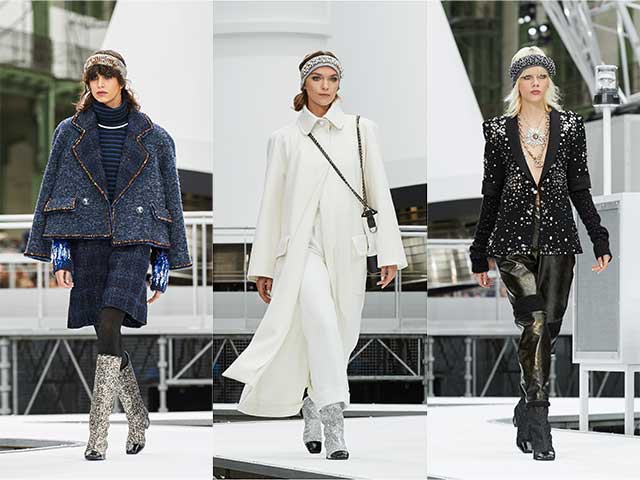 Purple was Miuccia Prada's colour of the season, as seen at the Miu Miu show space that had seats, stairs and pillars covered in purple faux fur. As the clothes emerged, there was no shortage of fur (no surprises there), both real and faux, as well as oversized teddy bear fur coats, worn with large hats and kooky newsboy caps that were also furry, or oversized, or in patent leather. Coats had exaggerated lapels that made it look almost like the models had capelets worn over the shoulder. The brightly coloured collection, which included geometric prints, and a TV print, then softened into soft pastels (mostly pink) for the final few looks. Crystal embellishment is key—whether in rhinestones and diamantes around the neck, dangling from the ears, worn as a glittery headband or on the shoes—fodder to the bright-eyed Miu Miu girls, which at the show included Maisie Williams, Jenna Coleman and Aja Naomi King of How to Get Away with Murder.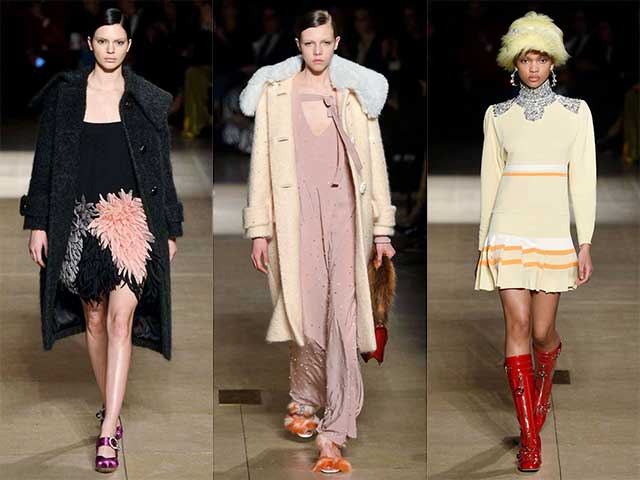 Getting into the Louvre for the Louis Vuitton show was no easy feat. A huge crowd, 3 people deep, had gathered around the barricades surrounding the venue, hoping to catch a glimpse of their favourite celebrities, which at Louis Vuitton, included Michelle Williams, Léa Seydoux, Jennifer Connelly and a pregnant Adèle Exarchopoulos. As the final show at Paris Fashion Week, there could not have been a more iconic location to hold the show than at the Louvre. Seats were lined in between marble statues, on a multi-level runway that included a few flights of stairs for the models to navigate, thankfully in flat boots.
For Louis Vuitton AW17, Nicolas Ghesquière continued to build the wardrobe of his LV woman—introducing shiny bias-cut silk dresses, ultra-luxe multi-pelt fur coats, biker jackets with multi-chain trimmings, and lingerie-inspired leather-and-lace negligées worn with fur capelets for evening. There were also shearling-lined denim jackets, knit sweaters and ankle-length trouser looks—a myriad of different looks for the Louis Vuitton woman with a fluid sense of style. Show notes state that the collection 'aims to do away with frontiers altogether and shift into the evocation of the nomadic, where the city blends with different landscapes'. The show's soundtrack closed with Frank Ocean's Pyramids, a nod to the Louvre, a subconscious reminder that wherever the Louis Vuitton woman may travel to, she'll always have Paris.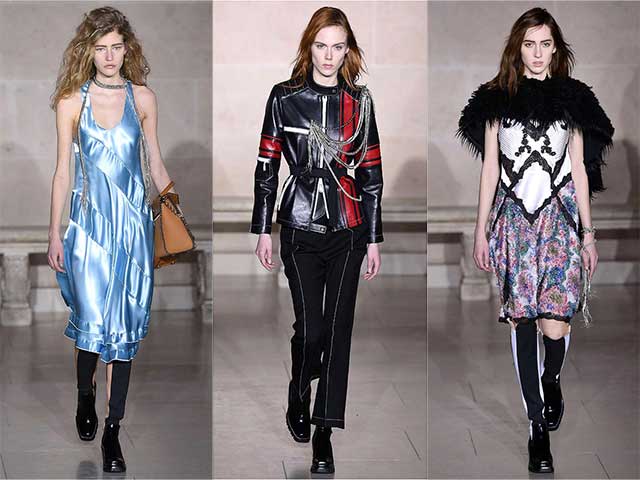 Related stories:
#WednesdayWishlist: Trousers we want to wear from PFW AW17
Paris Fashion Week AW17: Highlights of Day 7
Paris Fashion Week AW17: Highlights of Day 6