Gucci gave a 115-strong lineup for its Cruise 2018 show in Florence, Italy
1. Fun fact: The show was hosted in a location that wasn't creative director Alessandro Michele's first choice. While the Parthenon in Greece was his first pick, he opted for the Palatina Gallery at the Pitti Palace in Florence instead. The palace is also home to the 33-hectare Boboli Gardens—incidentally part of Gucci's cultural project unveiled in April. Models gilded between rope barrier posts within the Uffizi gallery amidst 17th century paintings by Titian, Botticelli and Leonardo da Vinci.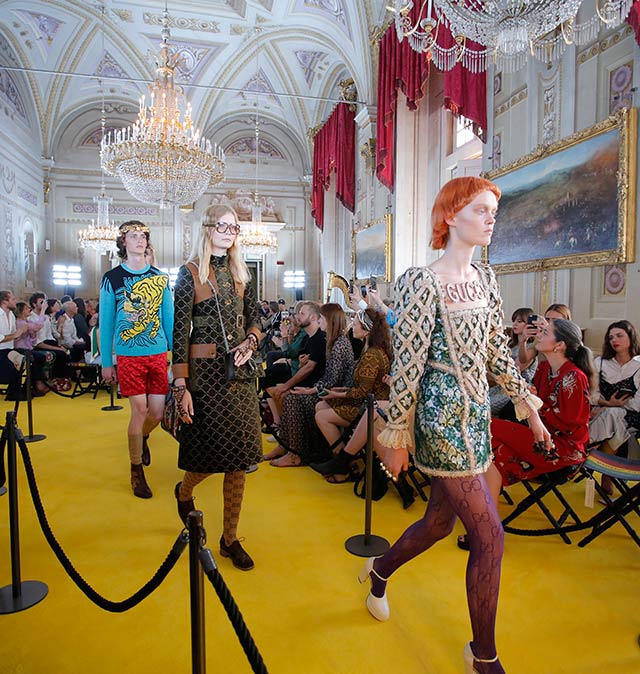 2. Like every other Gucci collection since Michele was appointed at the helm, colours and motifs from every past decade were rife in the lineup, from palazzo paintsuits to 80s-inspired plush jacket. Renaissance references were also evident (given the show's location) by way of caped gowns and copious amounts of rich embroidery and embellishment. Other standout pieces include jackets of all sorts, from reversible bombers to wool silk jackets with mandarin collars, slogan knits and tweed tailored suits.
3. One noteworthy point to mention is the tongue-in-cheek logo adaptation in the form of slogans, prints and embellishments. Sweaters and tees read "Guccy", "Guccify Yourself", and "Guccification"—a nod to the counterfeit market.
4. Michele plays a mean accessory game season after season. This collection's eye-catching standouts include sizeable totes, a palm cuff with multiple star details, and a plethora of headgear including pearl-encrusted helmet-like accessories, leopard-printed turbans, gilded leaf hair crowns and more.
5. Alessandro Michele's staunch supporters and celebrity fans who attended the show include Jared Leto—who brought new meaning to pulling off velvet in sweltering summer heat with his lilac robe, top, and jersey pants in clashing hues; Dakota Johnson, Saoirse Ronan, Kirsten Dunst, and more.
Check out all the looks below:
01
02
03
04
05
06
07
08
09
10
11
12
13
14
15
16
17
18
19
20
21
22
23
24
25
26
27
28
29
30
31
32
33
34
35
36
37
38
39
40
41
42
43
44
45
46
47
48
49
50
51
52
53
54
55
56
57
58
59
60
61
62
63
64
65
66
67
68
69
70
71
72
73
74
75
76
77
78
79
80
81
82
83
84
85
86
87
88
89
90
91
92
93
94
95
96
97
98
99
100
101
102
103
104
105
106
107
108
109
110
111
112
113
114
115
116
Related stories:
A limited edition Gucci x Angelica Hicks tee is your summer must-have
Gucci's Pre-Fall 2017 campaign makes a soulful statement