1. Much like Dior's Cruise 2017 show held in England a few days ago, Alessandro Michele's Gucci show had the makings of an Anglophile at work. The location of the show—the 700-year-old church cloisters, Westminster Abbey—already had tongues wagging that the place of worship wasn't the most appropriate space to stage a fashion show. But all that was forgotten when guests stepped into the church that provided the perfect backdrop, from tasseled velvet and tapestry pillows emblazoned with flower and tiger embroideries as seats to the eerie choral soundtrack of "Scarborough Fair" for the show.
2. The hallmark of Michele's aesthetic is geek chic, but this season it's punctuated with punk, subtle English references that veered towards a state of chaos, in an intriguing way that is. Case in point: ruffled bibs were a recurring element, as was a mishmash of motifs such as embroidered cats and tigers, roses, Staffordshire dogs, Union Jacks, tartan, spiked studs on denim jackets, black lace stockings—you get the gist.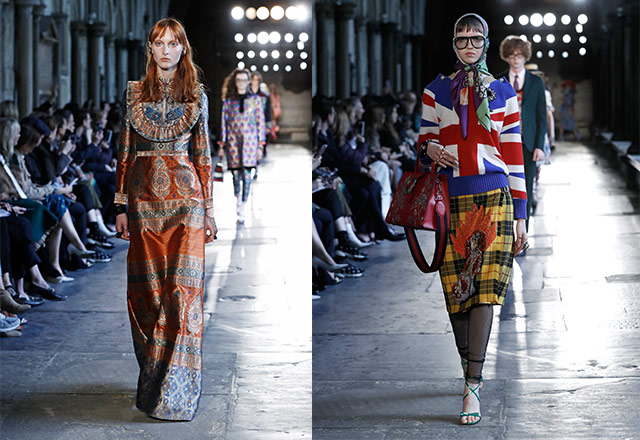 3. But as per every Gucci show since Michele has been at the helm, a couple of looks and details had us giving double takes. The introduction of acid jeans on the runway baffled us to no end (but with the supposed punk reference, we sort of get it), and logo T-shirts and sweaters just had to make its scene this season, paired with floral skirts and aforementioned jeans, no less.
4. Things did look up with snazzy intarsia fur coats (an exception would be a questionable green leopard printed version with purple fur arm cuffs) and a handful of stunning jacquard pieces. A rather strong lineup of menswear also had us clamouring for more—floral double-breasted coats and studded jackets were surprisingly pleasant to look at, along with a full-on pale red silk suit that would look rather dapper on Jared Leto or Eddie Redmayne.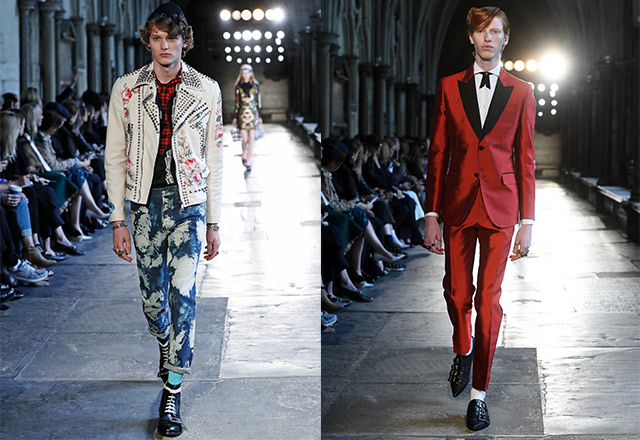 5. Props go to Michele for his eye for accessories, with an especially strong bag game this time around. Standouts in our books include a breathtaking, bamboo top-handle, pale blue Dionysus peppered with delicate English rose embroideries, spiked-and-studded kitten heels (yes you heard us right, kitten heels), Mary Janes embellished with belt buckles and serpents, and kitschy, ultra-high rainbow striped platforms.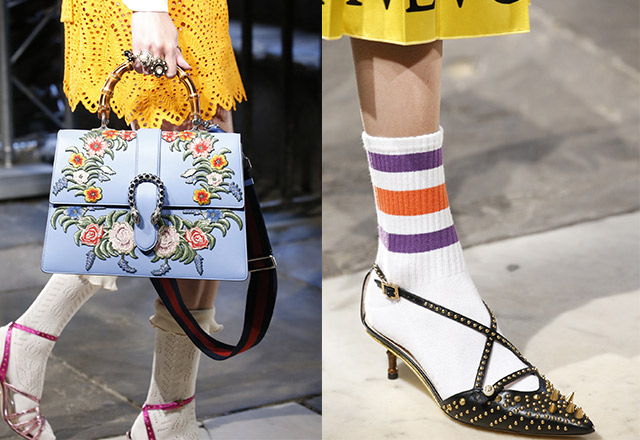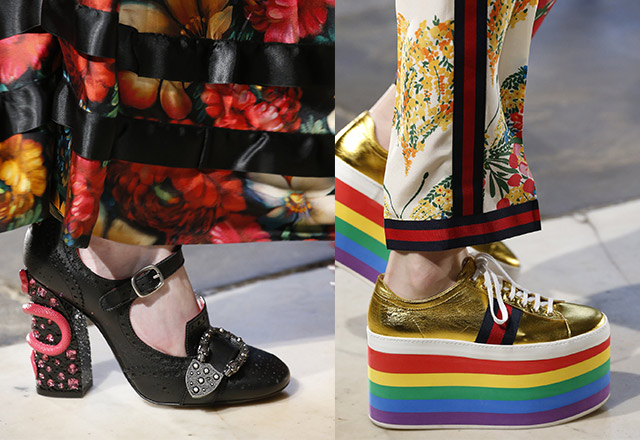 Related stories:
5 Things to know about Dior Cruise 2017
| | |
| --- | --- |
| SHARE THE STORY | |
| Explore More | |