This Spring/Summer 2020, Tory Burch pays an homage to the late Princess Diana in its signature way—wearable, chic, and oh-so-feminine
Venue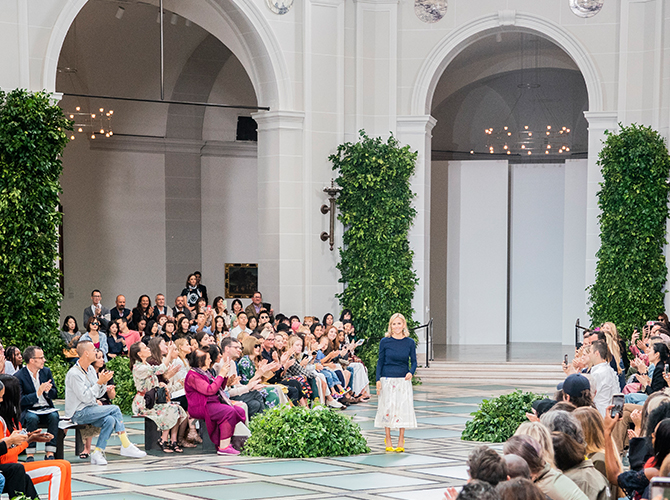 At the Brooklyn Museum, guests were greeted with the prettiest breakfast spread as they stepped into the Beaux-Arts Court, where the show was held. Seats were in the form of benches that were surrounded by makeshift bushes, reminiscent of an English garden. The natural sunlight that peered through the windows definitely made it that bit more magical.
Supermodel Natalia Vodianova opened the show
It's always fun when to have an iconic face in the model line-up, and at Tory Burch, Russian supermodel Natalia Vodianova opened the show in a cotton silk and crepe de chine top and skirt that are made out of handkerchiefs—similar to the ones that were left on each of our seat. Her second look, was a plain tulle dress with ruffles cascading down the sides and flowed beautifully with every move.
Diana Spencer
Tory Burch named Diana Spencer aka Princess Diana as her source of inspiration this Spring/Summer 2020. But instead of taking the homage too seriously, in an interview with WWD, the designer mentioned that the collection is inspired by "her strength and humanitarian efforts", which are both instilled in the Foundation and company since the beginning. This can be seen through the subtle '80s details such as the puffed sleeves, jumpsuits, and slouchy pantsuits, peppered with English garden florals that seal it with that extra dose of femininity.
Below are five looks we can totally see Princess Diana in:
The collection
As mentioned, garden blooms and the '80s heavily influenced Tory Burch's SS20 collection, but that's not it. We also spotted an array of preppy ensemble, such as a top and midi skirt combo with a lightweight knit cardigan thrown over, tweed jacket with matching skirt, and pussybow tops that add that hint of librarian chic into the line. Some of our favourites include the utilitarian jumpsuit that is paired with a leather-panelled coat, complete with a rope belt cinched around the waist; and the puffed sleeved prairie dresses in satin that ladies still can't get enough of.
Scroll through for 10 of the most striking looks from the Tory Burch Spring/Summer 2020 collection below: