What happens when you let someone who has a completely different style than yours choose your outfits? Read on
My boyfriend, Ian, and I have been together for almost seven years (gasp), and while they say many couples will start to look or dress alike after some years, that's not the case for us. We have complete opposite tastes in fashion then, and we still don't see eye-to-eye on many trends now. His style is the epitome of no-frills comfort—plain T-shirts (he has them in all the "safe" colours imaginable) or football jerseys, shorts, and sandals are his go-tos, and his idea of dressing up is wearing a polo T-shirt or button-down shirt (in said "safe" hues), jeans, and a pair of sneakers. My style? I'm a fashion editor—go figure! I'm pretty open to any trends, although I tend to stick to a more neutral colour palette.
After we've let our mum and dad pick out our outfits previously, this round, I figured, why not give myself an even bigger challenge by letting my other half style me for not one, but five days? The upside: he'll be choosing pieces from my own wardrobe. The downside: I'm not allowed to comment or change anything.
Here's how he fared:
Day 1
What I'm wearing: Button-down midi dress, floral earrings, bracelets, woven mules, leather tote.
Why he chose it: "I like feminine dresses but I don't see you in them often, and the floral earrings complement the outfit very well."
My thoughts: I would like to think that I'm quite versatile in terms of style, but there's one word I won't use to describe my look: feminine. My idea of a dress is usually something that's not too form-fitting such as a denim shirtdress, so seeing how he's allowed to make me wear anything from my closet, unsurprisingly, he picked out something girly and went that route all. The. Way. Cue the floral earrings (one of my favourites from Wanderlust + Co x Innai Red's Raya 2018 collab), mules and laser-cut tote he picked out "because they are the same". (Please note that matching accessories will be an ongoing theme in all the looks). My colleagues jokingly commented that I look like I'm going to meet his parents, so if you need some tips on what to wear for that special occasion, this could be your inspo.
Day 2
What I'm wearing: Denim jacket, striped shirt, denim trousers, chained earrings, chain-strap bag, and lace-up boots.
Why he chose it: "I love seeing you in shirts, and this is one of my favourites—even I would wear it. I went for this matching set since you love denim, and the pair of boots gives you the cool, biker chick look. I matched the chain on your earrings to the one on your bag on purpose."
My thoughts: My brief for day two? I have an event to attend today, so something more trendy (and true to my style) please. Truthfully, I was quite impressed with what he pulled together—I wear these denim co-ords pretty frequent, but the shoes were definitely a surprise. I would've refined the look by opting for a different bag and swapped the boots for something more tropical weather-friendly. Halfway through the day the heat was getting to me, so I changed into my trusty pair of Stan Smiths (sorry, Ian!).
Day 3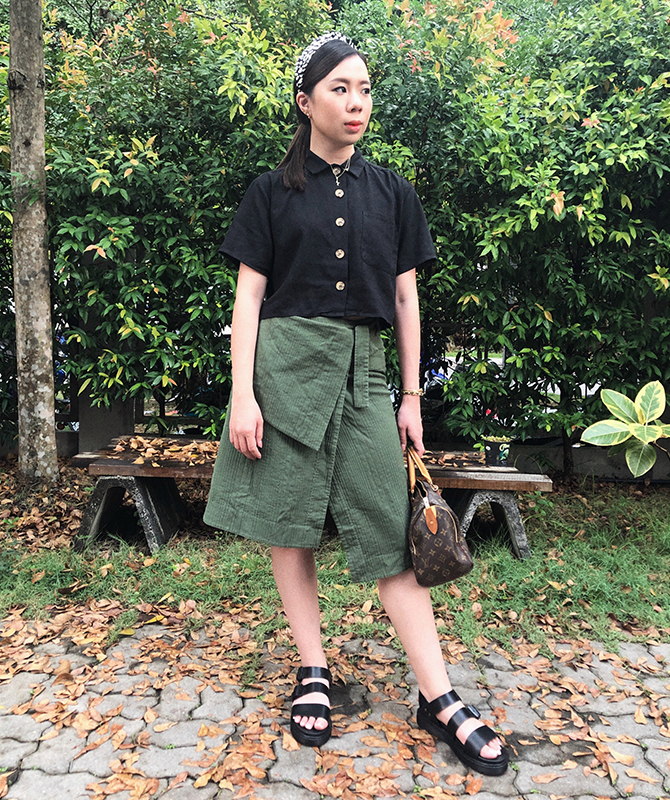 What I'm wearing: Cropped button-down shirt, asymmetrical midi skirt, printed headband, vintage bag, and strappy sandals.
Why he chose it: "This is a casual and comfortable look. The vintage Louis Vuitton bag gives it a dressier feel. And I like shirts."
My thoughts: I had a shoot today so I only wore the outfit for a short while, but when I told my colleagues that this was #styledbyIan, they all replied: "It's so 'you'!" and I agree. This is probably what I would wear—headband and sandals included—on casual days at the office, but I would've paired it with another bag. 4.5 out of 5 stars!
Day 4
What I'm wearing: Oversized denim jacket, faux leather shorts, sunglasses, clutch, and sneakers.
Why he chose it: "It's very different from the style that I usually like, and there are more colours than I prefer, but the shade of pink is nice."
My thoughts: It's Saturday, which means it's time to bring out the shorts! Truth be told, he initially picked out a plain-white-T-shirt-and-shorts look which I deemed too simple for the challenge, so he switched it up with this pink jacket that's tucked away amongst other long-forgotten clothes, and I appreciate it. He also went out of his comfort zone with a contrasting coloured clutch (no matchy-matchy this time!). Seeing how we had a Chap Goh Mei dinner that night, this was the perfect day-to-night outfit.
Day 5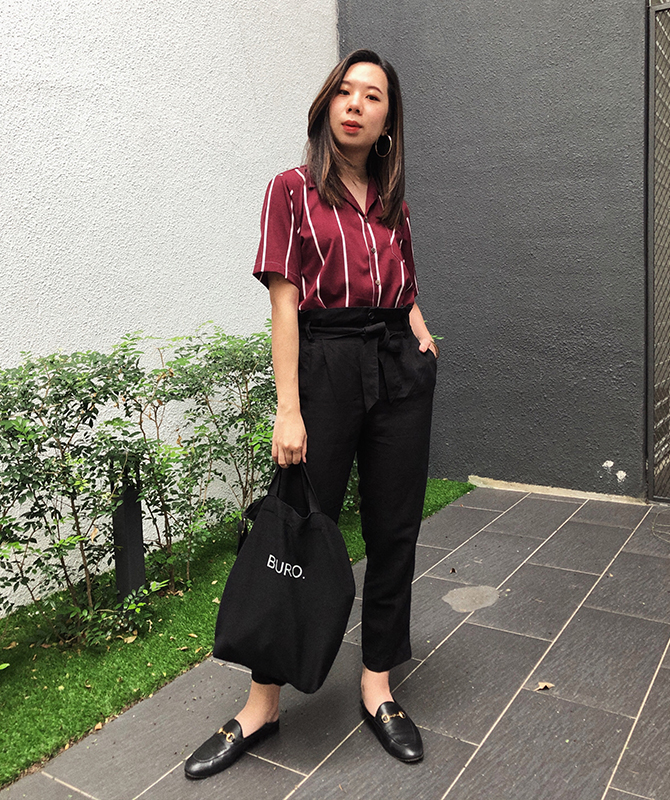 What I'm wearing: Short-sleeve shirt, paperbag-waist trousers, hoop earrings, bracelets, canvas tote, and leather loafers.
Why he chose it: "This is a preppy look with a hint of street style vibe. The loafers make the outfit look "smarter" while the big hoop earrings keep things casual."
My thoughts: It's the last day of the challenge! Admittedly, I've been pretty at ease with his selections by now. I wish he would've had more fun with the look by choosing a different bottom—whether it's in another colour, in clashing prints or in a different material—as the paperbag-waist trousers and loafers make me feel like I'm dressing for work, but I don't mind it too much. And yes, Ian, we get it, you love shirts.
For more Valentine's Day stories, click here.