In conjunction with Father's Day, We let our dads dress us for one day and they got way into it. This is what happened
They say dads know best. But when it comes to fashion, do they really? Hence, for Father's Day this year, we came up with a little challenge to see if they've got style (specifically ours) down pat, in return for the gifts (hint: classic leather goods, grooming must-haves, lifestyle hits, and lust-worthy watches) we're about the pamper them with this weekend. Find out how they fared and how we feel about them below:
Joan Kong, fashion editor
The initial reluctance aside, my dad surely knew what he wanted me to wear going into this. "A sweater and a skirt! In black and white!" If you've seen my previous style challenge, you would know that the look is right up my alley. Just when I thought this challenge is surprisingly going my way, things started going downhill from there. While I appreciated his effort in making me wear a skirt I haven't worn before (I finally cut the tag off this one!), I definitely did not agree with his choice of accessories—he (thinks he) had the perfect reason for picking out each item though.
First, it was the earrings. "The stripes on the hoops match the stripes on your top"; "The oversized round sunglasses matches the shape of the hoops"; and "The metal bracelet matches the glitter of your bag". If you could only see my look of disbelief over his reasoning then. Regardless of how mismatched they were (and no matter how many times I reconfirmed it), he confidently and proudly nodded yes. Would I wear them again? If I switch up the accessories, I might.
Stephanie Boey, fashion writer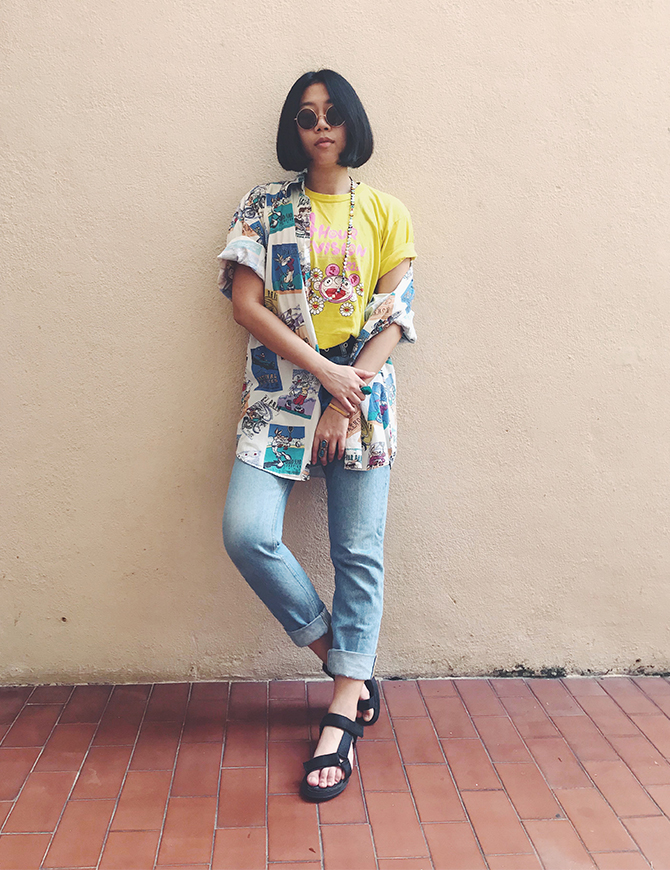 When I first told my dad he had to create a look for me in lieu of Father's Day, he replied my Whatsapp text with, "Alamak, you mean like what mum had to do for you?". It's kinda funny now since he had such a good time styling me. When he opened my closet, he made swift decisions on what he wanted. His creation: High-waisted mom jeans paired with a bright yellow T-shirt designed by Japanese artist Takashi Murakami (one of my favourite finds from a local thrift store) layered with a Looney Toons printed shirt (another one of my favourite vintage finds). For accessories, he picked out a multi-coloured shell necklace, two turquoise gemstone rings and circular-framed sunglasses I always imagined John Lennon would be proud of. As for footwear, he exclaimed "Sandals!". It appears my father is quite on trend.
Being born in the 1950s, my dad saw the height of '60s and '70s fashion and it's obvious his vision of "cool" is heavily influenced by these two decades. He says, "Back in my younger days, T-shirt and jeans were in style, and I used to wear it out a lot." I think it's interesting to note that half a century later, these two classics still hold up. I love the throwback vibe to this look. Remove the necklace and I would totally wear this it out. I just wish I had thought of it myself.
Loh Wei Yeen, beauty editor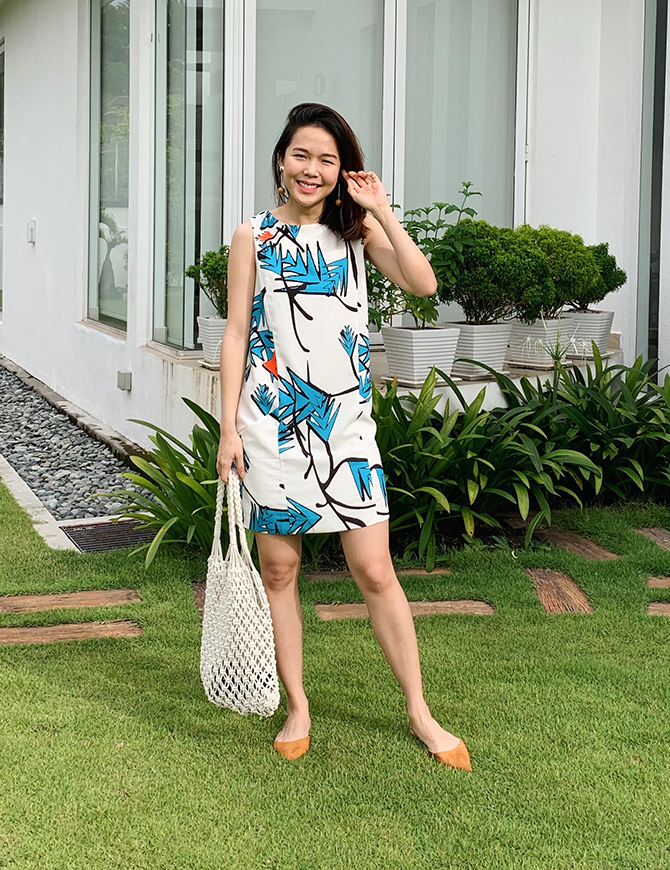 Function over form is very much my dad's style adage—at least, I had assumed so—but after decisively picking out my outfit for this style challenge, I have to say that he has quite the eye for both traits without eschewing one or the other. Just when I thought that he'd go with an '80s-inspired look (back in the heyday, he wore shorts shorter than my workout shorts, but that's a story for another day), he decided to pick out an outfit for my upcoming weekend getaway in Cherating. He chose a sundress with bright blue botanical motifs and an off-white, rope bag to go with it. "You would need a bigger bag to keep your things—you can't even fit a phone in those," he replied when queried why he didn't pick my other rattan crossbody bags.
His take on shoes was very practical—"Must wear flats; how are you going to walk on the beach with sneakers or high heels?" Naturally. He picked mustard yellow flats for some contrast to my dress because it was "fun and not too flashy". The final touches? A pair of earrings (in the same shade as my shoes) that "looked like coconuts to match this beach outfit". Gotta say he aced this challenge. I might actually wear this entire look for my trip.
Alyssa Lee, special projects writer
"What day is it tomorrow?" "Wednesday." "'W' for Wednesday, 'W' for white; in that case, wear white lah." Ladies and gents, 'Mean Girls' needs a rewrite—new rule, on Wednesdays, we wear white! To be honest, that isn't such a bad way to choose one's clothes in the morning! Think: monochrome Mondays, t-shirt Tuesdays, white Wednesdays... Good ol' dad could be on to something here! The rest of his style insights, however, were less... inspiring.
Ahead, the thought process behind a father's style picks: "Wear a skirt because the skirt is at the top of the pile. Wear a shirt because you are going to the office. Wear blue because blue is a nice colour. Wear loafers because sneakers are too "sneaky". Carry a black bag because the soles of the loafers are black. Don't put your hair in a top knot because you are not going in to take a shower. Wear gold earrings because the outfit is so boring." Gee, dad, I wonder who picked it!
Ronn Tan, editorial assistant
My dad is known for many things. His style? Nope. Still, I knew this would be a great opportunity to find out how he would dress me. Would he put me in clothes he's grown accustomed to, or style me the way he usually sees me in? Unfortunately for me, the answer is the former. I thought, with him being away and only seeing my closet through FaceTime, he might go with something simple. Boy, was I wrong as he directed me to his closet instead! "I want you to wear the blue pattern shirt. Never seen that on you before", he said before continuing with, "You like to show your collar bone, so don't button the top".
As for the trousers, I can't deal with the fit. Dad was about to stop until mum (who was judging the entire time) told him about a jacket. He first put me in an oversized black blazer with massive shoulder pads until he noticed the major look of confusion on my face. "You don't like this?", he asked before opting for a black leather jacket (which surprisingly fits me perfectly). What was his thought process? I'm still uncertain, honestly. It's most likely dressing me in clothes he has always wanted me to wear—which I never wanted to, obviously. I'll probably only wear the leather jacket willingly. I don't know if I come off looking like a triad member or a character from One Piece, but my dad had a lot of fun messing with me, so it's all good!
Yi Suen Chong, art director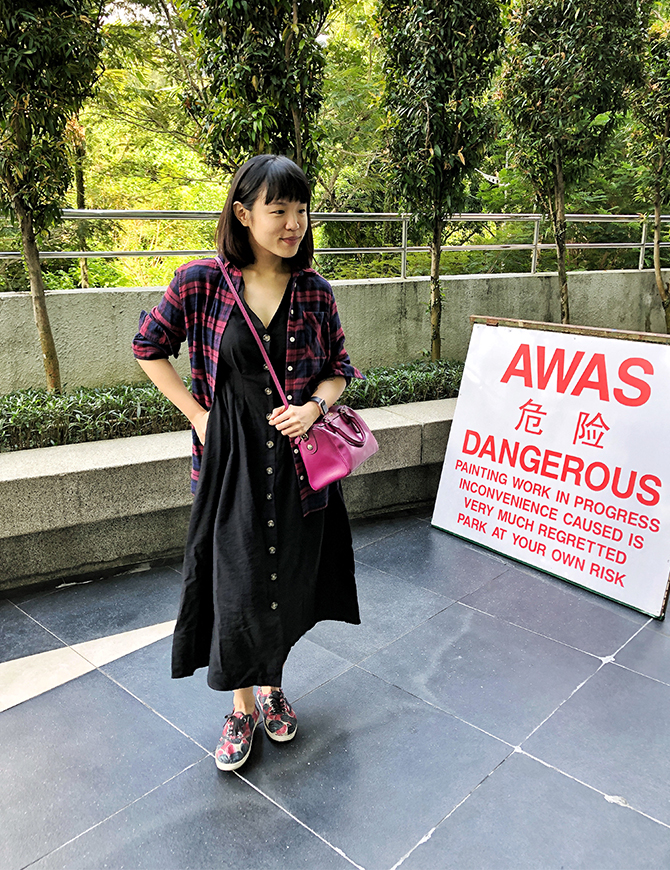 "Pa, I have a work assignment—can you help to pick my outfit today please?" How did my father respond? By laughing it off. You have no idea how hard it was for me to get my dad to style me for a day, but when he was in the zone, like other #BuroDads, he was really into it. My dad is, for want of a better word, a very simple person when it comes to fashion, so there's not much rationale behind his outfits—anything goes.
Here's the final look after he rummaged through my wardrobe for a good 15 minutes. After picking a black dress "because it's nice", he started dumping adding colours to my look—in the form of a checkered shirt (worn as a jacket), a bag (which was a gift from him) AND sneakers! At this point, I've given up. Oh, did I mention he laughingly took a picture of me and shared it in our family groupchat too?