Does mother truly know best? I put my own to the test and let her dress me in 5 different outfits.
My mother can be a savage when she wants to be. She often replies my texts with a curt "k", although to be fair to her, I do not think she's aware of the current state of social media etiquette and what it truly means. Or does she? That's the thing with my mother, she is the queen of shade and if you're not paying attention, her shots sometimes fly over your head.
Growing up, she never forbade me from expressing myself freely with clothes. Never was there a time where she outrightly said she didn't like what I was wearing, instead, it came in the form of "I can see your underwear" or "Please layer up" or "That's very...loud".
She's seen it all from my tomboy childhood to my all-black emo teens to my high-heeled and skin baring college years. When asked how she would describe my personal style to what it has evolved to now, she uses the words "comfortable", "functional" and "it's a style of it's own, you don't follow trends".
I gave my mum full range of power on my wardrobe to flip the tables. She had complete command of apparel, footwear and accessories, and styled me in 5 different looks for 5 different occasions. I was not allowed to influence nor protest any styling decision. Consider it penance for years of questionable outfits.

Look #1: Party time
We're off to a good start! To paint the town red, my mother dressed me in a striped halter, an asymmetrical skort and black Gigi Hadid x Reebok lace up boots. Thumbs up on the monochrome combo! She then layered it with a cropped denim jacket which matched the colours of my bowling ball crossbody bag. To accent this heavily neutral-hued look, my mother opted for golden-toned statement accessories, stacked rings and a lone earring. The icing on the cake—the Kurt Cobain-inspired oval frames (which my mother claims makes me look like an insect).
Would I wear this? I'm getting an '80s rebel girl vibe and I totally dig it. As Eleven from Stranger Things would say—"Bitchin'!"
Look #2: Dinner date
For a night out, my mother reached for a spaghetti maxi dress in aqua blue from Jasper Conran and to cover up, a white pashmina. For accessories, she kept it simple with pearl studs and silver stacked bangles and a beaded cylinder clutch to coincide. For footwear, she opted for block-heeled sandals. This look has my mother written all over it—a feminine slip dress and a pashmina is her go-to party look."No necklace?", I asked. I received a very firm "No".
Would I wear this? Sorry Ma, but this too, is a firm "No". As you can tell from my face, I am not comfortable with this outcome—way too girly for my taste. (Swipe right for how I would normally wear my favourite mermaid dress. Almost every detail is the opposite: An oversized broad shouldered jacket instead of a shawl, rope sandals instead of heels and a big, bold statement necklace. Glass of gin, optional.)
Look #3: Running errands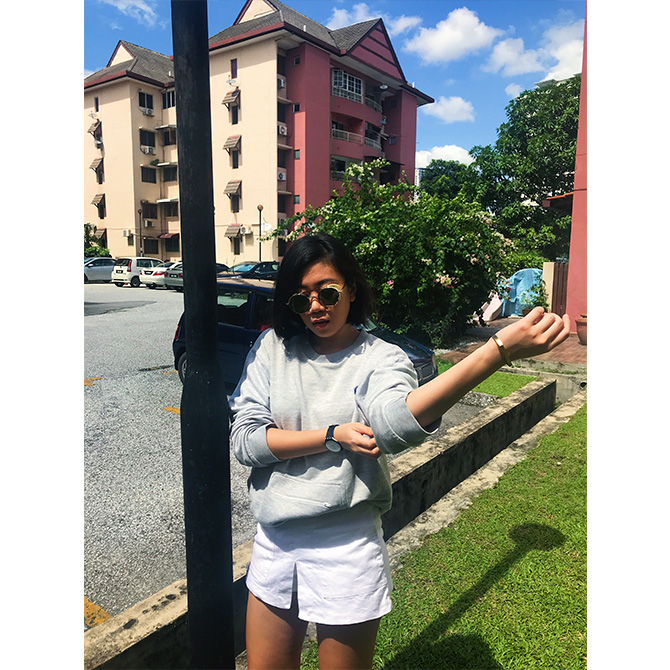 It appears my mother is very well aware of the athleisure trend. For this look, my mother paired a vintage Sergio Tacchini sweatshirt (passed down from my father from his tennis days) with a white denim skort from Zara. I have not worn said skort in years, I almost forgot I had it. I also do not remember it being this short. Accompanying accessories include a black silicone watch from Swatch, Nike Epic React Flyknit sneakers and a pair of round sunglasses with golden mesh side shields.
Would I wear this? Everything is good to go except the skorts, I feel extremely exposed. I'm grateful she reminded me about it though, cause it's heading straight into the 'Donate' pile. If anyone is looking for a pair barely used skorts, please slide into my DMs, I'll give you member price.
Look #4: At the beach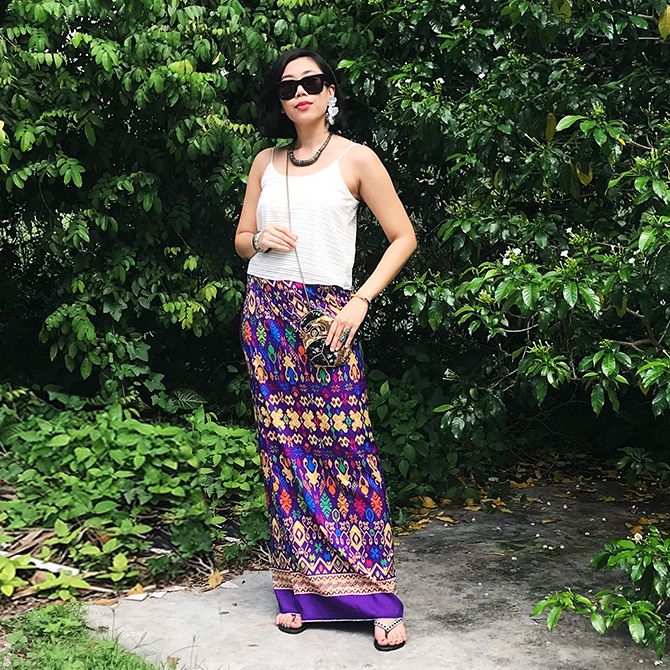 On a casual day at the beach, my mother would like to see me in a simple white tank offset with a brightly printed Balinese batik pareo with studded toe-thongs. For accessories, an ethnic wooden necklace from The Philippines, an engraved cuff from China and a turquoise statement ring I found at a flea market. Continuing the lone earring trend, my mother picked out a tiered floral earring I made at a workshop with DIY KL, and to finish the entire look, square Givenchy sunglasses to keep it polished.
Would I wear this? I like how this outfit incorporates so many cultures, histories and aesthetics. I approve, 100 points to Gryffindor.

Look 5#: At the office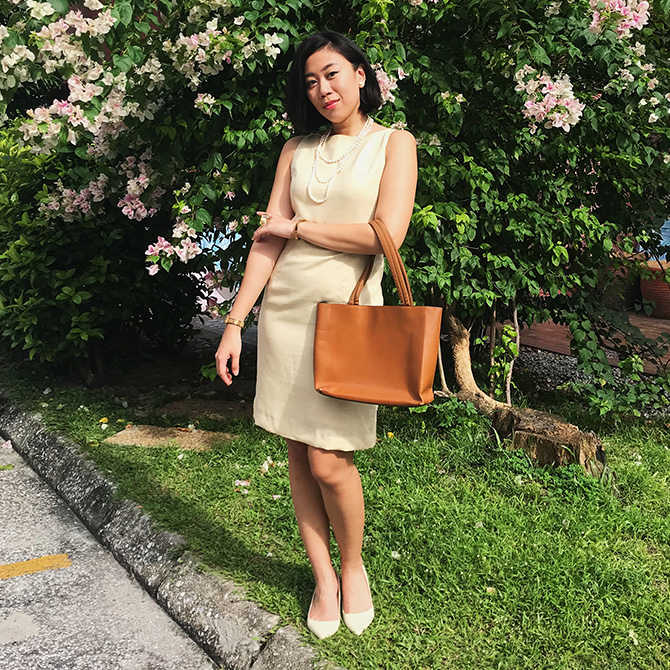 In an ideal world, this is how my mother prefer I dress when I clock in to the office everyday. I can only imagine her sheer horror when she sees me walk out the door in a leather mini and "rubber shoes". By now, you can already tell my mother prefers me in feminine ensembles so I wasn't surprised when she pulled out a thrifted beige shift dress—very traditionally work apropos. She handed me her pearl necklaces and told me to layer them, I caught my reflection in the mirror...never have I looked more ladylike in my entire life. The finishing touch was a pair of her own closed-toe kitten heel pumps. This must be revenge for wearing sneakers to work.
Would I wear this? I like pearls but I'd prefer a shorter length. As for the pumps—no, nein and nyet. Leather loafers, please!
Conclusion: I can honestly say that I'd be comfortable wearing 3 out of 5 of the outfits my mother dressed me in. Not too shabby! Though, I hear my mother loud and clear that she prefers me in more feminine ensembles. How about I let you dress me for formal events, Ma! Deal?
Styling and photography by Vida Roman-Boey