Warning: Spoilers ahead, proceed with caution
Who was the best dressed Game of Thrones character in all of the Seven Kingdoms? Read on as we count down the best fashion moments on all 8 seasons about a Song of Ice and Fire.
#10 Jon Snow's furry black cloak
We're glad the famous Ikea cloak made a cameo at the end of the series. You might remember the shaggy coat from the earlier seasons when Jon 'took the black', when he first joined the Night's Watch. This coat helped shaped Jon Snow's black horse (but a knight in shining armour) image. Thank you for your service, shaggy Ikea coat, your watch has ended.
#9 Euron Greyjoy's leather jacket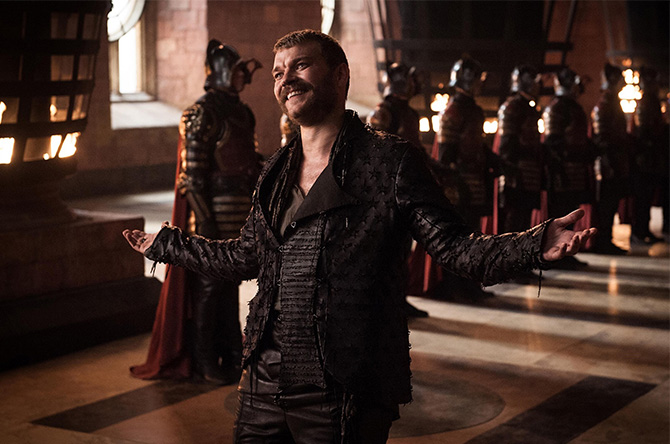 The King of the Iron Islands was one of the most ostentatious characters in all of the Seven Kingdoms. His flashy personality was mirrored in his fashion choices and quippy lines. He often dragged his swag clad in a leather jacket with star-cutouts across its length and breadth, fit for the rockstar he (thinks he) is.
#8 Anything and everything Margaery Tyrell wore
Amid the shocking death scenes and gross twincest, the distinguished Tyrells balanced the gritty parts of The Game of Thrones with their exquisite and elegant costumes. Lady Margaery was often in relaxing hues of soft pastels decorated with intricate floral embroidery with ornamental gold touches, both symbolic of the Tyrell house sigil, a golden rose.
#7 Missandei's leather bralettes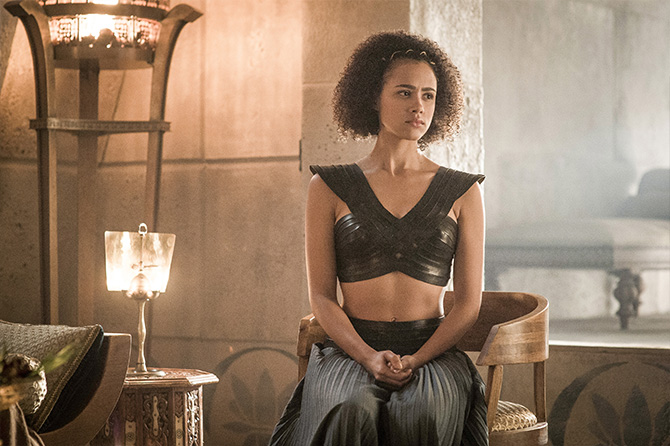 If female liberation had a uniform, it'd be this. After being freed from her slavers by Daenerys Targaryen, Missandei started to take more fashion risks in deep V-neck crop tops. No longer was she the property of somebody else, she was a free woman! Girl got a new job with a new boss and has a cute soldier blowing up her medieval DMs, this girl is on fire!

#6 Melisandre's red hot looks

The Red Woman is one of the few characters that embraced her personal style from the get-go. Her wardrobe of choice were often flowing red gowns that fit in all the red places, with low necklines that complemented her metal choker that served as her statement accessory... and anti-aging secret.

#5 Ellaria Sand at the purple wedding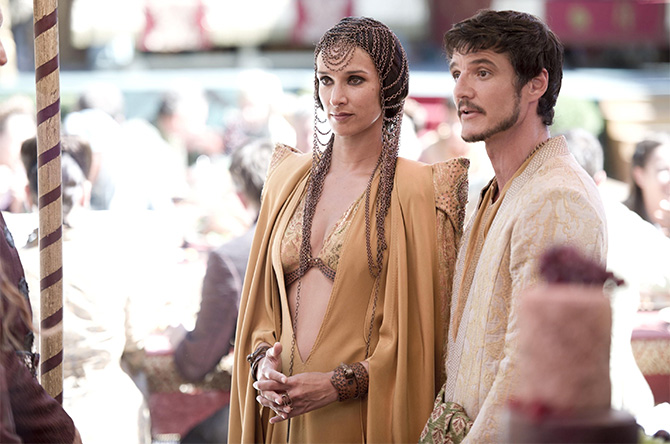 Three words: What a mood! For the infamous wedding, Ellaria donned a bright golden kaftan dress with a dangerously deep V-neck that extended down to the navel, layered over an intricately embroidered bra. The pointed shoulders too were heavily decorated in elaborate beading but the chainlink headpiece that fit snug on her crown and forehead made the look even more stunning. (Want to know how to be the best dressed wedding guest in modern times? Click here for our guide.)
#4 Cersei Lannister's decorative armoury
Closer to the later seasons, Cersei shed her Southern fashion trends (low necklines and chunky necklaces) for high turtlenecks and steel shoulder pads. The Lannister Queen ain't playing, she's out for war and started to dress for it as early as Season 7. Though she made it clear that planning for war and being fashionable aren't mutually exlusive. Her collection of armoury often had complicated and intricate designs. Her favourite motifs? Florals and a lion, the Lannister house sigil.

#3 Daenerys Targaryen's turquoise dress
Dany liberating the slaves at Astapor, obtaining her Unsullied army and lighting up Kraznys mo Nakloz was one of the best scenes in Game of Thrones, hand's down! For her big moment, she chose to wear an asymmetrical blue dress with a high tulip hem and an asymmterical cape to match. This was the moment, The Breaker of Chains and Mother of Dragons has arrived.
#2 Arya Stark in Braavos
The highly skilled swordswoman prefers function and mobility in her everyday wear and is usually found utilitarian silhouettes. So, it was refreshing to see the young Lady Stark in a more decorative look in Season 6. While on a mission with The Faceless Men, she donned an olive green skirt, ecru peasant blouse and mustard crocheted jacket to blend in with the crowd. Although, we love her usual half bun, we're hoping Arya takes up the double space bun trend as she journeys west.
#1 Sansa Stark's coronation outfit
The new leader of Winterfell wore a blue-grey dress that's true to the colours of the Stark house sigil, paying respect to her Northern roots. The scale detail on the dress represent House Tully, in honour of her mother, Catelyn Tully while the inside of her sleeve was decorated with red weirwood leaves that are found in the Winterfell's Godswood (which is also her father, Ned Stark's favourite thinking place). Our favourite detail: The dark metal woven crown with the moulded heads of two direwolves. Long live the Queen of the North!