Need some pointers on how and what to dress for an upcoming wedding? I've got your back
I've attended a fair share of weddings to know (and notice) the dos and don'ts when it comes to guest attire. While there's no such thing as a guidebook to dressing for a wedding, here are some tips on how to top the (imaginary) best dressed guest list—after all, aside from wishing the newly married couple well, the first thing that usually pops into mind when you receive an invitation is: What do I wear? From the classic can-I-wear-white debate to understanding dress codes, here are some tips on nailing wedding dressing, and being the best dressed guest at the reception—aside from the bride, of course. And they're all simpler than you think.
Do not wear white
Ah, it's the debate that has been going on for years. No matter whose wedding or the theme of the reception, there's one strict rule that I adhere to, and that is to not wear white (or any similar shades). There's nothing more awkward than showing up in a similar colour and silhouette as the bride, or worse, being mistaken for the bride (trust me, I've seen that happen before)! Out of respect for the newlywed on her big day, the colour should be avoided at all cost. That being said, ensemble with smaller details such as white polka-dots or stripes is fine, although my rule of thumb is: If you're thinking if there's too much white in your look, don't wear it.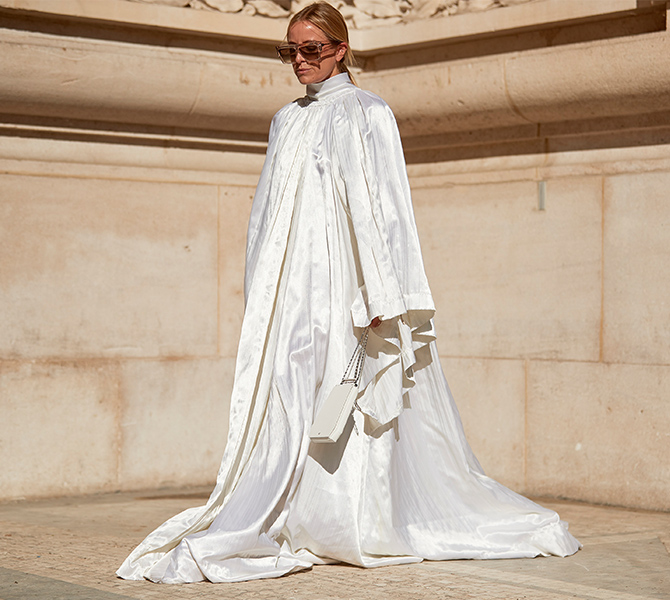 Know the dress code
Different weddings have different themes and dress codes, so these are some things you should definitely take note of when you're planning your guest outfit. You won't want to wear a fully embellished floor-length gown if you're attending a daytime beach ceremony. While there's no harm in asking the couple themselves for some pointers, here, we explain the most common wedding guest dress codes so you'll dress appropriately for the celebration. Black-tie or formal is usually the strictest dress code when it comes to weddings, so a floor-length gown or a dressy cocktail dress (in a formal fabric) with heels will be appropriate. Pantsuits work too. If it's a semi-formal wedding, ditch the long dresses and opt for a shorter length or a dressy two-piece. Depending on the venue, if it's a garden or beach wedding, avoid traditional stilettos and pumps.
Dress according to your body type
We've all been there—the outfit that looked beautiful on a mannequin did not look the best on you, and vice versa. We generally know what looks best on us and the styles we usually gravitate towards, but it's important to dress according to your body type. All you need to do is to determine your body shape, and choose the feature you'd like to accentuate. Apple-shaped figures should try opting for A-line or empire-cut silhouettes that'll help balance out your heavier upper body. Those who have an hourglass body shape should make the most of it—a body-hugging dress will accentuate your curves. For pear-shaped ladies who are insecure about their bigger lower body, fit-and-flare dresses are your go-to. But if you'd like to flaunt your sculpted butt (think Kim Kardashian), a tight-fitting ensemble does the trick. Next, if you have a rectangle or ruler-shaped body, your toned arms and pins are the assets. Ladies who has an inverted triangle body type usually have a broad shoulder—you can de-emphasise your top by opting for something flare at the bottom with a cinched waist to create an illusion of curves.
Wear appropriate undergarments
Imagine this: You got all dressed up in your newly bought outfit for a wedding which received compliments all night, and took tons of pictures in it. When you got home and start scrolling through the photos, you realised that you were suffering from VPL (visible panty line)—the horror! While finding the perfect dress is important, what's more essential, is wearing the right undergarments. For one, seamless underwear never fails. If you're donning a figure-hugging gown, turn to shapewear that'll help smoothen your silhouette. Rocking a V-neck dress? A plunge bra should be your choice of lingerie. I've seen my fair share of ill-fitted Spanx and colourful panties under sheer or light-coloured dresses, and they can totally be avoided!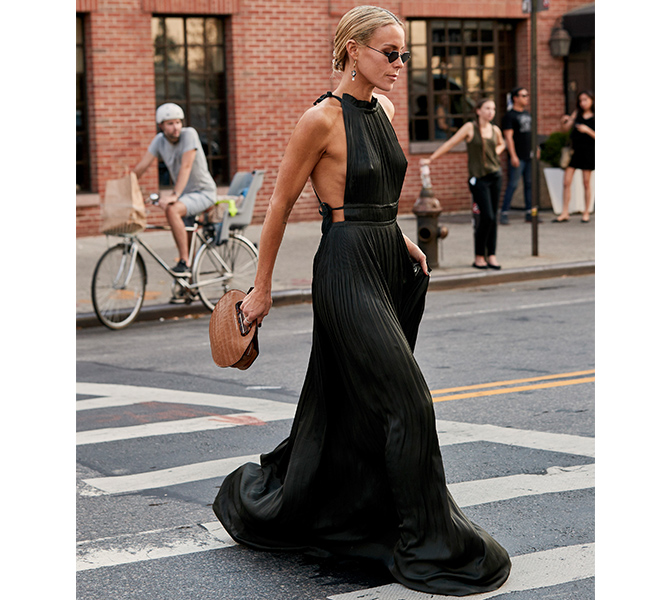 Be comfortable, or else, be prepared 
Wedding receptions bound to be a long night. After sitting through an eight-course meal, it's time for the after-party. While it's important to dress up for the occasion (after all, if you've got it, flaunt it right?), you should also take note of the comfort factor in deciding your outfit. Will you be able to tolerate walking in your five-inch heels all night? Can you dance freely in your plunging-neckline dress? If your answer is no, come prepared. Use gel insoles to keep pressure off your foot and make it more comfortable, or even better, keep a pair of foldable flats in your bag if you're planning to dance all night; and a heavy-duty double-sided fashion tape will help avoid any wardrobe malfunction. You won't want to have to rest your achy feet halfway through the after-party, or having to constantly be afraid of accidentally showing too much (nip slip alert!).
Don't be basic
Lastly, while we understand the appeal of a chic LBD, once in a while, try to step out of your comfort zone by opting for something more. It can be as simple as a striking colour, jewellery stacking, or a cute minaudière! Easy does it.