How has Charlie's crime fighting angels' fashion sense evolved through the years?
Charlie's Angels has been a pop culture phenomenon since the '70s. The original trio, Farah Fawcett, Jaclyn Smith and Kate Jackson made fighting crime and kicking serious butt while fully clad in high-waisted bell bottoms, platform clogs and bikinis look so darn easy. Walking in floor-length trousers on platforms is a challenge enough as it is!
The action scenes were exciting and empowering, especially during a time and decade where women in the work force were not taken seriously. Apart from its social impact on female empowerment, the fashion choices were equally thrilling. In the post-modern world, women were less afraid to challenge societal norms of femininity and pushed boundaries with the clothes they wore on their back. The trio exercised their assertiveness in masculine three-piece suits balanced with demure pussy bow blouses and disco fever sequin jumpsuits.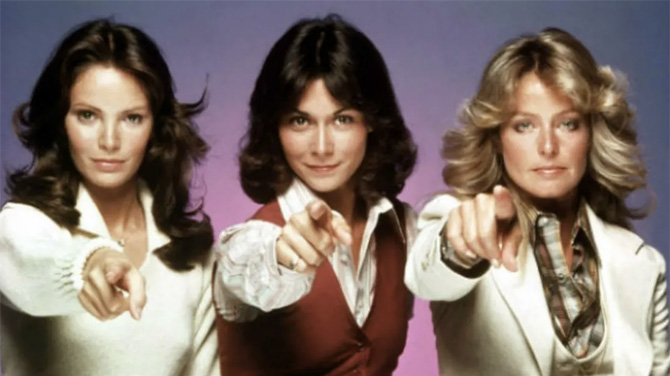 The most iconic look would have to be from the scene where the three women escape from prison, in what appears to be the most fashionable internment uniforms we've ever seen. High waisted indigo bell-bottomed jeans paired with button-down chambray shirts for an ultra chic tone-on-tone ensemble. The image was so iconic that it was recreated twice in Charlie's Angels reboots that followed. The first starring Cameron Diaz, Lucy Liu and Drew Barrymore in the 2000 remake as well as the television reprisal a decade later with Minka Kelly, Annie Ilonzeh and Rachael Taylor.
The television series was unfortunately short-lived but the noughties remake was highly successful, paving the way for a sequel 3 years later. The 2000s reboot also saw another exciting time in fashion, as the new millennia rolled in. Charlie Townsend's angels ditched the high-waisted jeans and swapped them for ultra low rise ones that rode dangerously low on the hips, halter tops that bared their strong toned shoulders, paired with fierce combat boots to help stomp through bad guys.
The fashion direction was clear. As the original saw masculine touches for assertiveness, the reboot played up the sex appeal, providing a narrative that the new modern woman embraced her sexuality rather than being shamed for it. One of the most iconic scenes: Lucy Liu in a leather skirt suit, patent leather pumps and cat eye glasses for a look that was equal parts sexy and downright intimidating.

True to the franchise's message of female empowerment, Elizabeth Banks helms the latest reprisal as she directs the 2019 edition starring Kristen Stewart, Naomi Scott and Ella Balinska as Charlie's millennial angels. Before you watch the newest generation of beautiful female spies in theatres, scroll below for a walk down memory lane as we recount more best looks from the '70s original through the noughties.