Culture
A conversation with 'Sex and The City' illustrator Megan Hess on new book and Vakkaru Maldives experience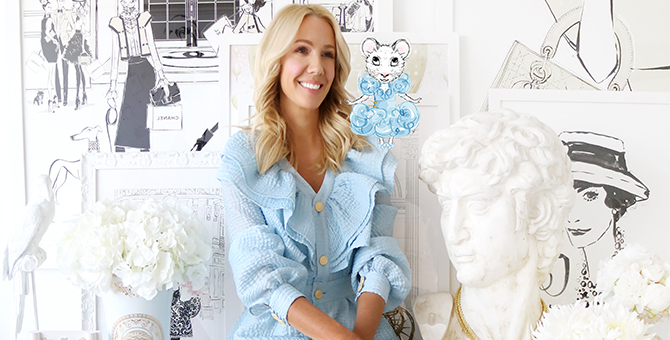 Which Sex and The City character are you? Whether you're Carrie Bradshaw, Charlotte York, Samantha Jones, Miranda Hobbes, or even Mr. Big, the television series and films centred around these figures were massively popular. Did you know that the premise first began in book form? The New York Times number one selling book—written by Candace Bushnell—also saw illustration by Megan Hess in 2006. Since then, Megan has continued to share her gift of illustrating, writing, and designing as well. The internationally-renowned fashion illustrator and author's work with Sex and The City can be credited for catapulting her onto the world stage. She has worked with numerous iconic brands, such as the New York Times, Italian Vogue, Vanity Fair, Time magazine, Bergdorf Goodman in New York, Harrods of London, Fendi, Tiffany & Co., Prada, Cartier, Dior, Valentino, Salvatore Ferragamo, and more. In addition to that, her extensive list of clients also include revered public figures like Michelle Obama, Gwyneth Paltrow, Cate Blanchett, Nicole Kidman and Sarah Jessica Parker.
Next year, Australian-born Megan Hess will be collaborating with Vakkaru Maldives for the exclusive launch of her third book in The Claris Collection, Claris: Bonjour Riviera on 5 and 6 January 2020. Furthermore, this includes the official reveal of the newest Claris fashion collection consisting of six key looks by Poca & Poca. If you're interested in illustrating, Megan is conducting a Fashion Illustration Masterclass on 6 January—limited to 10 guests only. This is oh-so-exciting!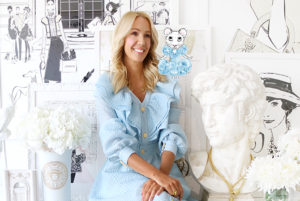 Megan Hess and Claris
We spoke to Megan Hess on her passion for illustrating, her objective for the partnership with Vakkaru Maldives, and her plans for the future. Check out the conversation below:
1. Where did your passion for illustrating come from and where did you learn your skills?
I always knew that I wanted to draw for a living but when I was growing up, I had no idea that a Fashion Illustrator was an actual job! It was just always the thing I loved to do. As a child, I attended art class every Saturday and it was literally my favourite time of the week. Then, in high school, I had an amazing teacher who really pushed me to explore the possibilities of making art my career. I'm so glad she did!
2. You're one of the most sought-after fashion illustrators and authors in the world. What are some of your career highlights?
It is always such an honour and I still pinch myself every time I'm asked to collaborate with an iconic luxury brand. Some career highlights would be working with Bergdorf Goodman, New York, to create a signature look for the prestigious department store and being commissioned by Harrods of London to create a bespoke bag collection for the iconic British department store. I created a series of portraits for America's First Lady, Michelle Obama—a truly surreal experience. I've also illustrated portraits for Gwyneth Paltrow, Cate Blanchett, Nicole Kidman, and most recently, Sarah Jessica Parker.
I've also loved illustrating live for bespoke fashion shows around the world including Fendi at Milan Fashion Week, Viktor & Rolf, and Christian Dior Couture. I learn so much from every project and become more and more in love with the process of creating something beautiful!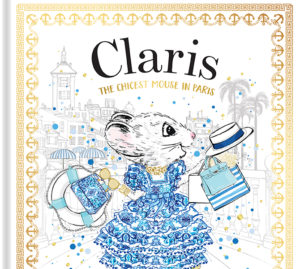 Claris Book Cover
3. What can we expect from Claris: Bonjour Riviera and how is the third book in The Claris Collection different from its prequels?
I really wanted Claris to have a seaside adventure and I thought it would be so much fun if she snuck into Monsieur's bag and went with the family on a vacation! This story is full of adventure, beautiful boats, turquoise waters, and very chic fashion! As always, it's Claris's big heart that is the highlight of the story.
4. What is the inspiration behind your new resort collection with Poca & Poca?
I'm so excited about the resort collection with Poca & Poca! The collection is inspired by Claris' latest trip to the French Riviera… Picture lots of blues and whites with touches of gold—each look perfect for a seaside adventure!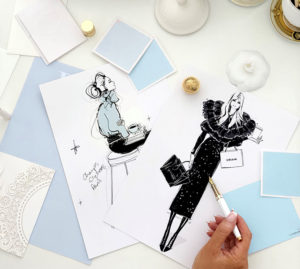 "Megan Hess sketches
5. You have worked with a long list of revered clients. Is there one you would consider to be out of your comfort zone, and why?
I think creating 10 portraits for Michelle Obama was my most challenging. It was an incredible project to work on but also quite daunting, purely because I really wanted to make sure they were perfect. I really respect her as a woman so it was an amazing project to work on.
6. How did your collaboration with Vakkaru Maldives happen?
The Maldives has always, always been at the top my list of dream travel destinations so when The Magnolia Creative Collaborations pitched me the opportunity to collaborate with Vakkaru Maldives, I knew this would truly be a once-in-a lifetime experience.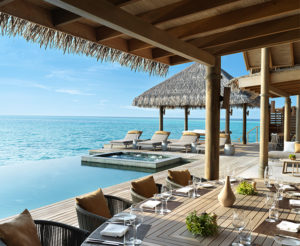 Vakkaru Maldives pool
7. What are your goals for the two-day experience at Vakkaru Maldives?
Launching Claris: Bonjour Riviera on the beach with the pristine clear waters of the Maldives as the backdrop is already goals for me! I will also be offering an exclusive fashion illustration masterclass at Lagoon Bar which I'm really excited about and I've been working with the resort's culinary team to create an exquisite dessert table. I just can't wait to absorb all the beauty and glamour of Vakkaru Maldives. I've been stalking all their incredible photos online and I'm still pinching myself that I will actually get to be walking on water past all the heavenly looking villas and relaxing by the idyllic pool. At the top of my list of things to do though is, of course, eat! I'm just picturing myself eating seafood at sunset on Vakku Beach accompanied by a blissful ocean breeze—I can't think of anything better.
8. Which of the four characters from Sex and The City are you, and why?
I think I'm a little bit of all of them! I love each one for different reasons so a combination would be the best. I do love Carrie's fashion the most of all four though—Patricia Field was so brilliant in creating all of their wardrobes.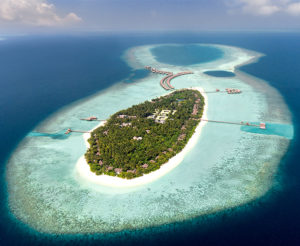 Vakkaru Maldives island view
9. Do you have any advice for anyone interested in a career in illustration?
I think if it's what you really want to do then do it and don't let anything put you off course. The more you do something, the better you'll get. Students often ask me how to find their style and I always say that if you just keep drawing, your style will find you. My ultimate advice is to enjoy the journey as much as the outcome.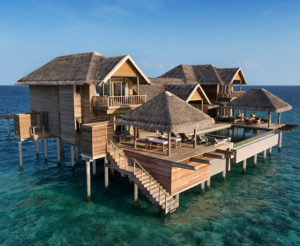 Vakkaru Maldives cabin
10. What do you have planned for the future that you can share with our readers?
There are so many big exciting projects coming up. Sometimes I get so excited about what's to come that I literally can't sleep! Right now, I'm focused on my latest fashion book that has just been released, Elegance—The Beauty of French Fashion. I've just finished my world book tour and it's just been so incredible to meet so many wonderful people all around the world and feel that connection. Creating is such a joy and it's even more amazing when you can actually share it with others. I also have so many plans for my little mouse! I'm planning her next adventure right now, so follow me @meganhess_official and @claristhemouse for updates.
To be part of 'A Seaside Adventure with Claris The Mouse & Megan Hess', you can book your stay with the special Festive Offer and enjoy up to 35 percent off room rates with breakfast when booking direct on vakkarumaldives.com.
| | |
| --- | --- |
| SHARE THE STORY | |
| Explore More | |