Oh no, the end is near and we are approaching the finishing line! Don't worry because it's not armageddon—just the end of 2019. December has finally arrived and for many of us, it's also the season for travelling. Some prefer visiting cooler places to escape the Malaysian heat while some don't mind the oh-so-hot weather (there are countries that are warmer than ours). If you're from the latter category, Dubai is definitely worth checking out. In addition to that, you also have your planning cut out because these Hollywood actresses—Gwyneth Paltrow, Kate Hudson, and Zoe Saldana—have some activities that they recommended in this itinerary. This collaboration with Dubai Tourism is part of a project centred around the short film A Story Takes Flight (directed by Emmy Award-winning director Reed Moran). Are you Dubai-bound yet?
Dubai according to Gwyneth Paltrow: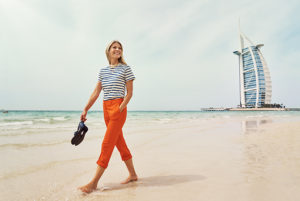 Gwyneth Paltrow in Dubai on Kite Beach
The Shakespeare In Love actress recommends getting breakfast at Kite Beach—located steps away from Jumeirah's main street. You will find casual bites to feast on at shops and food trucks, including some sliders at Salt. In addition to glorious views of the majestic Burj Al Arab, Kite Beach is also water sports galore with all kinds of activities to do.
A mere five-minute drive away is Dukite Surf Club. This is the spot to kite surf with the official kite-surfing club of Dubai. A collective of internationally certified instructors offer a range of classes here. Whether you're new to this or a pro, head over to the Dukite Surf Club for genuine thrills and adrenaline-filled adventures.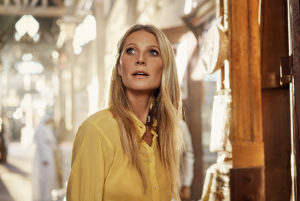 Gwyneth Paltrow in a Dubai souk
Have you heard of souks? Well, Gwyneth Paltrow recommends checking out the spice souk in the afternoon. Prepare for your senses to be treated to rich sounds, sights, and scents. At the Dubai Spice Souk, you will find spicy-sweet aromas of cloves, earthy fragrance of cinnamon, and smoky smell of paprika. There are more than 150 retailers in this small covered market with spices shipped daily from countries such as Iran, Pakistan, and India. If you're searching for something unique, look for sumac, zaatar, and ras el hanout. Oh, don't forget to seek out highly-prized saffron too.
What's next? An 18-minute drive to Al Fanar Restaurant will reward you with top-notch Emirati cuisine. Step foot into the past and experience the memories of Dubai as a small town. Dotting the walls and shelves are various vintage Arabian paraphernalia. What to eat? Go for beef kafta, charcoal grilled meats, fishes, and sweets that are famous in the region. Time to feast!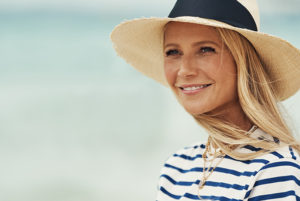 Gwyneth Paltrow portrait in Dubai
Post-meal, visit the Dubai Fountain to witness the tallest performing fountain in the world. The experience is of music, water, and light. The fountain is definitely spectacular. Powerful water jets, submerged within the 30-acre Burj Lake, are cleverly spread out. Fun fact: songs that were featured include Power by Exo and Thriller by Michael Jackson. The show takes place every 30 minutes from 6pm every day.
After enjoying the show, it's time for dinner. Oh, and one with a view! A mere 350 metres away is Neos—located on the 63rd floor of Address Downtown. In addition to unobstructed views of the Burj Khalifa, you can even watch the Dubai Fountain show from here. Make sure to try their signature seafood platter, short rib sliders, as well as fresh caviar and oysters. Gourmet cuisine aside, many come to Neos for the myriad of themes—live jazz trumpets, and hip-hop DJs among others.
Dubai according to Kate Hudson: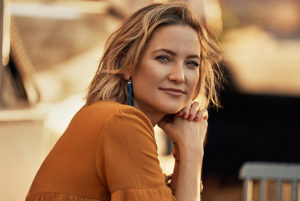 Kate Hudson portrait in Dubai
The Almost Famous actress recommends starting your day at the Burj Al Arab—one of Dubai's most popular sites. Established in 1999, the hotel is recognisable due to its sail-shaped silhouette. Burj Al Arab's long list of superlatives include lush suites, gold interiors, and the finest delicacies. Kate Hudson suggests swimming by the hotel that's built on a triangular man-made island reclaimed from the sea.
A seven-minute drive will take you to Surf House for a well-deserved activity. Say yes to fun! This is where you should go for everything surfing and stand-up paddleboarding. Moreover, there is a yoga studio with a variety of disciplines as well as a coffee shop. The best time to stop by is from October to April. Grab a a bite or get moving—either way, you're bound for a good time.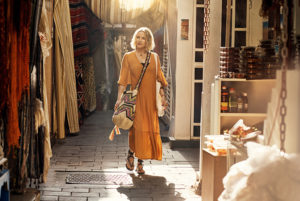 Kate Hudson in Dubai market
For midday, Kate Hudson proposes heading to the Al Fahidi Historical Neighbourhood. If you're a history buff and would be interested to learn more about Old Dubai, give this district a go. Take the opportunity to examine the city as it was during the mid-19th century. Walk along the winding streets and you'll discover traditional wind towers made of stone, teak, gypsum, sandalwood, and palm wood. Other must-visit attractions here include the Coins Museum and The Sheikh Mohammed Centre for Cultural Understanding.
Not too far away is the jewel of Al Fahidi Historial Neighbourhood—Alserkal Cultural Foundation (ACF). This is a hub for creativity and cultural development. With five exhibition rooms and a few dedicated sections, Dubai's emerging artists and designers showcase their works here. Don't miss out on ongoing workshops and exhibitions while you're at ACF.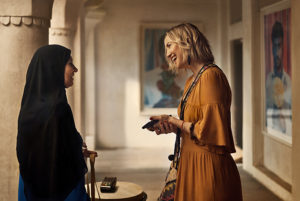 Kate Hudson in Dubai's culture centre
It's time for a cuppa! Mazmi Coffee, to be specific. Indulge in a range of brews, from the classic espresso to Spanish latte, while munching on pastries. For something rather unique, there's the saffron ice cream. In addition to being a cafe, this Dubai Creek casa is also boutique hotel with three rooms—Samaa, Beteel, and Abra.
Last but definitely not least, hop aboard a traditional boat (abra) to cross the creek that divides Dubai's city centre from Bur Dubai. Along the way, spot wooden dhows, trade cargo, and the occasional ship. The short journey takes about five minutes and a single ticket is priced at AED1 (approximately RM1.14). Apart from admiring old houses, towers, and minarets, this is also a place to capture the sunset.
Dubai according to Zoe Saldana: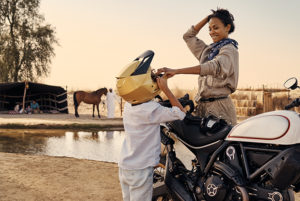 The Guardians of the Galaxy actress took a different route in her itinerary—one where she headed into the unknown. Her first recommendation is the Balloon Adventures Emirates Hot Air Balloon Tour. You won't just get a bird's eye view of the Arabian desert; you will share the skies with falcons. The tour takes you 1,200 metres above the Dubai Desert Conservation Reserve. Throughout the one-hour journey, you'll see red sands, gazelles, and the Hajar Mountains. That's one way to begin your day!
Find out more about the cultural roots of Dubai by experiencing life in the desert more than a hundred years ago. With the Al Marmoom Bedouin Experience, you will be able to understand the emirate's heritage and desert's secrets. What to expect? The immersive adventure starts with a ride in a traditional camel caravan along golden sands before a falcon show. Next, proceed to the largest unfenced nature reserve in the UAE—the Al Marmoom Desert Conservation Reserve—where you'll see a Bedouin village.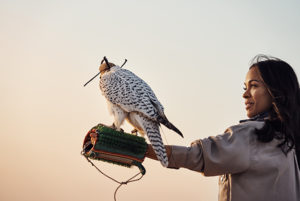 Zoe Saldana in Dubai with a falcon
After that, Zoe Saldana suggests encountering falconry. Known as one of the most exciting sports in the region, this is your chance to witness falcons catch game at tremendous speed. Falconry has been a major part of desert life. You can also check out the annual Fazza Championship for Falconry and observe hundreds of enthusiasts compete.
Up next is the Al Maha Desert Resort—a Luxury Collection hotel. Treat yourself to spa retreats, poolside lounging, dune drives, and of course, a good meal. You might even catch a glimpse of an Arabian onyx. One thing you must do here is wait for the sunset.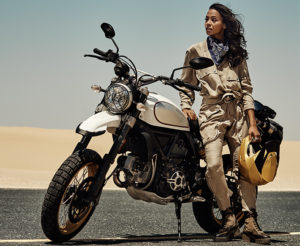 Zoe Saldana with a bike in Dubai
Another recommendation is the tall Dubai Frame located in Zabeel Park. It resembles a picture frame and provides panoramic views of the city—historic district to the north and the modern skyline to the south. In addition to the Future Zone (a time tunnel revealing what Dubai might look like in 50 years), there is also a glass bridge at the Sky-deck spanning 50 metres. Tickets are priced at AED50 (approximately RM57) for adults and AED20 (approximately RM23) for children. There is no better place to experience Dubai's past, present, and future.
The final suggestion by Zoe Saldana is an important yet simple one—shopping! City Walk is a new urban precinct in Dubai comprising of chic shops, al fresco restaurants, outdoor spaces, and La Ville Hotel and Suites (a boutique hotel). There is a wide variety of activities to do here, from Green Planet to Mattel Play! Town to local and international fashion stores. If you're hungry, options include Aubaine for French fare and Sikka Cafe for Emirati fusion cuisine.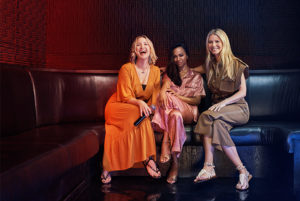 Gwyneth Paltrow, Zoe Saldana, and Kate Hudson in Dubai karaoke
Dubai is an interesting city to visit. The fusion of the old and the new means your time there will always be exciting. Travelling around Dubai is easy too, with buses, the Dubai Metro, the Dubai Tram, and boats being viable transportation options. Getting there from Kuala Lumpur only takes seven hours by flight. Have you been thinking about making your maiden visit to the city or planning to return? Let these recommendations by Gwyneth Paltrow, Kate Hudson, and Zoe Saldana help you.
For more information, visit this website.
| | |
| --- | --- |
| SHARE THE STORY | |
| Explore More | |