Tapping away at my desk in KL, reflections on connections
YOU MEAN THE WORLD TO ME
August 2014 at the 5th Georgetown Festival, in the courtyard of the Khoo Kongsi. As night falls the curtain is raised on an ingeniously constructed, visually eloquent double story stage. The beautiful but brutal retelling of a staggering story of love, loyalty and a family's demons reveals itself to an audience—most of whom are very much at home on the streets of Georgetown, Penang; the actual setting within the play itself. There is an intimacy and immediacy in the telegraphing of gut-wrenching sentiment to the stunned audience culminating in an impassioned curtain-call where the actors themselves struggle to stem their tears. This was my introduction to Saw Teong Hin's quietly magnificent "almost-autobiographical" Hokkien play You Mean The World To Me.
Fast forward 3 years and here we were in April 2017 at the premiere of You Mean The World To Me—now reworked as the world's first Hokkien movie. A couple of friends and I (huge fans of Teong Hin's play) had flown up to Penang almost two years earlier to fill in as extras for a few hours of the 17 day shoot on the island. Yes the China House scene. Yes don't blink.  Yes we were totally credited, thank you. The movie lacks that emotional crunch that only breathing theatre can deliver. But ohhhhh it's lovely and tender and extraordinary.  Soaked in the detail and authenticity of 1970s Penang. Most of the cast are reprising their roles from the play and their passion for the project is tangible. It is the women who carry the movie—with their stoicism, their colour, their devotion, their peccadilloes. Neo Swee Lin and Yeo Yann Yann playing mother and sister respectively to Frederick Lee's Sunny are the flawless foil—in both strength and vulnerability—that allows us to truly see him. Christopher Doyle's cinematographic genius is a soaring, lingering love ode to Georgetown in particular and Penang as a whole. But the largest applause is reserved for Saw Teong Hin himself, writer, director, subject matter. Thank you for your sensitive, truly generous sharing of this exquisitely brave story. Now please—restage the play. 
TROPICANA THE MUSICAL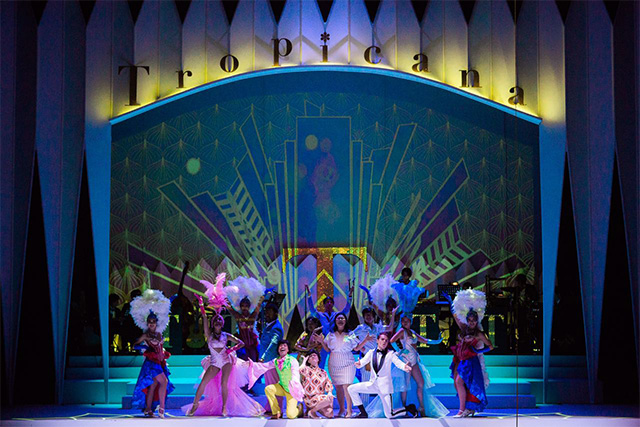 That crucible of enchantment, GTF 2014 was also the first time I'd seen any work of the much-lauded Singaporean theatrical team Tan Kheng Hua and Lim Yu-Beng. Respectively producer and writer/director of 2 Houses—a site-specific, gorgeously detailed chronicle of World War II in Penang set within the stunning Soonstead Mansion that August. And now there was loud buzz from south of the border surrounding Tan Kheng Hua's latest production, Tropicana The Musical. An ambitious original musical based on the actual Tropicana Theatre-Restaurant and Niteclub, a Las Vegas-style club situated on Scotts Road, that had been the epitome of glamour, the aspirational Singaporean lifestyle in the swinging 60s. So a campaign of marketing and sponsorship that had folk up in KL taking notes aside, I just really like productions that usher you into the mood as you move through the foyer. Yes, 60s bar (tick). One might just get all the feels one might need cuddling a bottle of Prosecco in one's plush velvet seat.
TTM managed to assemble a dreamteam of heavyweight talent both on and off stage. With Beatrice Chia-Richmond directing, Cultural Medallion recipient Haresh Sharma providing the script and really the Ocean's 11 of Singapore thespians (Lim Yu-Beng, Ebi Shankara, Karen Tan, Brendon Fernandez, Rizman Putra, Siti K, Joshua Lim, Mitch Lagos, Audrey Luo, Seong Hui Xuan, Sharda Harrison) fleshing out (literally in some cases) conversations bigger than themselves that Singapore was having with herself back then. In musical harmony. The songs were pretty, loved the costumes (spangled psychedelia and tassled breast petals always work for me), loved the black and white accordion framing of the stage (ok let's not mention that car). But somehow the sum of its parts were just greater than the whole. Still big kudos to the team for the boldness of staging something totally fresh about this time and space almost forgotten. I for one relished that whiff of ganja-laced nostalgia.
LA CAGE AUX FOLLES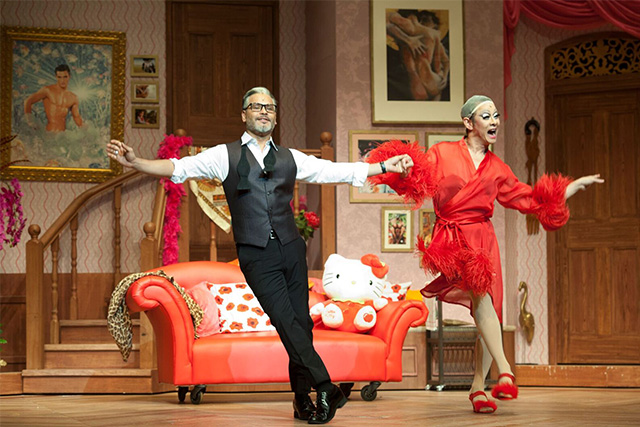 My musical theatre weekend in Singapore continued the next day with Sunday In The Birdcage With George, better known as La Cage Aux Folles. I remember the celluloid version, yes, Birdcage, with Nathan Lane and Robin Williams. Robin Williams improvising madly with Bob Fosse, Martha Graham, Madonna—"but you keep it all inside." Genius.
Some months back I'd had a chat with my friend Tony Eusoff  who'd mentioned his regret at being unable to reprise his role as George with the W!ld Rice production, after a critically-acclaimed run in Singapore 5 years ago due to, well, you can read about that here. Now, Our Very Own Sean Ghazi with those hips, that swagger and that molten chocolate purr had taken over as the loyal, loving, marginally less-flamboyant George to Ivan Heng's Albin/Zaza. It was touching that Sean's bio blurb in the programme had a dedication to Tony. Ivan Heng of course was seemingly born to play Albin/Zaza and could probably just roll out of bed, wig-up and stiletto-twirl into an extravagant birdcage frolic of feather-propelled drama. They were just gorgeous together of course. A perfect elliptical modern family with Aaron Khalid playing their son Jonathan, soon to be marrying the lovely Anne (Mae Ellliessa), with his hussy biological mother permanently MIA. Hmmm... Hossan Leong as Leslie screamingly stole every scene he was in. I just want him at every dinner-party I go to please. The Cagelles were the high-kicking, pecs-n-'ceps-popping, smoulderingly best cabaret line-up I'd seen... oh, ever. Ferocious, fluttering, powerful and oh soooo sexy. I just want them at every... ok nevermind. Director Glen Goie has taken this classic and refracted it through a charming, pink-dotted local prism for this shimmering spectrum of human hues. Throw in valuable homilies of love and truth and... applause! Sniff! Applause! What a spectacle.
ELECTRA
Back in KL and as I'd mentioned to a friend, I was really needing to not watch anything with feathers or sequins for a while. And along came Electra, a Sophoclean classic of betrayal and retribution. With that white-bread question of terrifying Greek tragedies, "What does it take to kill your mother?" Electra is committed to exhausting despair and a maniacal grief for the murder of her father Agamemnon by her mother Clytemnestra and her stepfather Aegistus until vengeance is exacted by the killing of the pair by her brother Orestes, perhaps then also begging the question "Who does it take to kill your mother?" Big leap. Nary a spangle in sight.
Cake Theatrical Productions continues its work with The Classics with a powerhouse performance from Edith Podesta in the title role. It's multi-layered, multi-dimensional, modern physical theatre that takes a while to reel you in. The stage is set with a climbing grid in which the actors, playing multiple roles eat, play and die. Sharda Harrison (Hello, Pinky weren't you in Tropicana just a week ago?) uses mask and beard alternately for her dual roles as female servant and Agamemnon, perhaps strangely looking more at ease in this mournful setting than she did in 60s Singapore. Lian Sutton (and there you have it—first saw him at GTF 2014. Yes 2 Houses J) plays Orestes and bewigged, his mother Clytemnestra—her with chilling sensuality. Andrew Marko leaves only the faintest impression playing three different characters. Electra is well... electrifying. But with a trancelike timelessness. You leave wondering if anyone actually won and if revenge is perhaps best savoured without regret.
You Mean The World To Me is currently playing at selected cinemas nationwide. Everything else—you'll have to catch their next staging.
So apparently I should say you can follow me on Instagram @goddesshireenxxx.
Related stories:
Women of the world raise your right hand