Film, TV + Theatre
How to recreate dishes inspired by classic Christmas movies such as 'Home Alone', 'Polar Express' and more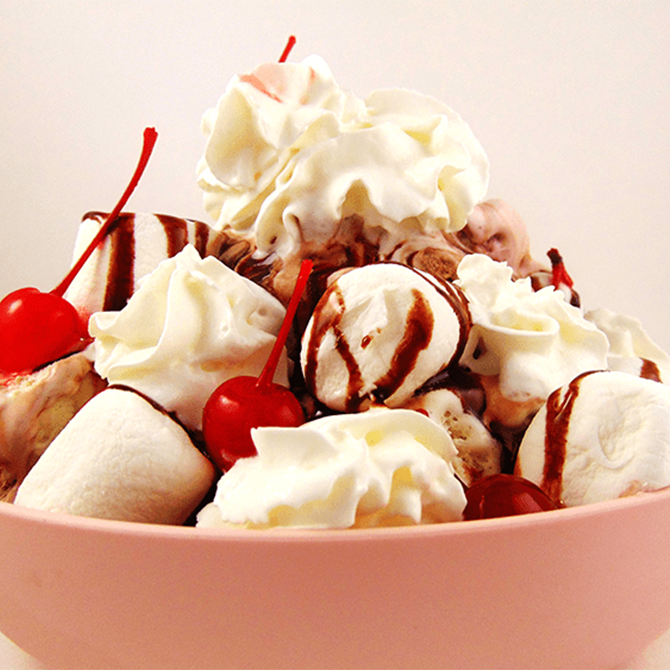 Nothing beats a cosy night where you just laze around and binge-watch all the movies you can find on Netflix in one seating. A bag of chips in one hand and the remote control in another, a ferocious storm to set the mood would be an added bonus. While catching up with the classics, a serious #foodgasm might pop up and you wonder to yourself: "What would that taste like?". Well, wonder no more with these easy-to-follow recipes inspired by everyone's top Christmas movies. With them, you can recreate the exact snack. There's no need to be afraid, because, to quote Chef Auguste Gusteau, everyone can cook.
1. Kevin McCallister's Ice Cream Sundae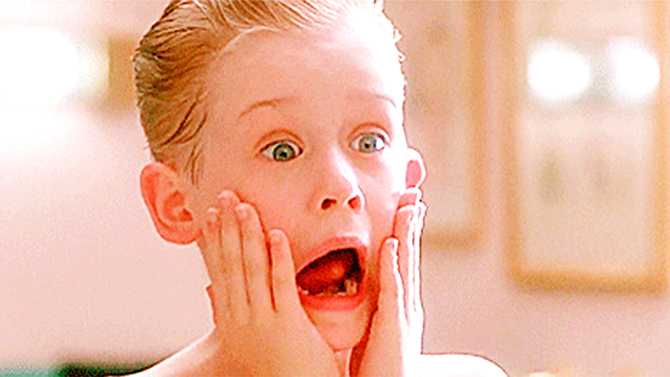 Image: The Daily Beast
A Christmas classic everyone can agree on is none other than Home Alone. From the movie's plot to the soundtrack, it has all the qualities of a perfect festive film. In both Home Alone and Home Alone 2: Lost In New York, Kevin enjoys a loaded bowl of ice cream sundaes. Now, that's life. Here's how you can remake his toothsome treat.
Ice Cream Sundae by Kate Haak
Serves: 8 pax but Kevin didn't exactly share
PREP TIME: 15 minutes
---
INGREDIENTS:
1.4kg Neapolitan ice cream
12 regular size marshmallows
8 – 10 maraschino cherries (with or without stem)
DIRECTIONS:
1. Soften the ice cream by microwaving for 30 seconds, or allow it to sit on the counter for about 10 minutes
2. Scoop the entire tub of ice cream into the serving dish, aiming to get all 3 flavours per scoop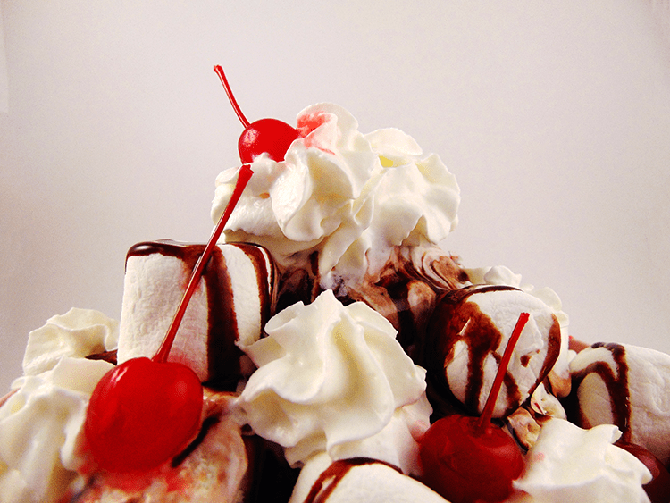 3. Place the marshmallows around the ice cream as you desire
4. Drizzle the chocolate sauce over the sundae
5. Using as much canned whipped cream as you like, place swirls around the ice cream and top with the maraschino cherries
6. Serve immediately. Leftovers can be stored in a covered, airtight container in the freezer if needed.
This recipe was taken from this website.
2. Love Actually's Banoffee Pie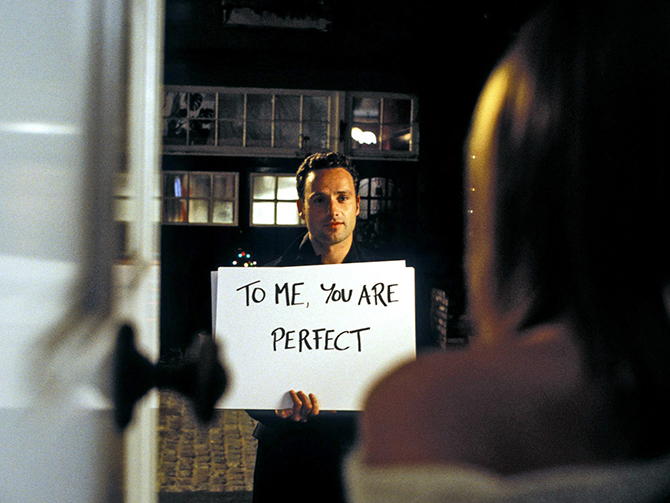 Image: Entertainment Weekly
It's been 17 years since Love Actually premiered in cinemas and somehow it's still in the long list of movies to watch every Christmas. The movie was bittersweet, poignant and heart-warming—just like that scene when Juliet visits Mark to watch the footage he took of the wedding. He opens the door to his unrequited love interest standing there with a banoffee pie (if it wasn't obvious enough, it's a combination of bananas and toffee) in hand. We wanted to give you a chance to recreate that heartfelt scene with this recipe.
Banoffee Pie by Feast of Starlight
Serves: 12 – 16 pax
PREP TIME: 15 minutes
COOKING TIME: 2 hours
---
INGREDIENTS:
1½ cup finely crushed graham cracker crumbs
6 tbsp unsalted butter, melted
1½ cup (slightly less than a can) sweetened condensed milk
1 cup heavy cream, chilled
1½ tbsp granulated sugar.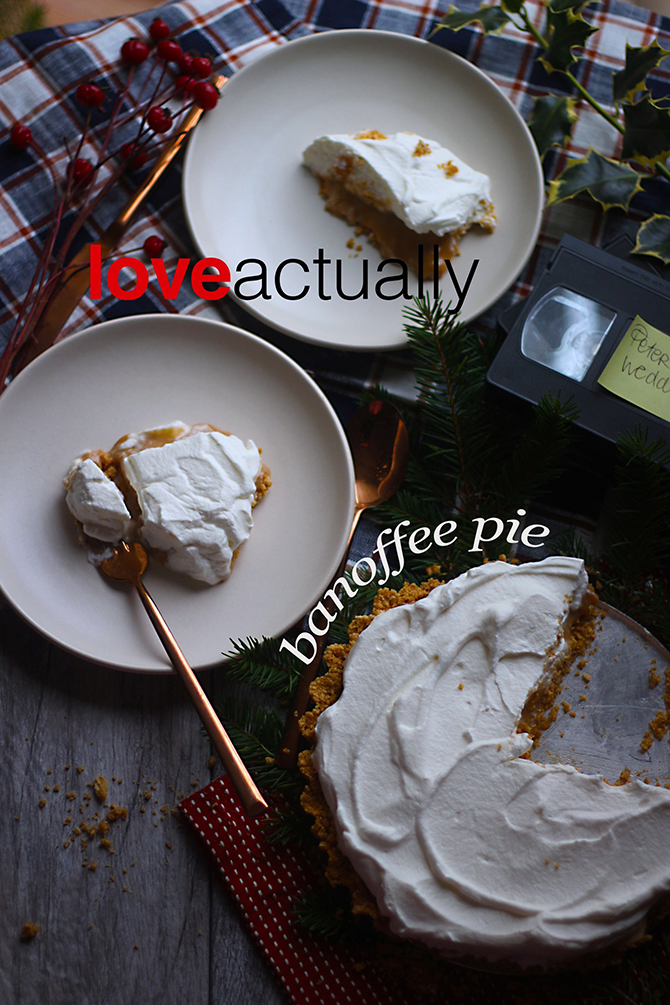 DIRECTIONS:
1. Completely submerge a can of sweetened condensed milk in a pot of water (at least by 5 centimetres) and place over medium-high heat. Bring the water to a boil and then turn it down to a simmer
2. Simmer for 2 hours. Make sure to have the can submerged in water throughout this process
3. Meanwhile, prepare the crust by combining the finely-crushed graham cracker crumbs with the melted butter
4. Mix to combine and pour the mixture into the pie tin. Press the crumb down firmly to create an evenly thick crust and edge
TIP: A measuring cup is a great tool to help press down the crust
5. Place the crust into the refrigerator for an hour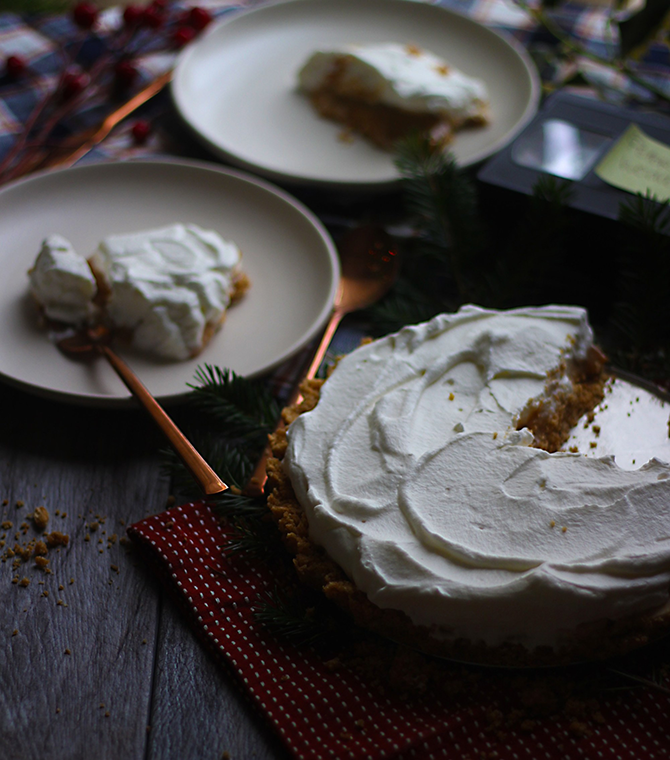 6. After 2 hours, take the can out of the pot and let it cool. Pour the toffee into the prepared crust and spread out evenly
7. Slice the bananas and layer them evenly on top of the toffee
8. Whip the chilled heavy cream with granulated sugar on medium speed until soft peaks form. Top the pie with the whipped cream and serve!
This recipe was taken from this website.
3. Polar Express's Hot Chocolate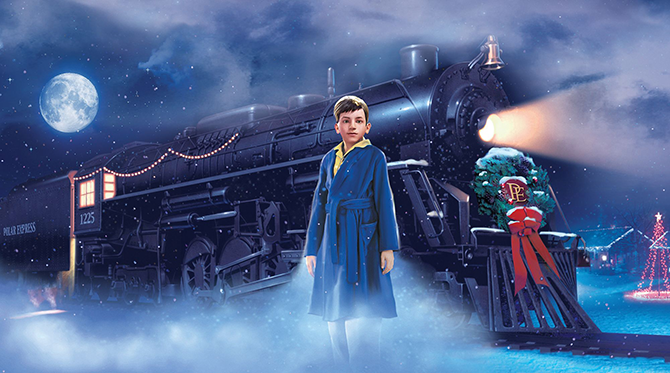 Image: Rail Events
You may not know it, but the picturesque movie directed by Robert Zemeckis (who also directed Back to the Future and Forrest Gump) is now one of the must-watch movies during the festive season. The story reflects on the "true" meaning of Christmas for children as they embark on a journey to visit Santa but there is a scene where the conductor, the pastry chefs, and the waiters sang while serving hot chocolate to the children on the train and performing a dance, which has remained in the hearts of many people. What better way to reminisce than to make a delicious cup of cocoa yourself?
Hot Chocolate by allrecipes
Serves: 10 pax
PREP TIME: 10 minutes
COOKING TIME: 30 minutes
---
INGREDIENTS:
1½ cup (slightly less than a can) sweetened condensed milk
1½ cup bittersweet chocolate chips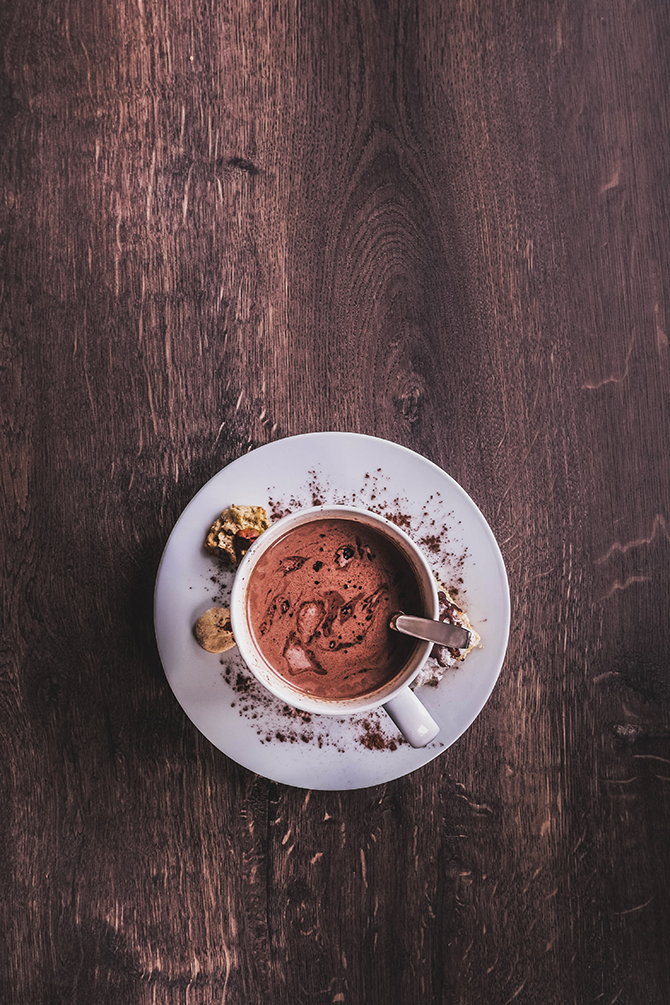 Image: Unsplash | Jonny Caspari
DIRECTIONS:
1. Combine milk, sweetened condensed milk, cream, chocolate chips, vanilla extract, and salt together in a large pot over low heat.
2. Cook and stir constantly, until chocolate is melted for 30 to 40 minutes.
This recipe was taken from this website.
4. Harry Potter's Pumpkin Pasties

Image: Hypable
If you're wondering why Harry Potter even made it to the list, here why. We know the actual amount of Christmas in the movie is minimal, but something about the movie feels perfect for the Yuletide, especially the winter snacks in it! Out of all the confections featured in the film, Pumpkin Pasties is the number one dessert that has won us over.
Pumpkin Pasties by Favourite Family Recipes
Serves: 12 pax
PREP TIME: 15 minutes
COOKING TIME: 30 minutes
---
INGREDIENTS:
2 pie crusts (both refrigerated or homemade is fine)
¾ cup pumpkin puree
85g cream cheese, softened
⅓ cup sugar
2 tsp pumpkin pie spice
1 egg
¼ cup melted butter
OPTIONAL: Decorating sugar crystals, cinnamon sugar, or sprinkles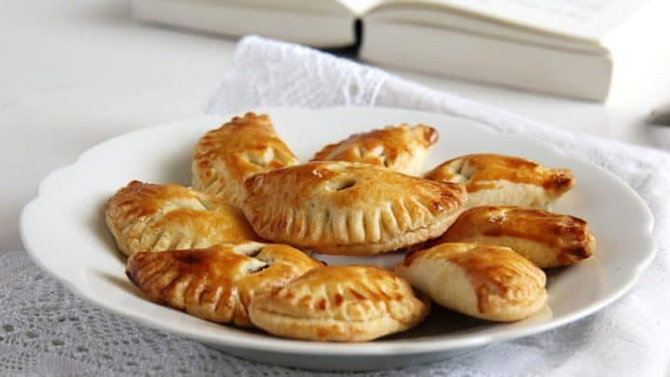 Image: whereismyspoon | for illustration purposes only
DIRECTIONS: 
1. Preheat oven to 176°C
2. Roll out the 2 pie crusts. Cut out 12 circles about 10 centimetres in diameter using the top of a large cup, cookie cutter, or bowl
3. You will not be able to get all 12 circles at once. Cut out as many as you can, roll the remaining dough into a ball. Using a rolling pin, roll it out again to cut more circles
4. Using the rolling pin again, gently roll out each circle just a little more to create a slightly thinner crust than a regular pie crust
5. In a mixing bowl, combine the pumpkin puree, cream cheese, sugar, pumpkin pie spice, and egg
6. Evenly distribute the pumpkin filling between the 12 dough circles. Place the filling on one half of the circle
7. Gently fold the dough over the filling, forming a pasty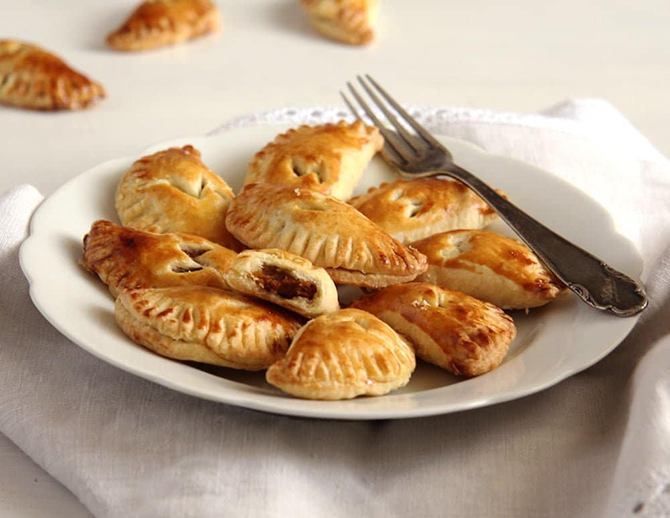 Image: whereismyspoon | for illustration purposes only
8. Using a fork, press the edges of the dough together, sealing the filling inside
9. Using a sharp knife, cut a few slits across the top of each pasty
10. Place each pasty on a baking sheet
11. Using a pastry brush, lightly coat each pasty with melted butter
12. Sprinkle the top of each pasty with sugar crystals, cinnamon sugar, or coloured sugar sprinkles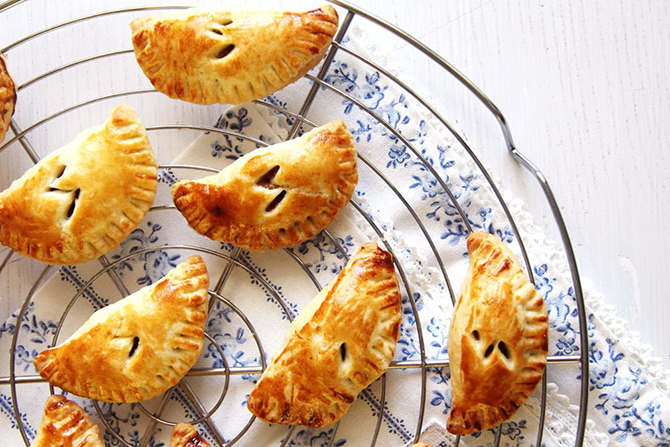 Image: whereismyspoon | for illustration purposes only
13. Bake for 25 to 30 minutes or until pasties are lightly browned.
This recipe was taken from this website.
For more easy-to-follow Christmas recipes, click here.
| | |
| --- | --- |
| SHARE THE STORY | |
| Explore More | |