From delicious mains to hearty sides, these easy-to-follow Christmas recipes with a Malaysian twist will see you through the festive season
It might seem intimidating to cook up a feast for the festive season. To add to the list, thinking of ways to revamp your boring old Christmas recipes is easier said than done. But what if we told you it doesn't have to be difficult? We've got you covered with a few dishes you can easily whip up at home, and they'll surely wow your guests. A gift from us to you!
1. Switch up your typical Christmas turkey to a roasted kicap chicken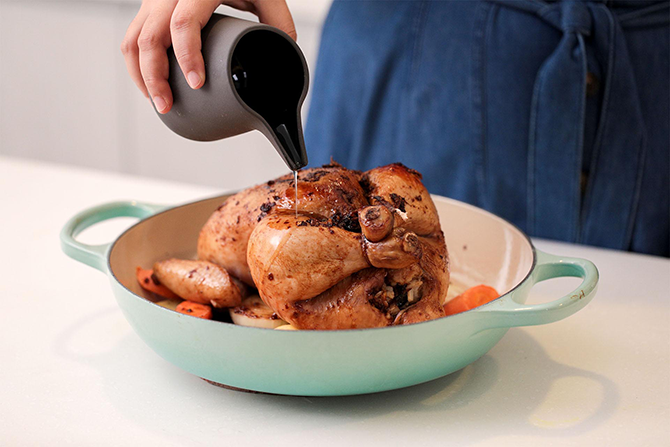 Image: Asian Food Network (AFN)
Ayam Masak Kicap (chicken cooked in sweet soy sauce) may sound like a basic dish but not when chef extraordinaire and Asian Food Network (AFN) ambassador Ili Sulaiman adds her personal touch to the recipe. The classic stuffing for a roast consists of bread, onion, celery, and fresh herbs but since this is not your typical roast, the recipe here has been altered. Asians supposedly just can't live without their rice. Hence, Chef Ili has incorporated jasmine rice and other local ingredients you would usually find in your nasi goreng (fried rice) into the dish. Imagine a juicy chicken glazed with sticky sweet sauce and a savoury stuffing—it is the perfect centrepiece for your holiday spread.
Roasted Kicap Chicken with Asian Stuffing by Ili Sulaiman
Serves: 4 pax
INGREDIENTS
1 whole chicken (about 1.2 kg)
1 large white onion, sliced thick
2 medium size potatoes, sliced
1 large carrot, sliced
MARINADE
6 tbsp kicap manis (sweet soy sauce)
2 garlic cloves grated/pounded
½ inch ginger grated/pounded
½ tsp black pepper
2 tbsp salt
2 tbsp vinegar
2 tbsp vegetable oil
STUFFING
200g cooked day-old jasmine rice
6 shiitake mushrooms (chopped)
100g lotus root (roughly chopped)
150g minced chicken
100g raisins
1 onion, diced
2 cloves garlic, grated/pounded
1 inch ginger, grated/pounded
1 tbsp salt
½ tsp cracked black pepper
2 tbsp sesame oil
---
DIRECTIONS  
1. In a bowl, add in kicap manis (sweet soy sauce), grated garlic and ginger, black pepper and salt, vinegar with some vegetable oil and mix until combined
2. Pat your chicken dry with a paper towel before pouring the marinade all over the skin and cavities of the chicken
3. While you let it sit and marinate for about 10 to 15 minutes, pre-heat oven to 180°c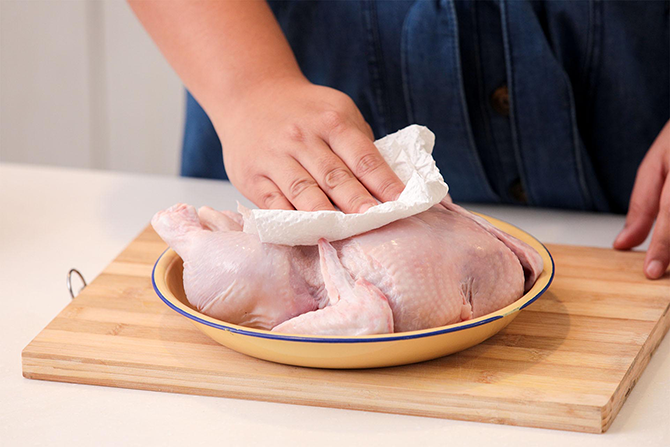 4. Place the rice in a bowl and add in chopped mushrooms, chopped lotus root, chopped onion, grated garlic, grated ginger, minced chicken, sesame oil and season with salt, pepper. Give them a good mix
5. Next, stuff the cavities of the chicken with the stuffing before tying the legs together with some butcher string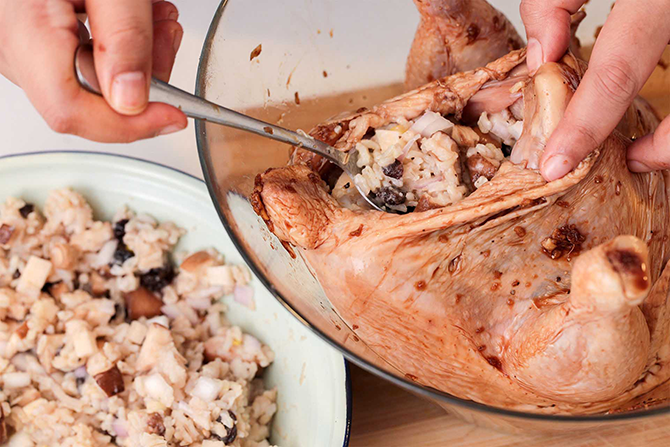 6. In a roasting pan, place sliced onions, potatoes and carrots on the bottom of the pan and sprinkle some salt and pepper. Next, place the chicken on top of the onions. Cover with a foil
7. Roast the chicken for about 1 hour 30 minutes and baste every 20 minutes with any extra marinade
8. Take off the foil for the last 20 minutes of the cooking process to get the skin nice and brown
TIP: To ensure that your chicken is cooked, poke it with the sharp end of a knife near the thigh area and check if the juices that flow runs clear. If it runs bloody, it means your chicken is not cooked just yet and put it back in the oven for a few more minutes.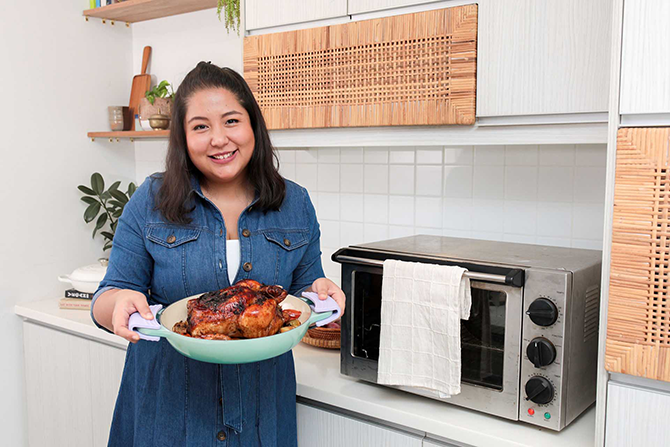 9. Once the chicken is cooked, let it rest for about 5 minutes before you start carving the chicken. Serve it with some sambal and steaming white rice or noodles.
This recipe was taken from Asian Food Network's website.
2. Celebrate the Yuletide with a sambal asam grilled lamb paired with a cup of refreshing Chardonnay
If we had a list of all the match-made-in-heaven combos, a plate of sambal asam grilled lamb paired with a glass of Wolf Blass Gold Label Chardonnay would definitely make it to the top of the list (after Mariah Carey and her touch for Christmas carols of course). What greater way to revamp the average grilled lamb dish than with every Malaysian's favourite—sambal. The spicy and slightly sour chilli paste combined with the tender lamb that melts in your mouth will elevate your festive feasting experience.
Sambal Asam Grilled Lamb by Paul Foster
Serves: 4 pax
INGREDIENTS 
---
DIRECTIONS

1. To prepare the quinoa, combine the quinoa and garlic into a rice cooker or pot
Image: The Spruce Eats | for illustration purposes only 

2. Blend dried chillies, chili padi, fresh chillies, garlic, and shallots
3. Soak the tamarind pulp in 1 to 2 cups of water
4. Slice tomatoes into wedges and onions thinly
5. In a medium-sized wok, heat the oil on medium heat and add the paste
6. Fry until aromatic and add tamarind water, tomato, onion, salt and sugar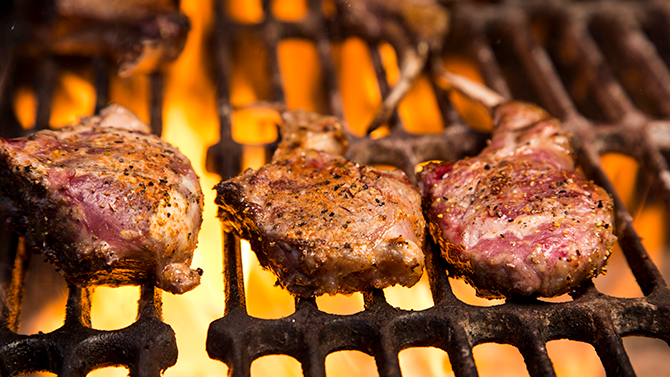 Image: The Spruce Eats | for illustration purposes only

7. Before proceeding to the lamb, boil and blanch bok choy for 30 seconds in a small pot. Remove and quickly place in cold water to preserve the crunch

8. Place the lamb (fat side down) to sear the meat, and continue to cook all sides evenly until nice and charred
9. Remove from the heat and let it rest before serving
10. Plate the cooked quinoa, bok choy and lamb chops on a plate. Drizzle sambal sauce liberally
11. Garnish the dish with spring onions and serve with a glass of Wolf Blass Gold Label Chardonnay.
This recipe was taken from Wolf Blass's website.
3. Munch on this specially-curated local Christmas pie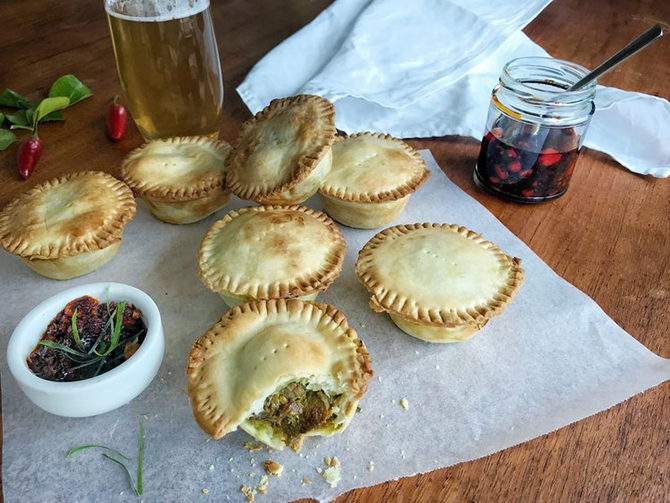 Image: Fooderati | Melissa Leong
Christmas pie but make it Malaysian. How? By filling it with scrumptious beef rendang. You'd be surprised at how well it goes with a crusty pastry dough casing. Imagine this—as you cut through the crumbly texture on the outside, the intense tropical aromatics from the coconut, chillies and spices greet your nose. Sinking your teeth into the buttery sweetness, the world seems to huddle to a stop as you take a second to process what you've just put into your mouth. This is it, the perfect dish to impress your guests this festive season.
Beef Rendang Meat Pies by Melissa Leong
Makes: 8 party pies
INGREDIENTS
500g beef oyster blade, chopped into bite-sized chunks (beef chuck, lamb neck or shanks also work well)
270ml coconut cream
1 tbs kicap manis
Salt
White pepper
4 sheets short crust pastry
¼ milk for glazing
RENDANG PASTE
2 thumb-sized pieces of fresh turmeric

1 generous knob of galangal, peeled and coarsely chopped

2 red shallots, peeled and halved

3 chili padi (de-seeded if you prefer a milder heat)

1 thumb-sized piece of ginger, coarsely chopped

½ stalk of lemongrass, coarsely chopped

2 scallions, topped and tailed

1 tsp white mustard seeds

---
DIRECTIONS 
1. Preheat the oven to 180˚C. Blitz the paste ingredients in the blender or food processor until you achieve a rough paste (add a small amount of water to the paste if it has issues combining)
2. In a heavy-based pot on a medium heat, add a slug of olive oil and stir fry the paste for 2-3 minutes, until aromatic. Stir the mixture continuously to prevent it catching on the bottom. Remove the paste from the pot and set aside while you brown the meat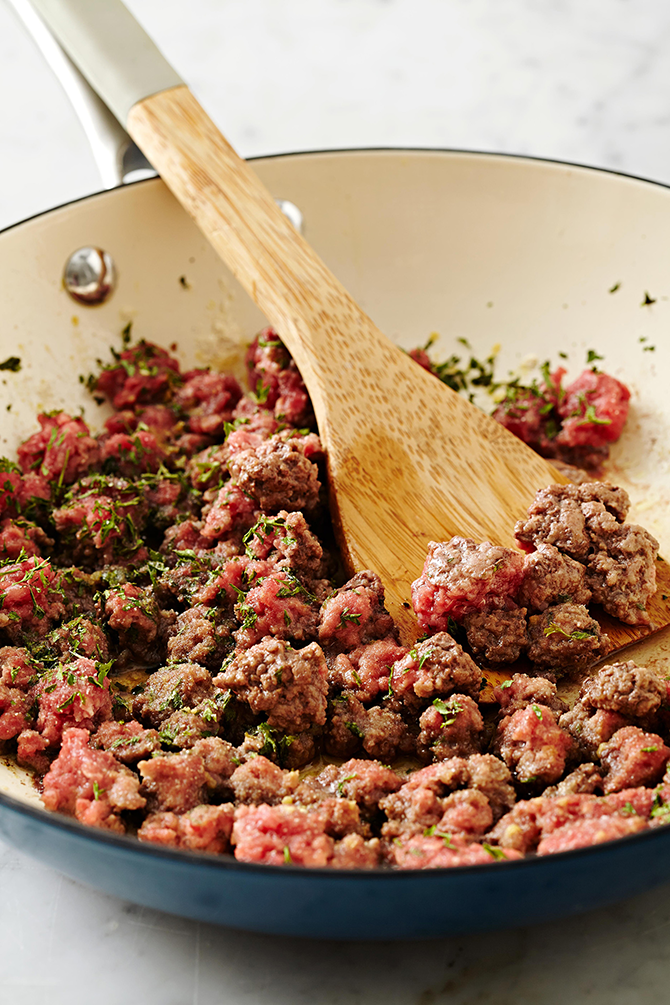 Image: Jason Donnelly | for illustration purposes only
3. Add a little oil before browning the meat on all sides, in batches. Once all the meat is browned, return all of the meat to the pot, along with the paste and stir to combine
4. Add in the coconut cream and kicap manis and combine well. Bring the curry to a simmer, taste and season with salt and ground white pepper and place the lid on the pot
5. Place the pot in oven and reduce the temperature to 120˚C for 4 hours
6. When the time is up, remove the pot from the oven and check the meat. It should be soft enough to break apart with a spoon
7. When the meat is done, put the lid on and place the pot on the stove on high heat for 15-20 minutes to reduce the sauce and thicken the texture
8. Once thickened, taste and adjust seasoning if necessary, then set aside to cool. Refrigerate overnight if possible
9. When you're ready to make your pies, preheat the oven to 200˚C
10. Thaw the pastry and cut it to fit the base and sides of your pie moulds. For party pies, a deep muffin tray works well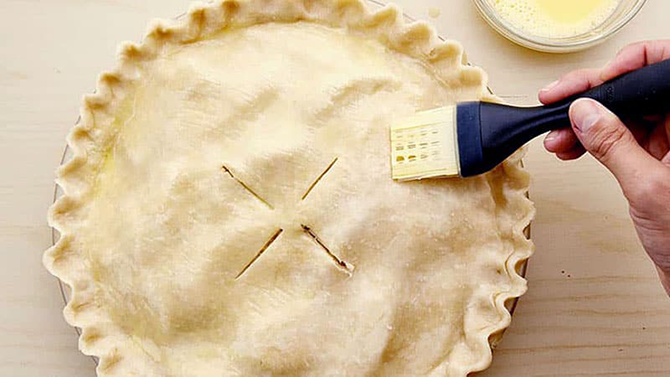 Image: Pillsbury Kitchen | for illustration purposes only
11. Fill each pastry case with the rendang and top with a pastry lid. Use a fork to crimp the edges to seal, then glaze with milk
12. Cook for 20 minutes or until the tops are golden. Set aside to cool slightly, then serve.
TIP: The best option is to make the rendang a day ahead and refrigerate it—it'll be easier to work with while slightly cold, and next-day stews always taste better
This recipe was taken from Fooderati's website.