Film, TV + Theatre
8 Heartwarming Malay movies to watch with the family this Raya
Malay cinema at its finest
IMAGES: Netflix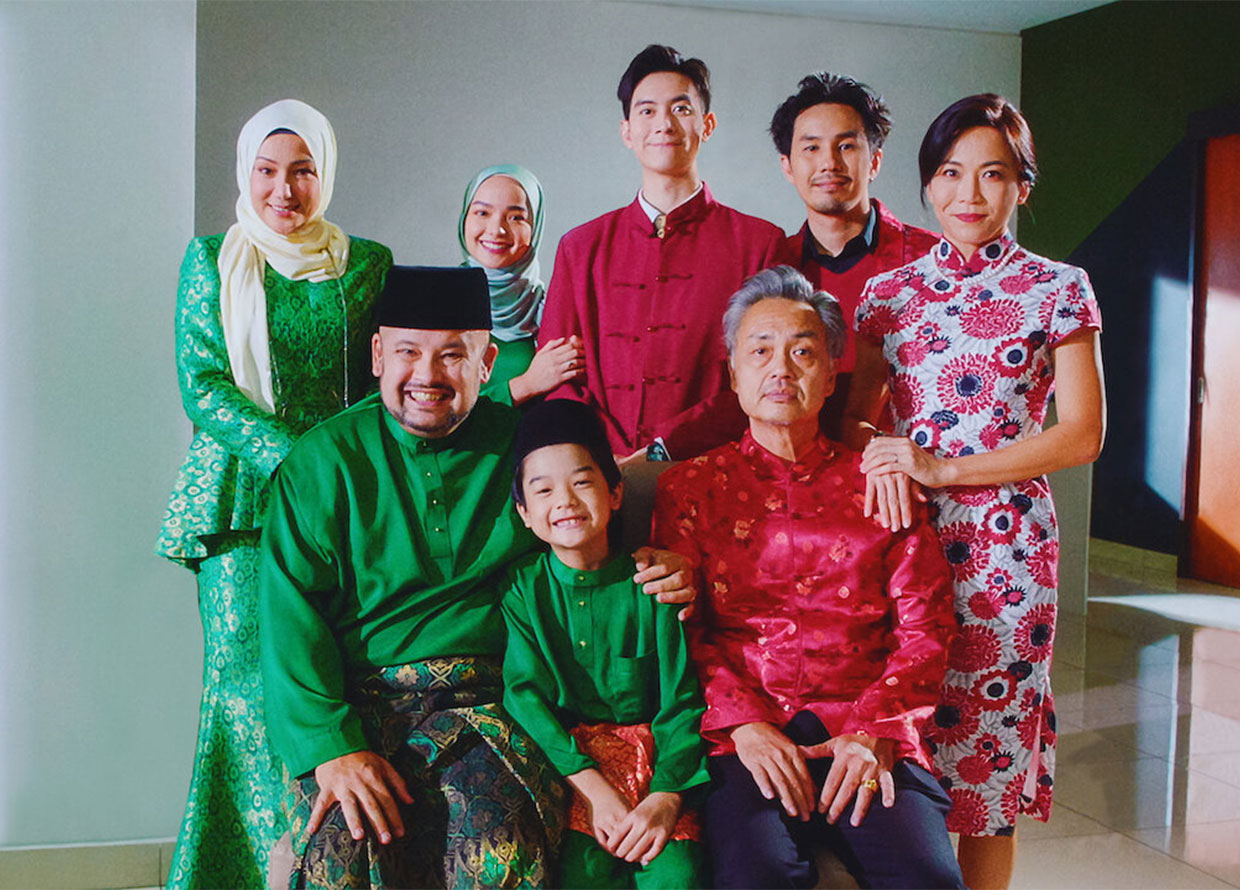 When a family gathers together, it is a truly special moment. If there's anything the last two years have taught us, it's that time spent together should not be taken for granted. As we countdown to celebrating Hari Raya Aidilfitri and the festivities ahead, consider watching a film as part of your get-together activity because you can never go wrong with a good movie! From heartwarming tales to side-splitting comedies, these classic and contemporary Malay films will surely make your family gatherings one to remember. 
The Legend of Hang Tuah (1956)
Starting with a true classic, Hang Tuah is the first Malay film to be fully shot in Eastmancolour film and has stood the test of time since its release in 1956. Hang Tuah is a character every Malaysian would have learned in history class. What better way to revisit the legendary figure than watching the one and only P. Ramlee as the titular character? The film follows the admiral and his four sworn brothers: Hang Jebat, Hang Kasturi, Hang Lekir and Hang Lekiu on their journey from adolescence to adulthood. Upon release, the film was critically acclaimed, winning the Best Musical Score at the 1956 Asian Film Festival in Hong Kong. It was nominated for the Golden Bear—the highest award equivalent to best film—at the Berlin International Film Festival in 1957.
The Bujang Lapok series (1957)
Starring the silver screen legend once again, the Bujang Lapok film series is known as one of P. Ramlee's most hilarious works. The actor took on the role of director for the first film in 1957 and played one of the three bachelors in the series. Bujang Lapok follows the lives of three singletons and best friends Ramlin, Aziz and Sudin living in a rented room owned by a wealthy widow. The movies depict their challenges in love and how they overcome them, often to comical results. Namely, Pendekar Bujang Lapok is a crowd-favourite that even won Best Comedy at the Asia-Pacific Film Festival in 1959. If you're looking for a comedy, this one will make you cry with laughter by the end of it!
Tiga Abdul (1964)
This is starting to look like a P. Ramlee film recommendations list but you really can't talk about Malay cinema without mentioning several of his works. Tiga Abdul is a comedy film about three brothers who are caught in various trickery by a cunning man who uses his three daughters as traps to fleece them of their wealth. Not only is it a knee-slapping comedy, but it also features several memorable songs by P. Ramlee such as Bunyi Guitar and Allah Selamatkan Kamu that the whole family can sing along to. 
Raya Tak Jadi (2011) 
For a more contemporary comedy film, consider Raya Tak Jadi which tells the story of how a businessman and his brother get into some unexpected trouble at the end of Ramadan. When they open the boot of their car expecting a box of imported fruit dates, they are surprised to find a mystery man instead. Let's just say watching Raya Tak Jadi will make you grateful that you and your family are not at the centre of a crime mystery during the holiday!
Pulang (2018)
Directed by Kabir Bhatia, this heart-rending film is one to watch if you're in the mood for a touching love story. The production had a huge budget (for Malaysian standards) of RM6 million and the result was an ambitious film that is on the way to being a Malay classic. What makes Pulang even more incredible is the fact that the script is based on a real love story that began in Malaysia in the 1930s and spanned more than 60 years. It tells the story of Omar who is tasked with finding his missing grandfather at the behest of his dying grandmother after the couple separated at the end of World War Two. Get your tissues ready!
Showtime 1958 (2021)
Ever wondered how the iconic song Selamat Hari Raya came about? What if we told you it was the result of a variety show P. Ramlee organised? Showtime 1958 is a Netflix film that offers a glimpse into the hardships that he and his fellow artists under the Persama union faced. After many studio workers were laid off, P. Ramlee organised a variety show in a bid to raise money for the newly unemployed. The musical drama pulls back the stage curtains to show the fighting spirit of artists always striving to put on a good show despite their mistreatments and recounts the story of how P. Ramlee and singer Saloma met and fell in love.
Hail, Driver! (2021)
Known as Prebet Sapu in Malay, this local film should be on your watchlist. In his directorial debut, Muzammer Rahman achieves a feat of Malaysian cinema by filming Hail, Driver in black-and-white. The film conveys a riveting story of an unexpected friendship between an illegal e-hailing driver who is colour-blind and an enigmatic escort. It was Malaysia's official submission for Best International Feature Film at the 94th Academy Awards.
Kongsi Raya (2022)
In this feel-good romantic comedy, Kongsi Raya depicts the trials and tribulations of an interracial couple. When a Chinese chef falls in love with a Malay TV producer, it seems like a match made in culinary heaven. However, things quickly go out of hand when their feuding fathers challenge each other to a cook-off in a live TV cooking competition showdown. The film title Kongsi Raya refers to the years when Chinese New Year and Hari Raya would fall on the same week and the term was coined to commemorate the celebrations of both festivals together. Starring Wilson Lee, Qasrina Karim, Harith Iskander and more, this film will get you giggling and rooting for our star-crossed lovers! 
Bonus: Family Feud Malaysia 
Do you know what else also gets families fired up when they're together? A healthy dose of competitive games! Play along with the contestants of Malaysia's very own version of Family Feud which premieres on Astro every Monday and Tuesday at 11pm on Astro Ria (channel 104). The premise of the famous American gameshow has families pitted against each other in an epic game of trivia. 
For more ideas on what to do for Raya 2023, click here.
| | |
| --- | --- |
| SHARE THE STORY | |
| Explore More | |