Is laughter really the best medicine? If that's true, then the men from the Malaysian Association of Chinese Comedians (MACC) are saviours. The group comprises of Douglas Lim, Kuah Jenhan, Phoon Chi Ho, and Jason Leong. Throughout their 10 years together, they have ventured far and beyond with their goal to bring laughter and joy to everyone. Unfortunately, the MACC are going their separate ways after one last tour. In conjunction with MACC Mania X—The Goodbye Tour, the stand up comedians took on Buro's Roast and Compliment challenges (watch above) using Malaysian slangs.
We spoke to Douglas Lim, Kuah Jenhan, Phoon Chi Ho, and Jason Leong to find out more about their lives and MACC: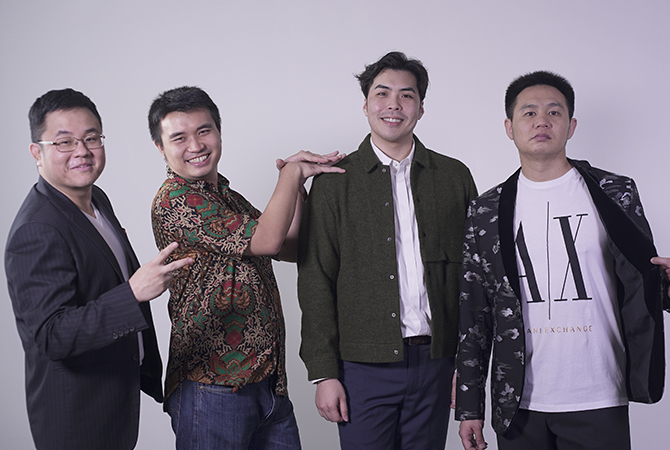 Can you give a brief history of how each of you ended up in MACC and of the group?
Kuah Jenhan: First of all, we are not an actual organisation or an association.
Douglas Lim: The Malaysian Association of Chinese Comedians is just borrowing the name MACC. When we decided to perform as a group back in 2009, the real MACC—the anti-corruption commission—was big in the news because of the Teoh Beng Hock case. That MACC was being played up in the news. I decided to borrow that name and rename it the Malaysian Association of Chinese Comedians but we are not registered with the ROS.
Kuah Jenhan: After a year of performing, if you look up MACC on Facebook and Google, we were the top search.
Phoon Chi Ho: While the case of Beng Hock was going on, a lot of news agencies were coming in to find out more about the MACC. At that time, they didn't have a proper website so they came to our page. Over the years, we get a lot of comments coming in and there was once a few years ago when Lim Guan Eng was undergoing issues with the bungalow incident. There was a person who asked us why we arrested him—on our Facebook page.
Kuah Jenhan: In 2009, Douglas had this idea to do his own show and wanted to get people on board as well. I think he met Chi Ho first.
Phoon Chi Ho: The first thing I told Douglas is if you want another guy, there's only Jenhan because we were pretty much the three stand-up comedians in the scene who were Chinese at the time.
Kuah Jenhan: Douglas was running Young Comedians of Malaysia which was a collective of upcoming open mic-ers and I was there as well. He asked Chi Ho and Chi Ho recommended me. We had our first meeting in August 2009. Three months later, we staged our first show together. It was called MACC First EGM—Easy Going Meeting. We sold out the second half of the show.
Douglas Lim: Our first poster was Jenhan, Chi Ho, and myself in traditional Chinese costumes so some thought it was Chinese opera. Some were disappointed because not only was it not Chinese opera, the show wasn't even in Chinese. For subsequent posters, we had to write stand-up comedy to be clear. Fast forward two years later, Dr Jason Leong showed up and joined the line-up from our third show onwards. We have been performing as a foursome since then without fail.
Jason Leong: In 2010, I started doing comedy and in just my second performance, it was so serendipitous because Douglas Lim was in the show. After the set, Douglas said "who here thinks Dr. Joshua Leong deserves a chance to be in MACC?" and I was so happy even when he got my name wrong. Ever since I joined, the MACC has become way better.
When did conversations about going separate ways come about?
Jason Leong: That's always been the running joke for the past three or four years. As our fan base grew, we started doing other cities outside Kuala Lumpur. There was a year or two we did shows in Singapore then Kota Kinabalu, Kuching, and Labuan. Douglas always made a joke about each show being the last after we're done for the day.
Kuah Jenhan: A lot of times we joke about it because we worry a lot if the jokes will work. There is the fear that we will disappoint the following year. Last year, a lot of us got busier because Jason, Douglas, and myself started performing in Australia for the festival.
Phoon Chi Ho: I made two babies. At the same time, it has been difficult because I do a bit of production and talent agency work. We're technically all busy. In reality, we need at least four months to push a show because we will come out with funny videos that go viral before we start selling our shows.
Kuah Jenhan: We pride ourselves to do a new show every year with all new jokes. Writing new jokes take a lot out of comedians because you can't go on stage with something that's subpar. That process takes up time and to deliver that year after year is quite scary. I think it is healthy for us to say good bye for now.
Having been friends for so long, how was it like to see each other grow?
Douglas Lim: I think I was there for Chi Ho's and Jason's wedding. We're still waiting for Jenhan's. When we started touring, Jenhan was 21 going on 22. Now, they are pretty mature individuals at 32, 35. They know their voices and stories well. I am very proud of what they have all achieved and I take no credit for any of it but I'll be there clapping for them—but I won't say it.
Kuah Jenhan: Douglas doesn't have to say it because he will be backstage laughing and commenting on how bad the jokes are while we are performing.
Is there a bit of joke that you guys have always wanted to do but never had the chance?
Jason Leong: For me, no. All the jokes I wanted to do, I did. I don't know about the rest.
Kuah Jenhan: Not for me.
Phoon Chi Ho: I started off thinking that if I want to do this stand-up comedy thing, I want to be a one-liner comedian. Sometimes because of the play of words, things get controversial. One that I won't do is "paedophile have standards—Standard One, Standard Two".
Douglas Lim: There are a lot of topics that I think about in my head which are funny but I will never joke about because of the potential trouble.
Have you gotten in trouble before?
Phoon Chi Ho: The second time in Johor, I had a joke with two keywords—masturbation and babies. The organisers or sponsors thought it wasn't very tasteful so I was banned for a few years. I was eventually allowed back but told not to do those jokes.
Douglas Lim: There was a time when Special Branch (plainclothes in the audience) who came up after the show to shake our hands. They told us not to go overboard. Live stand-up comedy is the type you won't get on mass media. We do irritate others some times and they will post on Facebook saying they are offended.
Kuah Jenhan: Mine was out of MACC. Five years ago, I tweeted a pun joke during the 'kangkung' issue. It was retweeted a lot and I was called by the BBC Radio. They asked what was happening in Malaysia that was trending worldwide. They published an article on their site and it was banned. It cannot be accessed in Malaysia. Almost a year later, I was asked to audition to host a travel show. I got through but the production house was told that they cannot hire me because of the tweet.
Is there anything else, apart from new jokes, that audience can expect from this tour?
Kuah Jenhan: In terms of the show, they can expect a lot more experience. For the KL show, we're performing at the HGH Convention Centre which is at least four times bigger than our usual venues. One night holds about 1,600 people. It's a big auditorium and for the first time ever, MACC will sell merchandises. We have never done it so why not give them something to remember us by. At certain locations, we will have food and drinks. We will make it an experience for them.
Douglas Lim: For the first time ever, we're going to Hong Kong and Australia (first time as a group).
What's next for each of you?
Jason Leong: I want to go to the United States next year. I think it's an important step for my comedy career to at least spend a month doing the clubs in Los Angeles and New York. Hopefully I can put up a tour in London. Jenhan and I are exploring the idea of doing a national storytelling competition for school children.
Phoon Chi Ho: My wife accepted a job in Brisbane so I have to hold the fort with my two kids at home. A lot of things I cannot say now.
Kuah Jenhan: It's been awhile since I properly staged my own show. I want to stage a more theatrical style show.
Douglas Lim: I probably need a break from comedy for awhile. Just to relax for a bit. I will still do corporate shows but probably not churning out new jokes for some time. Maybe do some music again or work on my fitness.
For more information about MACC, visit this website. To get tickets for the tour, visit this website.
| | |
| --- | --- |
| SHARE THE STORY | |
| Explore More | |